Nothing can beat the heat better than a big glass of delightful lemonade flavored with cucumber, lemon zest and fresh mint. Don't forget to add lots of ice cubes into this incredibly Fresh Cucumber Mint Lemonade!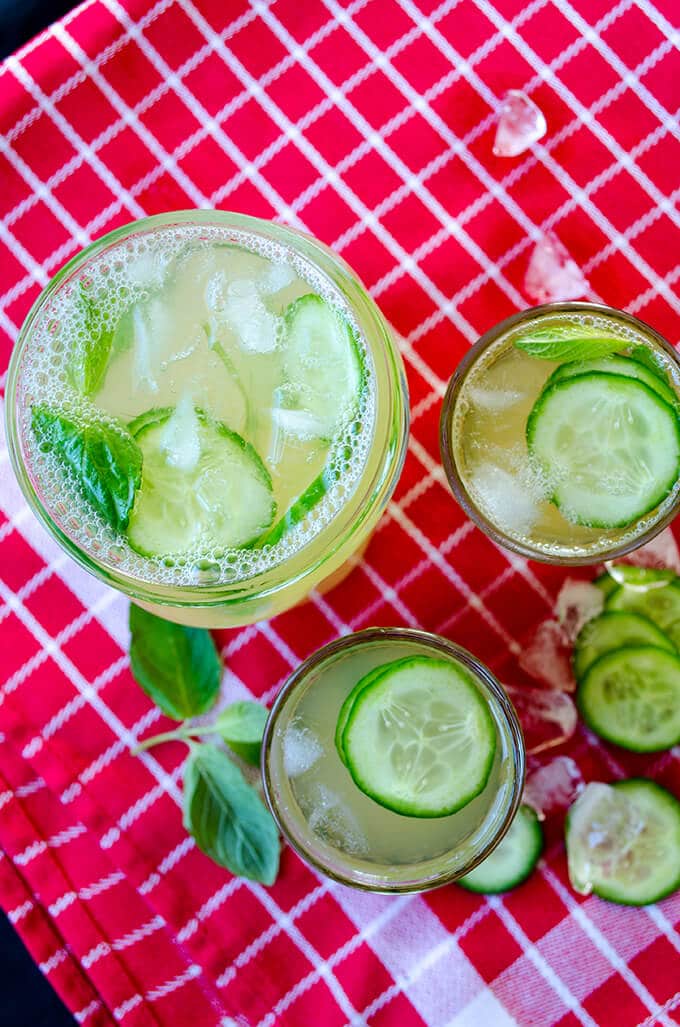 Who doesn't like lemonade on a boiling summer day? Do you make it yourself or just prefer something store bought? It might seem the easiest way, but definitely not the tastiest!
What Goes In This Cucumber Mint Lemonade?
Nothing could be better for refreshment than a big pitcher of cucumber lemonade cocktail because it is homemade.  It contains:
cucumber
mint
lemon zest
lemon juice
water
sugar
They go wonderfully together to make this amazing yet easy summer beverage. I love to serve it with lots of ice, cucumber slices and mint sprigs.
If you are planning to hold a summer party and prefer an alcoholic cocktail, you can easily turn it into a cucumber lemonade vodka recipe.
Related: Rosemary Vodka Lemonade
Lemonade is a classic favorite summer drink in Turkey just like in most Middle Eastern countries. I wanted to go a little further from the classic version, which is based on lemon and no other flavors. The most common flavor to pair with lemon in this summer drink is fresh mint. You can toss in a few sprigs of mint in your lemonade and that's it. But why not try new flavors? I've tried ginger lemonade, strawberry lemonade and marjoram in an old fashioned homemade lemonade recipe so far and they all made perfect combination! It's time to create a cucumber lemonade recipe now!
How To Make Cucumber Lemonade Recipe
The flavors in this cucumber lemonade recipe are very well blended. I grate cucumbers into a bowl and pound fresh mint sprigs using a mortar and a pestle. Then I combine them in a cheese cloth and squeezed their juice into a larger bowl. You will get a lovely green color at the end of this step. Then you combine this juice with a syrup made with lemon. I use 5 tablespoons sugar, but you can use more or less to your taste.
Cucumber mint lemonade cocktail is such a refreshing drink that you will be hooked once you try. I'm sure it will be your ultimate summer beverage. You can make it in large quantity, maybe overnight to chill it for long hours and relish the following day. A large glass of cucumber lemonade at breakfast will definitely zing-up your mornings!
Can we call this a skinny drink? Yes if you leave the sugar out. Do you know what else you can use? A little salt makes it a delightlful salty drink.
If you want to keep it sweet, you can reduce the amount of sugar or use agave syrup instead.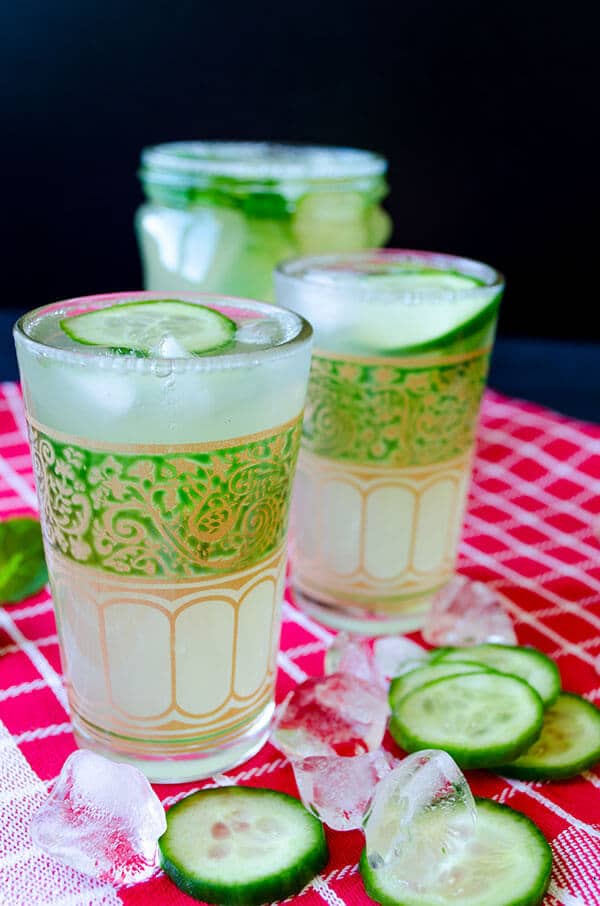 Do you love flavored lemonade recipes and want to learn more? Here are two more recipes that I find really intriguing:
Honey Whiskey Lemonade – The Little Epicurean
Peach Lemonade – Certified Pastry Aficionado
Print
Fresh Cucumber Mint Lemonade
A delightful lemonade flavored with cucumber, lemon zest and fresh mint.
Author:
Prep Time:

15 minutes

Total Time:

15 minutes

Yield:

4

1

x
Category:

Drinks

Cuisine:

American
Scale
Ingredients
2

cucumbers

¼

bunch fresh mint

½ teaspoon

lemon zest, grated

½ cup

lemon juice

4 cups

hot water

5 tablespoons

sugar
For garnish:

½ cup

ice cubes

1

cucumber, thinly sliced
Fresh mint leaves
Instructions
Wash the cucumbers very well.
Leave their skin on and grate them in a bowl.
Pound the mint leaves and lemon zest in a mortar and toss in the bowl.
Stir with a spoon and transfer them in a piece of cheese cloth.
Squeeze the juice into the bowl. Set aside. You can use a blender instead, but the flavors stand out with this method.
Mix sugar and lemon juice in hot water until sugar dissolves.
Combine this syrup with cucumber juice flavored with lemon zest and mint.
Chill it at least for an hour and serve with ice cubes, mint leaves and cucumber slices.
Keywords: cucumber lemonade, cucumber mint lemonade, how to make cucumber lemonade, cucumber lemonade recipe
IF YOU LIKED THIS RECIPE, YOU WILL LOVE THESE TOO: