Mercimek Kofte (Turkish Lentil Meatballs) make the best combination of bulgur and red lentils. They are packed with flavors, super easy and inexpensive to prepare. Serve with lemon wedges and lettuce. Always a hit at parties. Plus, the leftovers taste even better!
If bulgur is a new food for you, go check out our basic way to cook bulgur. And if you need even more ideas, check out our list of bulgur wheat recipes. Two of our favorites are bulgur salad called kisir and bulgur rice.
Today, we will teach you how to make mercimek koftesi, a classic Turkish dish, from scratch. These naturally vegan meatballs are super easy to make and very versatile. They are mainly made from red lentils and bulgur with a variety of basic flavorful aromatics. This makes them sour and a little bit spicy too!
These lentil kofte are the perfect budget-friendly snacks for any occasion or gathering, including potluck parties! Give them a try! The leftovers also store very well!
Jump to:
Why You Will Like This Recipe
It is a crowd-pleaser and perfect for serving cold or at room temperature.
It is a great snack or appetizer recipe that is loved by everyone including kids.
They are served in an extremely festive way with refreshing lettuce leaves, fresh lemon wedges and other sides like pickles and onions. It's a perfect mezze dish or appetizer that you will never get tired of!
You can make these red lentil balls in advance. They taste even better as they sit.
The leftovers keep very well for a couple of days. They are great for lunch box.
What Is Mercimek Kofte?
Also known as mercimek koftesi or mercimekli kofte (meatballs with lentils), these are one of the most popular Turkish recipes that are served at potluck parties or picnic occasions. They are one of the most loved finger foods.
So, what exactly are these? Mercimek kofte is made of a combination of red lentils and bulgur wheat that are seasoned with onions, spices, and herbs. The mixture is then shaped into oval bite sized pieces. What makes them unique is that they aren't fried or baked after being shaped.
They are completely meatless although they are called kofte (meatballs). This name comes from their bite-size shape.
If you are looking for a classic meatball recipe, you might want to check out our Turkish kofte recipe.
Mercimek Kofte vs Cigkofte
Mercimek köfte is the cousin of cig bulgur kofte, another amazing dish made with bulgur. Although they look similar and served in the same way (with lettuce and lemon slices), these two bulgur dishes are completely different.
Mercimek koftesi is completely vegan. It is made with red lentils and fine bulgur wheat. The ingredients are cooked and flavored with spices before being shaped.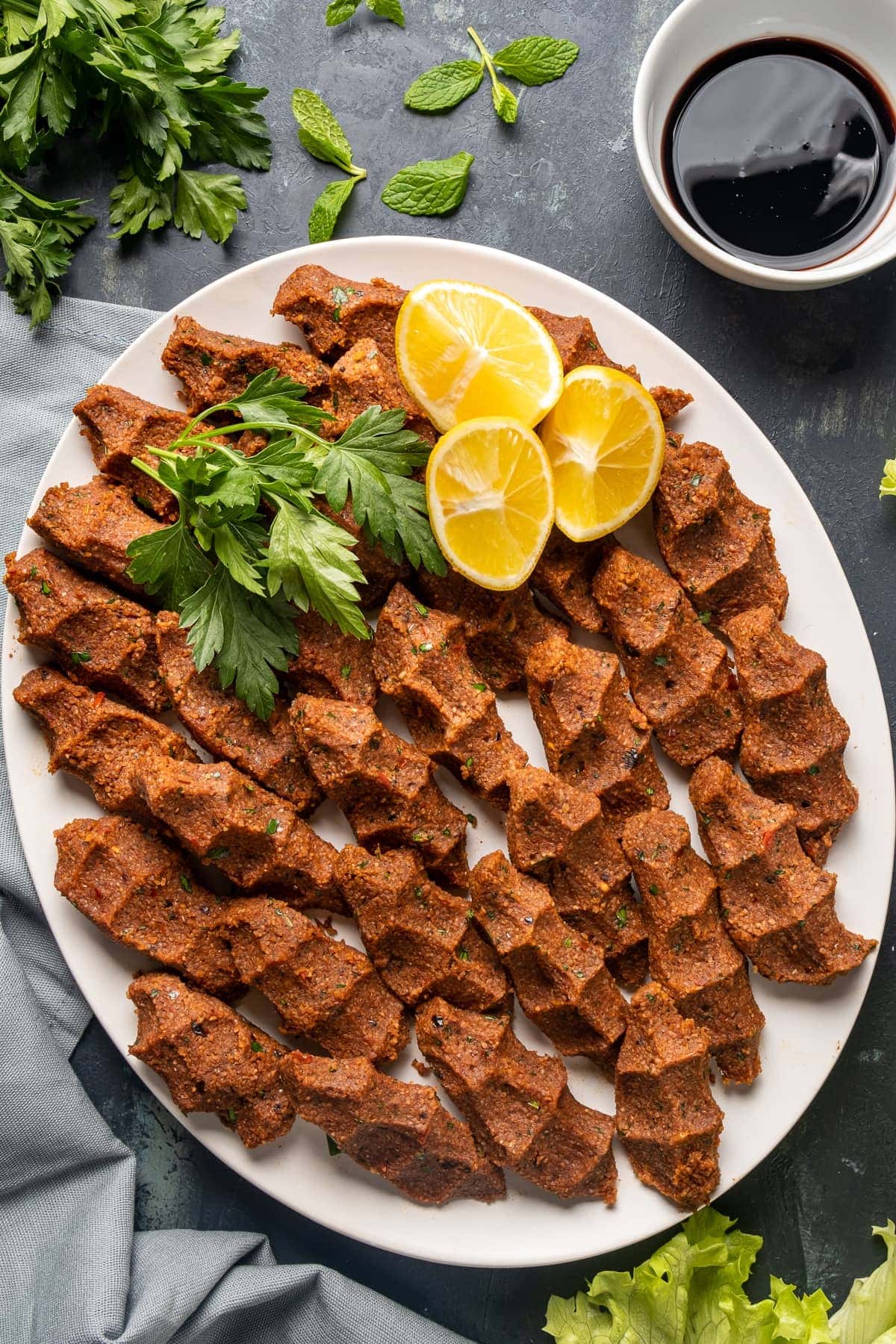 Chi kofte (cigkofte), on the other hand, is made with fine bulgur, spices and pureed tomato. It doesn't have any lentils. And the traditional version might contain raw meat but it is preferred meatless today.
Another big difference between these Turkish bulghur recipes is that cigkofte is not cooked. Bulgur is softened by being kneaded with the other ingredients for a long time whereas the ingredients of mercimek köfte are cooked and then shaped.
Both are delicious and served with lettuce, lemon wedges, coban salad, sumac onions, pickles, herbs, etc.
About The Ingredients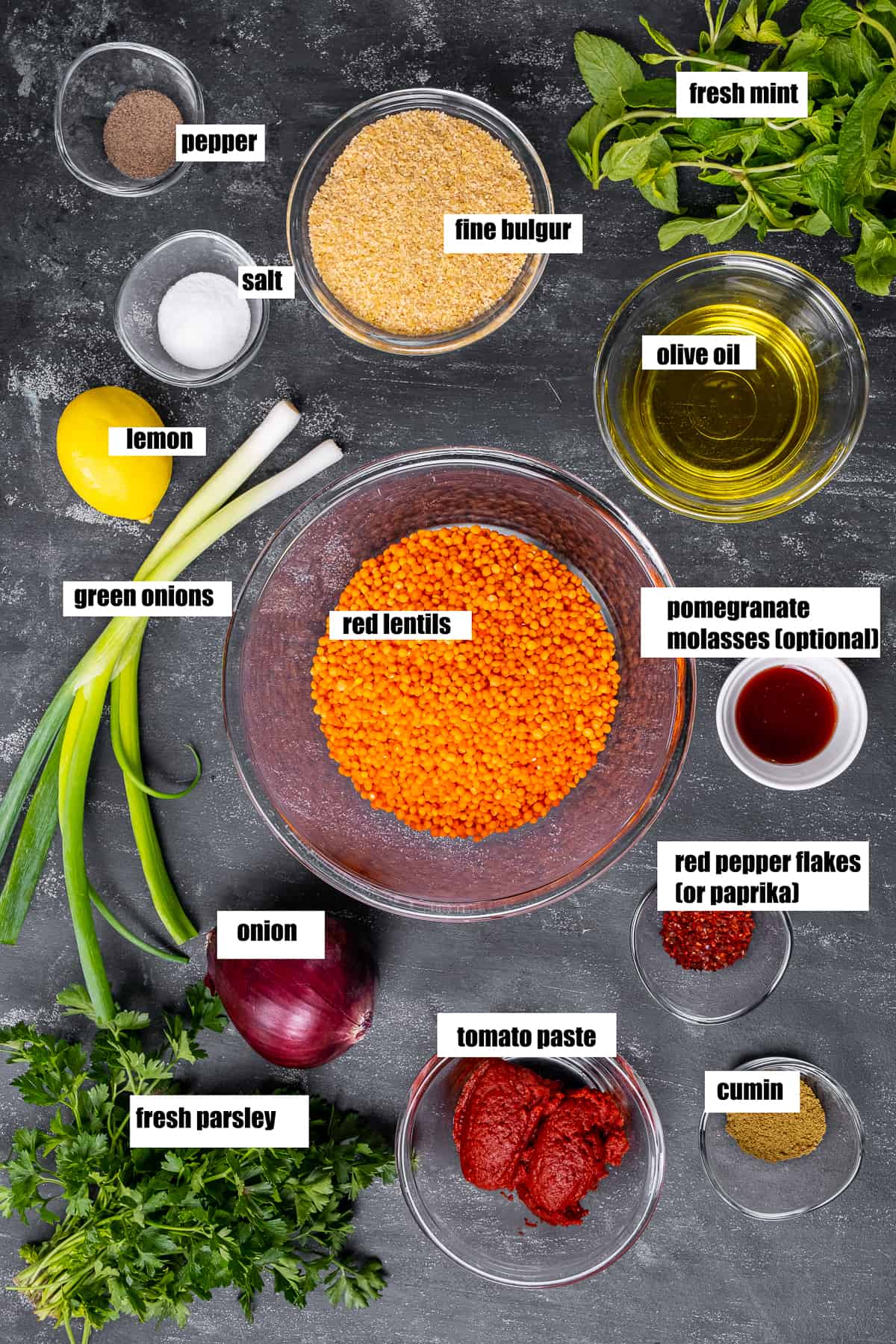 Bulgur:
Use fine bulgur. It does work better to create a smoother meatball. You don't have to prepare or cook it before adding it to the cooked lentils. When left in the hot lentils in the pot, they will tenderize quickly.
If you can't find fine bulgur, use medium coarse bulgur.
Red Lentils:
Use red lentils for traditional mercimek koftesi. If you use different lentils, the cooking times will vary. This will also affect how the bulgur ultimately cooks.
Red lentils are a staple ingredient in Turkish cuisine. You can also check out our Turkish Red Lentil Soup and lentil dip.
Spices:
We use cumin, black pepper, paprika, and salt. If you would like to add more flavor, try Aleppo pepper or chili flakes (aka red pepper flakes). These are perfect for people who love a little spice in their food.
Herbs:
We use fresh parsley, mint and green onions (known as spring onions or scallions). You can always increase or decrease the amount of these.
Onion:
Use red, brown or white onion. Optionally, you can combine it with one or two cloves of garlic.
Tomato paste:
Use store-bought or homemade tomato paste for this recipe or combine it with some red pepper paste (biber salçası). You can find both at Middle Eastern stores or Amazon.
Lemon Juice: It gives a nice tangy and refreshing flavor to these lentil balls.
Pomegranate molasses:
It is optional in this recipe, but we recommend it for a richer taste. It is a unique condiment with a sweet and tangy flavor. You can buy it from online shops or make your own pomegranate molasses at home.
Step-By-Step Instructions
These mercimek koftesi are super easy to make, filled with rich, complex flavors, and have a deliciously soft and dense texture. These vegan snacks are perfect for serving on any occasion.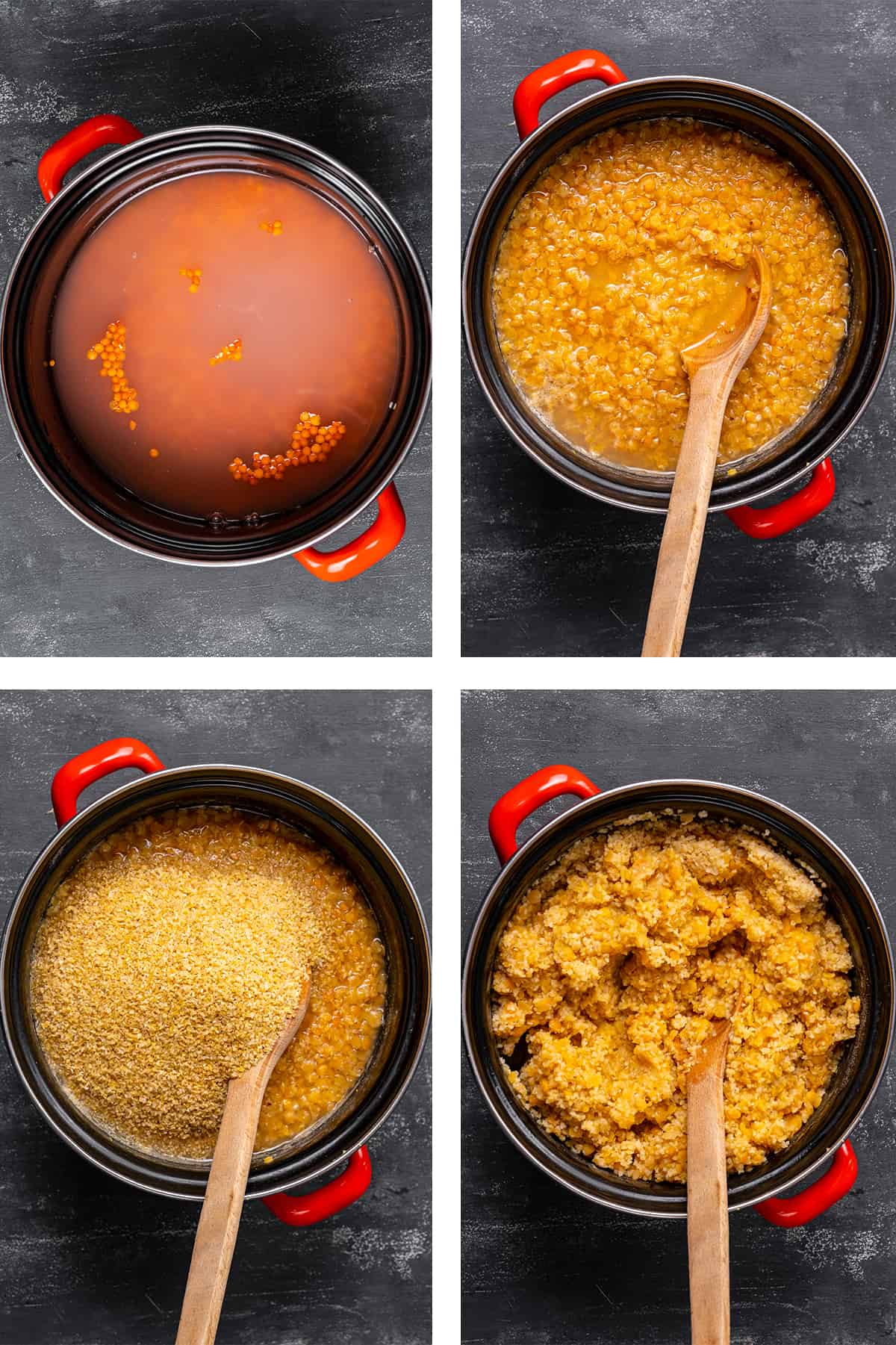 Prepare the red lentils
Wash them well and place them inside a large pan. Cover them with water and bring them to a boil over medium heat. Once boiling, lower the heat and allow the red lentils to simmer, uncovered, for about 20 minutes or until soft.
Add in bulgur
After about 20 minutes when the lentils are partially cooked, remove them from the heat. Stir in the bulgur well and cover the pot with a lid (still off the heat) so that it absorbs the remaining water in the pot.
Leave the bulgur to absorb the water and get tender for roughly 10-15 minutes. The mixture will look a little dry, and that's perfectly fine!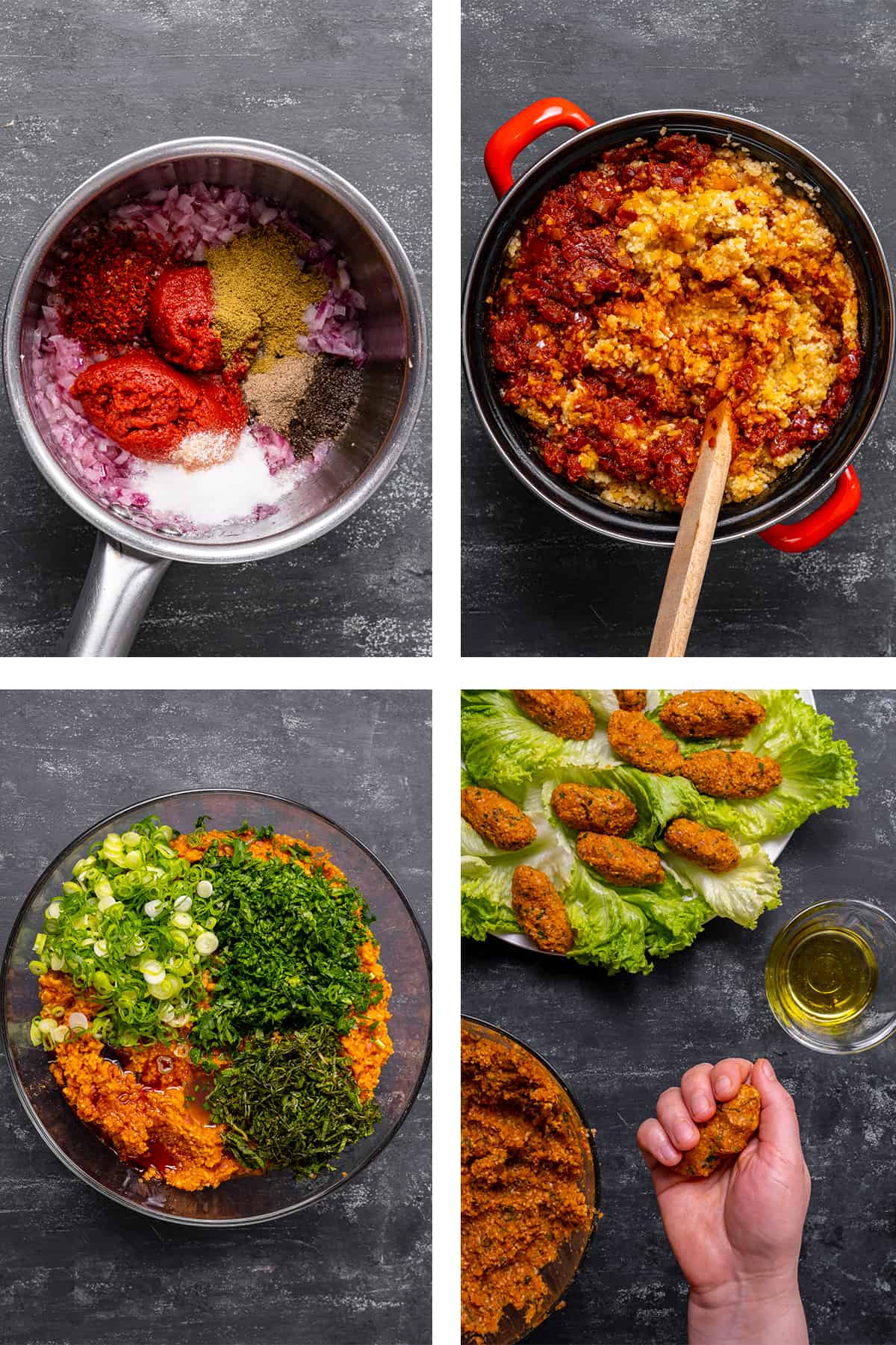 Create the aromatic base
While the lentils cook and the bulgur tenderize, start heating olive oil in a small saucepan over medium-high heat. Add the chopped onion and saute them until they become golden.
Add the tomato paste, salt, cumin, black pepper, and paprika. Stir the ingredients together very well and cook for a couple of minutes.
Combine the bulgur, lentils, and flavoring base
Once all the elements are prepared, add the seasoned onion mixture to the cooked bulgur and red lentils in the pot. Fold the ingredients together very well so all the flavors blend. Transfer the mixture to a large bowl.
Mix everything
Add the parsley, mint, green onions, pomegranate molasses, and lemon juice. Make sure to mix the ingredients together well using your hands, and adjust the seasonings if needed. Let it cool for 15-20 minutes or a bit longer.
Shape your red lentil balls
Put a little water or olive oil to a small bowl and set it aside. Wet your fingers in this bowl, then take a handful of the seasoned mixture. Shape the mixture by gently squeezing it in your palm. Wet your finger tips each time you make a ball to prevent it from sticking your hand.
Place them on a serving platter lined with lettuce leaves or herbs. Repeat the process until you don't have any mercimek koftesi mixture left.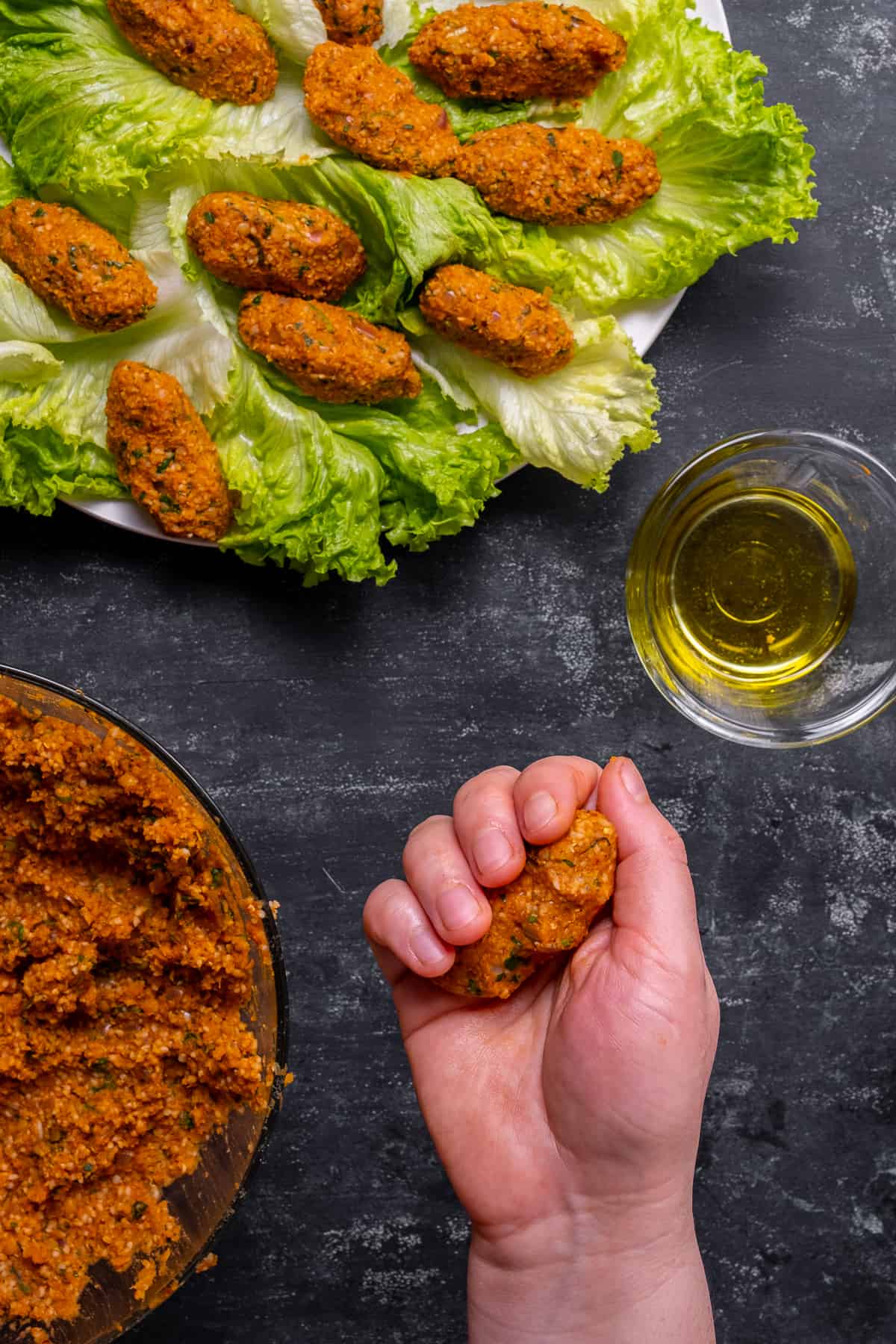 Tips
Let the mixture cool for 20-30 minutes before starting to shape it.
If the mixture looks too dry, add in a little more olive oil.
Dip your fingers in olive oil or water when shaping the balls. This will help prevent the mixture from sticking to your hands. It is easier to shape them this way.
Serving Suggestions
Mercimek köfte is served simply. You can place it on a bed of fresh crisp lettuce leaves. Romaine (cos lettuce) or gem lettuce work great as their leaves have enough space to hold these lentil kofte.
You should serve these lentil meatballs themselves cold or at room temperature. It is not a warm, grilled, kebab-style treat.
Garnish them with more lettuce leaves and fresh lemon wedges. Also, you can serve them with sliced tomatoes and cucumbers and a variety of pickles. A small bowl of pomegranate molasses on the side would be great too. You can drizzle some over your lentil kofte when eating.
You can serve these lentil kofte as a part of mezze platter with other traditional Turkish food. We recommend sigara borek, haydari and mucver.
How To Store
Keep the leftover mercimek koftesi in an airtight container in the fridge. They keep well for up to 5 days.
A good tradition in Turkey when you make mercimekli kofte is to serve tea with or after them. Bulgur easily makes you feel full and if you can not dominate your appetite and eat too much, you might too full. In this case, a well-brewed Turkish tea relaxes your stomach.
FAQs
Is mercimek kofte vegan?
Yes, it is a completely vegan dish. It doesn't contain any animal products or animal-derived products. 
Is mercimek köftesi gluten-free?
No, it is not. It contains bulgur, which is NOT gluten-free. You might substitute cooked quinoa for bulgur for a gluten-free option, but we haven't tried it ourselves.
Can I bake them?
Mercimekli kofte is not a baked kofte recipe. The lentils and bulgur wheat are cooked before you shape the balls. Once shaped, simply serve them at room temperature or cold.
More Bulgur Recipes
More Turkish Recipes
As always: If you make this recipe, let us know what you think by rating it and leaving a comment below. And post a pic on Instagram too—tag @give_recipe so we can see!
Sign up for the FREE GiveRecipe Newsletter to get the new recipes into your inbox! And stay in touch with us on Facebook, Pinterest, YouTube and Instagram for all the latest updates.
Print
📖 Recipe
Mercimek Köfte (Lentil Balls)
Vegan meatballs with bulgur, red lentils, herbs and spices. Perfect for your next party.
Author: Zerrin & Yusuf
Prep Time:

30 minutes

Cook Time:

20 minutes

Total Time:

50 minutes

Yield:

8

servings

1

x
Category:

Snack

Method:

Cooking

Cuisine:

Turkish

Diet:

Vegan
1

and ½ cup red lentils

3 cups

water

1 cup

fine bulgur

½ cup

olive oil

1

large onion, finely chopped

2 tablespoons

tomato paste

1 teaspoon

cumin

1 teaspoon

black pepper

1 teaspoon

paprika

2 teaspoons

salt

½ cup

parsley, chopped

¼ cup

chopped fresh mint

¼ cup

chopped green onions

1

lemon, juiced

1 tablespoon

pomegranate molasses, optional
Instructions
Wash the red lentils well and put them in a large pot. Pour water over them and bring them to a boil. Reduce the heat to low and let it simmer uncovered until lentils are tender, about 20 minutes.

Once most of the water is gone, remove from heat and add in bulgur. Give it a stir and let it rest covered(lid on), for 10-15 minutes so that bulgur absorbs the rest of the water and gets tender. After all the liquid in the mixture of bulgur and lentils is gone, the mixture will look a bit dry. It is ok, don't worry.

Meanwhile, in a small saucepan, saute the chopped onion in the olive oil until golden. Add in tomato paste, salt, cumin, black pepper and paprika. Stir well.

When all the liquid is absorbed by bulgur in the pan, transfer the sauted onion mixture into the bulgur and lentil mixture. Stir well and then transfer it into a larger bowl.

Add in salt, parsley, mint, green onions, lemon juice and pomegranate molasses. Mix well with your hands. Taste and adjust the amount of salt to your taste. Let it cool before shaping.

Line a serving platter with lettuce leaves or other herbs. Put ¼ cup of water or olive oil in a bowl and put it aside. Wet your fingers dipping into this water (or olive oil). This will prevent any stickiness. Shape them in your palm and place them on the lettuce leaves. Repeat until all the mixture is finished.

Serve them with extra lettuce leaves, lemon wedges, herbs and pickles.
Notes
Let the mixture cool for 20-30 minutes before starting to shape it. 

If the mixture looks too dry, add in a little more olive oil.

Dip your fingers in olive oil or water

 when shaping the balls. This will help prevent the mixture from sticking to your hands. It is easier to shape them this way.

Keep the leftover mercimek koftesi in an airtight container in the fridge

. They keep well for up to 5 days.

Nutrition information is approximate and meant as a guideline only.
Nutrition
Serving Size:
Calories:

333

Sugar:

3.6 g

Sodium:

598.3 mg

Fat:

15.2 g

Carbohydrates:

41.6 g

Protein:

11.4 g

Cholesterol:

0 mg
Keywords: mercimek koftesi, lentil balls