These grilled halloumi cheese slices are packed with flavor thanks to the delicious fresh basil oil sauce. Serve them as-is on mezze platters or as a starter, or incorporate them into many salads, soups, burgers, and side dishes.
Halloumi cheese is a great ingredient for vegetarians and non-vegetarians. It goes very well with lots of other dishes. And today we want to share our favorite way of eating halloumi or hellim peyniri as we say in Turkish: Grilling with olive oil and serving with a basil sauce. A perfect starter or appetizer, right?
Jump to:
Why should you make this recipe?
It is very easy and quick to make. This recipe essentially only contains two steps; grilling the halloumi and making the dressing. Naturally, this also makes it very easy and you can whip these up in less than 15 minutes.
You can use these grilled halloumi slices in several ways. You can even serve it as a starter alone, top your salads, soups and pasta dishes.
It is a flexible recipe. You can incorporate other flavors into this grilled cheese recipe like honey, spices, and other fresh herbs. This will also allow you to use it with a lot more other dishes and recipes.
About The Ingredients
While a block of halloumi cheese and some olive oil are delicious as-is, we want to give them a little more flavor. We will do this by drizzling the cheese slices with a herb flavored oil sauce. The ingredients for this grilled halloumi recipe can be broken down into 2 parts.
Halloumi cheese: This chewy and salty cheese is originally from Cyprus but quite popular in Greek and Turkish cuisines. It is made from a mixture of goat milk, sheep milk, and sometimes cow's milk too. It has a high melting point, which makes it the perfect cheese to flavor and grill!
Herbed oil sauce: This sauce consists of a few basic yet flavorful ingredients including olive oil, fresh basil (fresh mint or parsley is good too) and garlic. You can add other flavoring ingredients to the oil sauce, including honey or spices. If you want some tanginess, add in a little lemon juice. We only use this sauce when serving, but you can use it as a marinade and wait the cheese slices in this sauce for about 30 minutes and then cook.
Optional sides to serve with: Other flavors that can be incorporated come from the accompanying ingredients. These can be either fresh or grilled. Some fantastic and easy options include tomatoes and green peppers.
How to Grill Halloumi
This recipe for grilled halloumi is incredibly quick and easy. And, you can even incorporate it into a ton of other dishes including salads, soups, and burgers!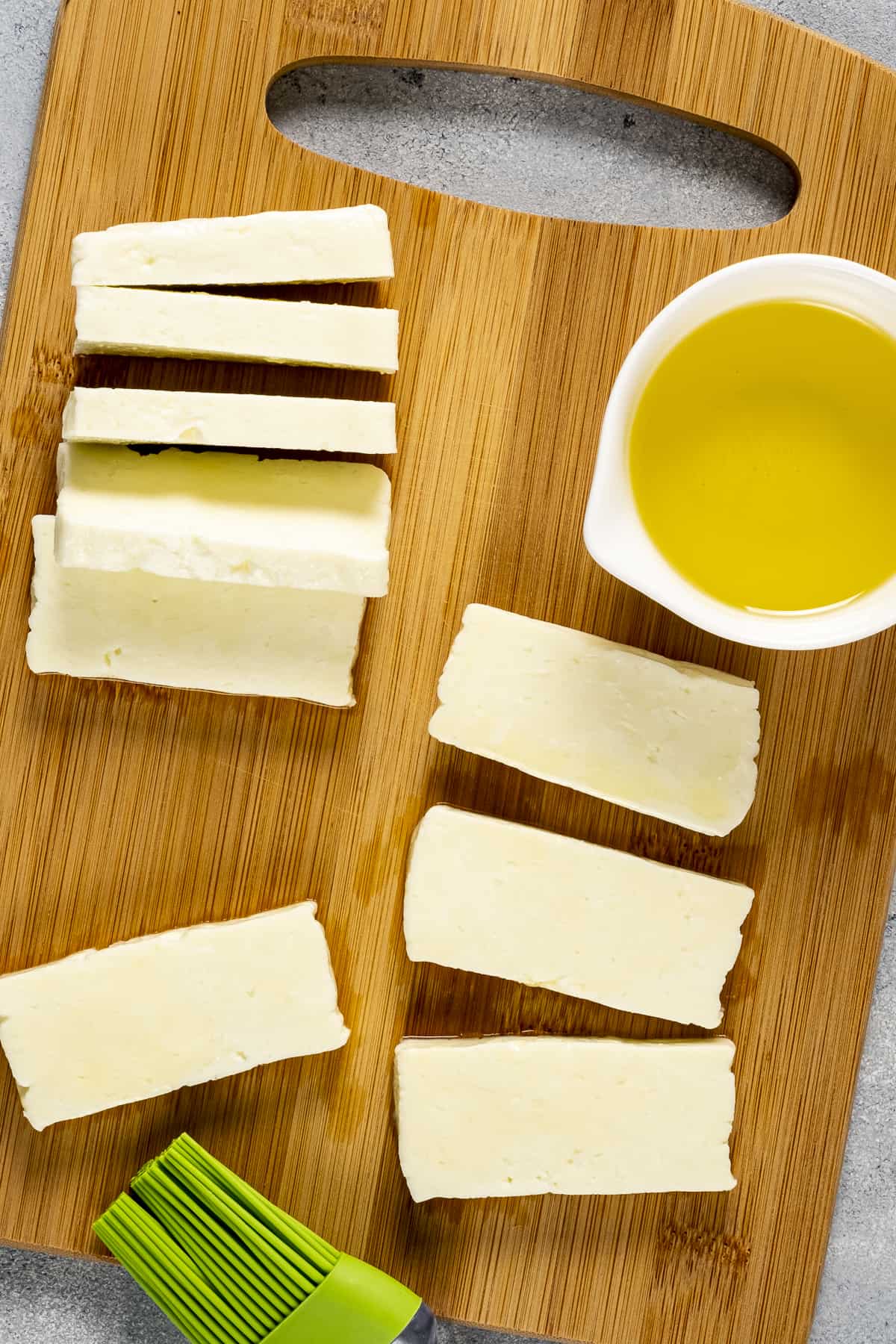 Prepare the halloumi slices. Slice the halloumi block into thick slices (each about a third of an inch). Brush both sides of each slice with some olive oil.
Grill the halloumi slices: Preheat the grill or grill pan at medium-high heat. Place each slice in the pan and cook them for about 2-3 minutes per side or until they are golden brown. You can also use a regular non-stick pan instead and make pan-fried halloumi. Then you won't have those nice grill marks though. You can grill green peppers and tomatoes on the grill at the same time.
Make the dressing by combining the olive oil, basil, garlic, and salt in a food processor. Blend until you have a smooth dressing that is well combined.
Assemble and serve: Transfer the halloumi slices, tomatoes and peppers on a plate. Drizzle the herbed oil sauce over them and serve warm.
Variations
While these slices are already basically perfect as-is, there are a few variations you can make to this grilled halloumi cheese recipe.
With Honey: you can add anywhere between a teaspoon and a tablespoon of honey to the dressing recipe. Make sure to slightly warm the honey so that it will incorporate better with the other ingredients.
This added sweetness will help make the slices golden and crispy on the outside while keeping them soft on the inside. However, they will also add a natural sweetness that will help balance the salty flavors of the cheese.
With spices: Add some spices to your dressing recipe. This can be anything like paprika, cumin, zaatar, and coriander. Virtually any spice or combination of spices that you like will work great with halloumi.
Make halloumi kebabs: You can slice the cheese in thick cubes and thread them on skewers together with tomatoes and peppers and then grill. You can still serve them with the herbed oil sauce. It would be great to serve them with veggie kabobs or grilled eggplant salad.
Tips
If you don't like the saltiness of halloumi, you can soak the cheese slices in some water for roughly 30 minutes. This will help extract the salt. Then, before grilling, make sure to pat each slice dry with some paper towel.
Do not make the halloumi slices too thin. ⅓-inch slice is thick enough to get nice grilled halloumi. Thin slices may break apart, cook too quickly, and have a less cheesy flavor. The thick slices will give each bite a nice texture.
The grill or grill pan should be heated (medium-high) before putting the halloumi slices on it.
Don't over-cook. Only cook your halloumi slices for about 2-3 minutes on each side. Any longer and your halloumi will be overcooked, which will cause it to be rubbery.
Serve immediately. If they are allowed to stand and cool down (even slightly) they will start becoming tough and rubbery (yet still tasty).
If you do find yourself with any leftovers, you can easily store them in the fridge and reheat them over low heat when ready to use again. You can have a look below for more detailed instructions on storing and reheating grilled halloumi.
Serving suggestions
Although we often have these grilled halloumi slices at breakfast paired with tomatoes, cucumbers, olives and eggs, they are extremely versatile and go great alongside or within several dishes.
Of course, you can use this grilled halloumi recipe to pair with mezze platters or appetizers. You can serve them alongside some tomatoes, peppers, hummus, green olive dip, and flatbreads like Turkish bazlama or pitta.
However, if you want to incorporate some grilled halloumi cheese into some recipes, salads are the best category to start with. They go great inside our hearty wheat berry salad.
Serve them like kebabs. Place the grilled cheese slices on lavash bread, top with grilled or fresh peppers and tomatoes, drizzle with oil sauce and wrap it up. This would be one of the best lunch ideas.
You can also use these cheese slices to make burgers and sandwiches. And, they are so versatile that they can even be served with soups like fresh tomato soup or a red lentil soup.
Finally, you can serve it with a jam on the side. Our plum jam would go well.
How to Store
If you do find yourself having any leftover grilled halloumi slices, even though we highly doubt it, you can still store them in the fridge. Place the remaining slices inside of an airtight container or re-sealable plastic bag.
Place them in the fridge for a couple of days. Make sure to store them away from any other ingredients that may have strong odors, like onions and garlic.
To reheat your stored halloumi, you can simply reheat them in a non-stick pan or griddle pan. Make sure to use low heat to prevent overcooking them. Only reheat them for about a minute or two.
Need more recipe ideas with halloumi? Here are a few we would like to try:
Frequently Asked Questions
Is halloumi cheese low carb? 
Yes. It is rich in protein and has low carbohydrates. So it is great for low carb diets.
How do you grill halloumi without sticking?
Olive oil helps the cheese to cook on the grill without sticking. So brush both sides of halloumi cheese well with olive oil and then put them on the grill.
Can you eat halloumi cheese without cooking it?
Yes, you can eat it uncooked. However, you might find it too salty. Taste it and decide for yourself. Soak it for about 15 minutes if needed before serving. You can match raw halloumi with watermelon or grate it on pasta.
As always: If you make this recipe, let us know what you think by rating it and leaving a comment below. And post a pic on Instagram too—tag @give_recipe so we can see!
Sign up for the FREE GiveRecipe Newsletter to get the new recipes into your inbox! And stay in touch with us on Facebook, Pinterest, YouTube and Instagram for all the latest updates.
Print
📖 Recipe
Grilled Halloumi
Halloumi cheese cut in thick slices and grilled. Then they are served with tomatoes, peppers and a basil olive oil sauce.
Author: Zerrin & Yusuf
Prep Time:

5 minutes

Cook Time:

5 minutes

Total Time:

10 minutes

Yield:

2

1

x
Category:

Snack

Method:

Grilling

Cuisine:

Turkish

Diet:

Vegetarian
Cheese:
1

package (8 oz) halloumi cheese

2 tablespoons

olive oil
Sauce:
¼ cup

olive oil

½ cup

basil

1

clove garlic

A pinch of salt (optional)
Optional serving:
Cherry tomatoes

Green peppers
Instructions
Cut the halloumi in thick slices (about ⅓ inch).

Brush both sides of each slice with olive oil.

Heat the grill or grill pan at medium high heat (or use a regular non-stick pan).

Put the cheese slices in the pan and cook for 2-3 minutes per side or until golden.

Optionally, you can cook some tomatoes and peppers in the same pan.

To make the dressing sauce, put olive oil, basil, garlic and salt into a food processor and blend until combined.

Put the grilled cheese and vegetables on a plate, drizzle the herbed oil sauce over them and serve warm.
Notes
If you find halloumi cheese salty, soak it for about 30 minutes. Pat dry and then slice.

Don't slice the cheese very thin. Make them thick, about ⅓ inch.

The grill or grill pan should be heated (medium-high) before putting the halloumi slices on it.

Don't over-cook. 2-3 minutes per side is enough.

Serve it immediately. It gets a little tough as it cools down.

Serve with extra drizzle of the oil sauce.

It is best to eat these fresh right after it is cooked. 

To store: If you somehow have leftovers, store them in an airtight container in the fridge for a few days.

To reheat: You can reheat them in a pan over low heat for a minute or so.

Optional serving ingredients are not included in the nutrition facts.
Nutrition
Serving Size:
Calories:

804

Sugar:

0 g

Sodium:

1400.5 mg

Fat:

78 g

Carbohydrates:

0.7 g

Protein:

28.3 g

Cholesterol:

99.6 mg
Keywords: grilled halloumi, grilled halloumi cheese