Oyster mushrooms are incredibly delicious and surprisingly versatile ingredients. Do you know their types, uses, growing areas, storage or health benefits? Let's learn everything you need to know about these fungi!
You've tried our fried oyster mushrooms or want to try one of the easy oyster mushroom recipes and want to learn more about them now? Please read on!
Today, we will be looking at exactly what oyster mushrooms are, how to buy and prepare them, how to cook and store them. We will also look at some frequently asked questions on their edibility, types available, and sourcing these treats. So, what are you waiting for? Dive in to learn more about this incredible ingredient!
Jump to:
What are Oyster Mushrooms?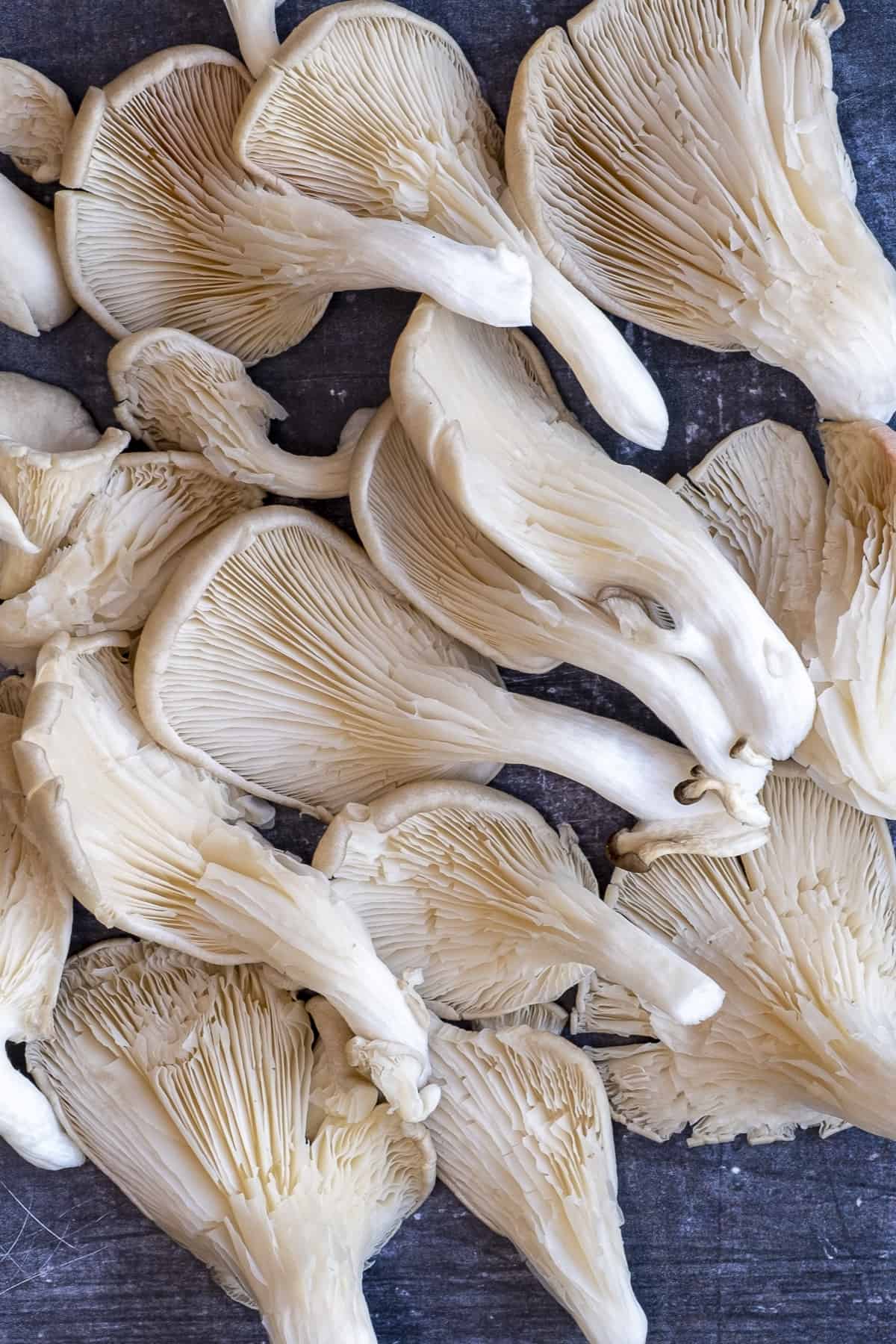 Oyster mushrooms, also known as Pleurotus ostreatus, are a species of edible fungus that can be found all over the world. This much-beloved mushroom varies quite a lot in size. The caps alone can range between ¾ - 11 ¾ inches (2 – 30cm) in length.
They can also vary in color quite a lot. You can find them in pink, grey, blue, golden or yellow. Oyster mushrooms have firm white flesh and a relatively smooth surface at the caps' tops. The gills sit at the bottom of these caps.
The thickness of the gills will determine how thick the mushrooms are. They also vary in color from white to cream. And finally, oyster mushrooms have a very thick stem that descends from the bottom of the caps.
Why are these mushrooms called oysters? The reason for this wonderfully descriptive name is due to the way these mushrooms are shaped. Their caps grow mostly sideways and resemble actual open oysters.
Types and Substitutes
There are many different types of oyster mushrooms and we can put them under two main categories: Pearl oyster mushrooms and king oyster mushrooms.
Pearl Oyster Mushrooms:These are the most common type and what we have described above. Individual mushrooms grow very close to one another and form large clusters. They have a mild tender texture with a slightly woody and sweet flavor.
You can either divide them into individual pieces or leave the cluster whole when cooking. Pearl oyster mushrooms grow in various colors: Light grey, blue, golden (yellow) and pink.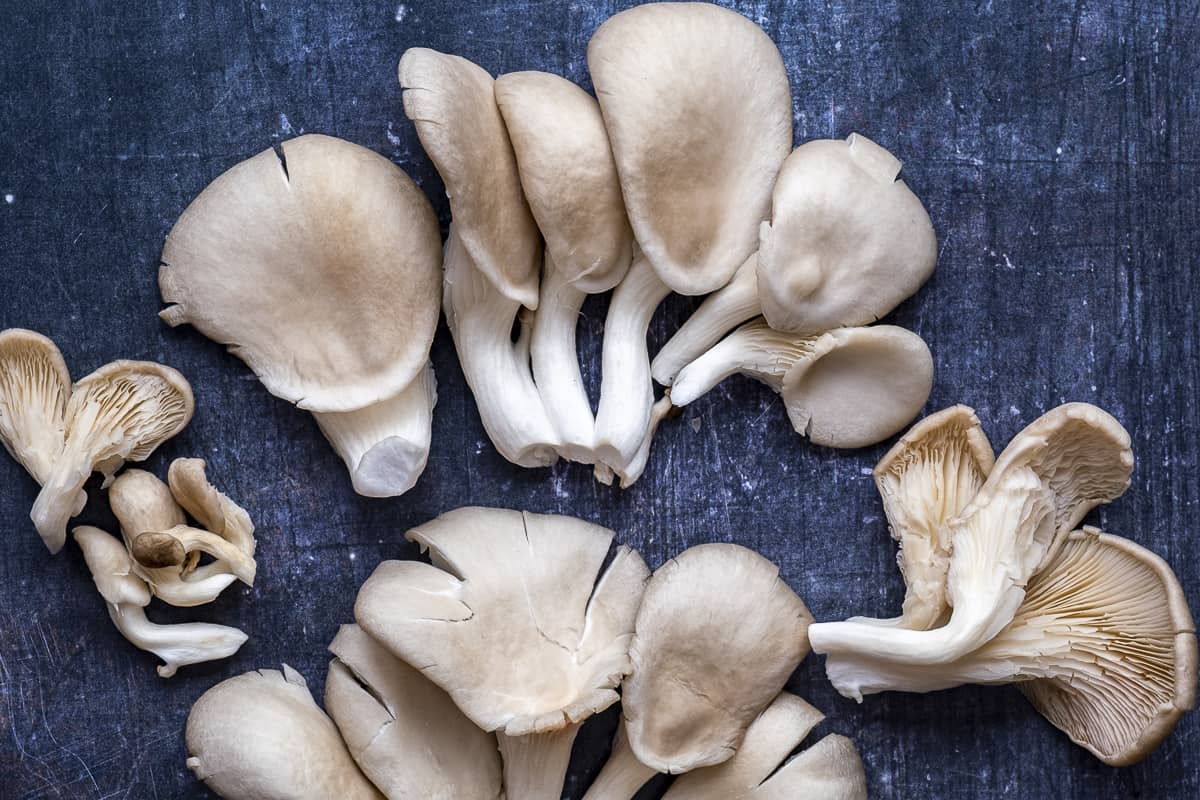 Light grey: This is the most commonly produced type. We often see them at markets, so it is very easy to find them.
Blue: They are blue when they are still young, but not as vibrant as yellow and pink ones. They turn dark grey with blueish edges as they grow. These mushrooms hold their shape well when cooked and have a relatively chewy texture.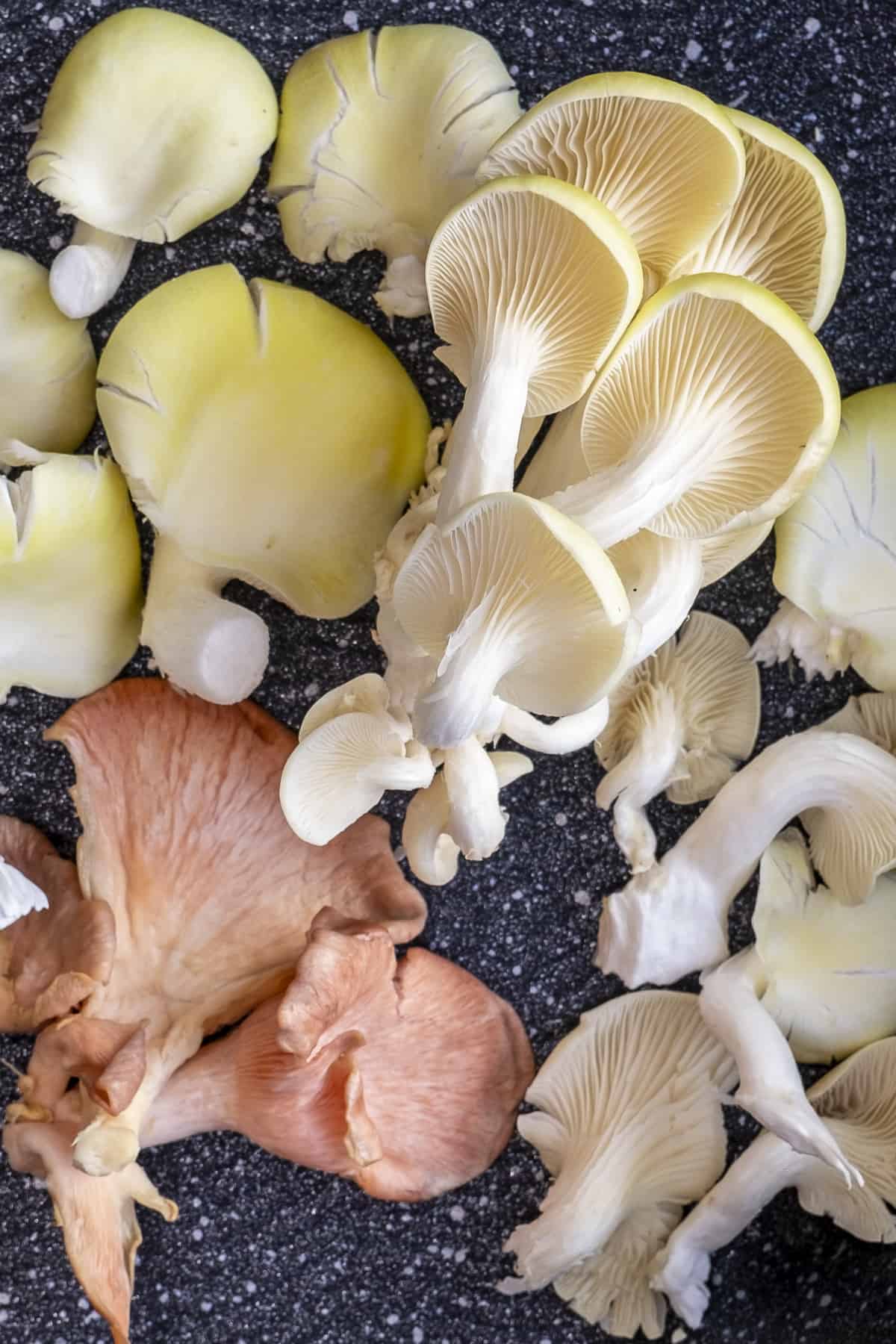 Golden: These are also known as yellow oyster mushrooms, have a stunningly yellow color and a very complex and fragrant flavor profile. It is very similar in size and shape to your regular pearl oyster mushroom.
Pink: They are also known as flamingo oysters and have a bright pink color and a more ruffled appearance. These mushrooms are tougher and their color fades when they are cooked. They have a very woody flavor and almost no sweetness.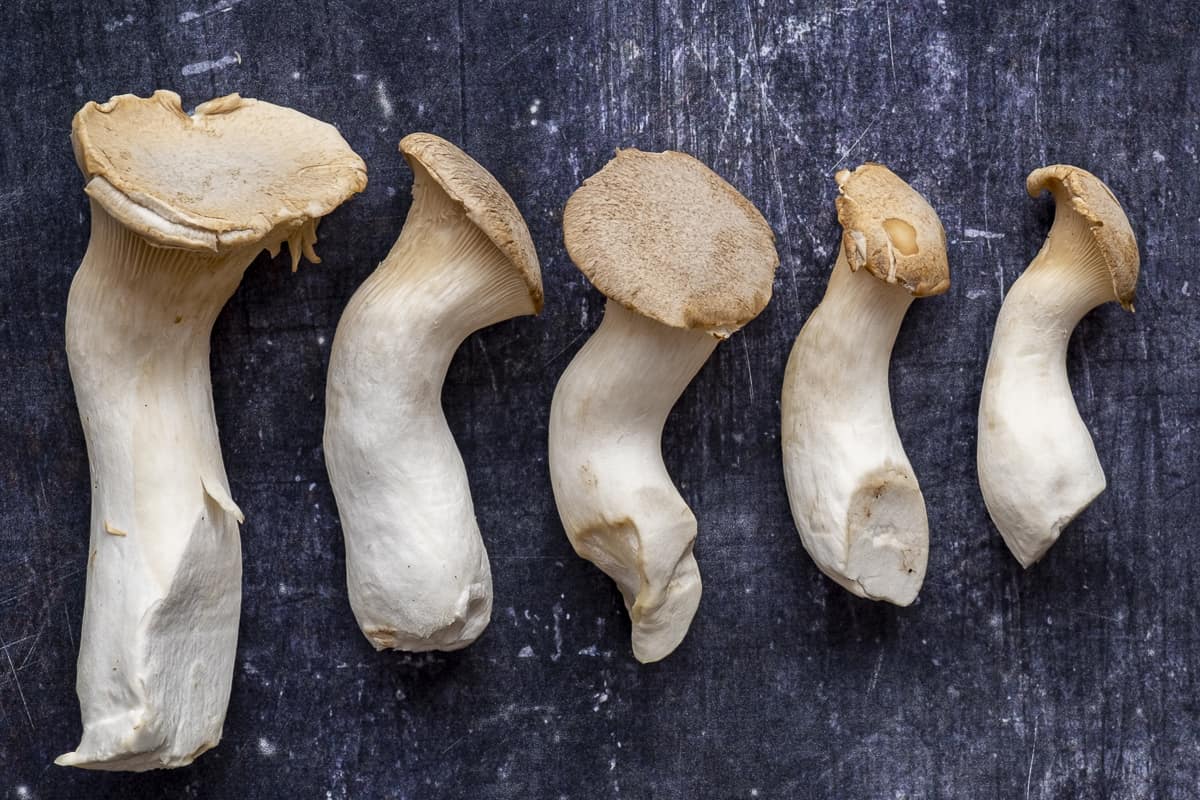 King Oyster Mushrooms: These are much larger, thicker, and savory in flavor. They grow individually instead of clusters.
What are the substitutes for oyster mushrooms? Shiitake mushrooms are the best and closest substitute. They can pair with the same flavors oyster mushrooms go well with. And, while they don't taste exactly the same, they have similar textures.
Other good options include matsutake mushrooms, portabella, porcini, enoki, and chanterelle mushrooms.
How to Identify Them
Foraging wild mushrooms is a very fulfilling and fun hobby. However, if you don't know what you're doing, it can be deadly. We always recommend first foraging with professionals and obtaining a wealth of knowledge about mushrooms before setting out on your own.
You can identify oyster mushrooms using our descriptions above. Look for them on dead or dying trees and on fallen logs. However, with fungi, there are a lot of poisonous copycats. You can use this guide on foraging wild oyster mushrooms to help you.
How to Clean and Prepare Them for Cooking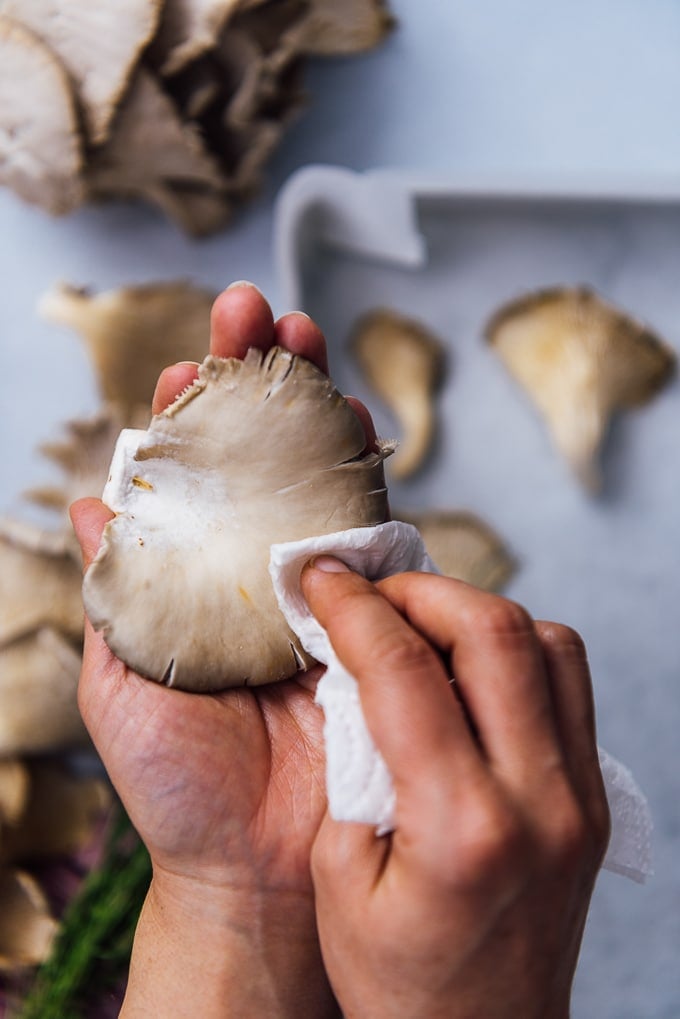 First, remove the dirt. You can lightly wipe the mushrooms' surface with a dry or lightly damp piece of paper towel. They are very porous and will absorb moisture, which will change their flavor and texture. You can use the tip of a paring knife to scrape off the dirt on the stems.
If you are cleaning foraged mushrooms, make sure to rinse them to remove any pesticides and chemicals. Just make sure to do this right before cooking them and also to remove as much excess liquid as possible before tossing them in a pan.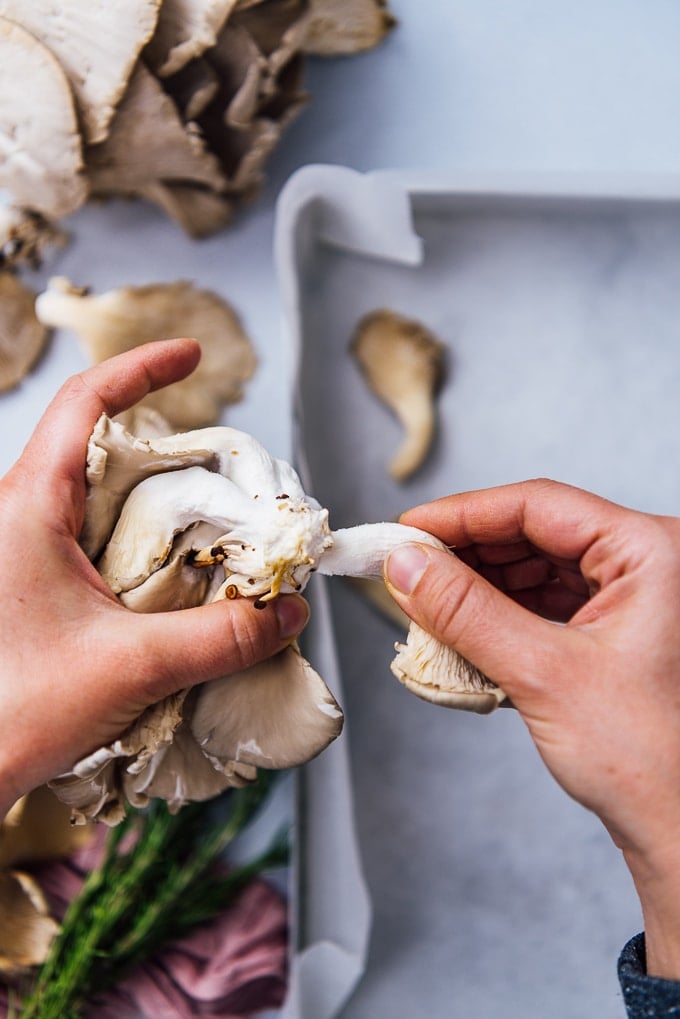 Then, remove the clusters from the main stem. You can discard the main stem or use it in stews or stocks. You can also cut off any mushy or soft parts. Also, it is possible to use them whole to make mushroom steaks.
How to Cook
Oyster mushrooms are extremely versatile when it comes to cooking with them. We absolutely love pan-frying them over medium-high heat with some butter, garlic cloves, green onions, salt, and pepper. It is as simple as that!
And, their delicious savory-sweet flavors are really enhanced when using this technique. For a more in-depth guide, you can have a look at our tutorial on how to cook oyster mushrooms in a pan in the easiest way.
Other techniques you can use include grilling them, roasting them in the oven, and using them in a stir-fry.
How to Use Them
These mushrooms are the perfect ingredient to add a meaty umami flavor to vegan and vegetarian main and side dishes. They make a great addition to a morning breakfast sandwich, artisanal toast, or on burgers. They can even replace the meaty patty!
You can also incorporate them into pasta sauces, soups or stews, and traditional Asian noodle dishes.
What Do They Taste Like?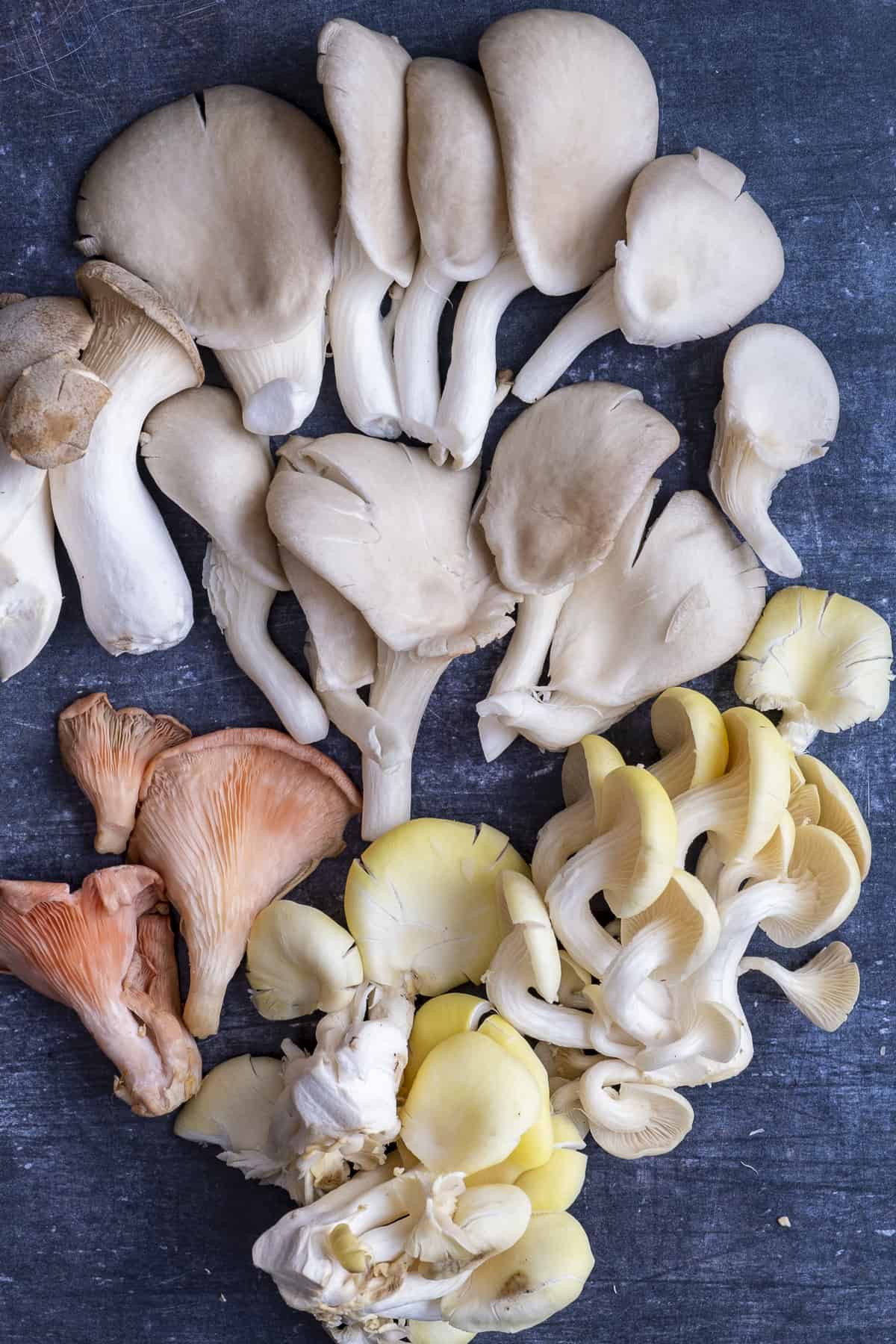 Unlike button mushrooms, oyster mushrooms have a meaty texture and are often used as a meat substitute in many vegetarian recipes. Regular grey oyster mushrooms have a slightly sweet and woody flavor. Depending on how you cook, you can even feel that they taste like seafood or chicken.
King oyster mushroom has an extremely savory and umami flavor. Furthermore, the yellow oyster mushrooms (golden) have a more aromatic and complex flavor profile.
Health Benefits
Oyster mushrooms are a good source of protein and fiber, very low in calories and fat. They will also not affect your cholesterol at all. And, they contain a variety of vitamins, minerals, and antioxidants. One cup contains only about 28 calories (source).
They might be helpful for heart health (source) and blood sugar regulation (source).
Where to Buy
Today, you will be able to find oyster mushrooms at most grocery stores and farmers' markets. However, there are also a ton of fungi shops that exclusively specialize in selling oyster mushrooms varieties.
What also makes these shops great is that you can often order the mushrooms online. It gets delivered to you within a couple of days, as fresh as it can be!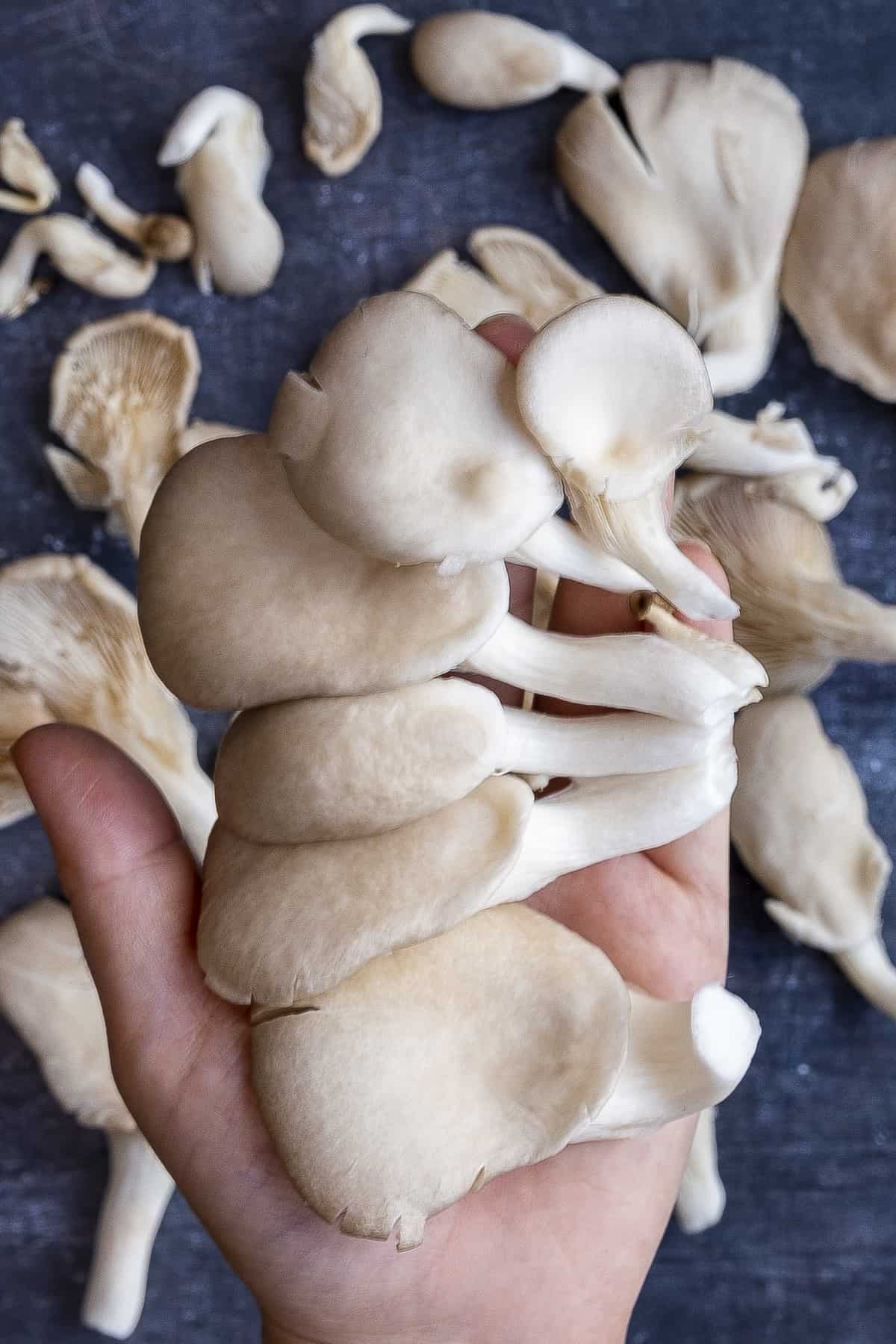 How to Grow Them Indoors
Oyster mushrooms are easier to grow indoors as compared to other mushroom varieties. You can even grow them at home from waste coffee grounds. However, we would recommend starting your journey with a growing kit.
These kits contain either a small inoculated log or inoculated straw or sawdust. Either way, your kit will give you very specific instructions.
What we can say is that the ideal temperature should be between 55-65°F (12.7 – 18.3°C). This guide is excellent for beginners and will answer all of your questions.
How to Store
Mushrooms keep best when stored inside a paper bag in the fridge. This bag doesn't smother them but protects them from moisture and other foreign objects, like odors. They will stay fresh for roughly 5-7 days.
You can store cooked mushrooms inside an airtight container for about 2 days. Cooked mushrooms don't keep well, so use them quickly.
FAQs
Can I freeze oyster mushrooms?
Oyster mushrooms do not freeze well at all, regardless of them being raw or cooked. They have a very delicate texture and are sensitive to moisture. SO, once they defrost, they will be completely mushy and flavorless.
Are pink oyster mushrooms edible?
Pink oyster mushrooms are just as edible as other varieties. They do change color when cooked, but this doesn't affect their edibility.
Are oyster mushrooms psychedelic?
They are not psychedelic at all and don't contain any psilocybin, the component that causes psychedelic effects.
Do you eat stems of oyster mushrooms?
You don't eat the central stem of oyster mushrooms. The tiny clusters are removed from this stem before being used and cooked. This is mainly because the central stem doesn't contain a lot of flavors and isn't visually appealing. But, it is still edible and can be used in stews or stocks.
You might also like:
As always: If you make this recipe, let us know what you think by rating it and leaving a comment below. And post a pic on Instagram too—tag @give_recipe so we can see!
Sign up for the FREE GiveRecipe Newsletter to get the new recipes into your inbox! And stay in touch with us on Facebook, Pinterest, YouTube and Instagram for all the latest updates.