These Roasted Chicken Pieces are simple and so easy to make. These are coated with olive oil, seasoned with salt and black pepper, flavored with garlic and rosemary. Prepare in 5 minutes and forget them in the oven for about 50 minutes.
This is a super easy recipe for baked chicken pieces. They are flavored with rosemary and garlic to make the best comforting weeknight dinner. We have these whenever I feel lazy and don't want to do a lot of work but still want to serve my family good food.
What do you do when you feel the same? Order from a fast food restaurant? You really don't need it! The only thing you need for these succulent oven baked chicken parts is some time.
Unlike our sweet-savory Cast Iron Chicken Breast which are cooked on the stovetop, you don't have to watch them close in the kitchen. You can lie down and dream about the most succulent golden brown roasted chicken pieces you will have in the end.
Want more flavors? Make our Turkish Chicken Kebabs!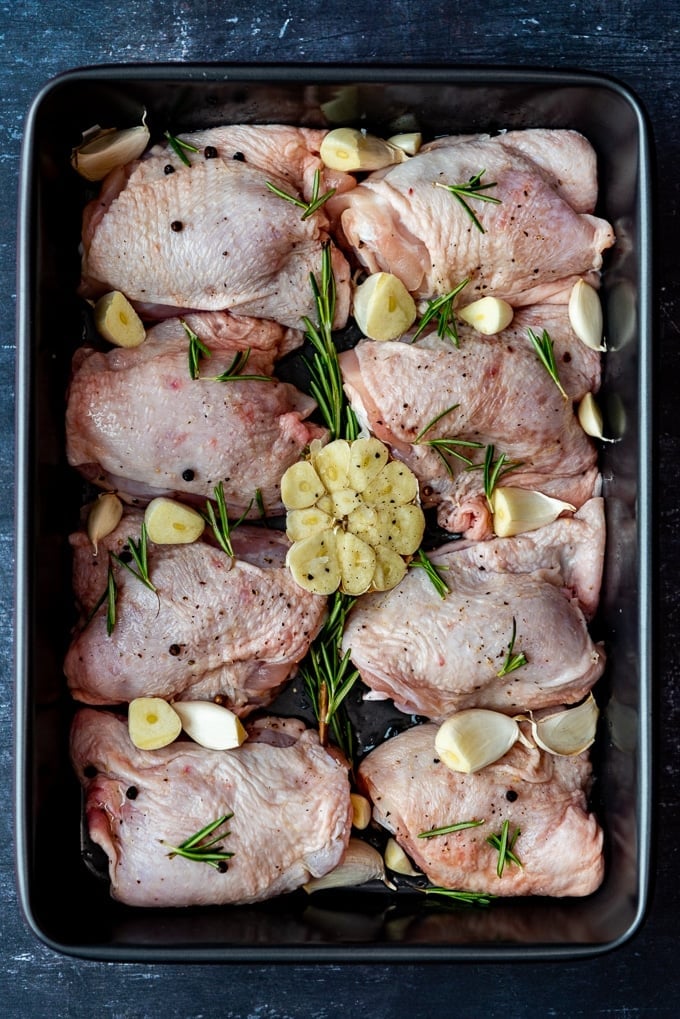 Making Roasted Chicken Pieces in Oven
Just like our Baked Chicken Drumsticks, this is a recipe that requires a 50-minute baking in oven; 30 minutes at high heat and 20 minutes at medium heat. I'm not talking about any cooking skills here because you almost do nothing to roast chicken parts. This is a put in the oven and forget about it for some time kind of recipe.
First, remove the excess fat from chicken pieces and pat them dry with paper towel.
Second, sprinkle salt and black pepper and pour a little olive oil on each side. Massage them well. See it in the video below please.
Third, preheat the oven to 400F (205C).
Fourth, oil a baking pan and place the chicken pieces in a single layer. If you use chicken parts with skin, place the skin sides up. Throw rosemary leaves and garlic cloves (with skin) over them. Bake for 30 minutes. If you put the head of garlic cut in half, remove it after 30 minutes. If you keep it until the end, it might burn.
Fifth, lower the heat to 375F (190C) and bake for another 20 minutes.
Finally, remove from oven and cover with aluminium foil until serving time. The roasted chicken pieces will be wonderfully moist inside with a crispy golden brown outside. Brush each chicken piece with the juice inside the pan and serve.
For a perfect side to serve with this chicken dish, see our Easy Pan Fried Oyster Mushrooms Recipe!
How Long To Bake Chicken Thighs and Other Pieces at 375F?
It is better to start baking at a high heat like 400F. You will end up with a nice golden color with this initial baking. Then continue baking at 375F for 20-30 minutes depending on your oven. Check it after 20 minutes using a knife. If they are tender enough and the juice is no longer pink, it's done.
What Type of Chicken Parts For This Recipe?
This is one of the best whole cut up chicken recipes because it is quite straightforward. You can buy a whole chicken and have your butcher cut them up for you. As a result, it gets way easier than working with a whole chicken. We either make these easy roast chicken pieces or Chicken Tomato Soup with the pieces.
I often use chicken thighs, legs and wings for this recipe and include breasts only when we have a whole chicken because you know chicken breasts are not as juicy. Making a few marks on breasts with a sharp knife really prevents drying and helps them absorb the flavors better. Or use the breast to make chicken kebobs in oven Turkish style.
This is a recipe every mom should know. Believe it or not your family will adore you even more when they see these amazing roasted chicken pieces at dinner table. You can proudly watch them gobbling down the pieces and licking their fingers. Visualize this in your mind. This is what every mom wants in their homes, right? With no hard work at all!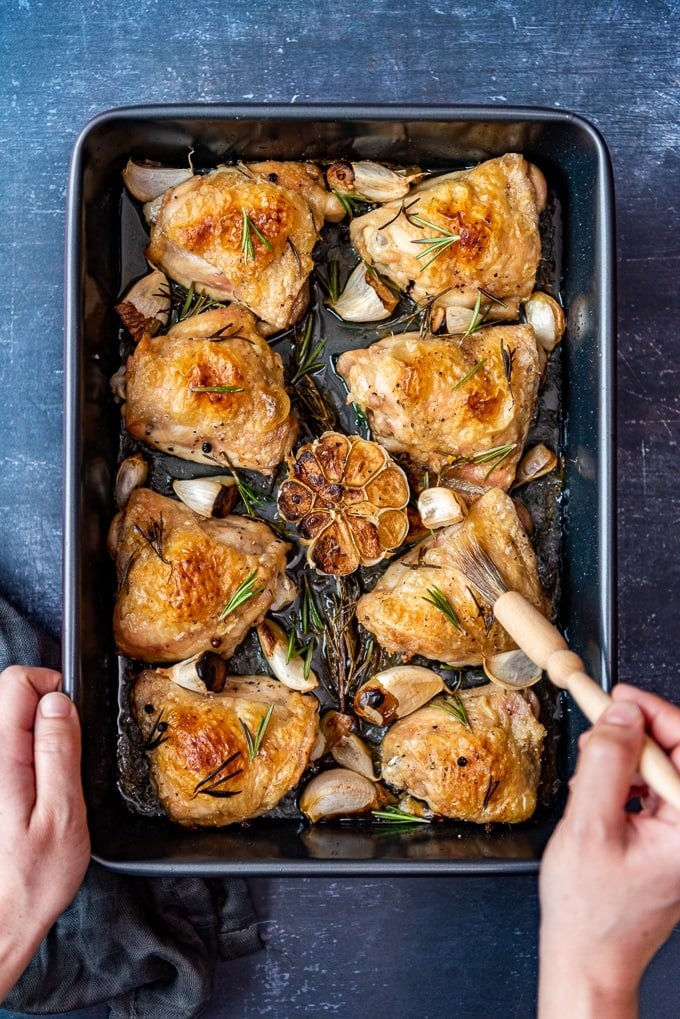 Notes About Easy Roast Chicken Pieces Recipe:
I suggest you not to remove the skin from the chicken pieces even if you don't like eating that part. It prevents the chicken pieces from drying while they are in oven. Also it gives a nice flavor. Fat is not always bad. You can even brush the chicken pieces with the flavorful juice before serving.
If you don't have rosemary or garlic on hand, just leave them out. I love them baked in chicken fat, that's why I add a lot. But the chicken pieces are still tasty without these. Garlic is something I just can't live without, so I always tend to add when baking chicken, lamb or vegetables. Garlic is good. Add it to this simple roast chicken pieces recipe!
When adding the garlic cloves, it's better to leave their skin. The oven is too hot for peeled garlic, so they might easily burn. Alternatively, you can cut the whole head of garlic in half and bake. Take it our after 30 minutes of baking.
How Many Calories Are In Roasted Chicken Thighs?
In this particular recipe, I used thighs only that were not very large, about 50 grams. With bone in and skin on. Each thigh was 116 calories.
On the other hand, a skinless thigh provides about 105 calories.
Calories In Other Chicken Parts For a Portion (3 ½ oz. /100g)
The following values are for roasted chicken parts, not raw.
Chicken drumsticks, skin on: 216 calories
Chicken drumsticks, skinless: 175 calories
Chicken breast, skin on: 197 calories
Chicken breast, skinless: 165 calories
Chicken wings, skin on: 290 calories
Chicken Wings, skinless: 203 calories
You can find more information on the nutritional value of chicken at National Chicken Council.
Should Skin Be Removed From Baked Chicken Thighs?
It is better to use skin-on chicken parts when roasting in oven so that we have them crispy on the outside and moist and juicy on the inside. Skin functions as a natural cover to prevent the chicken from drying in the oven. The best thing about chicken skin is that it is considered as a source of healthy, unsaturated fat. Plus, it gives a nice flavor. So you don't need to remove it even after the chicken is cooked.
However, if you don't want to eat it, you can definitely remove the skin from chicken after it is cooked.
Also, you had better remove the skin if you overcook it and it is almost blackened, rather than getting a nice golden color.
How To Freeze Chicken Parts
To freeze chicken parts, place each of them in a freezer bag separately, not in blocks. Then put them in a larger freezer bag. This will help them thaw easier. Piling them altogether in one bag will require longer time to thaw.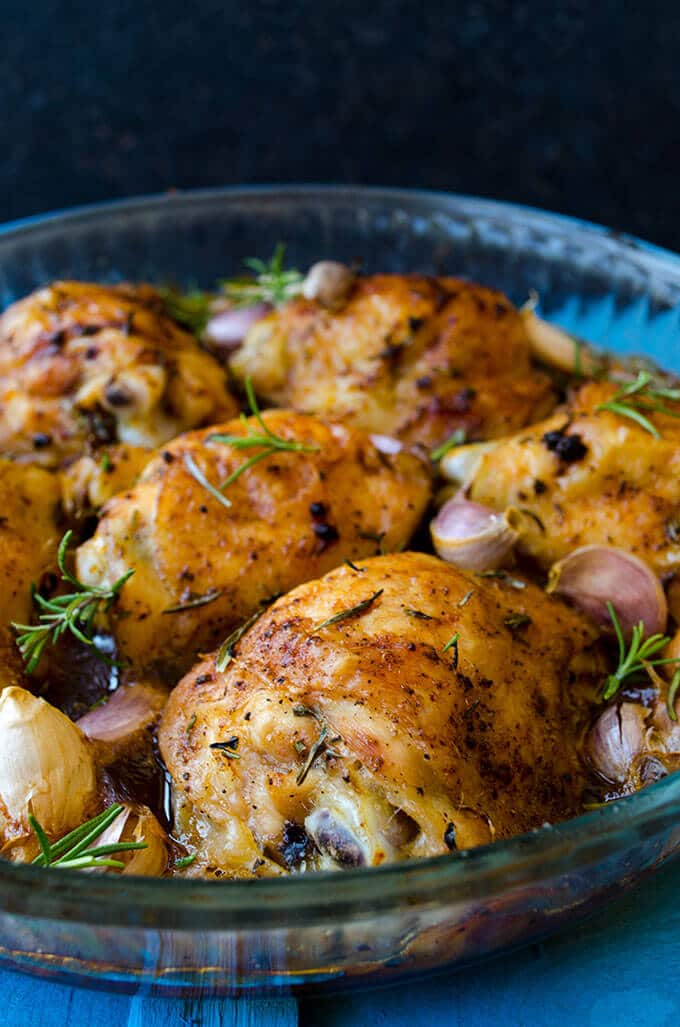 Is It Safe To Cook Chicken From Frozen?
Although some sources say that it is safe to cook frozen chicken, I wouldn't recommend it. The cooking time will change for frozen chicken and it is hard to cook it evenly. What's more, I think we should admit that some things in life needs time. Defrosting is just one of these things.
So it's better to plan ahead and place the frozen chicken in the refrigerator overnight. We need about 24 hours to thaw frozen chicken pieces. This is the safest way.
How To Freeze Roast Chicken Leftovers
Roast chicken thighs and other pieces freeze well as long as you keep the following points in mind:
Let the baked chicken cool completely. If you put it in the freezer when it is still warm, it will cause the temperature in the freezer to get warmer. And the chicken won't freeze properly. It is not good even fort he other foods in the freezer.
You had better to put the baked chicken leftovers in portions and then freeze.
Try to remove the air in the freezer bags completely as you close them up.
Don't forget to write the date on the bags.
Keep it in the freezer up to a month.
As always: If you make this recipe, let us know what you think by rating it and leaving a comment below. And post a pic on Instagram too—tag @give_recipe so we can see!
Sign up for the FREE GiveRecipe Newsletter to get the new recipes into your inbox! And stay in touch with us on Facebook, Pinterest, YouTube and Instagram for all the latest updates.
Print
📖 Recipe
Simple Roasted Chicken Pieces
Just as the name suggests, chicken thighs simply roasted in oven.
Author: Zerrin & Yusuf
Prep Time:

5 minutes

Cook Time:

50 minutes

Total Time:

55 minutes

Yield:

4

1

x
Category:

Dinner

Method:

Baking

Cuisine:

American
8

chicken thighs

2 teaspoons

salt

1 teaspoon

black pepper

2 tablespoons

olive oil

15

cloves garlic
Rosemary leaves
Instructions
Preheat oven to 400F (205C).
Pat the chicken thighs with a paper towel.
Sprinkle salt and black pepper over each.
Drizzle olive oil over them and rub well.
Place thighs in a baking pan. Toss rosemary leaves and garlic in the pan.
Bake for 30 minutes. Reduce the heat to 375F (190C) and bake for 20 minutes more until tender when poked with a knife.
Remove from oven and cover with aluminum foil until serving time.
Garnish with fresh rosemary leaves when serving.
Nutrition
Serving Size:

2 pieces

Calories:

932

Sugar:

0.1 g

Sodium:

1477.6 mg

Fat:

71.2 g

Carbohydrates:

5.2 g

Protein:

64.6 g

Cholesterol:

378.3 mg
Keywords: chicken parts, roasted chicken pieces, baked chicken pieces, baked chicken thighs