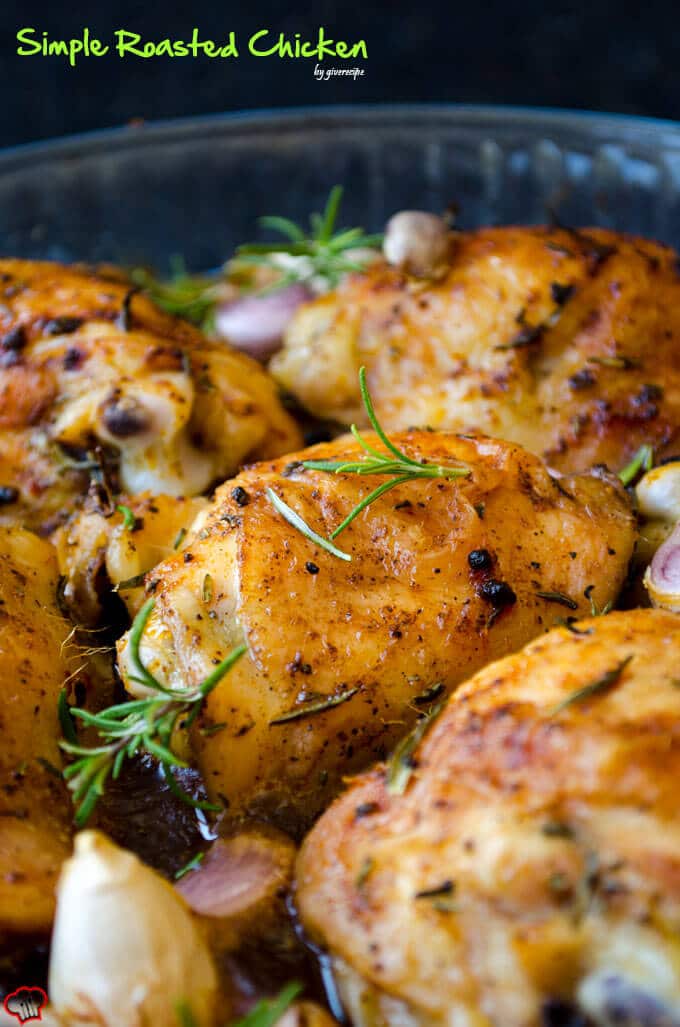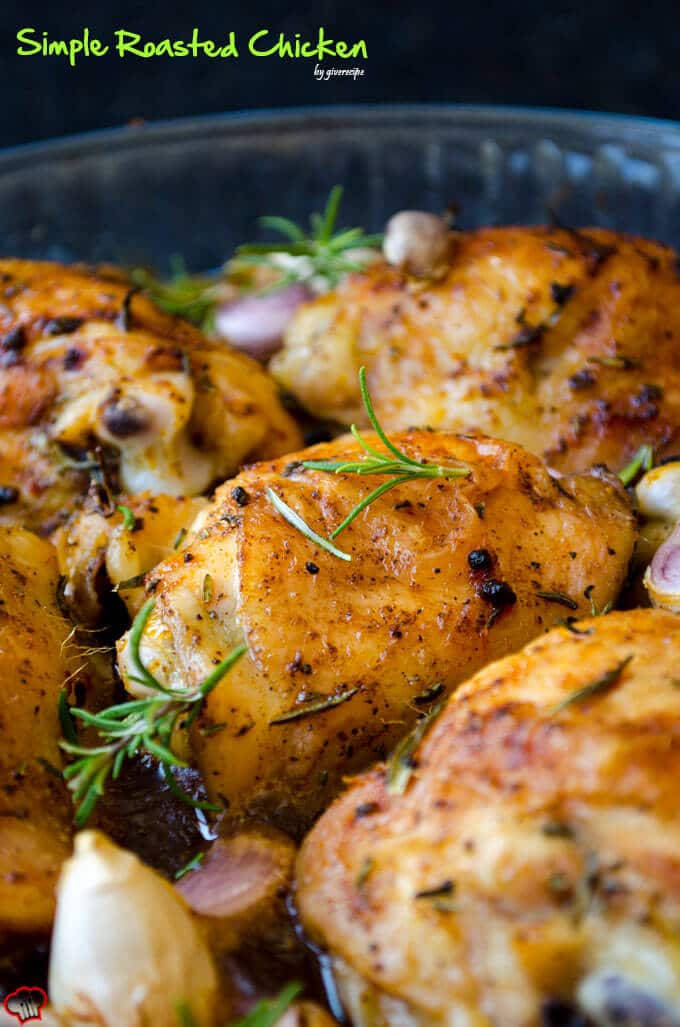 Simple Roasted Chicken with a little rosemary and garlic is the best comforting dinner when you are feeling lazy and don't want to do a lot of work but still want to have good food for dinner. You really don't need to buy it from a store or oder from a fast food restaurant. The only thing you need is some time. This is a recipe that requires a 50-minute baking in oven; 30 minutes at high heat and 20 minutes at medium heat. I'm not talking about any cooking skills here because you almost do nothing to roast chicken. This is a put in the oven and forget about it for some time kind of recipe. Unlike our sweet-savory Sticky Chicken Wings, you don't have to watch them close in the kitchen. You can lie down and dream about the most succulent golden brown chicken you will have in the end.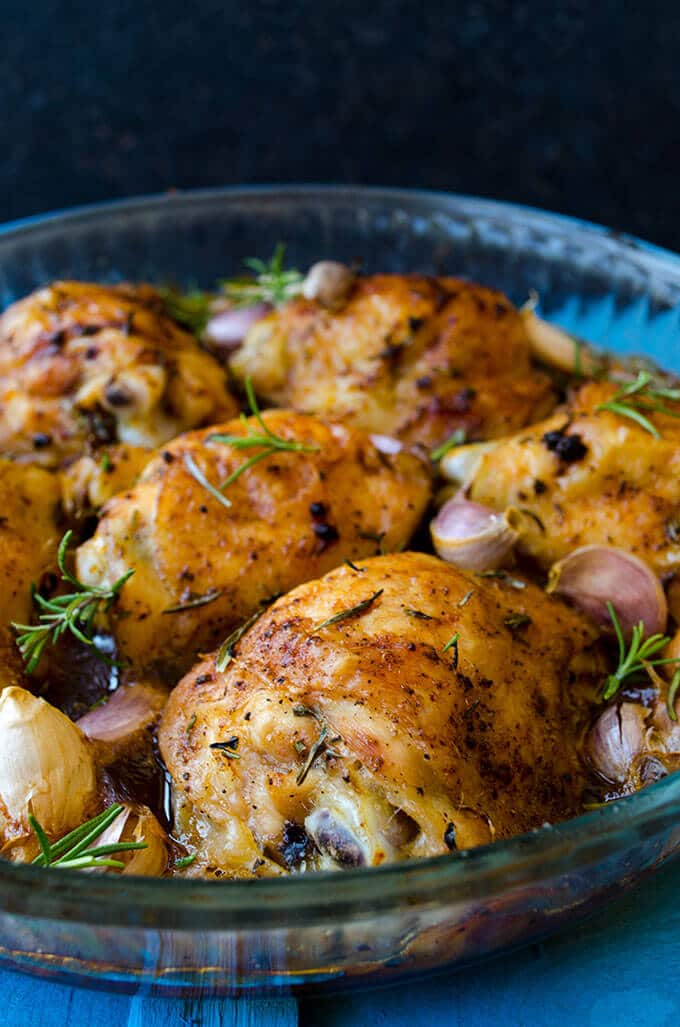 Simple Roasted Chicken is definitely a crowd pleaser. I used chicken thighs but you can use a whole chicken and bake it with exactly the same method, which is the simplest thing on earth. This is a recipe every mom should know. Believe me your family will adore you even more when they see these amazing chicken thighs at dinner table. You can proudly watch them gobbling down the thighs and licking their fingers. Visualize this in your mind. This is what every mom wants in their homes, isn't it? With no hard work at all!
As a working mom, Simple Roasted Chicken is one of my life savers and I make it several times a month. I can say that this is the ultimate chicken recipe in our home. I just don't know why I didn't share it with you earlier. Shame on me!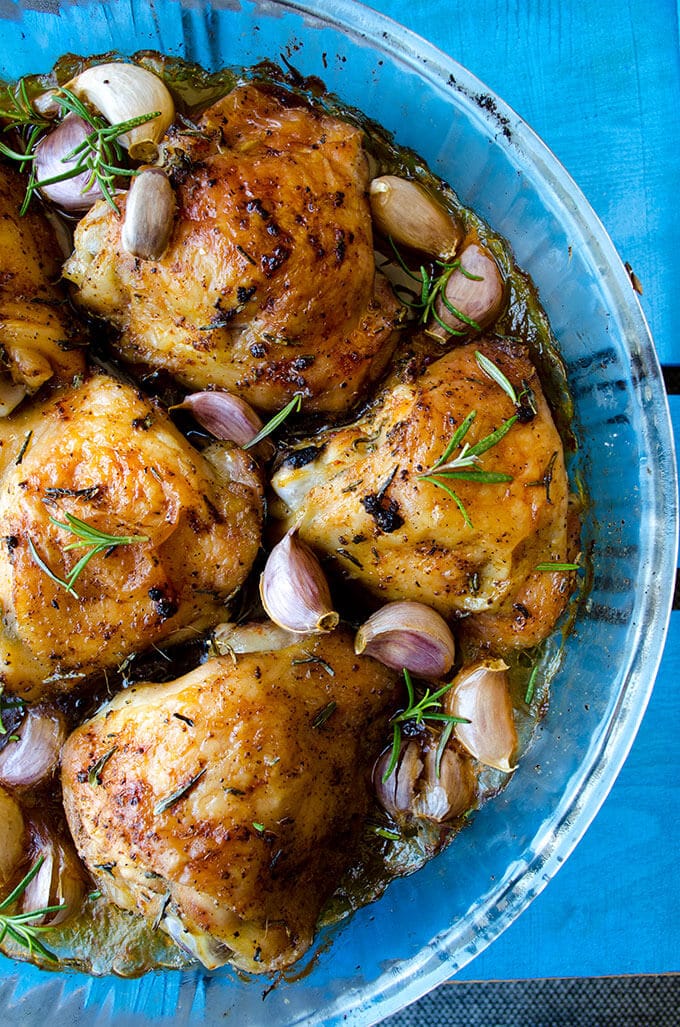 The recipe is very straightforward. Pat the chicken pieces dry with paper towel. Sprinkle salt on each piece and rub them with olive oil and black pepper. Place them in a baking pan skin-side up. Toss some rosemary and garlic in the pan. And bake it at hight heat (400F) for about 30 minutes to brown the chicken well and then reduce the heat to 375F for another 20-minute baking. The chicken pieces will be wonderfull moist inside with a crispy golden brown outside.
I suggest you not to remove the skin even if you don't like eating that part since it prevents the chicken pieces from drying while they are in oven. Also it gives a nice flavor. Fat is not always bad.
If you don't have rosemary or garlic in hand, just leave them out. I love them baked in chicken fat, that's why I add a lot. But the chicken pieces are still tasty without these. Garlic is something I just can't live without, so I always tend to add when baking chicken, lamb or vegetables. Garlic is good. Add it to these Simple Roasted Chicken Thighs.
Here is a quick video of how to make this recipe:
More chicken thigh recipes I'd love to try:
Baked Chicken Thighs with Carrots and Potatoes in Wine Cream Sauce on From Calculus to Cupcakes
Ottolenghi's Chicken with Caramelized Onions and Cinnamon-Cardamom Rice on The Brook Cook
Chicken Bake with Apples, Onions and Horseradish on Kitchen Frau
Pan Roasted Crispy Chicken Thighs with Figs on The Suburban Soapbox
Creamy Chicken and Mushroom Skillet on Laughing Spatula
Print
Simple Roasted Chicken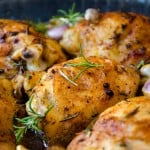 Just as the name suggests, chicken thighs simply roasted in oven.
Author:
Prep Time:

5 minutes

Cook Time:

50 minutes

Total Time:

55 minutes

Yield:

4
Ingredients
8 chicken thighs
2 teaspoons salt
1 teaspoon black pepper
2 tablespoons olive oil
15 cloves garlic
Rosemary leaves
Instructions
Preheat oven to 410F (210C).
Pat the chicken thighs with a paper towel.
Sprinkle salt and black pepper over each.
Drizzle olive oil over them and rub well.
Place thighs in a baking pan. Toss rosemary leaves and garlic in the pan.
Bake for 30 minutes. Reduce the heat to 375F (190C) and bake for 20 minutes more until tender when poked with a knife.
Remove from oven and cover with aluminum foil until serving time.
Garnish with fresh rosemary leaves when serving.
IF YOU LIKED THIS RECIPE, THEN YOU WILL LOVE THESE: