Peach Bread with Walnuts is wonderfully moist and flavorful thanks to fresh peach chunks and cinnamon sugar on its top. One of the best recipes with fresh peaches! No matter how high the temperature outside is, you need to go bake this amazing bread. It is even better when chilled.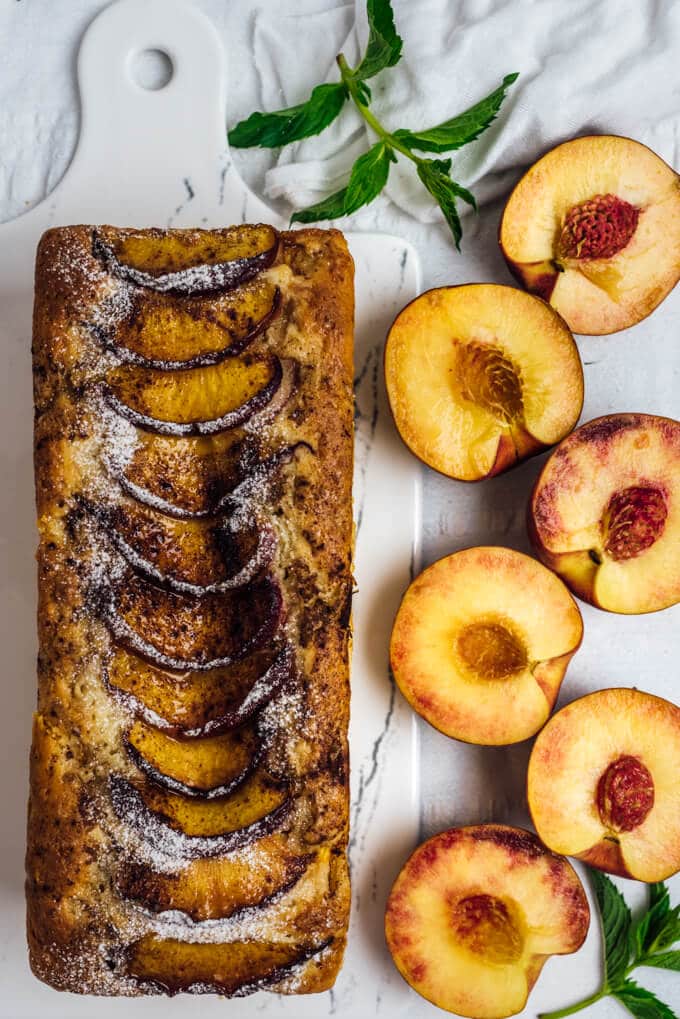 You might have realized that I'm not much into baking during summer but I wanted to make an exception for this beautiful bread. I mean, don't you think it looks so attractive? Just as how I had imagined it to be. After sharing several amazing salad recipes here since the beginning of summer like Vegan Potato Salad or Watermelon Feta and Mint Salad, I think we all deserve something to spoil ourselves a little.
We were talking about the most decadent Banana Bread I've ever made the other day. A friend of mine asked me whether I can make it for her daughter's birthday party and I gladly accepted and made it for the little beauty. Meanwhile the name "Banana Bread" somehow made me ask myself what other breads I can make when it's summer time. Well, I know your favorite one on this blog is Chocolate and Yogurt Zucchini Bread. Yes! Zucchini! The vegetable I'm obsessed with! Then I remember peach is one of my favorite summer fruit. So why not make a peach bread? That's how this out-of-this world peach nut bread was born.
Summer is when peaches are abundant, so let's enjoy it! I already add it to salads like this  super healthy Cold Lentil Salad with Peaches but I wanted to bake something this time.
How To Make Peach Quick Bread
The recipe has two parts before baking:
First, make the batter. In a large bowl, make the wet mixture by whisking egg, sugar, oil, kefir and vanilla extract. Combine dry ingredients (flour, baking powder, baking soda) in another bowl and gradually pour it into the wet mixture. Fold in the peach chunks and walnuts. Pour this batter into a prepared loaf pan.
Second, make the topping. Place the peach slices on the batter, sprinkle cinnamon and brown sugar over it. And bake for 1 hour.
You see this recipe is as easy as our Cake Mix Peach Cobbler.
Tips About This Peach Loaf Cake
Different from a banana bread, we don't need to mash peaches in this recipe. Just dice them to feel the juicy chunks of peaches when eating the bread. That's why it's better if the peaches aren't too ripe. And as I love combining nuts with fruit, I add some crumbled walnuts. If you want their flavor pop more, roast them beforehand.
Finally, I top the bread with peach slices, that's what made this bread look so attractive. You know what? Our little son, who loves sprinkling things on food, was with me in the kitchen and he asked "Mommy can I sprinkle some cinnamon on it?" Isn't it a brilliant idea? In addition to cinnamon, I added little brown sugar on peaches and ended up with this beautiful thing!
FAQs About Peach Loaf Bread
Can you freeze peach bread?
Yes, you can freeze it by wrapping it with plastic wrap and then placing it in a freezer bag. You can store it in the freezer for a few months. However, it will not be as good as when it is fresh. Peach chunks in the bread are juicy and give a nice moistness to it. This won't be the same when it is frozen and then thawed.
Can I make vegan peach bread?
You can definitely turn this recipe into a vegan peach bread. What you need to do is to replace the egg with flax egg just like we do in our Best Vegan Zucchini Bread recipe. Also, leave kefir out and use mashed banana instead. I'm sure you will love that vegan banana peach bread equally.
Can I make this peach loaf bread with canned peaches? 
I think you will get the best result with fresh peaches, but when they are out of season, you can use canned peaches too.
What can I substitute for kefir?
I use kefir in most of my cake or bread recipes because it gives a nice moistness but if you don't have it on hand, use buttermilk or plain yogurt instead.
Do I need to peel the peaches for this recipe?
Yes, peel the ones you are going to chop and add into the batter. Otherwise, their skin might spoil the texture. On the other hand, I don't peel the ones for the topping. We really don't need it. On the contrary, their skin gives a nice look on the top.
How can I easily peel peaches?
It is really not a hard work for some type of peaches especially when they are very ripe, but some other peaches aren't easily peeled. So the easy method for them is: Place whole peaches in boiling water and let them sit there for about 30 seconds. Then transfer them into very cold water so that you stop the cooking process. And you can easily peel the peaches.
Can I make a peach glaze for this bread?
I love it only with a little powdered sugar on it or with a dollop of our Peach Ice Cream Without Ice Cream Maker. But you can definitely make a peach glaze if you want your bread with more peach flavor. Use ripe peaches to make the glaze. Combine 1 cup of powdered sugar with ¼ cup finely diced peaches and wait for a few minutes. Drizzle the glaze over the bread when it is completely cool.
Oh and if you have unripe peaches in your backyard, check out our Pickled Green Peaches Recipe.
More Recipes With Fresh Peaches
Sugar Free BBQ Sauce with Peaches
Quick and Easy Peach Freezer Jam
My Other Loaf Cake Recipes With Kefir
Print
Fresh Peach Bread Recipe with Walnuts
Cinnamon flavored peach bread with walnuts. Moist and flavorful, it makes you feel cozy.
Author:
Prep Time:

10

Cook Time:

60

Total Time:

1 hour 10 minutes

Yield:

11

1

x
Category:

Bread

Method:

Baking

Cuisine:

American
Scale
Ingredients
1

egg

2/3 cup

sugar

1/2 cup

vegetable oil

3/4 cup

kefir

1 tsp

vanilla extract

1

and 2/3 cups all-purpose flour

1/2 tsp

baking powder

1/2 tsp

baking soda

1 cup

peach chunks

1/4 cup

crumbled walnuts
Topping:
11

peach slices, not very thick

1 teaspoon

cinnamon

2 teaspoons

brown sugar
Powdered sugar when serving
Instructions
Preheat oven to 350F and line a 8X4 inch loaf pan with parchment, leaving enough baking parchment so that it is easy to pull the cake out.
In a large bowl, whisk together the egg and sugar. Add the oil and whisk well. Add in kefir and vanilla extract.
Sift flour, baking powder and baking soda together ino the bowl and stir with a spatula just until combined. Stir in the peaches and walnuts and pour into the baking pan.
Arrange the peach slices on the bread and sprinkle cinnamon and Brown sugar over it.
Bake for an hour or until an inserted skewer somes out clean. Remove from oven and let it cool for 10-15 minutes before removing it from the pan.
Dust with powdered sugar when it cools completely or when serving.
Keywords: peach bread, fresh peach bread, peach loaf cake
IF YOU LIKED THIS RECIPE, YOU WILL LOVE THESE TOO: