This fluffy Vegan Zucchini Bread makes a perfect vegan breakfast bread or snack even for those who has never thought of being vegan. While you won't taste zucchini, you will feel the moistness and crunchy walnuts in every bite. No eggs, no dairy products but nobody can tell it is vegan.
Made with flax egg, this zucchini nut bread is surprisingly fluffy. If you can't stand even the subtle smell of eggs in baking, this recipe is for you too. Read on to learn how to make flax egg easily.
It's finally summer here, which means you will witness a craziness for zucchini in our kitchen and thus here on the blog. We will be making vegan zucchini casserole with tomatoes or gluten free zucchini pie often as our light summer lunch, which are the best recipes to use up excessive zucchinis in your yard. But what about breakfast or when we crave for a snack to pair with our afternoon tea? We bake this dairy free eggless zucchini bread.
"How do you make vegan bread fluffy?" is the question in your mind. I know. In regular bread recipes, eggs are the key ingredient to help the bread turn out nicely fluffy. Plus, eggs in a cake batter bind  all the ingredients well. But we don't use eggs in vegan recipes. So what can replace eggs in a vegan bread recipe? The answer is quite simple: Flax egg also known as natural vegan egg.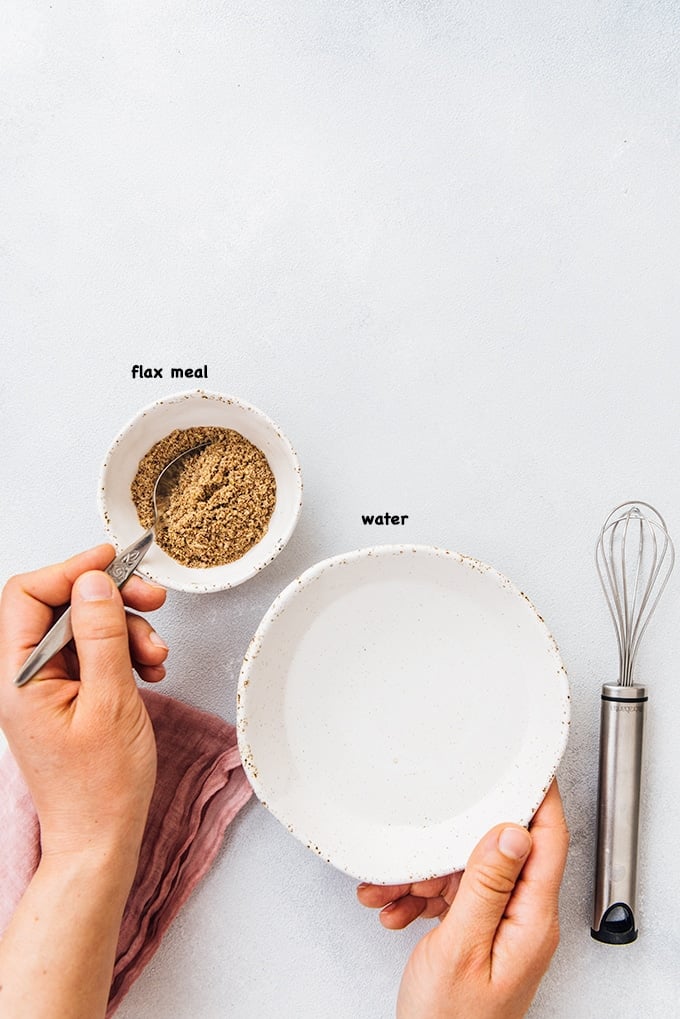 What Is A Flax Egg?
Flax egg is not a real egg. It is named so because it acts like an egg. The best part is that you make this egg substitute at home. With two simple ingredients: ground flax seed and water. As flax seeds are high in fiber and good for digestive health, it's a good idea to include them in our diet.
Do you use flax seeds in your baking? They taste great in recipes like our pumpkin flavored breakfast cookies. If you love their nutty and earthy flavor, use this mixture of ground flax seed and water when baking vegan. It is a wonderful egg replacer.
Flax egg is a mixture of flax seed meal and plain water. You can easily find flaxseed meal packaged at markets. On the other hand, if you want to make it yourself, use your coffee grinder and grind your flax seeds. It's that easy.
With the right ratio of water and flaxseed meal, after waiting the mixture for 5-10 minutes, it is really surprising to see how it turns into a jelly like substance just like whisked egg whites. This is how flax egg acts like an egg in a cake batter and binds the ingredients. As a result, you end up with a nice fluffiness and a great nutty flavor. Just as in this zucchini bread without eggs and our vegan fresh fig banana bread.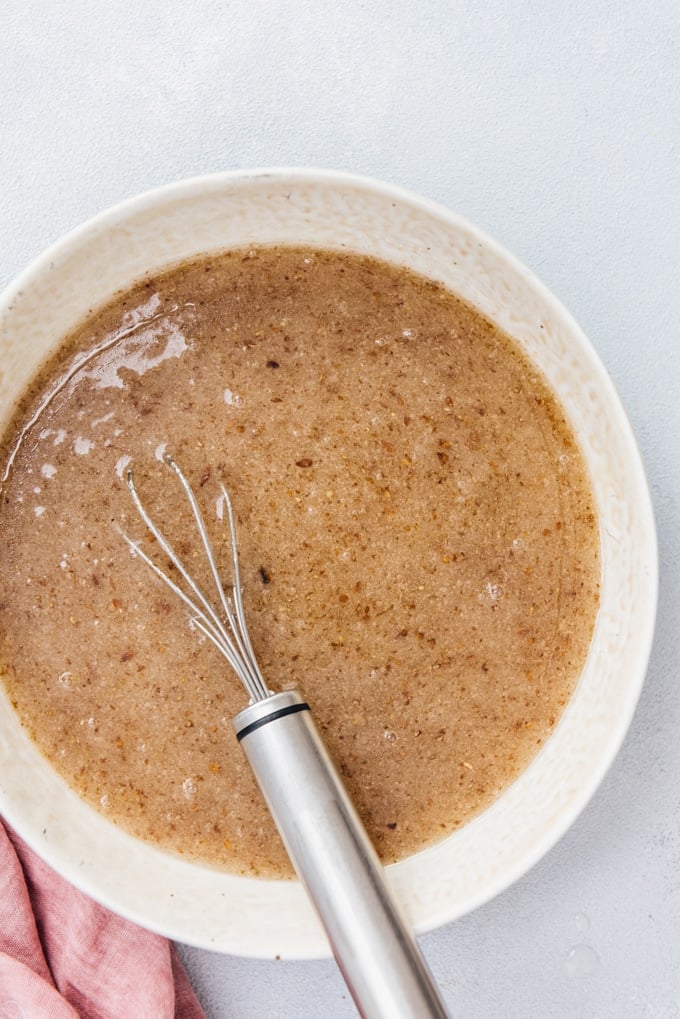 How To Make A Flax Egg
The common flax egg ratio is: One tablespoon flaxseed meal, 3 tablespoons water. Making flax egg is one of the easiest thing on earth. The recipe has two steps: 1) Whisk 2) Wait.
Whisk together the flaxseed meal and water. Let it sit for 5 minutes and it's ready!
Use your homemade flax egg in your baking as an alternative to eggs. This ratio is a substitute for one egg. Double it for two eggs. However, I don't recommend using it more than doubled. The taste of your bread or cake might be unpleasant otherwise.
The amount of water in my recipe is a bit more (8 tablespoons in total) because apart from water and oil, there is no liquid in the batter. So what I have in this recipe is 2 tablespoons flaxseed meal, 6 tablespoons water to replace 2 eggs.
2 tablespoons extra water in the batter to help moistness.
Ingredients For Zucchini Bread No Eggs
What we need for a vegan zucchini bread recipe is to make it eggless and dairy free. So what do we use to replace egg and dairy products?
Flax egg replaces egg. I explained how to make it above.
Water replaces dairy products. I just add plain water in this recipe as a substitute and the result is very much pleasing. But you can use a plant-based milk like soy milk, coconut milk or make your own almond milk at home and use it in vegan recipes like this. So if you want to use one of these milk options, make your flax egg first with 2 tablespoons flaxseed meal and 6 tablespoons water. Then add in 2 tablespoons of a milk of your choice.
Apart from flaxseed meal (for a flax egg) and water, the other ingredients are:
Flour
Baking soda
Baking powder
salt
cinnamon
nutmeg
sunflower oil
vanilla extract
sugar
shredded zucchini
walnuts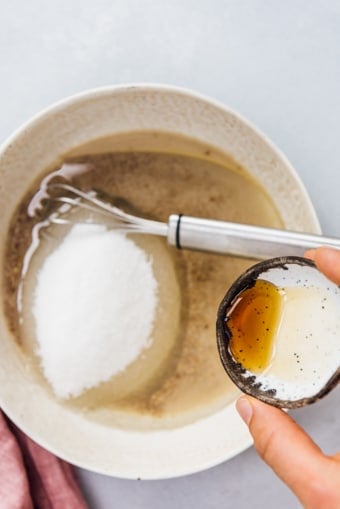 Baking with flax eggs, we treat them like real eggs. I mean, we whisk flax eggs with sugar first until creamy just like we do with real eggs. So we prepare the wet mixture first and then pour this onto the combination of dry ingredients. We do the rest of mixing with a spatula just until everything is combined.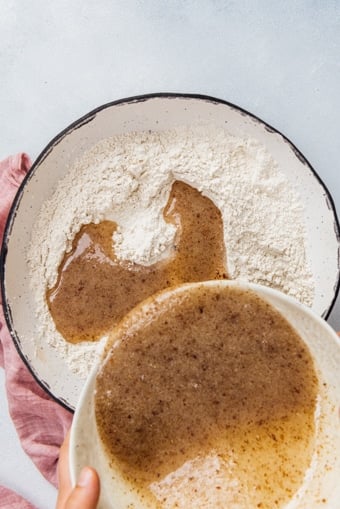 How To Make Dairy Free Eggless Zucchini Bread
The recipe has five easy parts after shredding the zucchini.
First, make the flax egg by whisking flaxseed meal and water in a medium sized bowl. Let it sit for 5-10 minutes.
Second, add in sugar, oil and vanilla extract.
Third, in a large bowl, combine the rest of the dry ingredients in a large bowl except walnuts and zucchini.
Fourth, pour the wet mixture into the dry mixture and stir well with a spatula. This will be really thick, but don't worry. Fold in the shredded zucchini, which will give the the right consistency to our bread batter, and crumbled walnuts. Don't overmix though.
Finally, pour the batter in a prepared loaf pan and bake for 65 minutes. Let it wait for about 20 minutes before removing it from the pan and cool completely before slicing.

How To Prepare Zucchini For Zucchini Bread
Wash and dry zucchini. Cut the ends of it, but don't peel the skin. Grate it using either your food processor or your hand grater. 
There is really no need to peel the skin when grating zucchini because you don't feel it in the bread. What's more, I love to see those tiny green pieces of it in my bread. They don't taste like zucchini at all, but give a nice texture when the bread is sliced.
On the other hand, there is one more step you need to do if the zucchini you are using is large with a lot of seeds. Scrape out those seeds and then grate it. 
As for removing the excessive juice of shredded zucchini, it really depends on the recipe. Read the instructions carefully to understand if it is necessary or not. If the recipe calls for some type of a liquid, you had better remove the excessive juice by squeezing shredded zucchini in your hands or using a cheese cloth. You can see how I shred zucchini and remove its juice in the video of our healthy zucchini casserole recipe.
However, in this recipe you really don't need to get rid of that excessive juice. On the contrary, we need it. Because we don't use much liquid in the batter, what makes this vegan zucchini walnut loaf is the juice of zucchini.
So please read the instructions in a recipe carefully to see whether you need to remove the zucchini juice or not.
Baking with Zucchini
Zucchini is one of the vegetables that are rich in calcium, so I'm trying to use it in my cooking and baking more often. I already love shredded zucchini in cakes, it makes the cake wonderfully moist. One of readers' all-time favorite recipes on the blog is our zucchini chocolate bread. If you haven't tried zucchini in cakes or sweet breads yet, you have to try this one ASAP! Unless you are following a vegan diet for sure.
I couldn't wait longer and made this chocolate zucchini bread vegan with lemon glaze. It won't be wrong to say that this was as yummy as the non-vegan version I mentioned above. Do try this bread if you love chocolate! No need to be vegan to love it!
Vegan Zucchini Bread Calories
A slice of this zucchini walnut bread is 538 calories. I cut the bread in 1 inch slices, but mostly eat a slice in two because one slice is too big for me at breakfast.
FAQs About This Easy Vegan Zucchini Bread
Should I remove the excessive juice of shredded zucchini?
No. For this recipe, the juice of zucchini helps the moistness of bread. Read more on this under the title How To Prepare Zucchini above.
Can I use vegan milk in this recipe?
Yes. If you want to use vegan milk, make the flax egg by whisking 2 tablespoons flax seed meal and 6 tablespoons water. After 5 minutes, add in 2 tablespoons of a plant-based milk of your choice. And follow the other steps as they are.
Can I substitute applesauce for flax egg?
Yes. If applesauce is what you have on hand and you don't feel like going out to buy flaxseed meal, use it in this recipe. I haven't tried it but I guess 1/4 cup of unsweetened applesauce would be enough. However, you won't have that nutty and earthy flavor of flax seeds in your recipe.
Can I substitute chia seeds for flax seeds?
Yes. Using chia seeds is another great way to make a vegan egg. Just mix chia seeds with water in the same way as flaxseed meal and make your vegan breakfast bread with chia seeds.
Can I use this recipe to make vegan zucchini bread muffins?
Yes. You can pour the batter in muffin tins instead of a loaf pan and bake for 20-25 minutes or until a toothpick inserted in the center comes out clean.
How should I store the bread?
Keep it covered or in an airtight container at room temperature for 2 days. Keep it in refrigerator up to a week.
Why Vegan Recipes Here?
As I mentioned here before, our son had to follow an egg-free and dairy-free diet for a temporary period of time, which challenged me to try vegan recipes. This was the second vegan bread I tried and I was so happy with the result. The first one was an easy banana bread with vegan ingredients. He almost devoured it.
What I've learnt from my searches is that being vegan means broadening your diet rather than limiting it. So I love to discover and create vegan recipes from time to time and share the results with you here.
Leaving an old photo of the zucchini bread when we made this recipe for the first time years ago. I guess we have improved our photography since then. What do you think?
Need more vegan baking recipes? Here are a few more you should check out!
Gluten Free Vegan Chocolate Banana Bread – The Pretty Bee
Chocolate Cake Vegan – Delicious Everyday
2-Ingredient Easy Vegan Cookies – Give Recipe
Cinnamon Raisin Bread Vegan – Texanerin Baking
Chocolate Brownies Vegan – Give Recipe
If you have a chance to make this Vegan Zucchini Bread recipe, I'd love to hear your feedback. Please rate the recipe and leave a comment below!
Print
Vegan Zucchini Bread with Walnuts
An egg-free, dairy-free moist and nutty zucchini bread with flaxseed meal.
Author:
Prep Time:

15 minutes

Cook Time:

1 hour 5 minutes

Total Time:

1 hour 20 minutes

Yield:

8

1

x
Category:

Vegan

Method:

Baking

Cuisine:

American
Scale
Ingredients
Flax Egg (to replace 2 eggs):
2 tablespoons

flaxseed meal

6 tablespoons

water
Zucchini Bread:
2 tablespoons

water (or a vegan milk of your choice)

1

and 1/2 cup granulated sugar

3/4 cup

sunflower oil

2 teaspoons

vanilla extract

3 cups

all-purpose flour

1 teaspoon

baking soda

1 teaspoon

baking powder

1/2 teaspoon

salt

3 teaspoons

cinnamon

1/2 teaspoon

grated nutmeg

2 cups

shredded zucchini

3/4 cup

chopped walnut
Instructions
Preheat oven to 350F (175C). Grease an 8×4 inch loaf pan and line it with baking paper.
In a medium bowl, mix flaxseed meal and water to make flax egg, put aside and wait for 5 minutes.
Add in 2 tablespoon water (or a vegan milk), sugar, oil and vanilla extract.
In a large bowl, combine flour, baking soda, baking powder, salt, cinnamon and nutmeg.
Pour it into the dry ingredients and stir with a spatula. Fold in shredded zucchini and walnuts.
Pour the batter into prepared loaf pan and bake for 65 minutes or until a skewer inserted into the center comes out clean.
Let it cool for 15-20 minutes in the pan and then remove it from the pan.
Keywords: zucchini bread, vegan zucchini bread, vegan baking, vegan bread, flax egg, flax seed meal
This post was originally published in 2015 and has been updated with additional information.
IF YOU LIKED THIS RECIPE, YOU WILL LOVE THESE TOO: