What comes to your mind when you see the title of this post? Another boring diet food that has a nice photo? You will have to apologize to this Skinny Zucchini Casserole for thinking that way once you have the first bite. I promise, it will become one of your favorite summer treats before you realize. You can pair it with fresh Shepherd's Salad or Cacik, which is a cold soup made of yogurt and cucumber to have the great flavors of summer.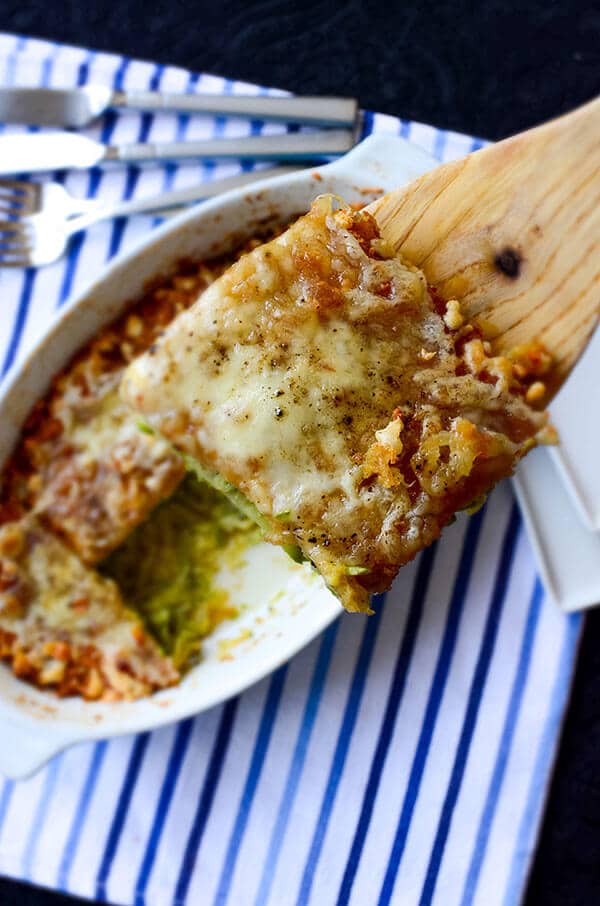 It is a low calorie recipe, that's right. But it doesn't mean that it is tasteless and unappealing. On the contrary, even zucchini haters will love this amazingly tasty, yet skinny zucchini casserole.
For one thing, it doesn't contain any oil or butter. I just used ½ tablespoon butter to grease the pan. I used a few simple ingredients for this incredibly yummy zucchini casserole. When someone sees and wants to make this recipe, there is no need to go for shopping. These are some very basic ingredients that I'm sure you always have in your kitchen.
Besides zucchinis, you mainly need 2 eggs and a little cornmeal and breadcrumbs, which will help the grated zucchini hold together. Also, to make this casserole that tasty, you need a little cheese and black pepper.
I used kasar cheese, which is a Turkish type of cheese but parmesan works fine too. I'm planning to use ricotta next time to make my casserole creamy. If you try it earlier, I'd love to hear how it turns out. A mixture of various cheeses could even be better. Then the zucchini casserole may not be that skinny though.
Personally, I feel that black pepper is a must for this recipe. You will agree with me when that very tempting smell of zucchini and black pepper fills in your home when baking. Black pepper is one of the ingredients here which saves this casserole from being boring.
Make sure you strain the excessive water of grated zucchini, otherwise your casserole becomes soggy and we don't want that.
This zucchini casserole is healthy and full of flavor with a wonderful golden crust. I used a combination of cornmeal and breadcrumbs and kasar cheese to have this yummy crust. You can use just cornmeal and leave out breadcrumbs if you have a gluten-free diet.
Yields 4
Skinny Zucchini Casserole
A very tasty zucchini casserole flavored with black pepper and a little cheese.
10 minPrep Time
45 minCook Time
Ingredients
½ tablespoon butter
3 and ½ cups grated zucchini
2 eggs, beaten
½ teaspoon salt
1 teaspoon ground black pepper
2 tablespoons cornmeal
3 tablespoons breadcrumbs
4 tablespoons grated kasar cheese or parmesan
Instructions
Preheat the oven to 190C.
Grease a baking pan with butter.
Squeeze the grated zucchini with your hands and remove that excessive water.
Add the beaten eggs, 1 tablespoon cheese, salt and black pepper and combine them well.
Pour this mixture into the baking pan and spread evenly.
Sprinkle cornmeal and breadcrumbs and the rest of the cheese on the top.
Cover the paking pan with aluminium foil and bake for 30 minutes until puffed up.
Take it out, uncover and bake for a further 15 minutes or until golden.
Serve warm.
7.6.2
573
https://www.giverecipe.com/skinny-zucchini-casserole/
IF YOU LIKED THIS RECIPE, THEN YOU WILL LOVE THESE: