Turkish Style Celeriac, Zeytinyağlı Kereviz Yemegi is braised with carrots and quinces, flavored with lemon and orange juice. A wonderful side dish or a vegetarian meal. Perfect combination of sweet, savory, earthy and citrus flavors. This recipe can make you a celeriac fan even if you are eating it for the first time.
Celeriac, which is also known as celery root or kereviz in Turkish, might not be the belle of the ball, but in this easy vegetarian recipe, it is certainly elevated to a new status!
Its appearance often discourages people from using it. But once paired with the correct ingredients and cooked in the correct way, it will convert even the most anti-celeriac person! Also check out our favorite Celery Root Soup!
Celeriac with olive oil (zeytinyağlı kereviz yemeği), one of the tastiest dishes in Turkey, is the perfect example of how an unpopular ingredient can be made rave-worthy. It uses only a few flavorful ingredients that balances out the nutty and spicy flavors of the celeriac.
The overall method is extremely easy, and because it should be served at room temperature or cold, can be made in advance.
Today we will finally be discussing everything celeriac! We will have a look at this marvellous vegetable itself, how to prepare it and how to use it with other vegetables as well. Then we will look at the ingredients used in this mouth-watering recipe and how to make it.
Jump to:
What is Celeriac?
Celeriac is one of the most underrated vegetables we've ever come across. It might not be the most beautiful of them all, but it's certainly one of the most versatile and flavorful ones.
Celeriac is the root part of your everyday celery plant (those long green stems that are often used in salads, soups and stocks). It is a large, spherical, knobby brown root with an extremely thick skin. Once the skin is removed, you get to the flavorful white fleshy part inside that is used in recipes.
Celeriac vegetable is mostly found in winter and extremely popular in the Mediterranean, North American and Northern European cuisines.
What does It Taste Like?
Celeriac has a unique earthy flavor. The celery flavor element also comes through strongly and gives off a slight spicy and peppery taste. Although the texture of cooked celery root closely resembles that of potatoes or turnips, its taste is way more distinctive. So you either love or hate it.
The dish we are making today makes a fantastic accompaniment, but many people enjoy it on its own as well!
Are Celery Root And Celeriac The Same?
Yes, these two terms refer to the same vegetable. The term "celery root" comes from the fact that celeriac is the bottom part of the better-known celery stalks.
Other terms often used to describe celeriac include celeriac root, knob celery and turnip-rooted celery, although celeriac isn't closely related to turnips at all.
Preparing Celeriac
A celeriac vegetable does have some extra steps that other vegetables might not have. It has a very thick skin that has to be removed before cooking the white fleshy part. This skin is not edible!
The first and easiest way to remove this skin is to use a very sharp knife and remove the top and bottom of the vegetable. Then slice off thick skin sections until you reach the white root part.
The second, much more labour-intensive method is to simply use a peeler until you reach the inside, however, because the skin is so thick, this method might take a while.
After peeling that ugly skin, the white part of the celery root loses its color fast and starts to get brownish. To prevent this, immediately chop it into a mixture of lemon juice and water. Keep it there until everything else for the dish is ready. You don't need to rinse it when you are ready to add it into the pot. Just drain and cook.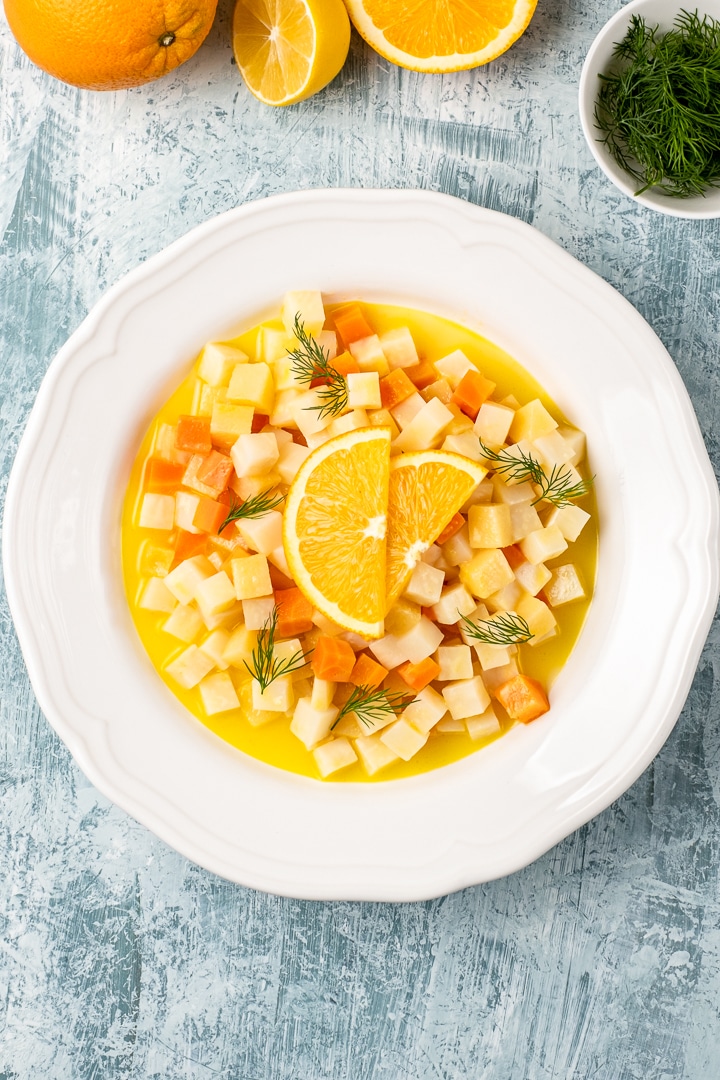 Turkish Zeytinyagli Kereviz
This is one of those dishes called 'olive oil dishes' in Turkish cuisine. These are the dishes that are vegetarian, cooked with a generous amount of olive oil and served cold or at room temperature as a side dish, mezze or even a meal. If you want more examples of olive oil dishes, go check out our Zeytinyagli Fasulye, Zeytinyagli Enginar and Sunchokes Braised In Olive Oil!
This Zeytinyagli Kereviz recipe, as we call in Turkish, doesn't contain a lot of ingredients, just very flavor-packed ones.
Our hero ingredient, kereviz (celeriac root), has strong earthy and slightly spicy flavor notes that is well-balanced with the rest of the ingredients. Besides being delicious, celeriac has a ton of health benefits. It contains a ton of antioxidants, strengthens your bones, improves digestion and even general heart health! You can find more on this source.
The next note-worthy ingredient is quince. A quince fruit has slightly sweet and slightly spicy flavor-notes that matches and balances that of celeriac perfectly! It creates a more complex flavor pallet that is simply put, like nothing you've tasted before! Go check out our Poached Quinces Recipe too!
The further addition of citrus (orange and lemon juice) adds to the refreshing elements.
Olive oil is a must have ingredient and cannot be substituted with any other type of oil! It is a staple ingredient in Turkish cuisine and very often even more is added before a vegetable dish like this is served.
Finally, fresh dill complements all the earthy, tangy and sweet flavors. If you are not a fan, you can use parsley instead.
How To Make The Recipe
This celeriac recipe is incredibly easy to make and absolutely delicious.
First, prepare the vegetables. Chop them almost the same size. Celeriac and quince lose their fresh color very quickly, so put them in a mixture of water and lemon juice until you start cooking.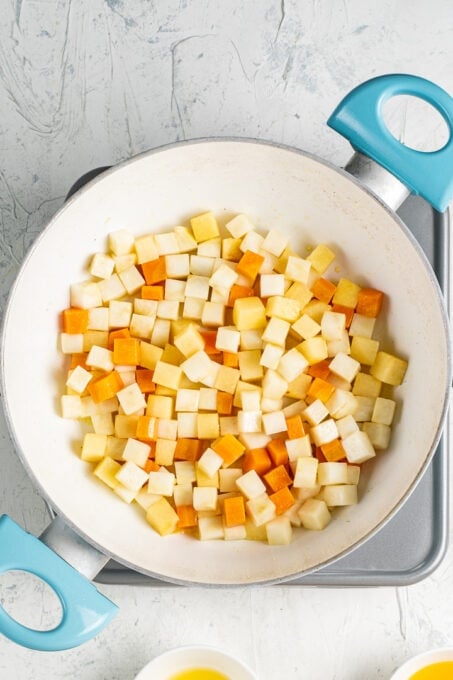 Second, combine the carrot, celeriac and quince in a pot. And gently pour the orange juice and lemon juice over the vegetables.
Third, add olive oil and season with some salt.
Fourth, cook and add water after 10 minutes. Once all of the ingredients have been added to the pot, cover the pot with a lid and allow it to cook over medium heat for about 10 minutes. Stir the ingredients together, add the hot water to the pot, and continue cooking for about 15-20 minutes. Do not cook the vegetables until they are mushy!
Fifth, add dill and cool before serving. Once the veggies have finished cooking, remove the pot from the heat, stir in the freshly chopped dill and allow the dish to cool completely to room temperature before serving it.
What Vegetables Go with Celeriac?
Celeriac is a surprisingly versatile vegetable. The best flavor pairings are ones that are either very bland (so the flavor of the celeriac vegetable itself can shine), or you can pair it with extremely strong or intense flavors (so it acts as a supporting ingredient to those flavors).
The best vegetables to pair with celeriac root include basic ones like potatoes, onions, and celery of course. The more intricate pairings would include vegetables like rutabagas, beets, turnips, shallots and carrots.
Although this ingredient is mostly paired with other winter-vegetables, you can definitely consider refreshing pairings such as mint, green apples, blueberries, basil, lemons and roasted nuts too.
More Turkish Vegetarian Dishes
As always: If you make this recipe, let us know what you think by rating it and leaving a comment below. And post a pic on Instagram too—tag @give_recipe so we can see!
Sign up for the FREE GiveRecipe Newsletter to get the new recipes into your inbox! And stay in touch with us on Facebook, Pinterest, YouTube and Instagram for all the latest updates.
Print
📖 Recipe
Kereviz Yemegi (Turkish Braised Celeriac)
A lovely combination of quince and celeriac!
Author: Zerrin & Yusuf
Prep Time:

10 minutes

Cook Time:

30 minutes

Total Time:

40 minutes

Yield:

4

1

x
Category:

Side Dish

Method:

Cooking

Cuisine:

Turkish

Diet:

Vegan
2

celeriac, peeled and chopped

1

carrot, chopped

½

quince, seeds discarded and chopped

½

orange, squeezed

½

lemon, sequeezed

half bunch of fresh dill, chopped

salt to taste

3 tbsp

olive oil

¾ cup

hot water
Instructions
Put carrot, celeriac, and quince into the pot in this order.

Pour orange juice and lemon juice onto them.

Add olive oil and salt. Cover the pot and cook over medium heat for about 10 minutes.

Then stir it and pour hot water into it.

Cook for 15-20 minutes until tender. Do not overcook it or the veggies get mushy. Take it from heat, add chopped fresh dill and stir.

Serve it at room temperature or cold either as a main dish or side dish.
Nutrition
Serving Size:
Calories:

154

Sugar:

5.3 g

Sodium:

684.3 mg

Fat:

10.9 g

Carbohydrates:

15.2 g

Protein:

1.8 g

Cholesterol:

0 mg
Keywords: celeriac recipe, celery root