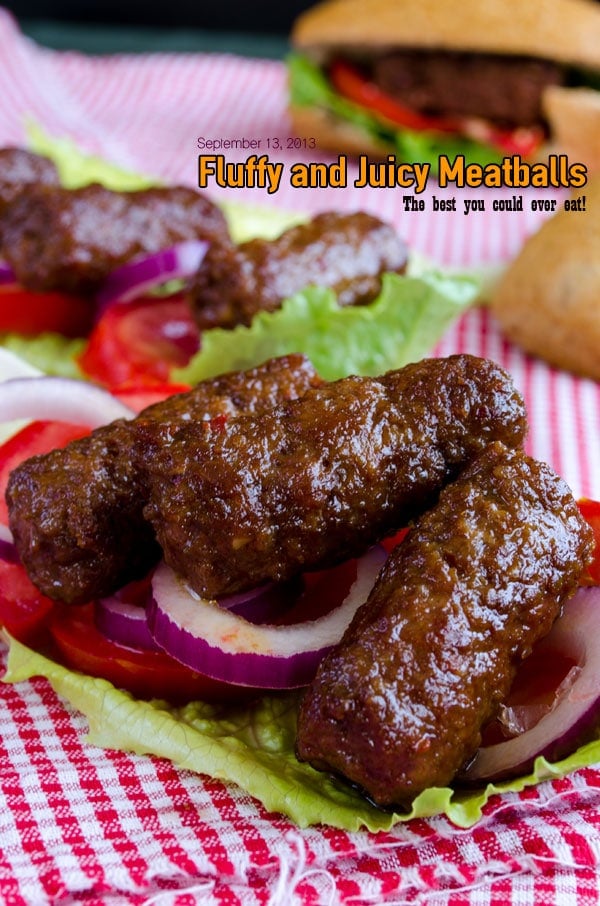 Do you think meatballs are kind of manly food? I know some women who can eat hundreds of these juicy meatballs at a time! You're right, I'm one of them! These are so good that you don't want to stop once you start eating! The ingredients are simple, but you need to have enough patience to see the same result since the mixture of these meatballs waits in the refrigerator at least for 24 hours. You can prepare it in the morning, wait until next morning and you can grill them for lunch on that day. If you want to make the best meatballs in your life, go on reading!
There are almost a hundred of meatball recipes in Turkish cuisine and you should travel around the country to taste each of them. Kofte is the Turkish name of meatballs and almost every city has its own meatball recipe. Interestingly they are named after the name of cities where they are originated. Izmir kofte, Tekirdag kofte, Akcaabat kofte, Tire kofte, Odemis kofte and Inegöl kofte are just a few of various Turkish koftes. The cooking method or type of meat makes the difference. I haven't tasted them all yet although I'm living in Turkey, but I know they are all so tasty! There must be a travel agency organizing travels just for these meatballs! I would be their number one customer!
These soft and juicy meatballs are called Inegol kofte and I got the recipe from Yusuf's grandma, who used to be the best cook of her town. I thought she was kidding when she told me to wait the ground beef mixture in the refrigerator for 24 hours! Noone can wait that long for some simple meatballs, right? I was curious though and I did exactly what she said. The result was incredible! These are just like the juicy meatballs we eat out! Super soft, light and juicy.
The only spice used in these meatballs is ground black pepper and I advice you not to use any other in the waiting process. You can add spices like cumin or dried thyme just before cooking or sprinkle these over grilled meatballs when serving.
Our grandma says that you should mix lamb and beef to have the best result, but if you don't have lamb or if it's too expensive in your area, you can use beef with a good amount of fat, about 30 percent.
Try these juicy meatballs and I guarantee they will be your favorite!
Print
Fluffy and Juicy Meatballs
Juicy meatballs with ground beef and ground lamb mixture.
Prep Time:

20 minutes

Cook Time:

20 minutes

Total Time:

40 minutes
Scale
Ingredients
300g

ground beef

200g

lamb beef

2 tbsp

bread crumbs

3 tbsp

water

½ tsp

salt

1 tsp

baking soda

½ tsp

black pepper

¼ cup

grated and squeezed onion
Instructions
Mix all ingredients except onion and black pepper in a large bowl, cover and rest it in refrigerator for 24 hours.
Add grated onion and black pepper and mix.
Give them finger size shapes dipping your hand into a bowl of water when necessary.
Wait in refrigerator for 2 hours.
Cook them in a cast iron pan or on the grill flipping over occasionally for about 5 minutes until brown.
Do not overcook, otherwise it won't get juicy.
Notes
Note: It takes 24 hours + 2 hours waiting process in the refrigerator before cooking.
IF YOU LIKED THIS RECIPE, YOU WILL LOVE THESE TOO: