I made this borek with spinach we bought from organic bazaar. Where do you generally do your food shopping? Do you prefer supermarkets, farmers market or organic bazaar? These are the three places here in Turkey, where you can buy food. The most popular one among these is farmers market, which we call bazaar (Pazar in Turkish). It might be a bit different from the ones abroad. Besides the farmers, there are also sellers who buy food from farmers and sell them at this bazaar. Supermarkets are generally the best choice for working people as bazaars are open only during day time and on some certain days. That's why we have to buy food from supermarkets except Sundays. There is an organic bazaar here on Sundays, so we can buy organic fruit and vegetables from there.
Organic bazaars are not still very common and you can't find it in all cities around the country. Their number will probably increase in a few years as they have been promoted through media for some time. On the other hand, I can't help being suspicious even on them! It's like they are made trendy by some companies, and their price is shown as the sign of being organic. But what makes them so expensive? Aren't there cheaper methods? I remember that my grandpas had a small garden in front of their house and they grew vegetables and fruits there when chemicals were not that popular. Two things they needed were water and animal manure, which were almost free. How come organic foods are that pricey today? With these questions in my mind, I'm not that strict to either sides. I just buy foods in season no matter they are organic or not.
So we bought spinach from the organic bazaar at the weekend. It was so fresh that we enjoyed some leaves just by squeezing a little lemon on them. We loved how they are crunchy!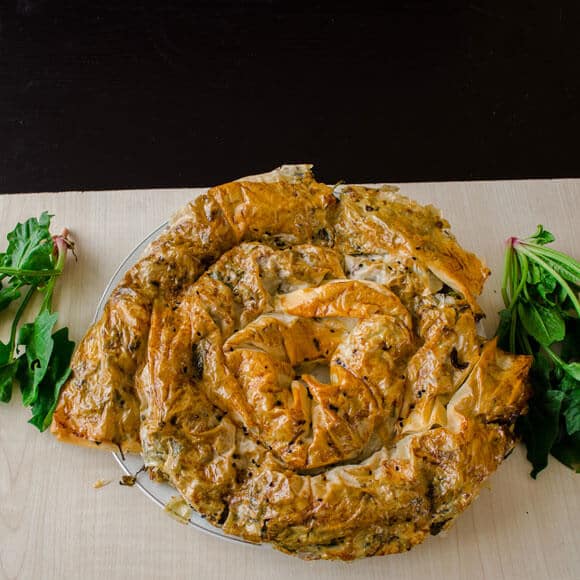 I decided to make this borek before we finish them raw! The shape of this borek is a traditional one and it is called kol boregi, arm borek when translated directly. When you roll the filled phyllo sheets, they look like arm. That's why it has this name.
I used a different kind of phyllo this time, which is used for baklava. It is much thinner than our regular yufka, you can find it packaged at supermarkets here. You can replace it with your regular phyllo sheet. As baklava sheets are so thin, I used 3 of them to roll and make one arm. If your phyllo is not that thin, use one or two for each roll.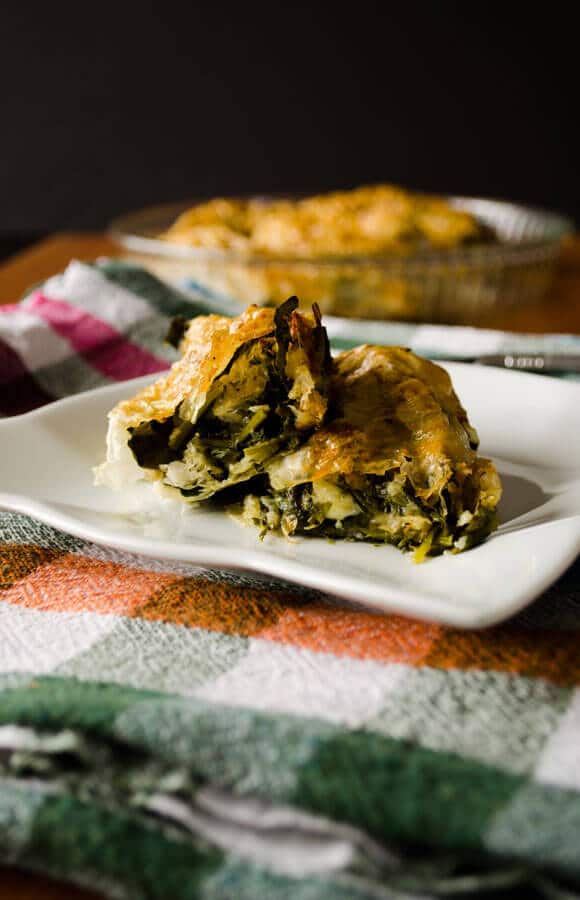 Borek With Organic Spinach
Prep Time:

30 minutes

Cook Time:

30 minutes

Total Time:

1 hour

Yield:

6

1

x
Scale
Ingredients
12

baklava phyllo sheets
Filling:

4 cups

chopped baby spinach

1 cup

crumbled goat cheese or feta

1

onion, chopped finely

3 tbsp

olive oil
Salt to taste

1 tsp

ground black pepper
Coating:

1

egg yolk, whisked well
Instructions
Heat olive oil and saute onion until brown.
Add spinach and saute them for about 5 minutes.
Take the pan from stove and add goat cheese, salt and black pepper in it.
Mix with a spoon and let it cold.
Preheat the oven at 180C.
Lay three phyllo sheets on one another.
Put some filling on one side and roll it up.
Place it in the middle of an oven tray turning it around itself.
Do the same for other phyllo sheets and you will finally have 4 rolled up boreks in oven tray.
Place each of them surrounding the previous one.
Brush their top with egg yolk.
Cook for 30 minutes until golden.
IF YOU LIKED THIS RECIPE, YOU WILL LOVE THESE TOO: