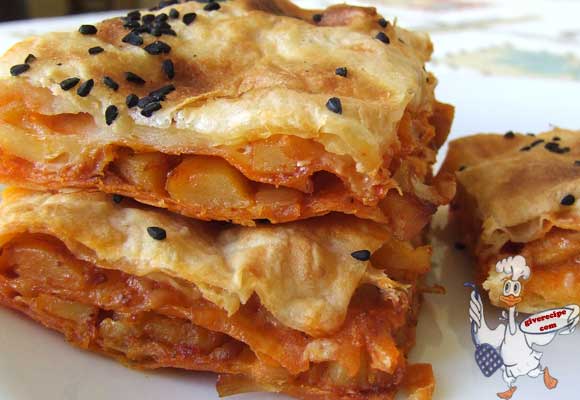 Borek is one of my favorite Turkish pastries and it's one of the most common pastries served to guests. I generally make borek at the weekend as a preperation for week days. As I leave for work early in the morning, borek becomes my best breakfast. You know how much I love breakfast, but during weekdays, I don't have enough time for a big one, so if we have prepared borek, I just heat them in oven and have a quick breakfast with two squares of borek and a cup of tea.
Moreover, if I have something different for breakfast, I put a few borek squares in my lunch bag and take it to work. It becomes a perfect lunch accompanied by a glass of ayran as borek is also eaten cold. When I take some for lunch, I always take more than I eat because I love sharing lunch with my collegues. Borek has a lot of varieties, you can use different filling mixtures for it. Generally, it is filled with cheese, minced meat, potato, spinach, etc.
Patatesli Borek
Ingredients
•    5 phyllo sheets
To stick these phyllo sheets
•    1 cup yogurt
•    ¼ cup olive oil
•    1 egg
For its filling
•    5 middle potatoes
•    1 big onion
•    1tbsp pepper or tomato paste
•    1tsp cumin
•    1tbsp black pepper
•    1tbsp salt
•    ½ grated yellow cheese
For garnish
•    nigella sativa
First we'll prepare its filling. Boil the potatoes in a pot full of water until they get very soft. You can check them with a fork, insert it in one of the potatoes, if it's soft enough, that's ok. Then peel the potatoes and chop them in small pieces. Put it aside.
Chop the onion and saute it until golden. Add tomato/pepper paste into it and stir. Put the boiled and chopped potatoes into it, sprinkle salt and other spices and saute all of them for 10 minutes. Stir occasionally. Take it from heat and let it cool.
Now we'll prepare the mixture to stick the phyllo sheets. Mix yogurt, oil and egg until well combined. This mixture prevents the borek from splitting off.
Preheat the oven to 180C (356F).
Lay one of the phyllo sheets on an oven tray. Then spread the yogurt mixture on it with a brush. If the sheet is too big for the tray, you can tear it into two pieces and then lay it on the tray. It doesn't need to be perfect in shape. Then lay onether sheet on this one. Spread some yogurt mixture again. Now put some filling mixture (not much as you'll put the rest soon).
Lay another sheet on potatoes and spread yogurt mixture again. Now put the rest of the pototoes and sprinkle grated yellow cheese on it. Lay the last two sheets on them spreading yogurt mixture between them. Finally spread all the mixture on top of it to have a well cooked borek. Cut it into squares. And sprinkle some nigella sativa on it. Cook it for about 40 minutes.
You can also have these boreks as a snack.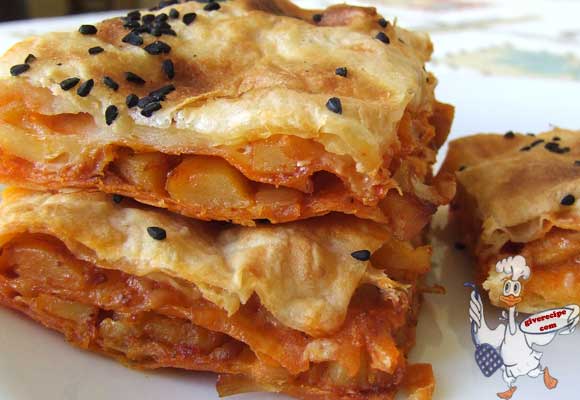 …………………………………………………………………………………………………………………………….
Bakeries prepare for you
It is also a tradition in some regions of Turkey to get your borek baked in a bakery. You prepare the filling and take it to a bakery in your neighborhood. They give a certain time for you to come back and get your borek. They already have a lot of dough, so they make borek filling the dough with your mixture. You come at the given time and get a tray of borek.
IF YOU LIKED THIS RECIPE, THEN YOU WILL LOVE THESE: