Turkish Pide with Ground Beef always makes a perfect meal! Pide is one of the tasty fast foods in Turkish cuisine. It has lots of varieties and although it's hard to choose one to put on top of favorite list, Pide with Beef leaves the others behind for us. Not because it tastes better than the rest, but because we love chopped beef more! Yusuf says he likes to feel beef pieces when eating!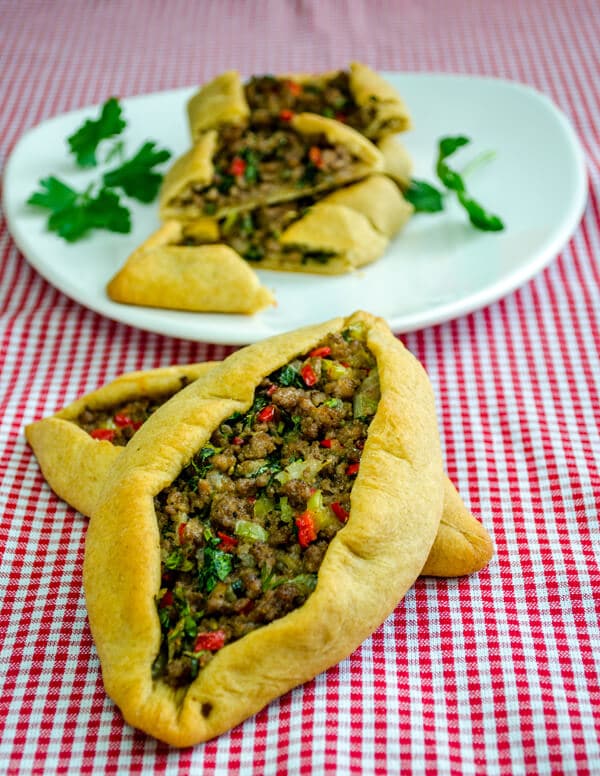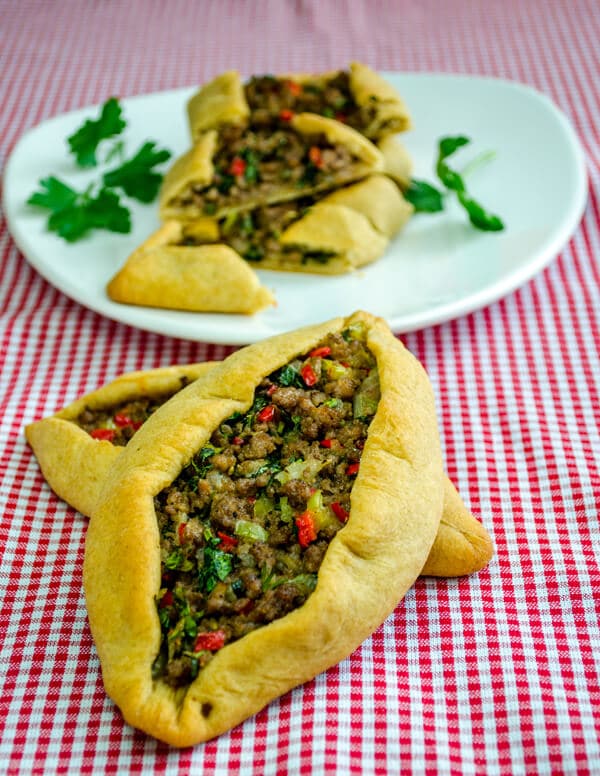 We made this Turkish with Ground Beef today thanks to two of our close friends. They called us in the morning and asked if we could make pide together. I made pide with beef for them before and they were impressed with its taste. They offered to make it together this time. We immediately accepted their offer without any hesitation as they called at a time when we were trying to decide what to make today for readers of GiveRecipe.
They asked me just to make dough until they came and not to prepare anything else. They were so kind to bring the filling ingredients and 2 bottles of ayran, Turkish cold drink made from yogurt, water and salt. I'm aware that I mentioned this drink in several posts, but haven't share the exact recipe and photo of it. Planning to write a post on it very soon!
It was great to work with friends in our kitchen! Everyone has a role in our small kitchen and we enjoyed a lot even when we hit the other's hand or arm by accident! We made pides smaller than usual Turkish pide this time so that we could place more pides in oven trays at one time.
Our friends were so patient and didn't say a single word when Yusuf and I took shots of Turkish Pide with Ground Beef. You know photography is another process and takes some time. They witnessed all the steps of this process and looked a bit puzzled when we were working on photos. They said that they didn't know that photography part was that tiresome and needed care.
When it was finally time to eat Turkish Pide with Ground Beef, everyone was starving and we just put all pides in the middle of table and dug in! We enjoyed it with cold ayran and pickled chili without almost any talk! You could hear only our voices saying "Nom nom nom!"
If the dough is too much for you, you can use the half of it and put the other half into refrigerator for a future use. You can make bread or pide again with it in two days.
Dust the wooden board with a little flour.
Roll it out with your rolling pin. I love that part so much that I can roll lots of dough balls without getting fed up with it!
Make it thin and transfer to oven tray.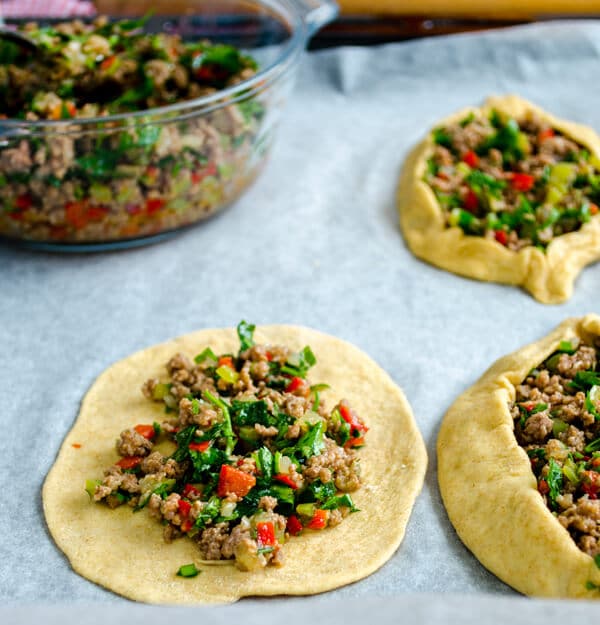 Put the filling on it in oven tray. Otherwise it might be hard to transfer.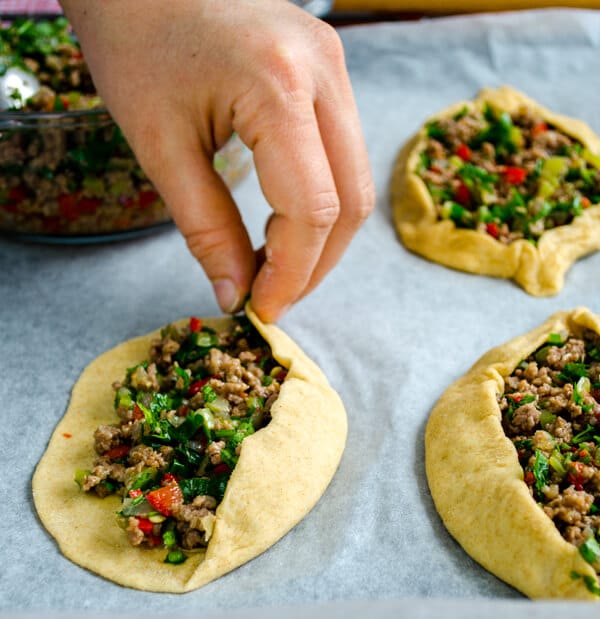 Fold the edges as you see in the picture.
Fold two sides of it in the same way! Isn't it like making a small boat from paper?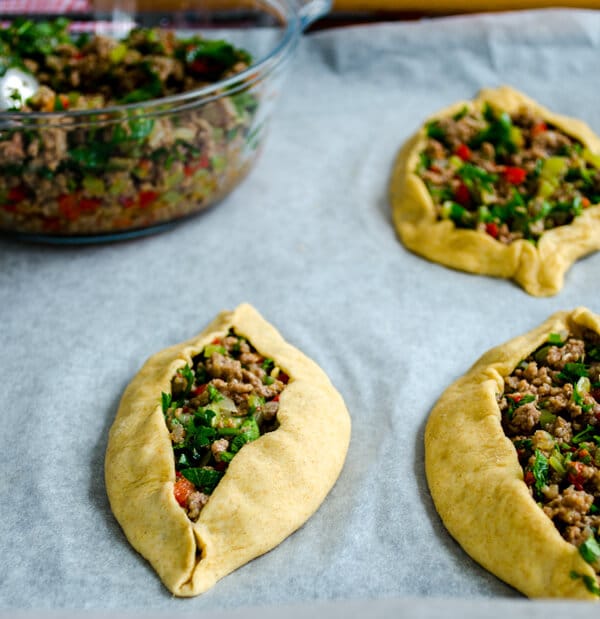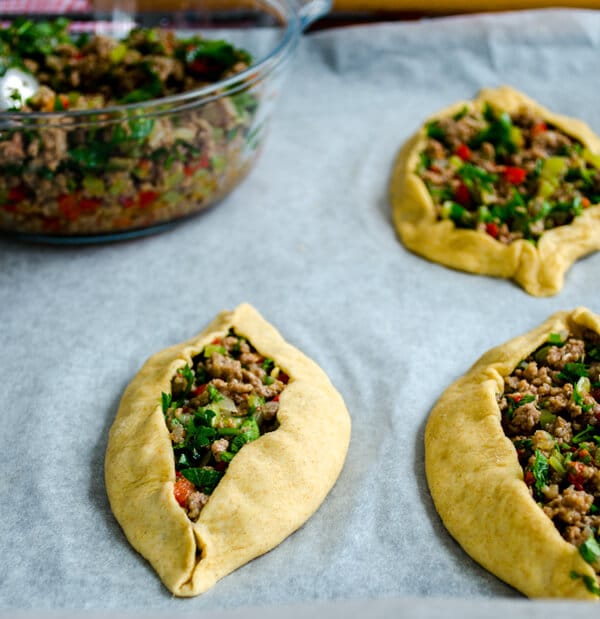 See the one at the back? It was the first try of my friend 🙂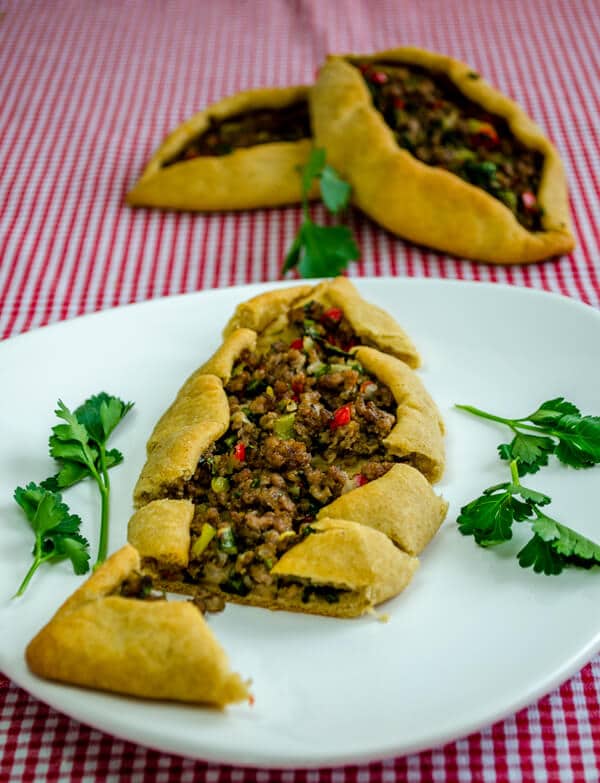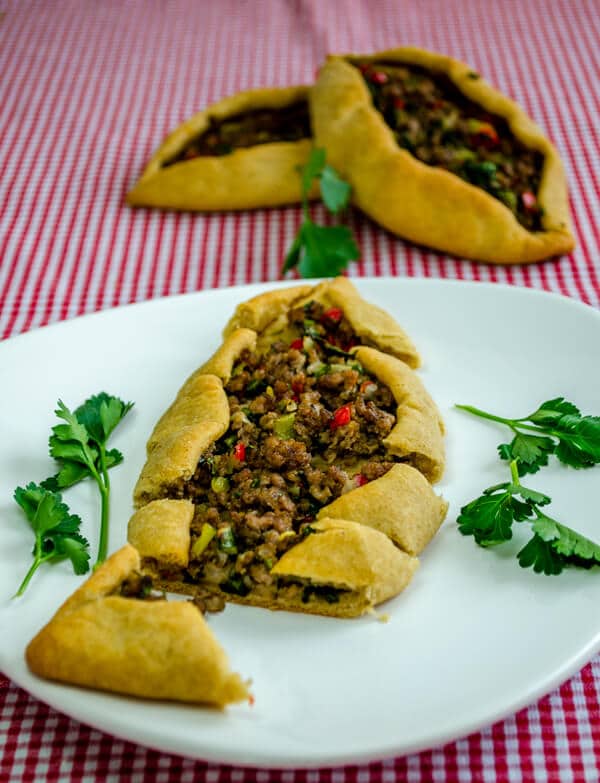 Here is the recipe for Kiymali Pide as it is called in Turkish.
Turkish Pide with Ground Beef
Turkish Pide with Ground Beef always makes a hit! Serve it with ayran!
Prep Time:

1 hour 30 minutes

Cook Time:

20 minutes

Total Time:

1 hour 50 minutes

Yield:

4

-

6

1

x
Scale
Ingredients
Dough:

3 cup

s whole wheat flour

1 tbsp

instant yeast

2 tsp

salt

1 tsp

sugar

1 cup

lukewarm water

¼ cup

olive oil

2 tbsp

extra olive oil to brush pides
Filling:

3 tbsp

olive oil

250

g ground beef

1

onion, chopped

1

green pepper, chopped

1

red bell pepper, chopped

1 tsp

salt

1 tsp

black pepper

1 tsp

red pepper flakes
A pinch of cumin
A handful of parsley, chopped
Instructions
Mix flour, instant yeast, sugar and salt.
Pour olive oil and add water little by little.
Use your hand to combine them well until you have a soft dough.
Cover it and wait to rise for an hour.
Heat olive oil in a skillet.
Add ground beef and onion, cover it so that it releases its water.
When it starts to absorb its water, add peppers and spices, stir.
Cook it for about 10 minutes stirring occasionally.
Let it cool.Add chopped parsley when it cools.
Preheat oven at 180C.
Dust a little flour on the counter or on a wooden board.
Make a log from dough and cut it into 16-18 eaqual balls.
Dust the counter again and roll one of the balls out thin giving it an oval shape.
Place baking paper in an oven tray and put this oval shaped thin dough on it.
Put some filling in it and stick the edges of pide.
Repeat the same steps until you finish all balls.
Brush each pide with olive oil and bake them at 180C until golden, for about 20 minutes.
Notes
Note: Do not put the filling on the counter as it might be difficult to transfer it to the oven tray as it's a thin dough.
IF YOU LIKED THIS RECIPE, THEN YOU WILL LOVE THESE: