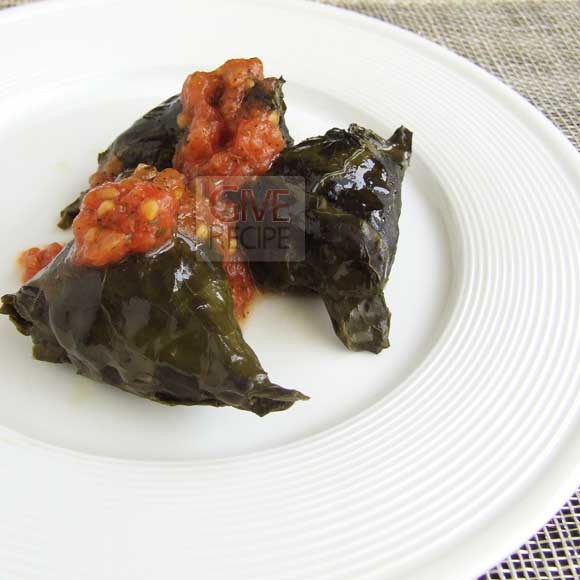 Dock (rumex crispus) is a herb which is very common in different regions of Anatolia, but not known by many people in cities. It is known as labada or efelek in Turkish. It doesn't require any care, just grows where it likes, and it is abundant between May and September. It is not a supermarket herb, you can just find it at local bazaars in some cities.
Although I  heard its name many times, I hadn't tried it until mom II showed it how. She was with us last week and brought several fresh herbs including a bunch of wavy and long dock leaves. I was so surprised when I saw how long these leaves were! Each of them were about 50 cm!
The most common way to cook dock is to stuff it. Mom II would stuff it with bulgur and ground beef, but I asked her to make it without bulgur this time, which is not the common way to stuff vegetables. We normally use ground beef with bulgur or rice for filling or we skip ground beef if we want to serve it cold. I saw in many English blogs that pork or meat is used plain to stuff things, and I wanted to try something similar to this. As dock leaves are narrow, long and fragile unlike grape leaves, it's better to roll them in a triangular shape.
Stuffed Dock Leaves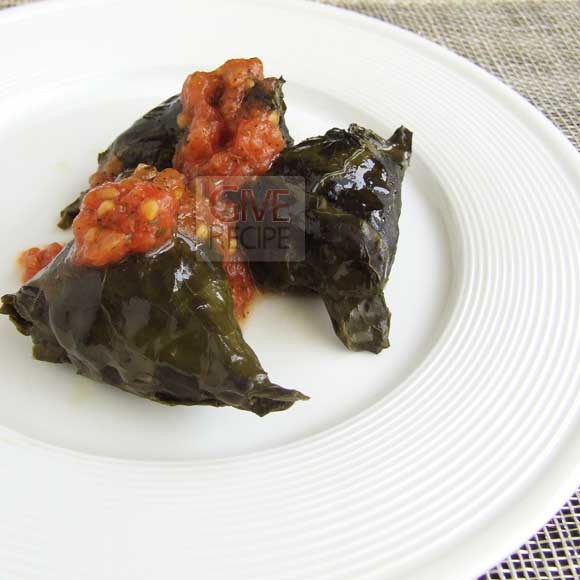 Scale
Ingredients
5

dock leaves

1

liter water to boil and soak leaves

200g

ground beef

2

green onions, chopped
A few fresh mint sprigs, chopped
A few fresh fennel sprigs, chopped

2 tbsp

olive oil
Salt to taste
Black pepper to taste
Cumin to taste

½ cup

water

½

lemon
Sauce:

1 tbsp

olive oil

2

tomatoes, grated

2

cloves garlic, minced

1 tsp

dried mint
Instructions
Heat 1 liter water in a pot and soak leaves in it. Wait a few minutes until tender, but not mashed. Don't overcook them as they are so fragile when soaked in hot water.
Transfer them immediately into cold water.
If leaves are so wide, cut them lengthwise into two.
Cut their stalk and place them at the bottom of your pot to protect the stuffed leaves from direct heat.
Mix ground beef, chopped green onion, fresh mint, salt and spices.
Put 1 tbsp of filling on each leaf, roll them up and place them on stalks in the pot.
Squeeze lemon on them.
Pour water in the pot and cover.
Cook it over high heat until it it boils and then bring it to the lowest heat.
It will be done in 30 minutes.
To prepare the sauce, heat olive oil, add grated tomato, garlic and dried mint.
Cook it a few minutes until you feel a tempting smell.
Serve stuffed dock leaves hot with this sauce and a bowl of yogurt will make a perfect pair.
You can see how it is rolled up in following pictures.
IF YOU LIKED THIS RECIPE, YOU WILL LOVE THESE TOO: