Revani is a classic Turkish semolina cake that is drenched in a simple lemony syrup and topped with desiccated coconut flakes. It boasts of refreshing lemon flavor and moist texture. It tastes so good that everyone will ask for more.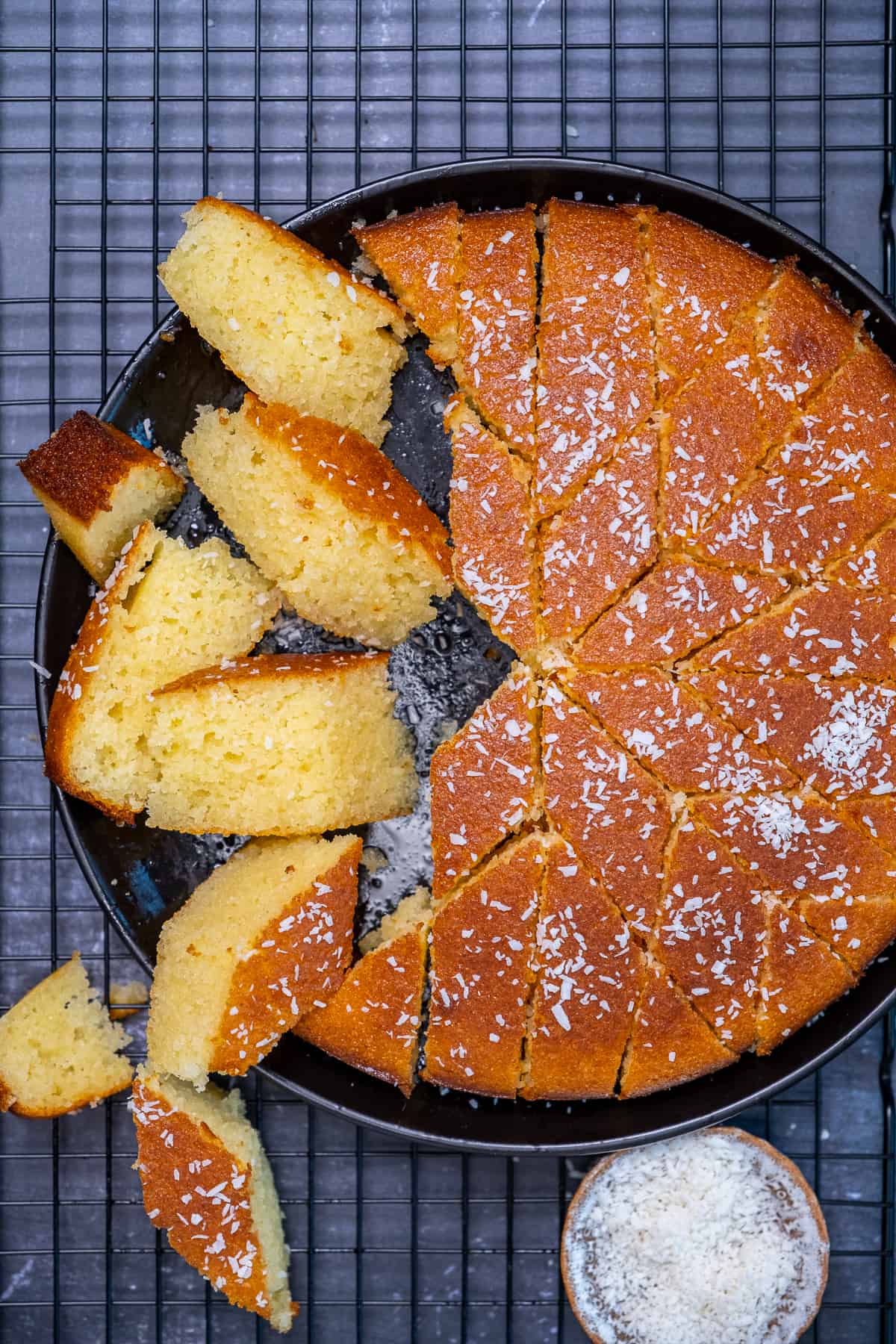 Semolina is just another staple ingredient in Turkish desserts. We use it in sweets like sekerpare, semolina halva and tulumba dessert.
And revani is one of these sweets with semolina. If you love syrup soaked desserts like world-wide famous kunafa or walnut baklava, you should give this cake a try. It is waaaay easier to make!
What takes this cake to a whole new level is the addition of the sugar syrup. It adds a ton of delicious sweet lemon flavor and changes the texture from dry and dense, to soft and juicy. This recipe is a must-try – you won't regret it!
Today we will discuss this delicious revani recipe and all of its components. We will have a look at what it is, the ingredients used, how to make traditional semolina cakes, and give you some tips and tricks we wished we knew earlier! We will also mention some delicious variations for this recipe.
Jump to:
What is revani (semolina cake)?
Revani cake is a type of yellow cake made using a combination of semolina and all purpose flour. This cake is a staple recipe in Turkish cuisine and every household and restaurant has its own classic recipe.
This cake is made with very basic "cake ingredients" but what makes it unique is the use of semolina and yogurt. Once baked in an oven, the cake is removed and sliced. When it is still warm, a cool syrup is poured over the slices to fully absorb. This leaves you with a delicious, extremely moist piece of lemon semolina cake.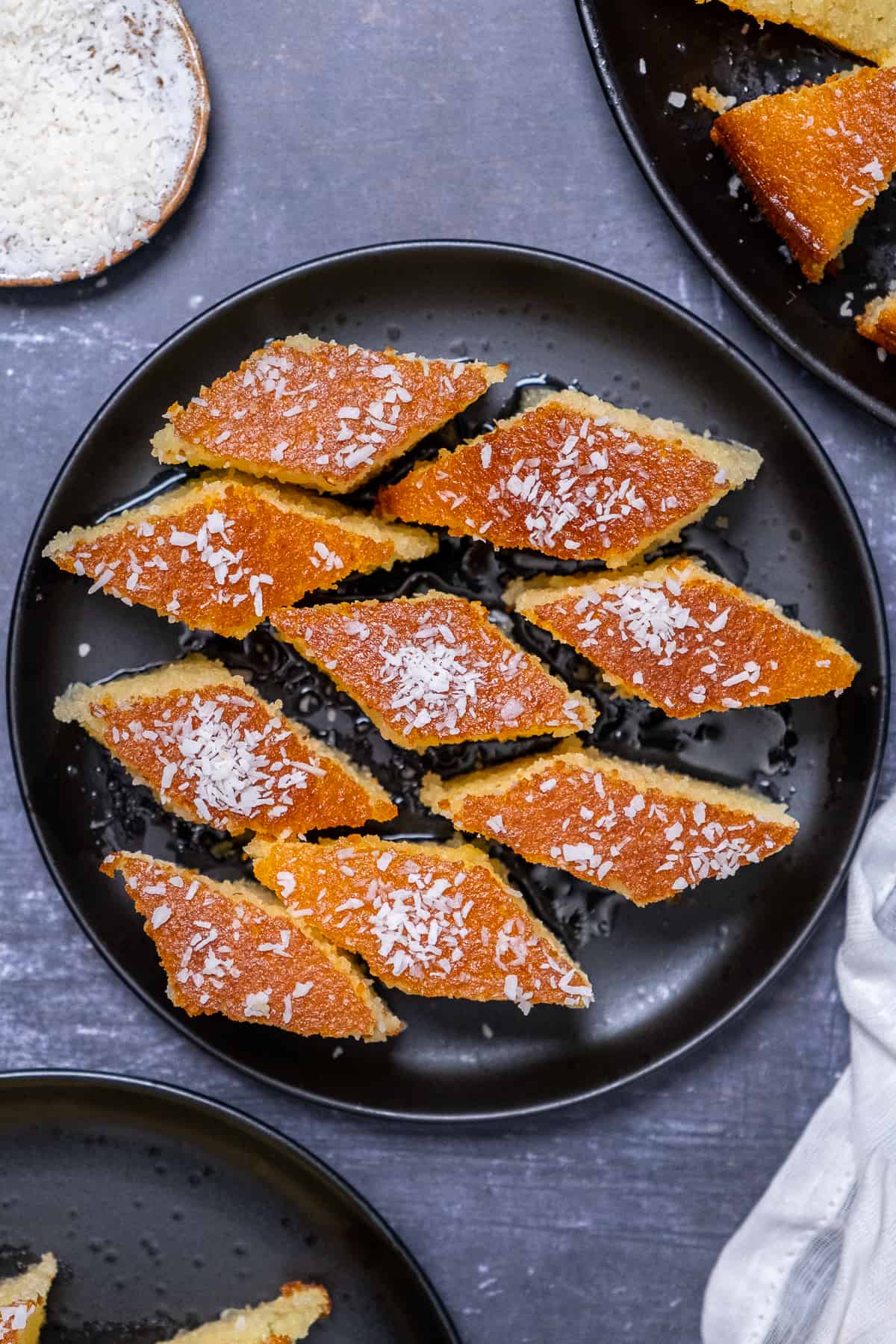 Not only is this a popular dessert in Turkey, but also in Greece, Egypt and several other Middle Eastern and Mediterranean countries. Naturally, each country has slight variations.
Also, there is another type of semolina cake from Egypt named basbousa. Although it has a similar recipe structure to revani, they are not the same.
Unlike the Turkish semolina cake, basbousa doesn't contain eggs or all purpose flour, most often made using desiccated coconut in the batter and it is traditionally cooked in a pan. So these two semolina cakes shouldn't be confused.
Greek Ravani vs Turkish Revani
Both cakes are famous syrupy desserts in their countries. But they have a few diffeences.
Traditional Greek Ravani is also known as coconut cake. Different from Turkish revani, semolina is replaced by coconut flakes in this Greek dessert. So it is a combination of plain flour and coconut flakes. On the other hand, Turkish version is a combination of plain flour and semolina.
Another difference is that Greek coconut cake ravani uses egg whites only while Turkish revani cake uses whole eggs.
Also, yogurt is a must-have ingredient in Turkish semolina cake but there is no yogurt in its Greek counterpart.
Apart from these, both cakes are so delicious!
Ingredients
For this semolina cake recipe, we will be using traditional ingredients and methods.
The most important ingredient is obviously the semolina. Make sure to choose a high-quality, medium-textured product that has a very yellow color. Do not use flour or extremely fine-textured semolina – it will only create a dense cake that is very unappealing.
This recipe does contain a tiny bit of all purpose flour, but only to help find the coarser texture of the semolina itself.
And baking powder is definitely a must for some fluffiness.
The eggs, yogurt, and olive oil all act as enriching ingredients as well as the binding ones. They add flavor, color, and added mouth-feel.
This lemon semolina cake has to contain sugar, but it gets used in both the cake and syrup elements. The sugar syrup gives the semolina cake the majority of the sweetness and helps soften the texture.
Optionally, you can use lemon zest or orange zest for an extra citrus flavor.
What is semolina flour?
Semolina is an extremely popular course form of durum wheat. This means that it is NOT a gluten-free product!
It has been used for centuries in many different cultures and cuisines and still is today.
It has a pale yellow color and a semi-coarse texture – something between the texture of flour and couscous. This yellow color directly affects the final color of the cooked or baked food, giving it a very recognizable look.
How to make it
This delicious traditional syrup cake will leave you craving more! It has refreshing flavors, wonderful texture, and an excellent mouthfeel!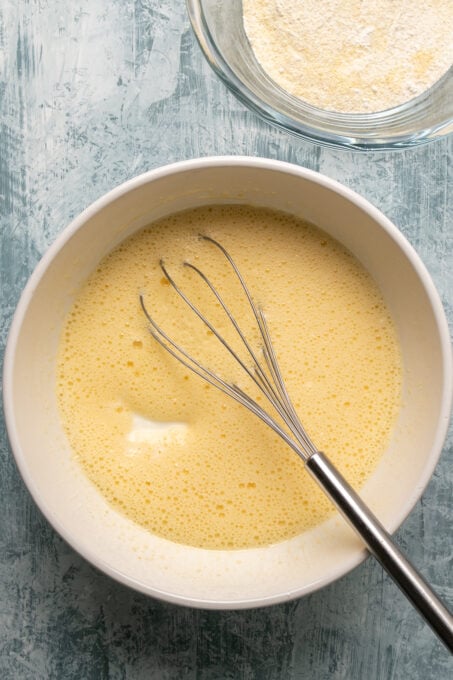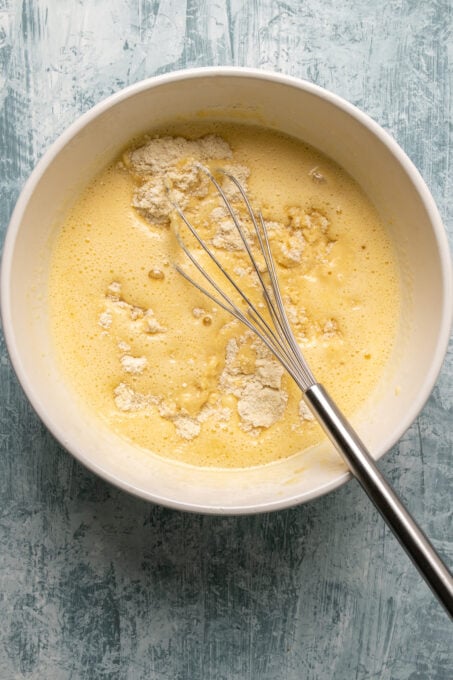 First, start by making the simple syrup. Combine the sugar and water in a pot and bring the mixture to a boil. Reduce the heat and allow it to simmer for 20 minutes. Once it has thickened, add the lemon juice. Allow the syrup to cool completely before using it.
Second, make the cake. In a large bowl, combine the dry ingredients and set them aside. In a separate bowl, whisk together the eggs and sugar until they are fluffy and creamy. Add the yogurt and oil and combine well.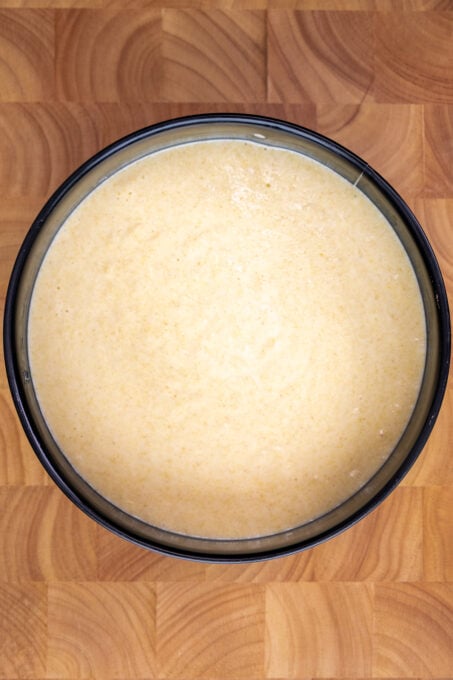 Add the dry ingredients to the egg mixture and mix until all of the ingredients are just combined. Place the mixture into the baking pan and bake for 30 minutes or until a toothpick comes out clean. Bake in a preheated oven in a round, square or rectangular cake pan.
Third, assemble the cake. Slice the cake into diamonds or squares and pour the syrup over the warm cake. Allow it to absorb all of the syrup and cool completely before serving.
Garnish each revani slice with some desiccated coconut or powdered pistachio.
Serve. With this cake, we would recommend frosting the top with some whipped cream, although then it isn't very traditional. Oh and like almost all desserts, you can serve it with some dondurma (Turkish ice cream) or clotted cream (Turkish kaymak) on the side.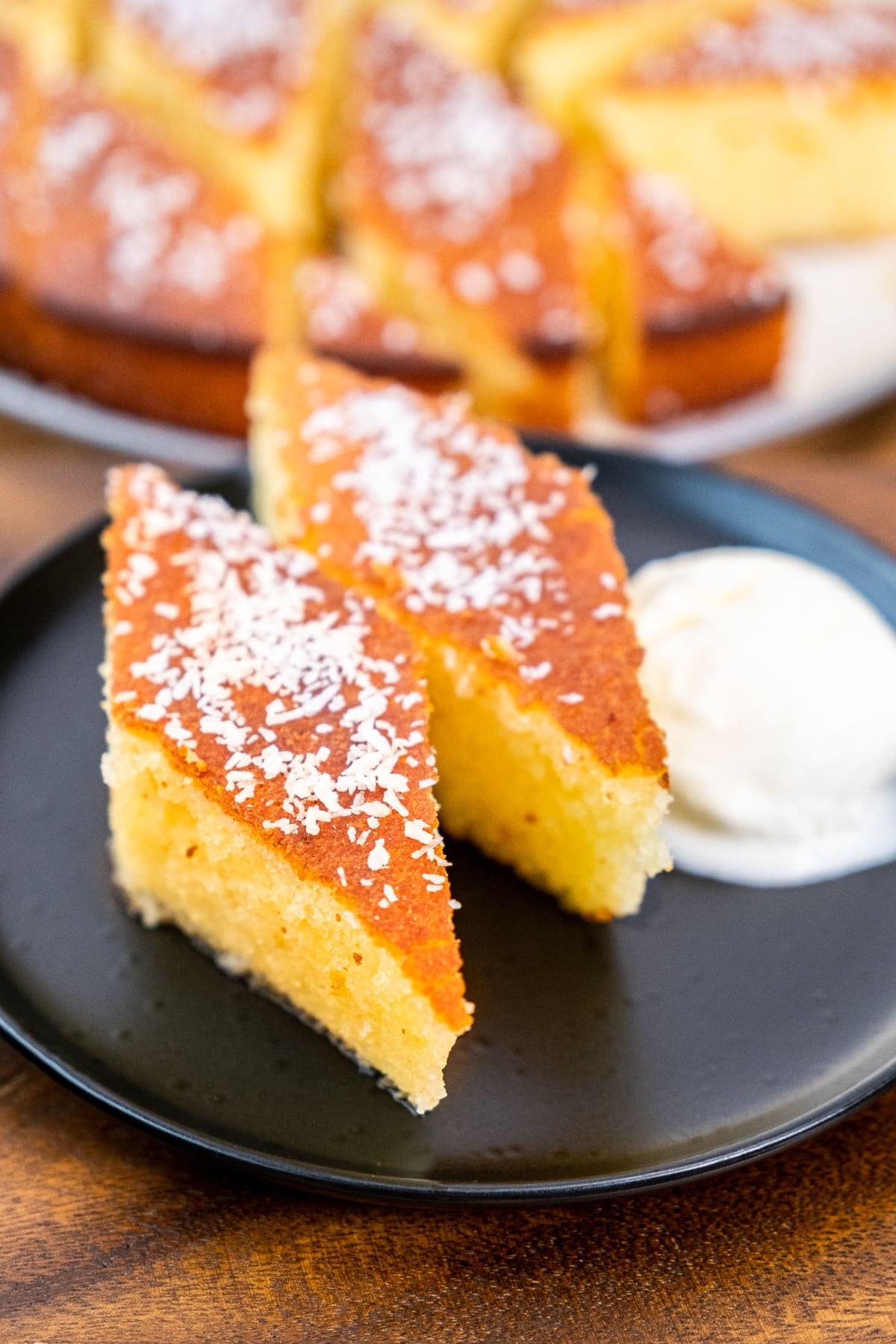 Tips
It is very important to make the syrup before making the cake as it takes much longer to cool down completely. The syrup has to be cooled completely before pouring it over the warm cake. By following this method, it will allow the warm cake to absorb as much of the cold syrup as possible, resulting in the perfect and ultimate texture!
It is also highly recommended to slice the warm cake before adding the syrup. When slicing it into pieces, it creates a much larger surface area for the syrup to come into contact. The larger surface area means that more syrup can be absorbed and also more evenly.
Allow the cake to absorb the syrup for at least an hour before serving it. Although it is tempting to dig right in, it yields much better results this way and leaves you with a moist crumb.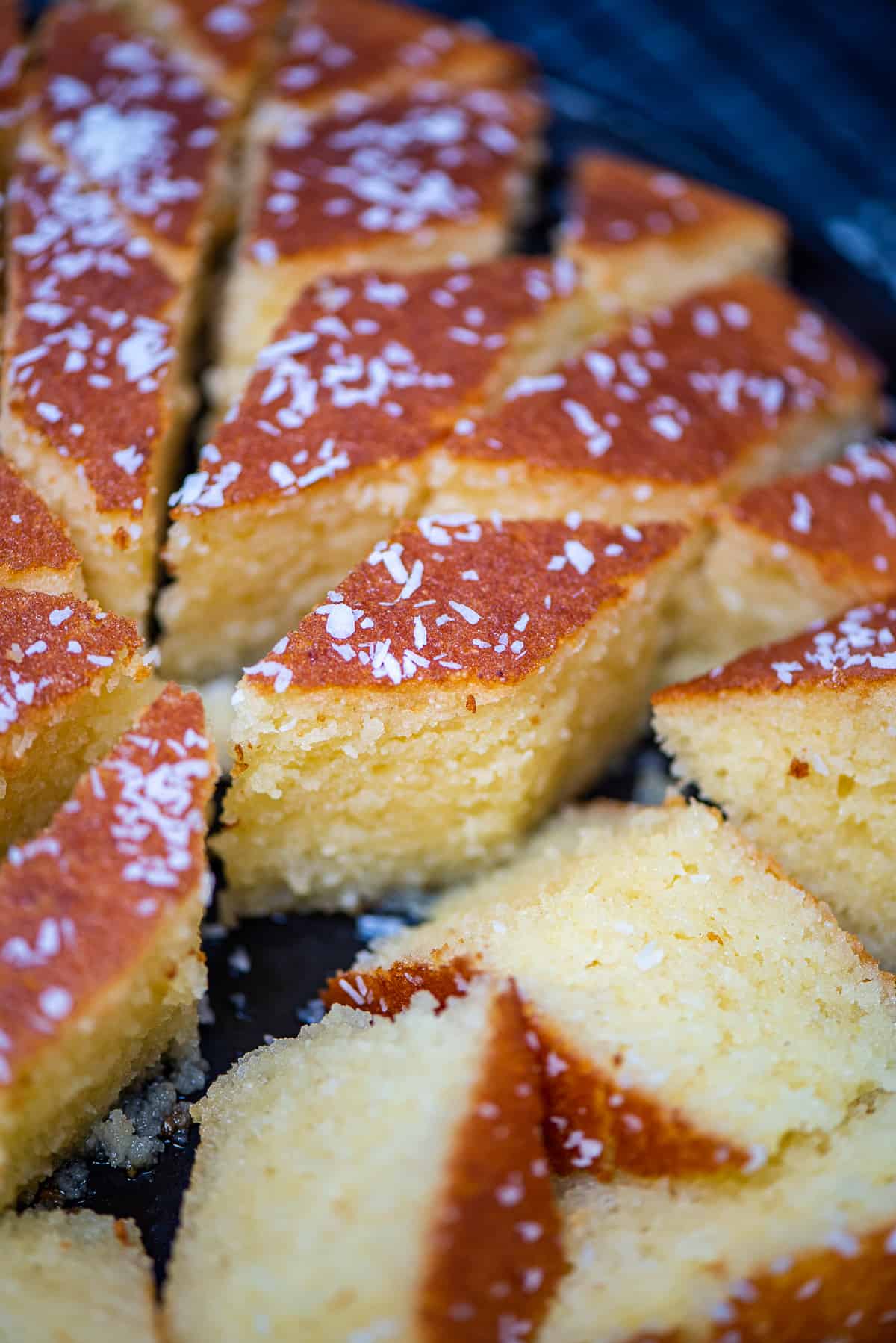 Variations
Like most other traditional dishes, today you will be able to find a ton of variations of the original recipes. For this revani recipe, you can either make tiny subtle changes or big and bold ones.
If you are looking to change the flavor profile a bit, try substituting the lemon juice in the sugar syrup with something like orange juice, or even grapefruit juice.
You can further support the flavors by using similar garnishes such as lemon or orange slices, zest, curls, or even candied peel.
Garnishes that will add supporting flavors include flaked almonds, coconut shavings, and even other types of chopped nuts or dried fruits.
A more elaborate change you can make is by adding poppy seeds to the cake batter to create a poppy seed semolina cake!
More Turkish Desserts
As always: If you make this recipe, let us know what you think by rating it and leaving a comment below. And post a pic on Instagram too—tag @give_recipe so we can see!
Sign up for the FREE GiveRecipe Newsletter to get the new recipes into your inbox! And stay in touch with us on Facebook, Pinterest, YouTube and Instagram for all the latest updates.
Print
📖 Recipe
Revani Recipe (Turkish Semolina Cake)
Semolina cake soaked into lemon flavored syrup.
Author: Zerrin & Yusuf
Prep Time:

15 minutes

Cook Time:

25 minutes

Total Time:

40 minutes

Yield:

1

2

1

x
Category:

Dessert

Method:

Baking

Cuisine:

Turkish
For the syrup:
2 cup water

2 cup sugar

½ lemon, squeezed
For the cake:
1 cup semolina

½ cup flour

2 teaspoon baking powder

3 eggs

½ cup sugar

1 cup yogurt

1 cup olive oil
For garnish:
1 tablespoon

desiccated coconut
Instructions
For the syrup:
Put sugar and water in a pot and bring it to boil. Reduce the heat to the low once it boils and let it simmer until it thickens a bit, for about 20 minutes. Once it thickens, add in lemon juice and let it simmer for another 2 minutes. Let it cool. Meanwhile, make the cake.
For the cake:
Butter the bottom and the edges of a round baking pan. Put it aside.

Preheat the oven to 350F/180C.

In a large bowl, combine semolina, flour and baking powder. 

In another bowl, using an electric mixer, whisk together the eggs and sugar until creamy and fluffy. Add in yogurt and oil, mix well. 

Now add in the dry ingredients and mix right until everything is combined.

Pour the mixture into the prepared baking pan and bake until golden, for about 30 minutes. Make a toothpick test and if it comes out clean, remove the cake from the oven.

Slice it in diamonds or squares.
To Assemble:
Pour the syrup over the warm cake. Let it absorb the syrup and cool completely before serving.

Sprinkle desiccated coconut or powdered pistachio and serve. 
Notes
Make the syrup first so that it cools while you are making the cake. 

Pour cooled syrup over warm cake to get the best result.  

It's important to slice the cake before pouring the syrup over it. This helps the cake absorb the syrup better.

You can use a wooden skewer or a spaghetti to poke the cake before pouring the syrup on it. 

Let it absorb the syrup before serving. Serving it after at least an hour would be best.
Nutrition
Serving Size:
Calories:

433

Sugar:

42.6 g

Sodium:

29.8 mg

Fat:

21.3 g

Carbohydrates:

57.7 g

Protein:

6 g

Cholesterol:

49.6 mg
Keywords: revani, semolina cake, semolina cake recipe, Turkish semolina cake