This Turkish Quince Dessert, also known as Ayva Tatlisi, uses the natural delicate and aromatic flavors of the quince fruit and blends it beautifully with cinnamon, star anise, and orange zest. It is the perfect autumn and winter dessert that is both incredibly easy to make and requires minimal effort and preparation time.
Ayva tatlisi (quince dessert) is one of the best Turkish desserts to make in fall. Just like our tahini pumpkin dessert, it is easy to make and full of fall flavors.
Jump to:
You can simply combine the ingredients and leave them to poach! And, what makes this recipe even better is that you can easily change or substitute the flavoring ingredients to meet your needs!
These spiced poached quinces are a staple recipe in Turkish cuisine and it is the most common way to cook quinces. Not only does it utilize the natural flavors of the quinces when they're at their finest, but it also blends it with other easy to find spices. Looking for a savory recipe with quince fruit? Check out our Turkish Celeriac Recipe With Quince Fruit.
Today we will be having a look at this underrated fruit, the quince. We will discuss what exactly it is, and also how it should be cooked and eaten. Then we will look at this delicious Turkish quince dessert recipe, how to make it, and how to serve it as well.
What is a Quince Fruit?
A quince is a very unique fruit that is not very well-known in all parts of the world. This fruit is a close relative of apples and pears and also resembled them closely in look and texture.
They are golden yellow in color and their shape generally resembles those of pears. Ripe quinces should be hard, and if you have a soft one, it's close to spoilt. Once cut, the inside of a quince has a very hard and spongy texture that isn't very appetizing to eat raw.
But, don't let the unappealing shape and texture fool you. Once you've tasted this amazing quince fruit, you'll have a craving for the rest of your life!
The aromas of quinces are very complex and rich with strong hints of apple, pears, vanilla, and citrus fruits. These prominent flavor ques make it very easy to pair other ingredients with the quince.
As we've already mentioned, raw quince can be very hard and spongy, but some varietals less so than others. This is why the majority of people cook their quinces before eating them. Once the quince fruit is cooked the texture softens and the sweeter flavors come through.
If you have a variety that can be appetizing raw, rather eat slices than chunks. Raw quinces still have a generally sour and tangy flavor that might not appeal to everyone. On the other hand, they might become your favorite snack if they are juicy enough.
These fruits are also extremely rich in vitamins, minerals, and antioxidants. For more amazing facts on their various health benefits, read more about the health benefits of quinces.
How To Eat Quinces
Raw quinces may not be appetizing to eat if they are not ripe enough. They have an extremely hard and spongy texture and their flavor is sour and bitter. Some varieties are much more edible raw. They are still hard but juicy and sweet.
It is not easy to eat a quince like an apple. It is too hard to bite. But you can enjoy them sliced.
Most people prefer eating quinces cooked. The quickest and easiest method would have to be boiling them, although there is so much more you can do.
Quinces can be eaten as is (once cooked), made into a jelly or jam, incorporated into baked goods like tarts and pastries, or made into another type of dessert, like quince-flavored ice cream or quince-flavored custard.
Despite requiring some work before it can be used, it is a very versatile ingredient with very pungent and playful flavors and aromas.
How to Poach a Quince Fruit?
This poached quince recipe is very easy to make and yields an extremely flavorful and beautifully colored dessert. You can make them in advance and store them until you're ready to serve them!
First, make the sugar syrup. Combine the water and sugar in a medium-sized pot and bring the mixture to a boil. Once boiling, reduce the heat and allow it to simmer until all of the sugar has dissolved.
Second, prepare the quinces. Halve the quinces without removing the seeds inside. These seeds help add color to the syrup (and quince) and the pectin inside them acts as a natural thickening agent, creating a much thicker syrup.
Third, add the quince and other flavoring ingredients to the pot. Once the sugar has dissolved and the quinces are prepared, add the quince to the syrup along with the hibiscus leaves(for a nice red color), orange zest, cinnamon sticks, star anise, and rosemary.
Fourth, cook the quinces. Cook the quinces for about 1 hour with the lid on. They should be cooked until they are tender, but not mushy.
Fifth, cool the poached quinces and serve. Once the quinces have finished cooking, remove them from the syrup, place them in a serving dish, and allow them to cool completely.
Serving: Once cooled, chill them in the refrigerator for at least 1 hour before serving. Before serving, top each half with some clotted cream (Turkish kaymak) or thick strained yogurt and chopped pistachios.
Tips
If you want a more caramelized quince dessert, preheat the over to 350°F (180°C) while they are still poaching. Once finished, place the halves on a lined baking tray and bake them for about 5 minutes.
If you don't have a pot lid, you can also cover the pot with a parchment paper lid. Simply cut out a circle that will fit inside your pot, and cut a small hole in the middle that will allow steam to escape.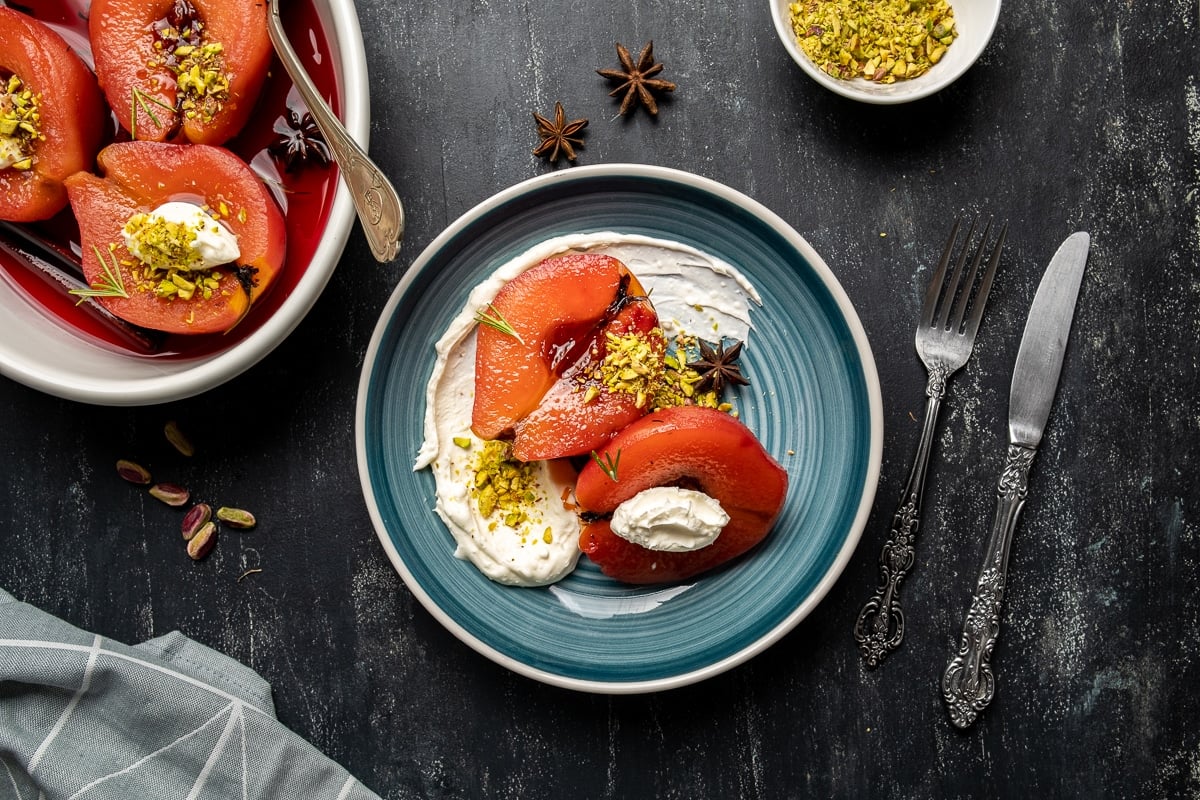 Cooking Variations
The most popular way to cook quinces is to poach them, but that doesn't mean they can't be prepared in other ways.
Another delicious and personal favorite is baked quinces. These have a very caramelized flavor and soft yet sticky texture. It is also very easy to flavor these quinces by simply making a flavored syrup and brushing it over the fruits before baking.
Steamed quiches are a much lesser-known, but equally delicious cooking method. You can either steam them in the traditional way or make use of the French "en papillote" method. This method places the item inside a parchment paper parcel along with other flavoring ingredients. While the parcel is baking, the steam that is released gets trapped and helps infuse the item with the flavors from the other ingredients.
More Easy Fruit Recipes
As always: If you make this recipe, let us know what you think by rating it and leaving a comment below. And post a pic on Instagram too—tag @give_recipe so we can see!
Sign up for the FREE GiveRecipe Newsletter to get the new recipes into your inbox! And stay in touch with us on Facebook, Pinterest, YouTube and Instagram for all the latest updates.
Print
📖 Recipe
Ayva Tatlisi (Turkish Quince Dessert)
Simple poached quince dessert recipe with spices. A super light fruit dessert flavored with served with clotted cream and pistachios.
Author: Zerrin & Yusuf
Prep Time:

10 minutes

Cook Time:

1 hour

Total Time:

1 hour 10 minutes

Yield:

6

1

x
Category:

Dessert

Method:

Cooking

Cuisine:

Turkish

Diet:

Gluten Free
1 cup

sugar

4 cup

water

3

quince fruit

2 tablespoon

hibiscus, for coloring only
Zest of

one

orange

2

cinnamon sticks

3

star anise

1

rosemary sprig
For garnish:
Instructions
Boil water and sugar in a pot until sugar dissolves.

Halve the quinces, don't remove the seeds, they will help the color and give a consistency to the syrup inside as well because they have a natural pectin (thickener).

Place the halved quinces in the pot.

Put the hibiscus leaves, orange zest, cinnamon sticks, star anise and rosemary on the quinces. 

Cook them covered until the quinces are tender but not mushy, about 1 hour.

Transfer the poached quinces in a serving dish and let them cool completely. Then chill them in the fridge for at least 1 hour before serving.

Top them with clotted cream and pistachios to serve.
Notes
If you want a more caramelized quince dessert, bake them in a preheated oven for about 5 minutes after cooking them in the pot.

The garnish ingredients are not included in the nutritions.
Nutrition
Serving Size:
Calories:

164

Sugar:

33.3 g

Sodium:

9.2 mg

Fat:

0.3 g

Carbohydrates:

42.2 g

Protein:

0.5 g

Cholesterol:

0 mg
Keywords: quince, quince recipes, quinces, poached quince