Homemade Turkish Ice Cream Dondurma is perfectly thick and stretchy as it traditionally has to be. It is made with milk, sugar and salep. With its unique flavor and consistency, it is not like other ice creams you have tasted.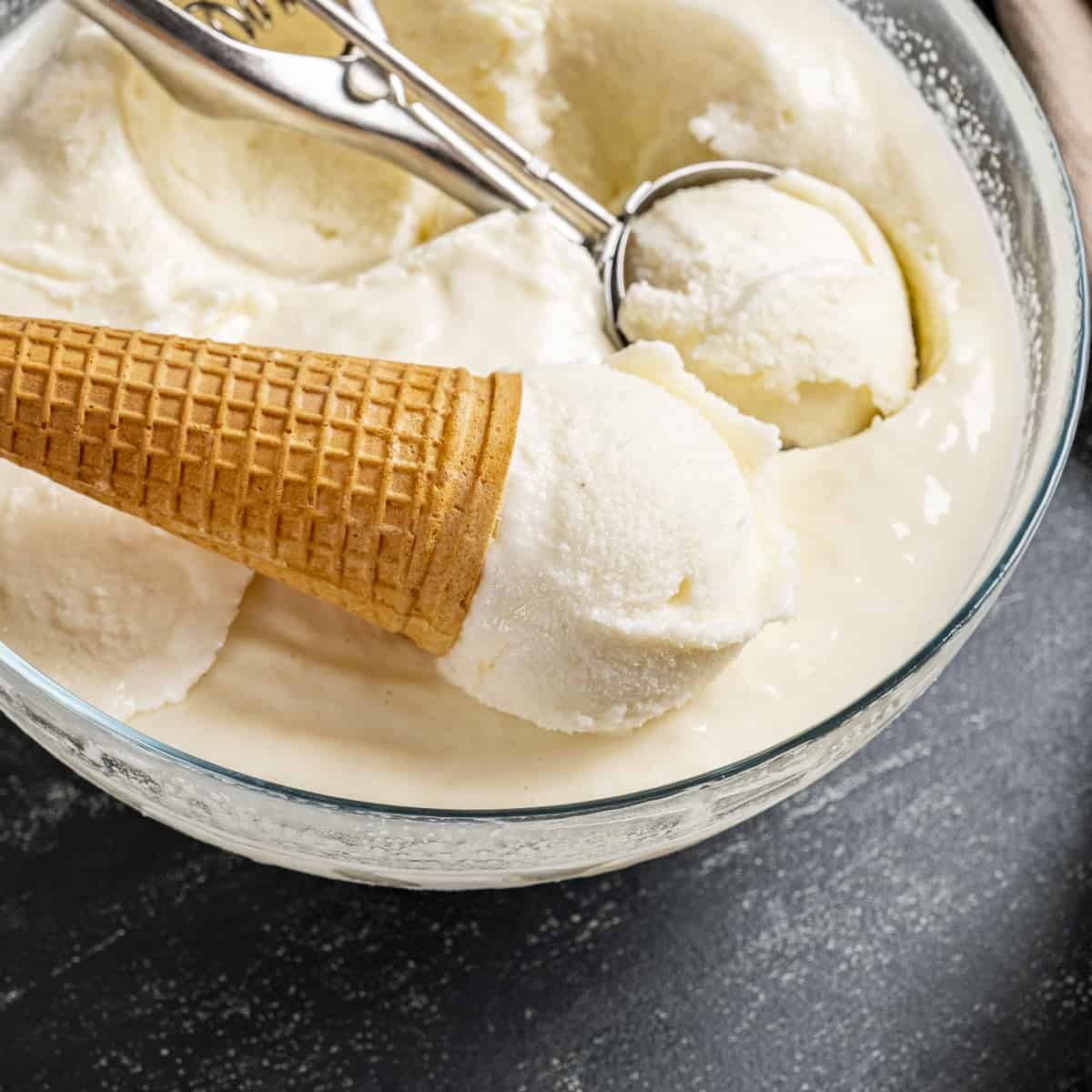 If you have always wanted to make traditional Turkish ice cream, this in-depth recipe is for you! It only requires three ingredients that all create the unique chewy, hard, and incredibly elastic texture.
And the creamy flavor is out of this world! This is a must-try ice cream that can be served in cones, on a plate, or with other desserts!
Any Turkish dessert can be topped with this ice cream and the taste goes up to the next level. We do love to top a slice of pistachio kadaif or semolina cake with a dollop of ice cream or dondurma as we say in Turkish.
There are dessert stores who even serve baklava with ice cream inside it. And you can imagine how heavenly it is!
Jump to:
What Is Different About Turkish Ice Cream?
To Turkey, ice cream is one of its proudest dessert creations. This ice cream has actually reached world renowned status for its unique stretchy texture and creamy flavor!
It is also commonly called Maras ice cream, which refers to the region this ice cream originates from. The two main things that makes it incredibly unique from others is that it contains salep and that it is hand churned.
Salep is a powder that comes from the roots of orchids. This powder helps give the ice cream its consistency. 
If you have ever tasted salep drink, you know how creamy and delicious it tastes. So dondurma made with salep is like the frozen version of this amazing drink. 
Furthermore, the hand churning process, while time consuming and labor intensive, also helps develop an uber creamy and thick texture. So this recipe doesn't require an ice-cream machine.
You can of course use an ice cream maker if you have one, but it is said that dondurma tastes better when it is hand churned.
Although Turkish ice cream has the flavor of salep, it is known as plain ice cream –sade dondurma in the country and nobody calls it salep ice cream.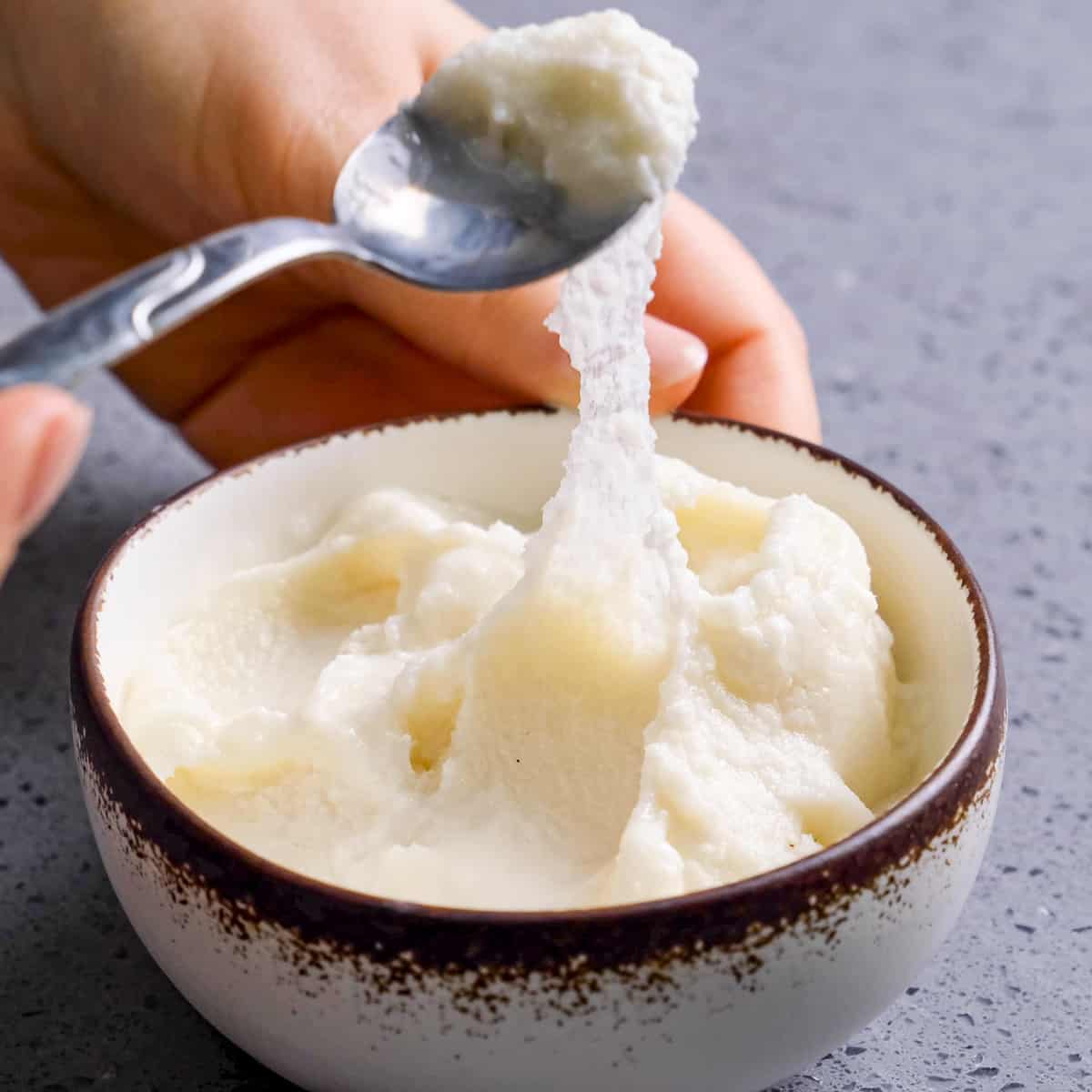 Turkish ice cream is very dense and chewy, so it doesn't melt easily and you might find it completely different from the regular smooth ice creams you know. Some vendors even place a huge wheel of ice cream vertically just like doner kebab and slice it with a sharp knife.
If you are an ice cream fan, we highly recommend that you taste this traditional ice cream. It is one of the best Turkish foods. Put it on top of your must-taste foods list!
Dondurma in Turkish Culture
It is commonly believed that this unique ice cream originated in a region called Kahraman Maras, which later became the ice cream capital of Turkey. That's why this ice cream is also known as Maraş ice cream, Maraş dondurması.
Today, you can easily find ice cream in Istanbul (the main tourist hub in Turkey) and virtually all other regions of the country.
Now, we have all probably seen the videos of Turkish ice cream vendors in Istanbul playing pranks on customers. It is a real challenge for customers to get the ice cream cone from the vendor.
When these vendors make the ice cream, they serve a large scoop of it on a long pole that holds the cone. As you try to grab it, they will evade with all their skills so that you cannot get a hold of the treat you are likely drooling over! You end up with an empty cone in your hand after several attempts to catch it.
It is fun, interactive and gives lots of tourists quite a laugh while some might find it quite annoying, especially if they are not familiar with this prank.
These vendors are easily recognizable by the traditional Turkish attire they wear. This is usually a white short sleeved shirt covered with a red embroidered waistcoat. Most of these vendors also wear red embroidered hats to finish off the look.
About The Ingredients
This no-churn ice cream is made only with 3 ingredients.
Milk: Traditionally goat's milk is used for making dondurma for its natural flavor, but cow's milk or a combination of both is okay too. You just have to ensure that the milk has been pasteurized. Or, you can heat it to 90ºC (190ºF) to kill all microorganisms.
Salep Powder: There is no substitution or alternative for sahlep or salep powder for Turkish ice cream. It is what gives this ice cream its unique flavor and texture. This powder is a type of flour made from dried and ground bulbs of a purple orchid in the South-east of Turkey.
This powder can be difficult to find outside of Turkey, but you may be able to find it on online markets selling Turkish, Greek or Middle East markets. Search for pure salep powder.
Also, it is easier to find small sachets or packages of instant salep drink. These are not genuine pure salep because they have been mixed with starch. But, they can still work when making ice cream. The most famous brands are Kahve Dünyasi and Dr Oetker.
Sugar: We used regular granulated white sugar for this recipe. Other types will change the flavor and color.
Alternative Flavor: Optionally, you can add mastic in this unique ice cream if you want more flavor. Mastic is a resin that you can get in droplets from a mastic tree. It has a refreshing flavor that is similar to pine. These trees are also known as gum tree and grown in Turkey and Greece.
Mastic will also help give the ice cream a stretchy consistency, but it is mainly used for its unique flavor.
How To Make It
Today, we will look at exactly how you can make your own traditional Turkish ice cream dondurma at home. But remember, there is no substitute for salep powder. It gives the ice cream its unique flavor and unmatched elastic and stretchy consistency!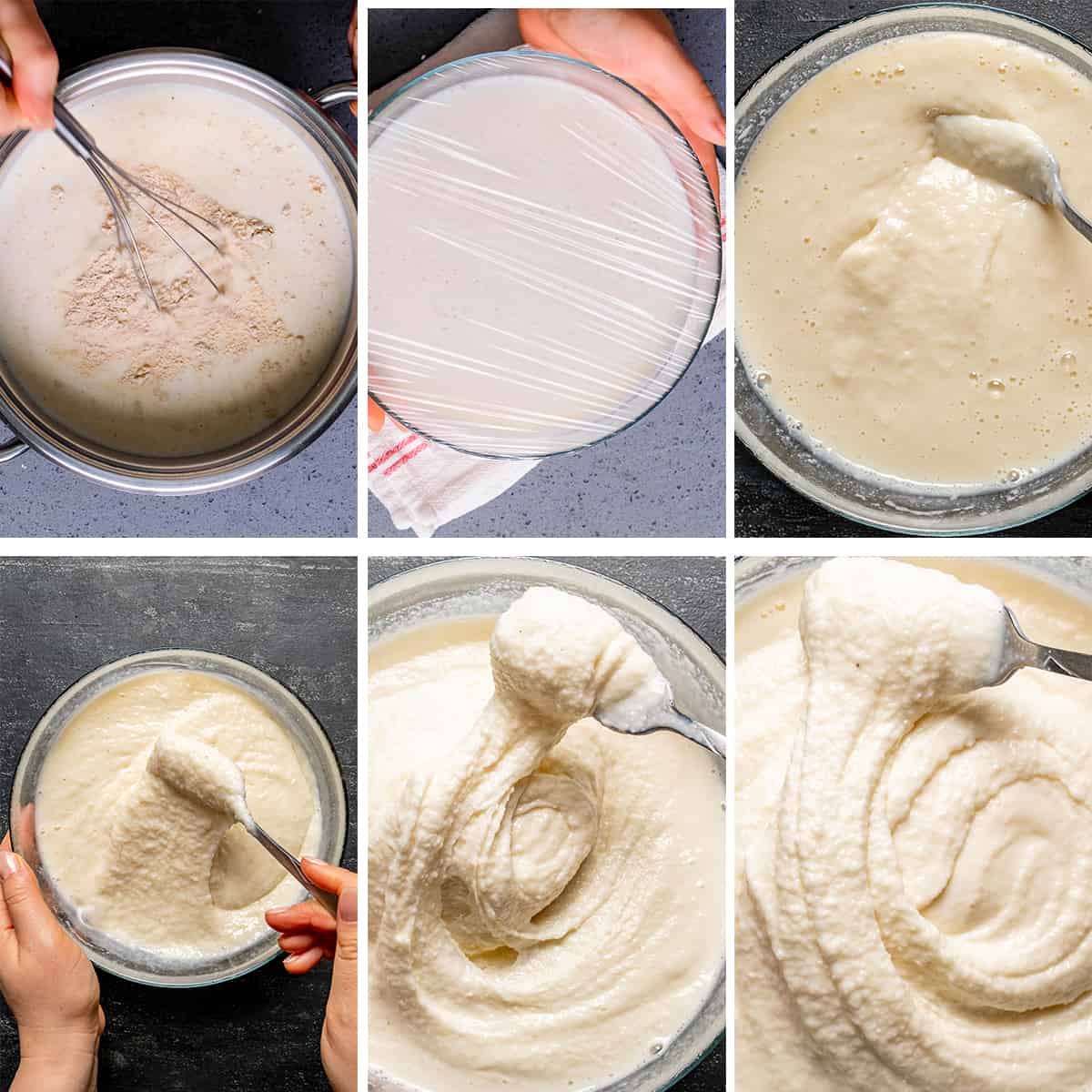 Create the ice cream base: To start, combine the milk, sugar, and salep powder in your saucepan. Whisk well to combine the ingredients. Then, place it over a medium heat and allow it to cook until the sugar starts dissolving. Stir constantly to prevent the mixture from burning.
Cook the ice cream mixture: Once all of the sugar has dissolved, reduce the heat to the lowest. Let the mixture simmer for 15-20 minutes, stirring frequently until it gets a slightly thicker consistency.
Freeze: Transfer the mixture to a freezer-safe container and allow it to cool completely at room temperature. Then, cover it with plastic wrap.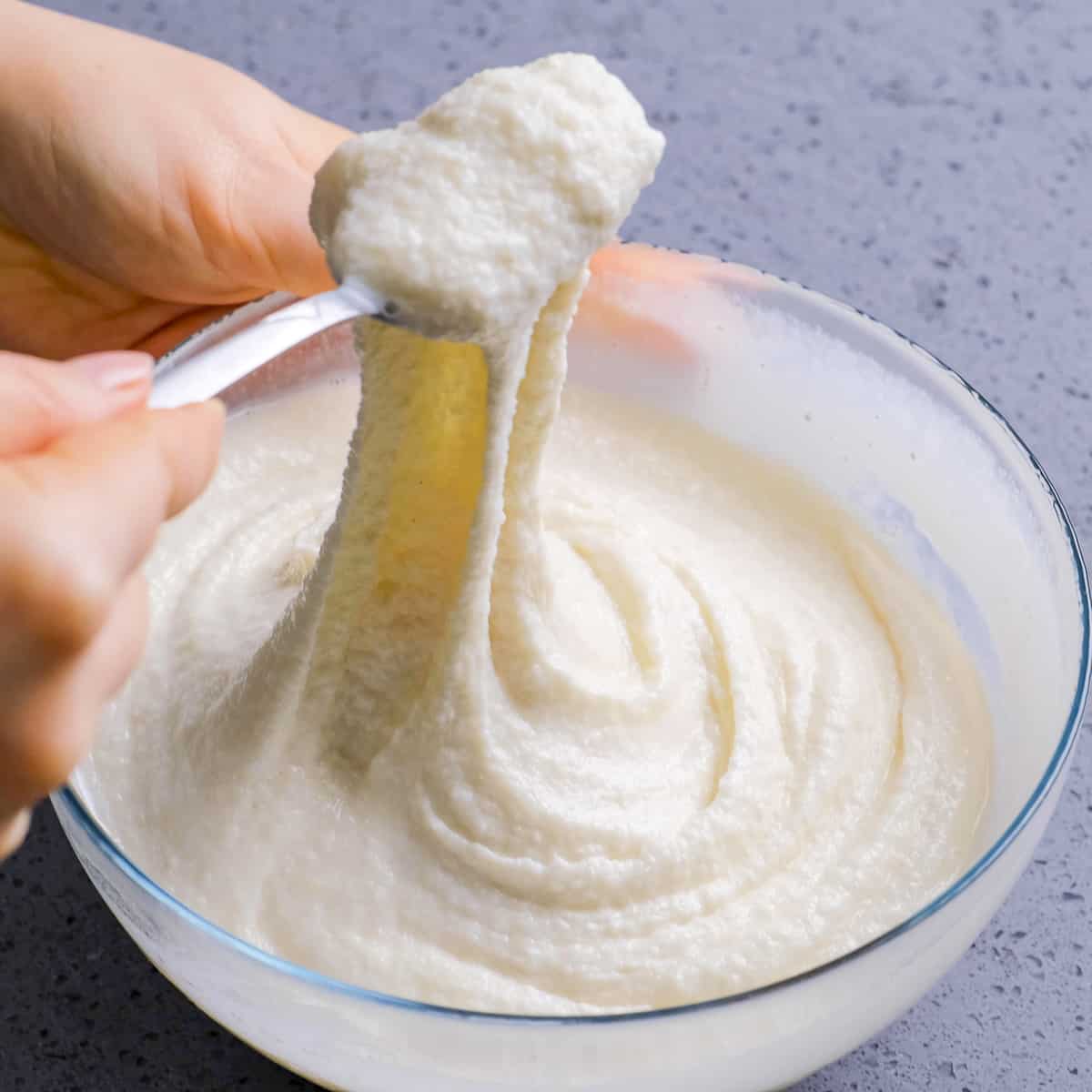 Start the hand churning process: Place the sealed container in the freezer. After 30 minutes, remove it and mix the base with a fork for 2-3 minutes. Make sure to fold in icy bits on the sides into the mixture. Place the mixture back into the freezer for another 30 minutes. Repeat this process 4-5 times. It will become more stretchy and harder as the time elapses. After the last mixing, put it back in the freezer and keep it there for 5 hours.
Serve: Once ready to serve, thaw it at room temperature for 10 minutes. This makes it easy to scoop out and serve on cones or with your favorite desserts.
Expert Tips
You can make this ice cream using an ice cream machine too. To do so, put the completely cooled ice cream mixture in a freezer safe container and freeze it for 30 minutes. Then take the ice cream out of the freezer and churn it according to the manufacturer's instructions. Once frozen, place it in an airtight container and freeze it for 5 hours.
If you cannot find salep powder, there are some alternatives. Outside of Turkey, it may be hard to find genuine salep powder. So, you can look on online markets like Amazon for instant drink salep powder in sachets or packets. For this recipe, you can use 1 packet of 17 grams.
Every time you hand churn the ice cream, make sure to mix it very well. You need to keep incorporating the crystals that have formed on the side of the container. This will give you the best stretchy texture and consistency for this Turkish stretchy ice cream.
If you want to, you can add gum mastic for an extra flavor. But, you have to freeze 3 grams of mastic beads for 10-15 minutes. Then, grind them into a fine powder. Next, add the ground mastic after the sugar has dissolved into the milk base. Continue the ice cream making process as per usual.
Serving
You can simply serve it on ice cream cones with some garnishes like pistachios or chocolate sauce.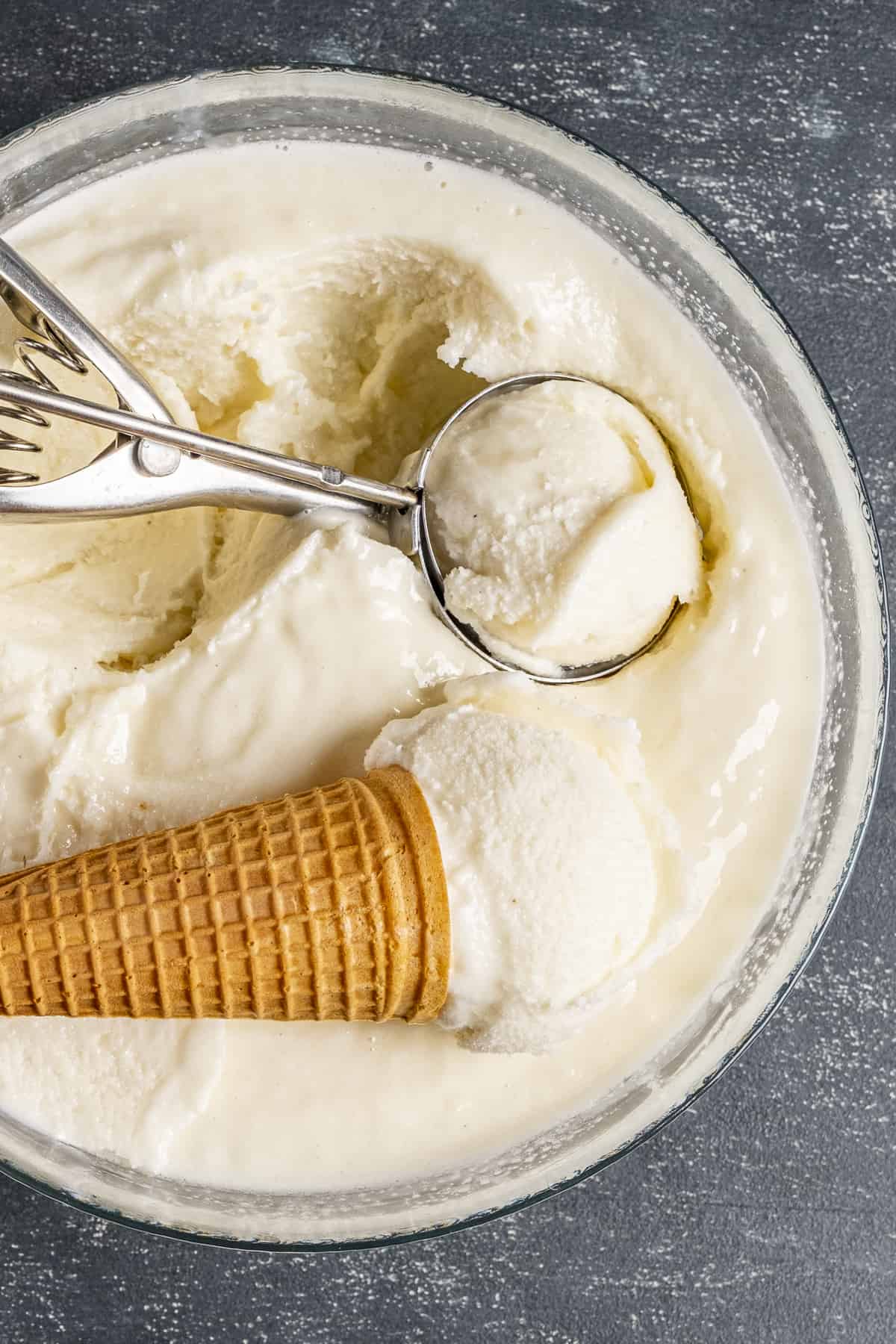 Maras ice cream can be served in such a way that it can be eaten with a knife and fork. This may be easier as this is an ice cream that doesn't melt easily and it is very stretchy.
You can serve this ice cream not only on its own but also with some other desserts as an accompaniment. The most popular Turkish desserts to serve with dondurma are baklava, kunefe and semolina halva.
As always: If you make this recipe, let us know what you think by rating it and leaving a comment below. And post a pic on Instagram too—tag @give_recipe so we can see!
Sign up for the FREE GiveRecipe Newsletter to get the new recipes into your inbox! And stay in touch with us on Facebook, Pinterest, YouTube and Instagram for all the latest updates.
Print
📖 Recipe
Dondurma (Turkish Ice Cream)
Turkish ice cream has a chewy and stretchy texture with a natural aromatic flavor coming from salep powder. No ice cream maker is needed for this recipe!
Author: Zerrin & Yusuf
Prep Time:

10 minutes

Cook Time:

50 minutes

Total Time:

1 hour

Yield:

6

1

x
Category:

Dessert

Method:

Freezing

Cuisine:

Turkish
1

liter milk

1

and ½ cups sugar
 1 tablespoon salep powder
Instructions
Combine milk, sugar and salep powder in a large saucepan. Whisk well with a hand whisk. 
Put it over medium heat and cook it until sugar dissolves, stirring continuously. 
Reduce the heat to the lowest and keep cooking until it gets thicker in consistency. This might take 15-20 minutes.
Transfer it into a freezer-safe container. Let it cool completely.
Cover it with plastic wrap and put it into the freezer. 
Remove it from the freezer after 30 minutes and mix with a fork for 2-3 minutes. Make sure to fold in the icy bits on the edges of the container. Put it back into the freezer. 
Repeat this 5 or 6 times every 30 minutes. You will see how it gets stretchy in the end and it will get really hard to mix. This shows that your ice cream is almost ready. 
Keep it in the freezer until serving time, at least for 5 hours. 
Take it out 15 minutes before serving. Then you can easily scoop it and serve on the scone or on your desserts.
Notes
Making it in an ice cream maker: After step 5, take it out of the freezer and freeze it in your ice cream maker according to the manufacturer's instructions. Take it into an airtight container and freeze for at least 5 hours.
If you can't find authentic salep powder: It might be hard to find the genuine salep powder outside Turkey. Then you can buy salep mixture powder in sachets or packages at online markets like Amazon. Use one sachet (17g) for this recipe. 
Make sure to mix it well each time you take it out of the freezer if you are not using an ice cream maker. 
You can add a gum mastic flavor if you want. To do this: Freeze mustic beads(3g) for 10-15 minutes and then grind them well. Add in the ground mastic after the sugar dissolves in the heating milk.
Nutrition
Serving Size:

1 dollop

Calories:

218

Sugar:

43.2g

Sodium:

100.1mg

Fat:

1.3g

Trans Fat:
Carbohydrates:

46.2g

Protein:

6.1g

Cholesterol:

3.3mg
Keywords: Turkish ice cream, dondurma
You might also like: