Are you a fan of fresh figs? Do you love them as much as I do? What about chocolate? If you love them both, you will love these Chocolate Covered Fresh Figs! I realized how chocolate and figs make a perfect match after making these Chocolate Fudge Brownies with Figs and decided to make something easier yet as tasty.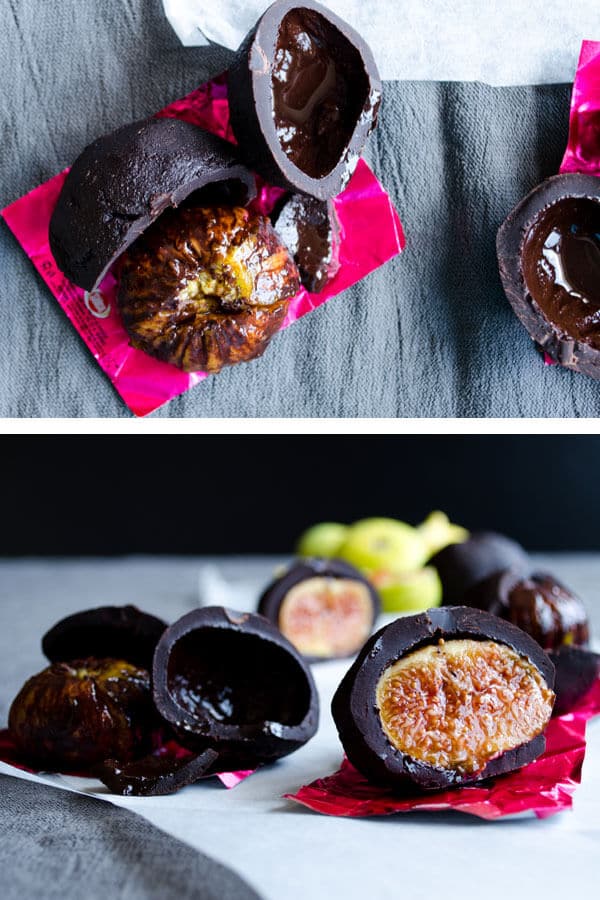 We waited them in refrigerator the whole night and they were perfectly stiff in the morning. It is so fun to eat these. You first hear the cracking noise of stiff chocolate and then reach the lovely softness of figs. They are perfectly chilled inside, so it's a great refreshing suprise in the center.
Well,to tell you the truth this recipe accidentally came out one night when we were making chocolate fig tart. I was melting dark chocolate in a heatproof bowl over boiling water. I had to leave it for some minutes and told Yusuf to add in heavy cream inside and mix. Guess what? When the melted chocolate became thicker again, he realized that he added cold milk instead of cream. When I came back to the kitchen, he looked perplexed and a little angry. It got thicker and thicker as he mixed and it couldn't be the chocolate glaze on a tart! We both hate wasting food and we didn't want to just throw it away. We definitely wanted to make something with chocolate and fresh figs. Then we came up with this idea: "Why not cover figs with chocolate?" These were so good that we've made it several times since then.
I remembered I had seen Dried Figs Covered with Chocolate, so I wasn't sure how it would be to use fresh figs. To my surprise, they were so good! It's not like dipping figs into melted chocolate. It becomes like a soft dough when milk is added, so you have to shape it in your hands.
Take a piece of chocolate dough, a bit bigger than figs and flatten it in your hands. Then place peeled fresh figs in the center and close it up by forming it gently until fig is not seen any more. Nobody can guess there is a hidden fig inside!
I cut it with a knife when eating since I thinkt it could be messy when it's bitten. If your figs are small enough, you can just throw it in your mouth as it is. I'm sure it would be even better! It could be a great explosion in your mouth!
See our other chocolate recipe videos here:

Print
Chocolate Covered Fresh Figs
Perfect sweet treat with chocolate and fresh figs hidden inside it.
Prep Time:

4 hours 20 minutes

Total Time:

4 hours 20 minutes
Ingredients
200g dark chocolate
2 tbsp cold milk
6 figs
Instructions
Melt chocolate in a heatproof bowl over boiling water.
Add in cold milk and mix with a spatula. It gets thicker this way.
Let the mixture reach room temperature.
Peel figs.
Take a piece of chocolate dough, a bit bigger than a fig and flatten it.
Place a fig in the center, gently form it with your hands and close it up until the fig is completely covered.
Place them on a baking paper so that they don't stick.
Wait in refrigerator at least for 4 hours and serve cold.
IF YOU LIKED THIS RECIPE, THEN YOU WILL LOVE THESE: