Looking for an easy fall inspired dessert? Make this simple apple compote flavored with cinnamon, nutmeg, cloves and thyme. Serve it as a dessert, breakfast or sauce.
Fall is the season when apple is abundant. Luckily, it is one of my favorite fruit and I have shared several apple recipes with you. Baked cinnamon apple slices, baked apples stuffed with cinnamon and walnuts and apple cinnamon bars are just some of them.
This compote recipe is yet another way to use up apples. One of the easiest recipes ever!
What Is Apple Compote?
It is basically a kind of sauce that is made with chopped apples, a sweetener like brown sugar or maple syrup and spices. Cook it in a skillet or saucepan over stove and serve either warm or cold. Although I put it in the sauce category, it can also be served as a light dessert on its own or with a dollop of ice cream or yogurt.
By looking at the ingredients and the cooking method, you might think that compote is the same as jam. However, they are completely different.
For one thing, unlike a jam, compote doesn't have a sticky and juicy texture. Second, a compote cooks faster and is easy to customize. You can change the amount of sugar or add in the flavors you want in your compote. Third, if you want, you can add some butter when making a compote. Last but not least, you should store a compote in the refrigerator. Otherwise it goes bad within 2-3 days depending on the room temperature.
What Is Turkish Compote?
Fruit compote has completely a different role in Turkish cuisine. It is a light juicy dessert (almost like a thin soup) that is served along with the main dishes and side dishes, not at the end of the meal.
In addition to this, the cooking method is different too. Turkish fruit compote is made with 3 main ingredients: water, sugar and fresh or dried fruit. First, you mix water and sugar in a pot and bring it to boil. Then, you add diced or sliced apples in the pot and cook until tender. Next, let it cool and chill preferably overnight.
You can use this recipe with any fruit you like. And you can always add in some spices like cinnamon sticks or cloves when boiling or even when chilling.
Apple Compote Vs Applesauce
The main difference between these two are about the texture. Applesauce is a puree whereas compote is chunky. Also, apples for applesauce are peeled for a smooth result while you can leave the skin on apples for compote.
Another difference is the usage. Applesauce is used as a substitute for oil or butter when baking cakes or breads while apple compote can be served both on its own and used as a pie or cake filling.
Last but not least, it is a good idea to can or preserve applesauce while this is not recommended for compote. Indeed, there is really no need to preserve compote because it is so easy to make that you can make it right before serving.
How To Make
The recipe has four easy steps.
First, dice the apples and put them in a bowl. You don't really need to peel them but peel if you don't like the skin when apples are cooked.
Second, add in the spices. I use cinnamon(oh it could be my favorite spice in the world!), cloves, nutmeg (because hey we are in fall) and dried thyme (for a slight herb flavor).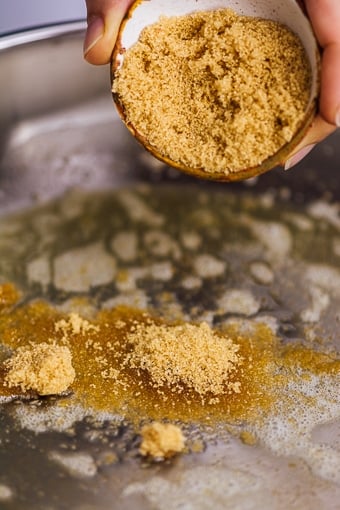 Third, melt butter in a skillet and add in sugar. Cook over low heat until sugar dissolves.
Fourth, add in spiced apples and cook covered until tender, stirring occasionally. If you want your compote more juicy, pour a little water and cook together.
Optionally, garnish it with pomegranate arils before serving.
Pro Tip: If you want, you can add in other fruit in your compote. I sometimes add chopped pear, quince and raisins. We love this combination of flavors. More fruit that could be added are cranberries, blueberries, raspberries or plums.
About The Spices
To make this compote, you can use whatever spice you like. I think cinnamon is a must because it is the perfect spice to pair with apple flavor. In addition to cinnamon, other suggested spices are cardamom, ginger, cloves, star anise and nutmeg. As for the herbs, I use dried thyme because that was what I had on hand, but fresh rosemary would be a perfect match as well.
If you want to enrich your apple compote even more, you can add in a vanilla bean as well.
How To Store
Let it cool completely and store in an airtight container in the refrigerator up to 10 days. Also, you can freeze it up to 2 months. Although the texture might change a bit when thawed, it tastes good. Do not refreeze after you thaw it, so freezing it in batches is a good idea.
Can I Make This Recipe Without Sugar?
Yes, you can. If you want to make your apple cinnamon compote with a natural sweetener, use maple syrup, agave or honey. Furthermore, if the apples you use are sweet enough (like fuji apples), you can make the compote completely sugar free or sweetener free.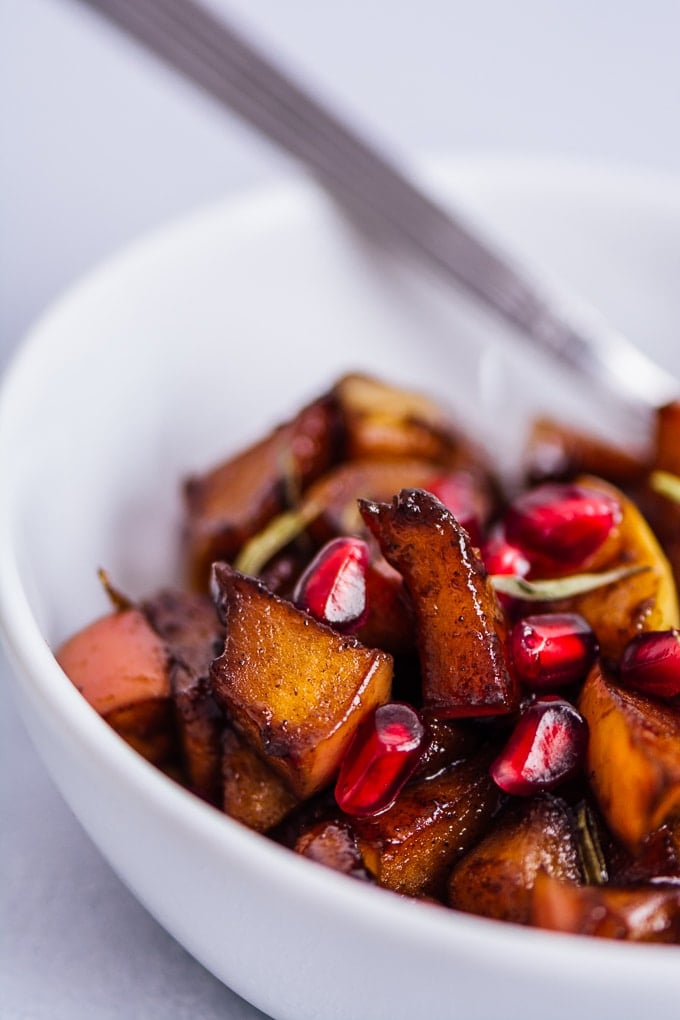 Uses
This is a simple compote recipe that you can use in many ways.
Use it for breakfast over:
As a dessert on its own or over:
Ice cream
Whipped Cream
Cakes
Pies
As a sauce over
Roasted pork or beef
Soups
Pro Tip: If you are planning to use apple compote as a sauce over a savory dish, I recommend that you slice an onion and cook it together with apples.
Other Apple Desserts
As always: If you make this recipe, let us know what you think by rating it and leaving a comment below. And post a pic on Instagram too—tag @give_recipe so we can see!
Sign up for the FREE GiveRecipe Newsletter to get the new recipes into your inbox! And stay in touch with us on Facebook, Pinterest, YouTube and Instagram for all the latest updates.
Print
📖 Recipe
Spiced Apple Compote Recipe
A super simple apple dessert with fall spices cooked in a skillet.
Author: Zerrin & Yusuf
Prep Time:

5 minutes

Cook Time:

20 minutes

Total Time:

25 minutes

Yield:

2

1

x
Category:

Dessert

Method:

Cooking

Cuisine:

American
2 cups

apples, diced

1 teaspoon

cinnamon

¼ teaspoon

nutmeg

½ teaspoon

dried thyme

3

cloves

1 tablespoon

butter

2 tablespoons

brown sugar

2 tablespoons

pomegranate arils for garnish
Instructions
Put diced apples in a large bowl.
Add in spices and give it a good stir. Put it aside.
Melt butter in a skillet over medium heat.
Add in brown sugar, bring it to low heat and cook until it dissolves.
Add in spiced apples and cook covered for 15 minutes, stirring occasionally. If it is too thick and about to stick, you can pour 1 or 2 tablespoons water and continue cooking until apples get tender.
Garnish with pomegranate arils and serve warm or cold.
Notes
If you want to make it vegan, just leave the butter out. Put everything together in a skillet and cook covered over low heat. You might need to a little water then.
Nutrition
Serving Size:
Calories:

165

Sugar:

23.3 g

Sodium:

5.9 mg

Fat:

6.3 g

Carbohydrates:

29.6 g

Protein:

0.7 g

Cholesterol:

15.3 mg
Keywords: apple compote, apple cinnamon compote