This Pumpkin Cornbread will become a staple in your home in fall. This is a fluffy and slightly moist cornbread with a subtle pumpkin flavor.
This post was originally published in 2014 and we're updating it with new pictures today.
What does fall mean to you? I think it is the best time  of the year for baking. Fall means making cookies, cakes and breads. If you are following this blog for some time, you know what my favorite ingredient is when this season arrives: Pumpkin. Obviously, I'm in love with it and I can add it into anything; even in a cornbread.  If you don't like cornbread because it's too dry and crumbly, this Pumpkin Cornbread recipe is for you. It is just as soft as a regular cake and you can easily pair it with savory or sweet foods.
MY LATEST VIDEOS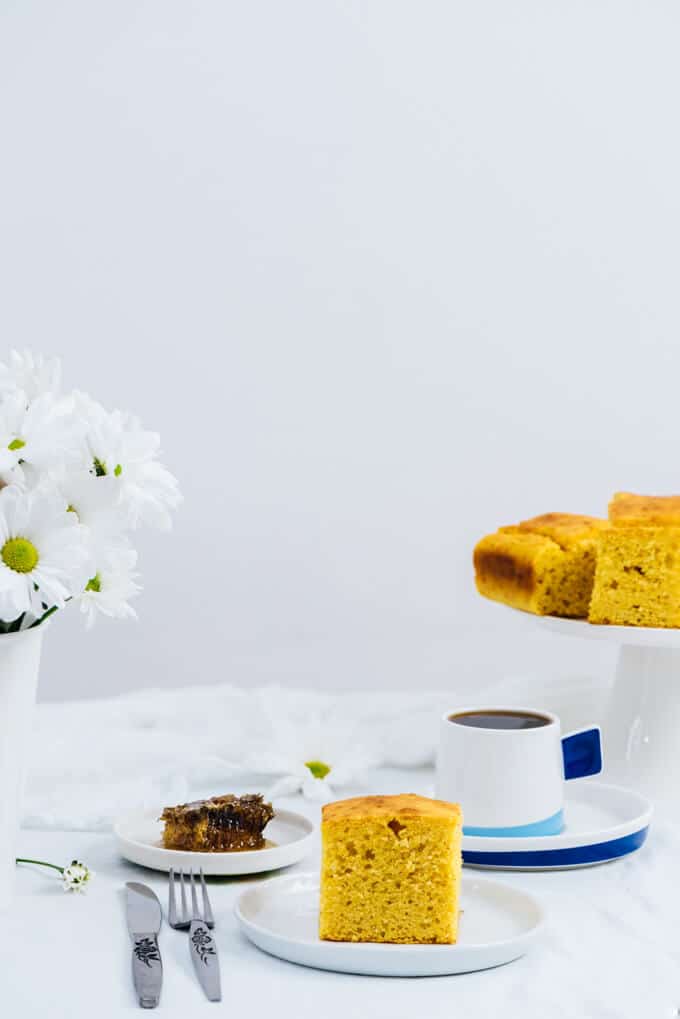 Different from the original post, I didn't use a springform pan this time. A classic cornbread is normally sliced in squares. At least this is how it is served in my family, so I thought a square pan would be better. Do you think the shape doesn't matter as long as it tastes great? I agree but still a cornbread has to be in squares.
Do you love your cornbread with soups at dinner or with honey or jam at breakfast? I love mine mostly with soups, but this Pumpkin Cornbread is awesome with honey at breakfast. Another difference in this updated recipe is that I didn't use any sugar. Also, I used agave syrup instead of molasses and the result in this version is even better.
You can see the old pictures and the original post below.
This Pumpkin Cornbread is the first recipe I made with my Homemade Fresh Pumpkin Puree. I had been planning to make it since last winter. Pumpkin and cornmeal match perfectly and make this scrumptious bread with a vibrant yellow color. This is absolutely different from what you know as cornbread. Unlike regular cornbreads, this is perfectly moist and as airy as a well baked bundt cake. I'm sure this will become a favorite fall recipe at your home!
Cornbread is not the favorite bread of most people because they find it too crumbly and dry. Well, I do love it even that way, especially with soups. The amount of flour and cornmeal or the ratio of cornmeal and water is very important not to end up with a dry bread. If you have a gluten-free diet, see my favorite Cornbread recipe, which is no way too dry. I should try this one with pumpkin puree next time and see the result without flour.
The addition of pumpkin puree just takes it to the next level. This is the fluffiest and yummiest cornbread I've ever eaten! Seriously. I loved it so much that I ate the half of this whole bread.
I slightly adapted Sue's Pumpkin Cornbread Recipe at The View from Great Island. For one thing, I wanted my bread to be close to savory, so I reduced the amount of sweeteners. If you prefer a sweeter bread, go check the original recipe on Sue's blog and follow her instructions. I think 3 tablespoons of brown sugar is fine because there is enough sweetness coming from pumpkin and molasses. If you like a cake like pumpkin cornbread, you can either increase the sugar or molasses in the batter.
We had this wonderfully airy pumpkin cornbread at breakfast topping with cream and honey or just with extra pumpkin puree, which is yummy as it is, plain as a snack and with soup at dinner. So this is such a great bread that you can have it at different times throughout the day with various pairings.
The pumpkin gives this cornbread a very nice amber color, which is a great match for the season. If you like seeing fall colors around, bake this amazingly dense and moist pumpkin cornbread and bring that lovely color in your kitchen!
More yummy and fantastic looking pumpkin cornbreads I'd like to try:
Vegan Pumpkin Cornbread on Anecdotes and Apple Cores
Gluten Free Dairy Free and Vegan Pumpkin Cornbread on Belle of the Kitchen
Pumpkin Cornbread with Coconut Oil and Cinnamon on Wishful Chef
Print
Pumpkin Cornbread
A fluffy savory cornbread with pumpkin puree.
Author:
Prep Time:

10 minutes

Cook Time:

30 minutes

Total Time:

40 minutes

Yield:

9

Category:

Bread

Method:

Baking

Cuisine:

American
Ingredients
1 cup all purpose flour
1 cup cornmeal
1 and 1/2 teaspoons baking powder
1 teaspoon salt
1/2 teaspoon cinnamon
3 tablespoons brown sugar, optional
2 eggs
1 cup pumpkin puree (not pumpkin pie filling)
1/3 cup olive oil
2 tablespoons molasses or agave syrup
1/3 cup milk
Instructions
Preheat the oven to 400F (200C).
Butter a 9 inch spring form pan or a square pan and set aside.
Combine the dry ingredients in a bowl well.
Beat the eggs well and add in pumpkin puree, oil, molasses or agave and milk one by one whisking well each time.
Add the dry mixture into the wet and mix until combined.
Pour the mixture into the pan and bake for 30 minutes or until a toothpick comes out clean.
Cool for a few minutes in the pan and then remove it.
Nutrition
Serving Size:

1 slice

Calories:

153

Sugar:

3.8g

Sodium:

339.4mg

Fat:

1.7g

Carbohydrates:

29.8g

Protein:

4.5g

Cholesterol:

36.5mg
IF YOU LIKED THIS RECIPE, THEN YOU WILL LOVE THESE: