Do you know how to make pumpkin puree at home? Way easier than you think! You won't buy any canned pumpkin puree after you see you can easily make it at home. Freeze it in zip bags and use it in your favourite pumpkin recipes all year round.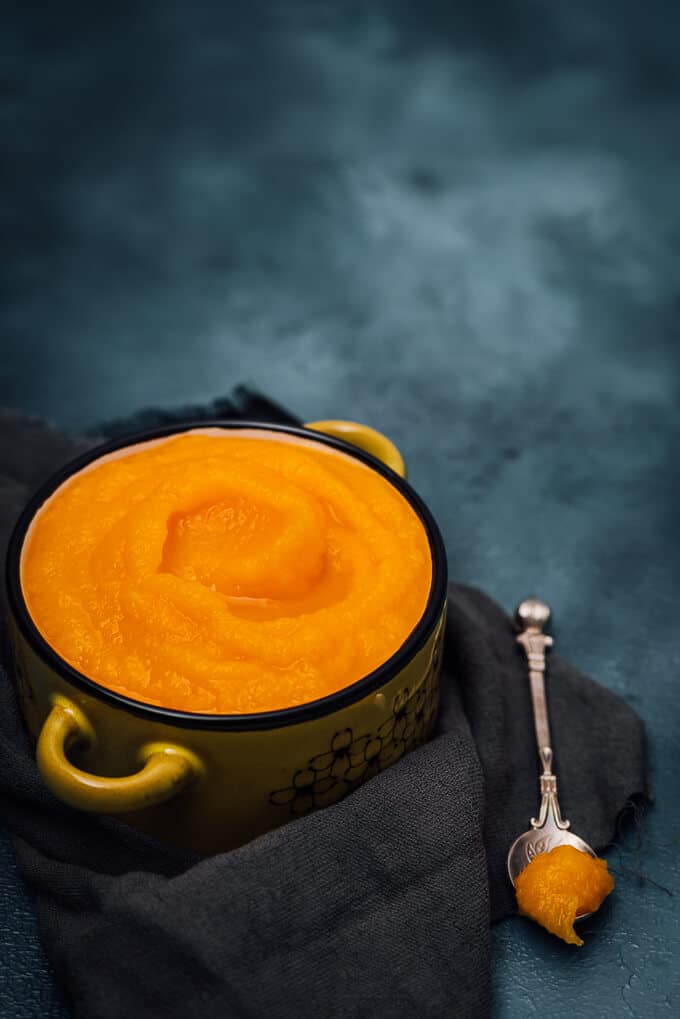 How to make
It couldn't have been easier! You will never want to buy canned version after you make it yourself. Well, I simply roast pumpkin chunks and puree them in a food processor. Vendors here are so kind that they slice pumpkins and remove the skin, so the hardest part is done. If you buy a whole pumpkin, then you need to do it yourself. It shouldn't be a big deal with a sharp knife. Just cut it into halves, remove the seeds and cut them into wedges. No need to remove the skin at this step, it's easier when they are roasted. Watch the video to see how.
I didn't add any sugar or spices because I want pure pumpkin flavor, but if you like, use spices like cinnamon, ginger, nutmeg or cardamom.
What type of pumpkin?
Mostly sugar pumpkin is recommended for puree since it is sweeter. We don't have it in our area, so I always use those huge ones. Well, their sweetness is fine for me, but you might find it not sweet enough. Then you can just sprinkle some sugar on the pumpkin slices before roasting.
Can you freeze pumpkin puree
I buy a huge pumpkin in fall every year to make the puree and use it all year round. I've received several emails from our readers and friends around asking how to store fresh pureed pumpkin. After roasting and blending the pumpkin as you can watch in the video below, just share it in zip bags and store in the freezer up to 8-10 months. You can put some of it in a jar and store in the refrigerator for a week if you are planning to use it right away.
I have a lot of recipes in mind these days which call for pumpkin puree. I know you can easily go with store-bought one, but I love to make things from scratch! And this puree recipe comes out amazingly yummy. I have it even at breakfast as is! So does our 5-year-old son. He loves it without any additional sweetener.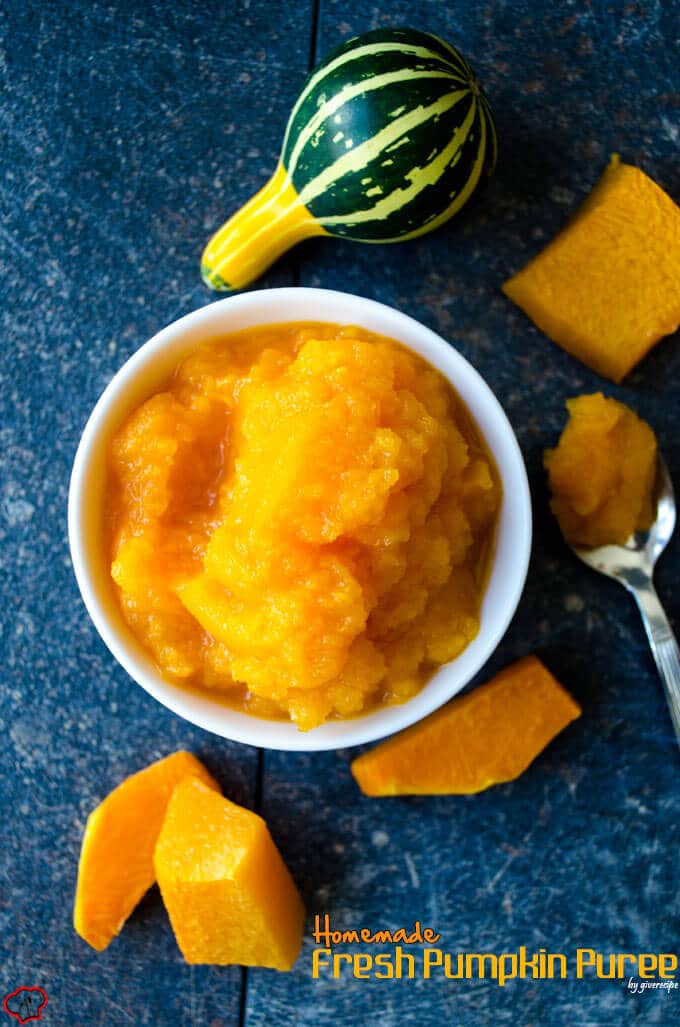 What to make with it
After learning how to make it at home, I want to add it into anything. In pancakes, muffins, breads or even soups. Can you imagine pancakes topped with pumpkin? YUM! What's better than this would be making pumpkin flavored pancakes and top them with this puree. Believe me the joy doubles!
Chocolate chip pumpkin bread with fresh pumpkin puree is probably our number one recipe with this puree. Have you seen it yet? I combine kefir and pumpkin in this bread and it becomes wonderfully moist.
If you are looking for a savory recipe though, then you should check out our pumpkin puree and lentil soup. Red lentil and pumpkin is perfectly balanced and this soup is not a sweet one as a result unlike most of the pumpkin soup recipes.
Other Recipes With Pumpkin
Other Savory Pumpkin Recipes
The color of pumpkin when cooked is stunning, isn't it? You can create many recipes with that vibrant orange color. Without doubt, your guests will be impressed with whatever you make. Go ahead, learn how to puree pumpkin at home first and create recipes with it all year round.
Are you in love with pumpkin? Don't want to miss any pumpkin recipes here? Subscribe our newsletter and see them directly in your inbox.
Print
How To Make Pumpkin Puree
Simple homemade pumpkin puree that everyone can easily make.
Author:
Prep Time:

10 minutes

Cook Time:

1 hour

Total Time:

1 hour 10 minutes

Yield:

7

1

x
Category:

Preserving

Method:

Baking

Cuisine:

American
Instructions
Preheat the oven to 375F (190C).
Cut the pumpkin in big chunks. Scoop out the seeds. (See the video above)
Place the pumpkin chunks on a baking sheet. Skin-side down.
Roast for 1 hour until fork tender.
Remove the pumpkin from skin when they are still warm. It's easier then.
Puree in batches in a food processor until smooth. Add in a few tablespoons water if it is too dry and scrape down the pumpkin chunks as needed.
Freeze it in zip bags for a later use.
Notes
You might need to add a little water over the chunks of pumpkin in the food processor depending on the type of pumpkin you use. Some pumpkins are too dry, some are watery, so check it and decide when pureeing pumpkin. If it's too dry, it's almost impossible to puree them, so add about ¼ cup water gradually and then run the processor.
Keywords: pumpkin puree, homemade pumpkin puree