This is an incredibly easy Pumpkin Cinnamon Rolls recipe that you can make in advance. These are wonderfully soft and packed with delicious pumpkin and pumpkin spice flavors. Perfect for fall mornings!
If you love pumpkin recipes you should also try out our easy pumpkin pancakes and our super simple Turkish Pumpkin Dessert with Tahini.
Why We Like This Recipe
This isn't your ordinary cinnamon roll! We've added pumpkin right into the dough.
They are incredibly soft. Every bite is moist, fluffy, and bursting with flavors of fall.
Inside these rolls, you'll find more than just the usual filling. We've added crunchy nuts - either pecans or walnuts - which add a lovely texture and rich taste.
You can prepare these rolls ahead of time.
Want to make it vegan? No problem! With some easy swaps, you can enjoy these pumpkin cinnamon rolls without any animal products.
It is a very versatile recipe. You can even make pumpkin dinner rolls using the same dough, leaving out the filling and frosting and following the steps in our soft dinner rolls recipe.
About The Ingredients
Dough with Pumpkin and Pumpkin Spice
Flour: We use all-purpose flour for these pumpkin spice cinnamon rolls. You can also use bread flour if you'd like but stay away from self rising flours or coarse flours. For a gluten-free option, consider using a gluten-free flour blend.
Instant Dry Yeast: Helps our dough rise. As a substitute, you can also use 4 times the amount of fresh yeast (36 grams). Fresh yeast can be melted in slightly warmed milk before adding it to the recipe. Read more about yeast types below.
Sugar and salt: These are essential ingredients for the yeast to be activated. Do not remove or change their quantities.
Pumpkin pie spice: You can use a store-bought pie spice, or make your very own. We like making our own mixes so that you can adjust them to the exact quantities you need. To make your own pumpkin spice mix, whisk together cinnamon, powdered ginger, nutmeg and cloves.
Pumpkin puree: Use pure pumpkin puree, not pumpkin pie filling. You can have a look at our informative post on making your own boiled pumpkin puree at home. The puree should be completely smooth and not watery.
Milk: Adds moisture and richness. Substitute homemade almond milk, soy milk, or oat milk for a dairy-free option.
Butter: Adds flavor and tenderness. For a vegan version, use coconut oil or vegan butter.
Filling
Dark Brown Sugar: Provides sweetness and a rich molasses flavor. Substitute light brown sugar or white sugar.
Butter: It has to be softened. Don't use melted butter instead. Substitute coconut oil or vegan butter for a dairy-free or vegan option.
Pumpkin Spice: We use a homemade mix of cinnamon, nutmeg and ginger, and cloves.
Nuts (Pecans or Walnuts): Offers a delightful crunch. Almonds or hazelnuts can be used instead if preferred. If you don't want nuts in your cinnamon rolls, just leave them out.
Frosting
Powdered Sugar: Gives our frosting its sweet base. If you want, you can substitute maple syrup for it.
Softened Butter: Makes our frosting creamy.
Pumpkin Spice: Adds a hint of fall flavor.
Vanilla Extract: Provides a delicate, aromatic flavor.
Step-By-Step Instructions
Alright, we've talked about the ingredients. Now, let's get baking! Here's how to make these yummy pumpkin spice rolls step by step.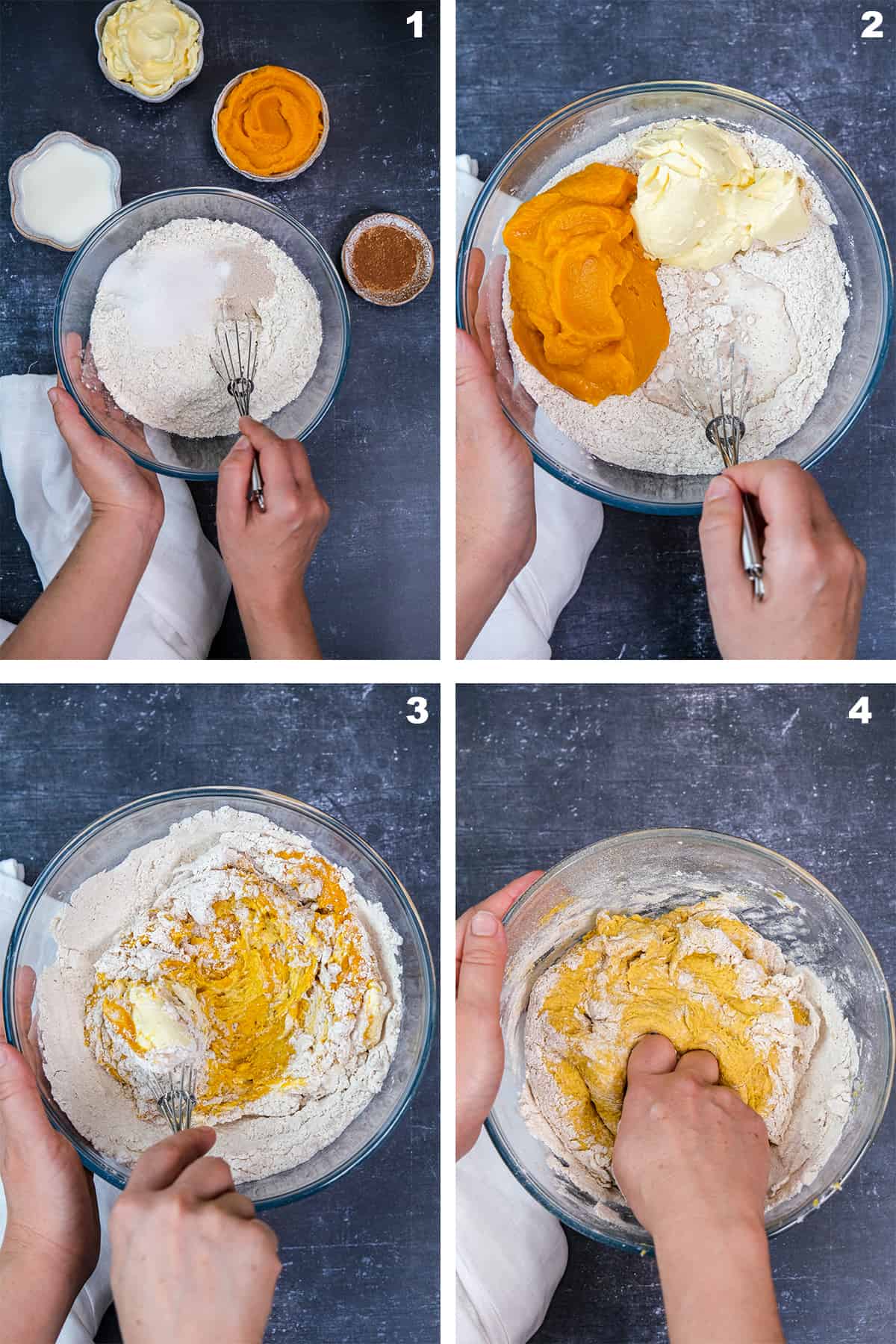 Make the Dough
In a large mixing bowl, combine the flour, instant yeast, sugar, salt, and pumpkin spice.
Add the pumpkin puree, milk, and butter.
Mix it a little with a spatula or a hand whisk.
Knead the dough, either inside the bowl or on a floured surface, until it's smooth and no longer sticky.
Grease your bowl, especially the base and sides. Place the dough inside, then cover with cling wrap.
Set it in a warm spot and let it rise until it has doubled — about 1 hour.
Want to make your cinnamon roll dough in a stand mixer? No worries. Combine flour, yeast, sugar, salt, and pumpkin spice. Add pumpkin puree, milk, and butter. Mix with the dough hook on medium until smooth, about 5-7 minutes. Place the dough in a greased bowl, cover, and let it double in size over an hour.
Make the Filling
Combine dark brown sugar, butter and pumpkin pie spice. Add in chopped pecans and set the paste aside until needed.
Assemble
After the dough has risen, punch it down gently.
Sprinkle some flour on your work surface and place the dough on it. Use a floured rolling pin to roll the dough into a large rectangle, aiming for a thickness between 5mm to 1cm.
Evenly spread your filling across the dough, leaving a small border around the edges. If you like, sprinkle some additional brown sugar and your choice of chopped nuts on top.
Carefully roll the dough lengthwise, forming a long cylinder. Refrigerate it for 20-30 minutes to firm it up. This makes slicing easier. Slice this into 10-12 individual rolls with a sharp knife or a dough scraper.
Position the rolls on a greased baking tray, cover with cling wrap, and let them rise again for about 30 minutes.
Bake them
Preheat your oven to 350°F (180°C).
Once risen, bake the rolls for approximately 20 minutes, or until they turn golden brown.
Allow the rolls to cool down for 15-20 minutes after baking.
Make the Frosting
In a medium-sized bowl, whip the butter until it's pale and fluffy, which should take about 2 minutes.
Stir in the powdered sugar, pumpkin spice, and vanilla extract, mixing until the frosting is smooth. Don't forget to scrape the sides of the bowl to ensure even mixing.
Once the rolls are somewhat cool but still warm, generously spread the frosting on top and serve. Enjoy!
Understanding Yeast Types for This Recipe
Instant Yeast (also known as Fast-Acting or Quick-Rise Yeast): This is the yeast we use in this pumpkin cinnamon roll recipe. It dissolves quickly and doesn't require proofing, meaning you can mix it directly with your dry ingredients.
Active Dry Yeast: This is a common type of yeast that needs to be dissolved in warm liquid (like milk or water) with a pinch of sugar before adding it to the recipe. This process, called "proofing", activates the yeast.
If using this in our recipe, ensure the liquid's temperature is about 100°F to 110°F (37°C to 43°C) for optimal activation.
Fresh Yeast (also known as Cake Yeast or Compressed Yeast): It comes in a soft block. To use it in our recipe, crumble and dissolve it in warm liquid, similar to the active dry yeast. When replacing instant yeast with fresh yeast, you typically need to use double or even triple the amount by weight.
How to Slice the Rolls Perfectly
There are two primary methods: using a sharp knife and using dental floss. Here's how to get the best results with each:
1. Using a Sharp Knife:
Sharpen First: A sharp knife ensures clean cuts without squashing the dough.
Chill the Dough: If your dough is too soft or sticky, refrigerate it for 20-30 minutes to firm it up. This makes slicing easier.
Apply Even Pressure: Press down evenly from one end to the other. Avoid a sawing motion to maintain the roll's shape.
Mark Beforehand: Mark the roll at even intervals before cutting. This guarantees rolls of the same size.
Clean After Each Slice: Wipe the knife after each cut. This prevents the filling from sticking and ensures a clean cut for the next roll.
2. Dental Floss Method:
Instead of a knife, slide dental floss under the rolled dough, cross the ends over the top, and pull in opposite directions. This method produces a clean, even slice without pressing on the dough.
Storage
To keep your cinnamon pumpkin rolls fresh and delicious, proper storage is essential. Here's how to store them:
Room Temperature:
If you plan to eat the rolls within a day or two, simply store them in an airtight container or a resealable plastic bag. This will keep them soft and prevent them from drying out.
Ensure they are completely cooled before storing to prevent condensation, which can make them soggy.
Refrigeration:
For longer storage, up to a week, place the rolls in an airtight container and refrigerate.
Before serving, you can warm them up in the oven for a few minutes to regain that fresh-baked texture and warmth.
Freezing:
To store the rolls for an extended period, wrap them individually in plastic wrap and then place them in a freezer-safe bag or container. They can last for up to 3 months in the freezer.
To enjoy, thaw them at room temperature and then reheat in the oven.
Storing Unbaked Rolls:
If you've prepared the rolls but want to bake them later, you can freeze them after the second rise. Place them on a baking sheet in the freezer until solid, then transfer to a freezer bag.
When ready to bake, let them thaw overnight in the refrigerator and then bake as directed.
Making Them Ahead of Time
Want to prepare these pumpkin cinnamon rolls in advance? They would be great for a festive breakfast on special occasions like Thanksgiving. Here's how to plan ahead and enjoy fresh, warm rolls:
Overnight Refrigeration
Prepare the Rolls: Follow the recipe until you've cut the rolls and place them in the baking pan.
Slow Down the Rise: Instead of letting them rise at room temperature, cover the rolls tightly with plastic wrap and place them in the refrigerator overnight.
Baking Day: The next morning, take your overnight pumpkin cinnamon rolls out and let them come to room temperature while you preheat the oven. This might take about 30 minutes to an hour. Then, bake as directed.
Freeze the Dough After Shaping
Prepare the recipe up to placing the cut rolls in the baking pan. Instead of letting them rise, wrap tightly and freeze. When you're ready to bake, let the rolls thaw in the refrigerator overnight, then allow them to rise at room temperature before baking.
Variations
Vegan Version
Dough: Since this recipe is already egg-free, making it vegan is straightforward. Substitute regular milk with plant-based alternatives like almond, soy, or oat milk. Use vegan butter in place of regular butter.
Frosting: For a vegan frosting, use vegan butter, plant-based milk, and ensure your powdered sugar is vegan (some brands use bone char in processing).
Gluten-Free Version
We haven't tested this recipe with a gluten-free flour. If you want to give it a try, you can use brands that offer gluten-free blend. Also, it might be a good idea to add xanthan gum for better elasticity if the blend doesn't already contain it.
You can have a look at this easy gluten free cinnamon roll recipe to get an idea.
No-Yeast Version
Remove the yeast and instead, use 2 teaspoons of baking powder and ½ teaspoon of baking soda. This will act as leavening agents, giving your rolls a lift. Because of the absence of yeast, there's no need for the dough to rise. Simply prepare, fill, roll, cut, and bake immediately.
Cinnamon Rolls with Pumpkin Filling
Instead of the traditional cinnamon and brown sugar filling, use a mix of pumpkin puree, cinnamon, nutmeg, clove, and brown sugar. This intensifies the pumpkin flavor and gives the rolls a moist, flavorful core.
Alternative Frostings
Cream Cheese Frosting: Mix together softened cream cheese, powdered sugar, a splash of milk, and vanilla extract. The result is a tangy and creamy topping that pairs beautifully with the pumpkin flavor. To make it vegan, use vegan cream cheese and plant-based milk.
Maple Glaze: Combine powdered sugar, pure maple syrup, and a bit of milk (or dairy-free milk) for a sweet and earthy glaze reminiscent of autumn mornings.
Caramel Drizzle: A warm caramel sauce drizzled over your baked rolls brings an extra layer of richness. You can find vegan caramel sauces or make your own using coconut milk.
Expert Tips
Make sure the ingredients are at room temperature. This is a rule for all recipes with yeast. If they are fridge-cold, yeast won't work properly and your dough won't rise well.
Let your dough rest to rise at a warm place. You can leave it on the counter if the weather is warm enough. Alternatively, preheat the oven to 350°F. Switch the oven off and place the dough near the top with the door slightly opened.
You have to grease your bowl before putting the dough inside. Otherwise, the dough will stick and your perfect pumpkin sweet rolls will be misshapen.
For the second rise (after the rolls have been sliced), cover the rolls with a kitchen towel or plastic wrap and place them next to the oven while it is preheating.
To easily slice the rolls, use a sharp dough scraper, sharp thin-bladed knife, or a piece of thin twine or even fish line.
If somehow your rolls look too loose after you slice them, you can fix them with your hands by gently squeezing and sticking the edges before placing them in the baking dish.
Spread the frosting on the rolls when they are still warm so that it melts a bit.
To reheat these pumpkin cinnamon buns, place them inside a preheated oven for 5 minutes or inside the microwave on high for 10 seconds.
To make these rolls ahead of time, keep them covered inside the fridge overnight after they are sliced. Once ready to bake, place them on the stove while the oven is preheating so they come to room temperature. Bake them as usual. Make the frosting on that day.
FAQs
Why pour cream over cinnamon rolls?
While our recipe doesn't specifically call for cream, pouring cream over cinnamon rolls before baking is a technique some bakers use. The cream soaks into the dough, making the rolls incredibly moist and giving them a slightly custard-like texture in the center.
Why do you put brown sugar in cinnamon rolls?
Brown sugar has a rich, molasses-like flavor that complements the warm spices in cinnamon rolls. You can use white sugar instead, but the filling may have a slightly different taste and texture.
What's the difference between a sticky bun and a cinnamon roll?
While both treats are similar, the primary difference lies in the glaze and preparation. Sticky buns have a caramel glaze that's added to the bottom of the baking pan before the dough is placed in it. Once baked, sticky buns are inverted to reveal a caramelized bottom. 
Cinnamon rolls, on the other hand, typically have a swirl of cinnamon and sugar inside and are often topped with a cream cheese or powdered sugar frosting after baking.
How to jazz up canned cinnamon rolls like Pillsbury's?
Consider sprinkling chopped nuts, chocolate chips, or a dash of pumpkin spice to the filling. You can also make a homemade frosting with butter, powdered sugar and pumpkin spice or use a simple glaze made from powdered sugar, milk, and vanilla extract instead of the provided frosting.
Why do my cinnamon rolls dry out so fast?
Cinnamon rolls can dry out from overbaking, using too little fat in the recipe, storing them uncovered, or starting with a too-dry dough.
Is it cinnamon bun or Cinnabon?
"Cinnamon bun" refers to the baked pastry made with rolled dough swirled with cinnamon and sugar. It's a generic term used to describe this type of treat.  On the other hand, "Cinnabon" is a specific brand known for its cinnamon rolls. They're best known for their distinctive, oversized cinnamon rolls sold in malls and airports worldwide. 
Other Pumpkin Recipes
Recommended
As always: If you make this recipe, let us know what you think by rating it and leaving a comment below. And post a pic on Instagram too—tag @give_recipe so we can see!
Sign up for the FREE GiveRecipe Newsletter to get the new recipes into your inbox! And stay in touch with us on Facebook, Pinterest, YouTube and Instagram for all the latest updates.
Print
📖 Recipe
Pumpkin Cinnamon Rolls
Super soft pumpkin cinnamon rolls that are perfect for breakfast. These are filled with pumpkin pie spice and pecans and served with a yummy vanilla pumpkin spice frosting.
Author: Zerrin & Yusuf
Prep Time:

1 hour 50 minutes

Cook Time:

20 minutes

Total Time:

2 hours 10 minutes

Yield:

1

2

1

x
Category:

Dessert

Method:

Baking

Cuisine:

American

Diet:

Vegan
Dough
3

and ¼

cups

(410g) plain or all-purpose flour, plus more for dusting

1 tablespoon

(

9g

) instant dry yeast

3 tablespoons

(

40g

) granulated sugar
A pinch of salt

1 tablespoon

(

8g

) pumpkin spice (for the homemade version, you need

½ tablespoon

cinnamon,

¼ tablespoon

ground nutmeg, a pinch of ground cloves and

¼ tablespoon

ginger powder)

¾

cup

(150g) pumpkin puree, at room temperature

(very important)

⅓

cup

(80g) milk, lukewarm

½

cup

(115g) unsalted butter, softened at room temperature
Filling
½

cup

(95-100g) dark brown sugar (or regular granulated sugar or coconut sugar)

¼

cup

(55g) butter, softened

2 tablespoons

pumpkin spice

½

cup

pecans, finely chopped
Frosting
1

cup

powdered sugar

½

cup

(113 grams) butter, at room temperature

1 teaspoon

pumpkin spice

1 teaspoon

vanilla extract
Instructions
Make the Dough
Whisk together the flour, instant yeast, sugar, pumpkin spice and salt. Add in the other ingredients and mix. Knead it in the bowl or on a floured surface until the dough is smooth and non-sticky.

Grease the bowl and place the dough in it. Cover with a plastic wrap and leave it in a warm place for at least 1 hour or until the dough doubles in size.
Make the Filling 
Mix all the ingredients in a small bowl until a paste forms and there are no lumps. Set aside.
Assemble 
Punch down the dough. Lightly flour a surface and transfer the dough on it. Lightly flour the rolling pin. Roll the dough out into a large rectangle (about 5mm-1cm thick).

Spread the filling on the surface evenly leaving a little space on the edges. Sprinkle the chopped pecans on top.

Tightly roll the dough lengthwise into a log. Refrigerate it for 20-30 minutes to firm it up. This makes slicing easier. Slice this into 10-12 individual rolls with a sharp knife or a dough scraper. Arrange on a greased baking pan. Cover it with plastic wrap and let them sit for a second rise, about 30 minutes.
Bake 
Preheat the oven to 350F (180C).

Bake the rolls in the oven for 20 minutes or lightly golden.

Let them cool for 15-20 minutes.
Spread the Frosting
In a medium bowl or stand mixer, cream the butter until light and fluffy, about 2 minutes. Add in the powdered sugar, pumpkin spice, and vanilla extract. Mix again until smooth. Scrape down the sides as needed.

Spread the frosting on the rolls when they are still warm and serve.
Notes
Pumpkin Puree: Ensure you're using pure pumpkin puree and not pumpkin pie filling. The latter has added sugars and spices.

Yeast Activation: Ensure your yeast is fresh and properly activated. If using instant yeast, you can mix it directly with flour. For active dry yeast, proof it with warm milk first.

Dough Consistency: The pumpkin puree will add moisture. If the dough is too sticky, add a little more flour, but avoid making it too dry.

Greasing the bowl: It is important before putting the kneaded dough in it. It is easily removed this way. Otherwise, it sticks.

Cutting Rolls: Use a sharp knife or dental floss to cut the rolls cleanly. This ensures the spirals remain intact.

Second Rise: Don't skip it. This gives them their fluffy texture. You can make the second rise (after placing the rolls in the greased baking pan) when you are preheating the oven. Place the baking pan with rolls (covered) on the oven and let it sit there.

Baking: Keep an eye on the rolls while baking to avoid overbrowning. Every oven is different, so times might vary slightly.

Serving: These rolls are best served warm. If they've cooled, reheat them briefly in the microwave or oven for the best texture and flavor.

Storing: Store them in an airtight container at room temperature for 1 day or in the fridge for 2-3 days. 

Reheating: Simply warm them in the oven at 350F for 5-7 minutes or in the microwave for 10 seconds.

Making the rolls ahead of time: After slicing the rolls, you can keep them covered in the refrigerator overnight. Take them out and let them come to room temperature while you preheat the oven. This might take about 30 minutes to an hour. Put them close to the oven uncovered until your oven is ready. This will help them to get to room temperature. Then bake as usual.

To make it vegan: Substitute regular milk with plant-based alternatives like almond, soy, or oat milk. Use vegan butter in place of regular butter. Also, ensure your powdered sugar is vegan (some brands use bone char in processing).
Nutrition
Serving Size:

1

Calories:

387

Sugar:

21.9 g

Sodium:

276.8 mg

Fat:

19.2 g

Carbohydrates:

50.4 g

Protein:

4.8 g

Cholesterol:

30.5 mg
Keywords: pumpkin cinnamon rolls