Well, today was mini muffins day for us, a sweet Sunday! I made rum flavored mini muffins with chocolate glaze and it was fun to garnish them with colorful sprinkles. You know Yusuf has type 1 diabetes, so I hardly made sweet things at home since he fell into a coma and diagnosed with diabetes 3 years ago. I know he likes sweet things so much and I thought he would be tempted if I made cakes, cupcakes, mini muffins or other desserts at home. Also, I wasn't psychologically ready to make something sweet. "Sweet" was the name of my enemy, I might have lost him because of this sweet enemy! It took some time, but we adapted to his (our) new life with a healthy diet.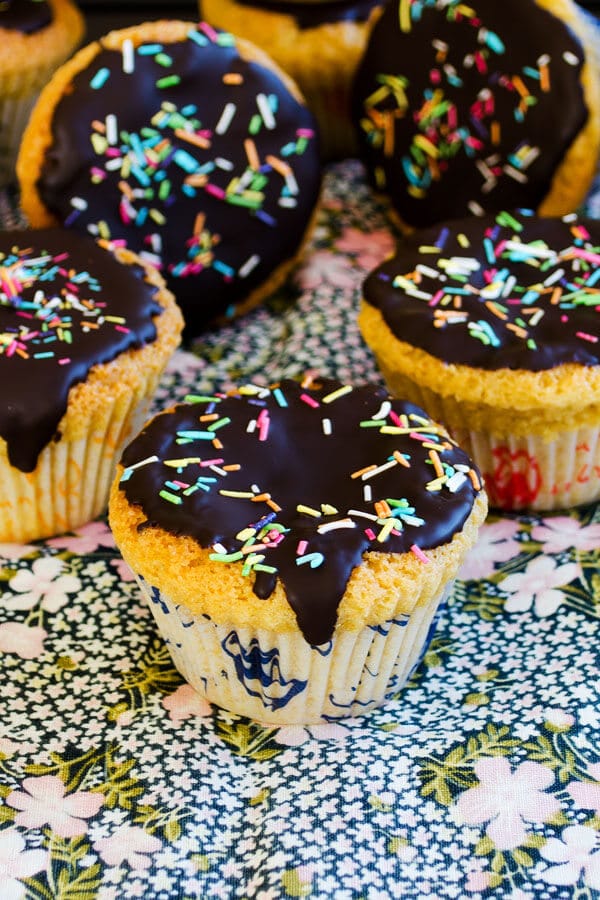 And I've started to make desserts at home again these days. He persuaded me for this, he says readers of GiveRecipe deserve to learn recipes of desserts too. I made chocolate truffles with turkish delights some time ago, remember? I've made chocolate muffins, apple muffins and rice pudding too, I'll share them here soon! He knows his limits, so as his doctor suggests he can have sweet in small amounts when his blood sugar is at normal levels. However, whatever I make, it's too much for two of us. So what do we do with all of these sweet mini muffins, cakes or puddings? We decided to share! The best decision, right? We share them either with our neighbors, friends, relatives or even with the supermarket stuff close to our home. It is definitely great to see the happiness and wonder on people's face, a lovely couple –that's us 🙂 shares sweet things at an unexpected time, isn't it great?
So I was inspired by Sally's chocolate glazed banana bread muffins and recreated these mini muffins with my touch. I used rum flavoring instead of banana and it was super yummy!
We discovered Dr. Oetker Rum Flavoring
 at a big spermarket opened a few weeks ago and we bought it even without knowing what to make with it. After I decided to make these chocolate glazed muffins, I was almost sure that rum flavoring would make it even more irresistible, and the result was perfect! The rum flavoring gives a refreshing flavor and makes the flavor of chocolate topping more distinctive.
I didn't want to make the muffin batter with chocolate as I would top them with chocolate. I added rum flavoring in the batter instead.
Let these mini muffins cold before spreading chocolate glaze.
My favorite part is garnishing them with sprinkles!
Look at these colorful sprinkles! Don't they remind you of your childhood?
Repeat the same steps until you finish all muffins. Don't worry about the overflowing chocolate!
Chocolate glaze is frozen after an hour.
This one is for Yusuf!
We are going to take the rest to our local pharmacy, they are the lucky people this time!
Print
Mini Muffins With Rum and Chocolate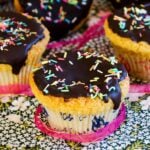 Prep Time:

20 minutes

Cook Time:

30 minutes

Total Time:

50 minutes

Yield:

8

1

x
Scale
Ingredients
Batter:

3

eggs, at room temperature

¾ cup

sugar

110g

butter, at room temperature

1

and ½ cup whole wheat flour

½ tsp

baking powder
A pinch of salt

4

drops rum flavoring
Chocolate Glaze:

100g

dark chocolate

2 tbsp

sprinkles for garnish
Instructions
Whisk egg whites until thickened.
Add yolks and sugar, mix them well with a mixer.
Chop butter into pieces and add to the mixture. Mix.
Combine flour, baking powder and salt in a separate bowl.
Add them little by little to the liquids.
Mix with a spoon or spatula. Do not overmix.
Add 4 drops rum flavoring and mix.
Preheat oven at 170C.
Share the batter to muffin molds, don't fill them up! Fill half of the molds.
Bake them for 30 minutes.
Check if they are done with a toothpick.
Take them out of the oven and let them cold.
Start preparing the chocolate glaze.
Melt chocolate in a bain marie or boil a water in a pot and place this bowl on it so that chocolate melts.
Spread chocolate on muffins with a spoon.
Top them with colorful sprinkles.
Let them cold in the refrigerator at least an hour.
Notes
Notes:
These make 16-18 muffins depending on the size of your molds.
You can keep these in the refrigerator at least for 3 days.
IF YOU LIKED THIS RECIPE, YOU WILL LOVE THESE TOO: