Cream of Broccoli Soup is super creamy without cream. I use milk instead. This is such a heart-warming and tasty soup. Ready in less than 30 minutes. Perfect for busy winter days!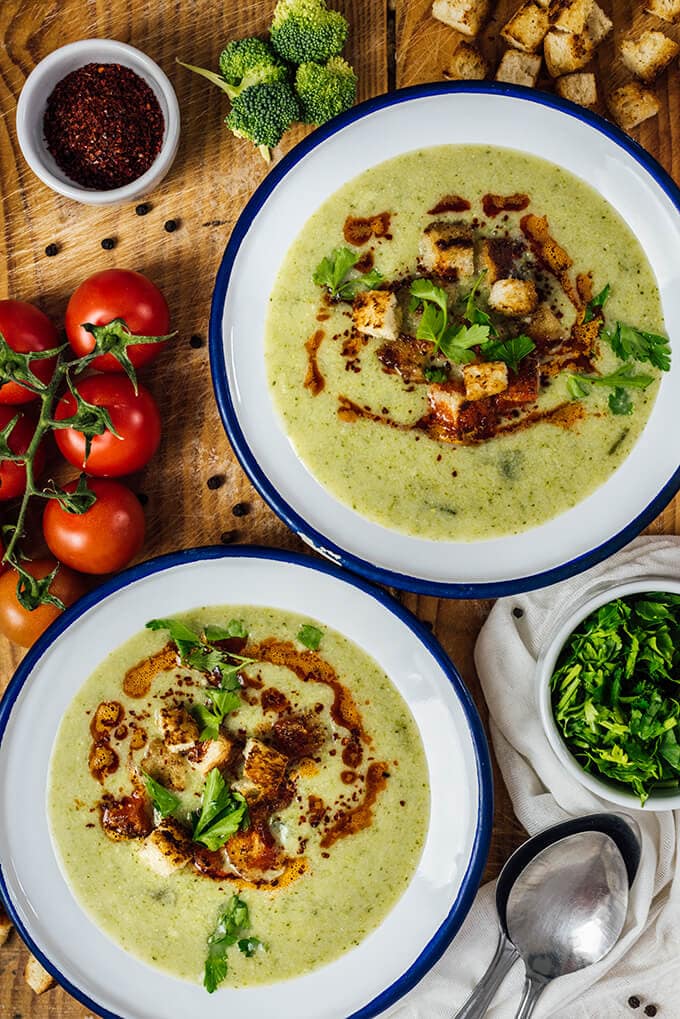 You will be amazed when you see how easy it is to make this cream of broccoli soup. Everything goes into the same pot and then pureed with a hand blender. I love it when I don't need to use several dishes and cups to make just one recipe. You need a small saucepan though to prepare a simple chili powder sauce to top the soup when serving.
Unlike most of the cream of broccoli soup recipes around the Internet, mine is creamy thanks to milk. The mixture of milk and broccoli results in a sweet green color that draws everyone's attention.
I always have this dilemma whenever I make this soup: Make it chunky or pureed. I love to see the broccoli florets in the simmering milky mixture. The contrast colors in the pot are so beautiful that makes me want to leave the soup as it is. My family loves it smooth though, so I blend it at the end.
I love to serve this sensational cream of broccoli soup with a super simple chili powder sauce. Melt butter in a small saucepan over medium heat, add in chili powder, cook for about 10 seconds, stirring continually and remove from heat. You can use this sauce in any soup you like. It makes a perfect touch on soups.
Besides the sauce, I love to garnish the soup bowls with buttered croutons and herbs. The result is a broccoli soup with a nice color that perfectly balances refreshing and earthy flavors.
I think this soup doesn't need any additional flavors at all, so I don't use chicken stock, which is like a must for soups. Just water and milk work really well in this soup.
This is a velvety and thick soup that you can proudly serve as a starter at any dinner party.
The recipe is originally posted in January 2009 and updated in February 2017 with better pictures.
Broccoli Soup Recipe
This is a velvety and thick broccoli soup without cream that you can proudly serve as a starter at any dinner party.
Author:
Prep Time:

5 minutes

Cook Time:

20 minutes

Total Time:

25 minutes

Yield:

4

Category:

Soup

Cuisine:

Turkish
Ingredients
For the soup:
2 tablespoons unsalted butter
1 and ½ tablespoons flour
¾ cup milk
4 green onions, chopped
4 cloves garlic, chopped
4 cups hot water
1 pound broccoli, cut into small florets
salt to taste
For the sauce:
1 tablespoon butter
½ teaspoon chili powder
For topping:
Instructions
In a medium pot, melt butter. Add in flour and cook until it gets slightly brown, stirring continually.
Pour in milk and stir continually using a hand whisk so that you have a smooth mixture. Cook for 3-4 minutes or until slightly thickens.
Add in chopped green onion and garlic, cook for 2-3 minutes.
Pour in hot water and add in broccoli florets. Season with salt. Cook for about 10 minutes or until broccoli florets are tender. Don't overcook though so that they don't lose their color.
Remove from heat and puree using a hand blender.
Fort he sauce, melt butter in a small sauce pan, add in chili powder and cook for about 10 seconds or until chili powder gives its nice red color to the melted butter. Remove from heat.
When serving, share the soup into bowls, drizzle chili powder sauce on each and top with croutons and chopped parsley.
IF YOU LIKED THIS RECIPE, THEN YOU WILL LOVE THESE: