These chocolate puff pastries are incredibly easy to make, shape, and bake! Even your kids can help you! These are filled with chocolate and have an unbelievably crispy, flaky texture!
You need only three ingredients to make these chocolate filled pastry rolls: Puff pastry sheet, chocolate and egg yolk. They will be ready in no time. Perfect for sudden sweet cravings!
If you love recipes with puff pastry, you might want to see our puff pastry apple roses too.
Jump to:
Puff Pastry For EASY Desserts
There are many easy puff pastry dessert recipes out there, and for a good reason! They are incredibly tasty, have a crisp, buttery, flaky texture, and can make a variety of treats using the same ingredients!
But first, what exactly is puff pastry?
Also known as "pâte feuilletée," this is a French laminated dough made from flour, salt, water and butter. Usually, butter is used to give the pastry a rich flavor and luscious, crisp, and flaky texture.
What makes this dough unique is how it is made. The dough and butter get laminated through a series of folding techniques. When this tedious time-consuming process is finished, you are left with hundreds of paper-thin layers that create a beautifully crisp, flaky texture. No wonder it's such an expensive treat!
Now, luckily, there are MANY read-to-use puff pastry products out there. You can easily find them in the chilled or freezer section of your grocery store. They are sold frozen or chilled to keep their consistency. Once thawed, you have an endless amount of possibilities to make an easy dessert with puff pastry.
This is also what makes our recipe today one of the best puff pastry recipes for kids. All the hard work is already done! All that they have to do is cut, assemble, and bake!
You can also make many other puff pastry chocolate desserts. They include pain au chocolat, chocolate braids, tarts, and pull-apart bread.
About The Ingredients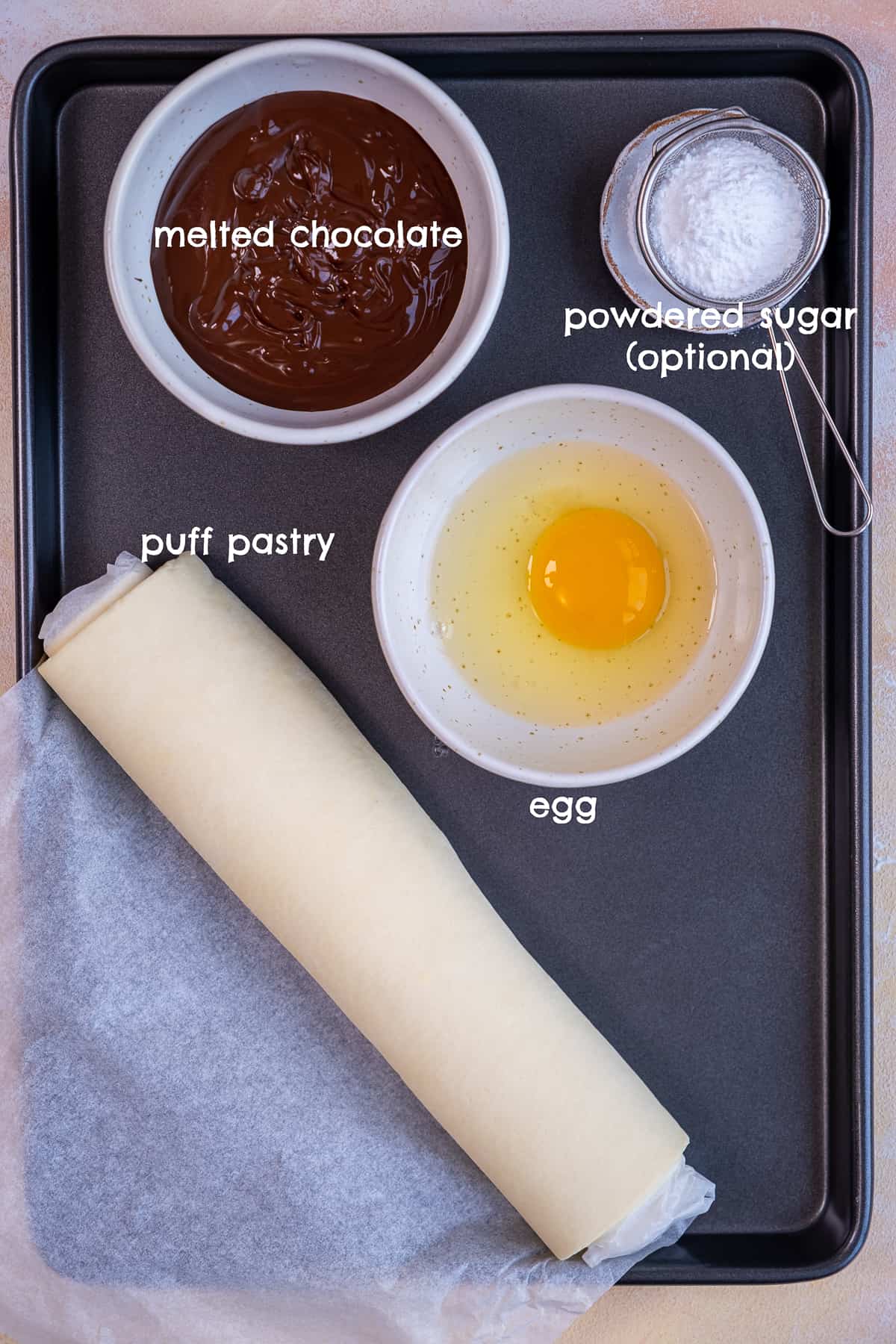 Puff Pastry: We use chilled ready rolled puff pastry that is in rectangular shape. So we can use it straightaway. If you use frozen puff pastry, you need to thaw it first.
Chocolate: We use dark chocolate because we love it more. You can use milk chocolate if you want your dessert sweeter. We simply melt the chocolate before using it.
Egg yolk: To brush the puff pastry rolls before baking so that they have that nice golden color.
Powdered sugar: To sift over the rolls after they are baked. This is completely optional. You might want it if you use dark chocolate as we do. Alternatively, you can sprinkle a little coarse sugar on each after egg wash. It will give a little more sweetness and texture to the rolls.
Chocolate Filling
To make today's chocolate filled puff pastry, we are using melted dark chocolate as the filling. You can also use Nutella for chocolate filling for pastry if you prefer.
To melt the chocolate: Chop the chocolate in pieces and put them in a glass bowl. Put some water (1-2 cups) in a saucepan. Bring it to a boil. Reduce the heat and let it simmer. Place the glass bowl with chocolate over the saucepan. Make sure its bottom doesn't touch the water. Let the chocolate melt, stirring occasionally.
Another alternative is chocolate chips when making puff pastry desserts with chocolate like this.
Besides these options, you can even wrap a bar of chocolate bar in the cut puff pastry. Make sure the chocolate bar is smaller than the puff pastry. It works best when shaping it like pain au chocolat as the size of the cut puff pastry is larger.
Instructions For Easy Chocolate Croissant
This chocolate croissant recipe with puff pastry is extremely easy to make. They have an incredibly flaky, tender texture, and most importantly, have a rich creamy buttery, and chocolaty flavor. Take a look at how you can make virtually any chocolate pastry using our technique!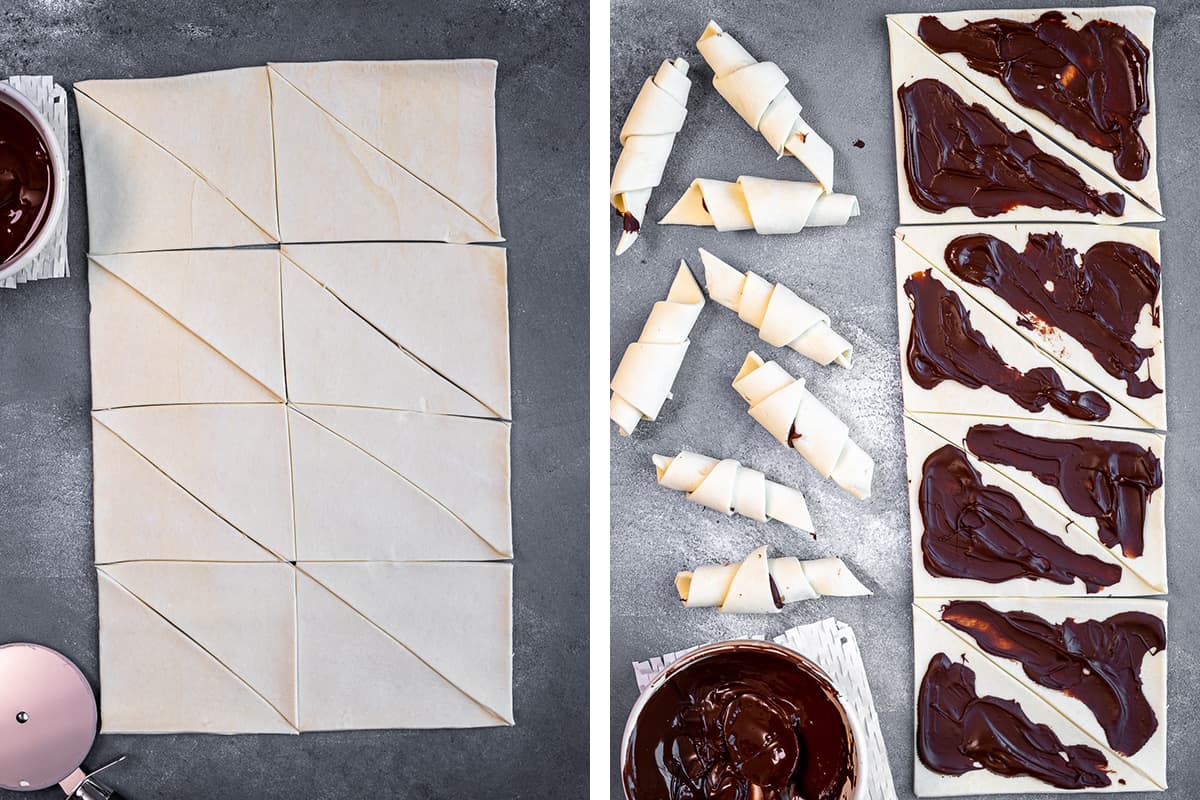 Prepare the puff pastry sheets. Sprinkle a little flour on your work surface. Put a sheet of puff pastry on it.
Using a sharp knife, cut the sheet vertically right down the middle. Then, divide each half into four rectangles by making 3 horizontal slices. This gives you a total of 8 rectangular pastry pieces.
Next, cut each of these into two triangles. In total, you should end up having 16 triangles to make croissant-shaped chocolate puff pastry rolls.
Fill the sheets with chocolate. Spread the melted dark chocolate over each triangular sheet. Leave a tiny edge uncovered. Brush those parts with egg wash, oil or melted butter.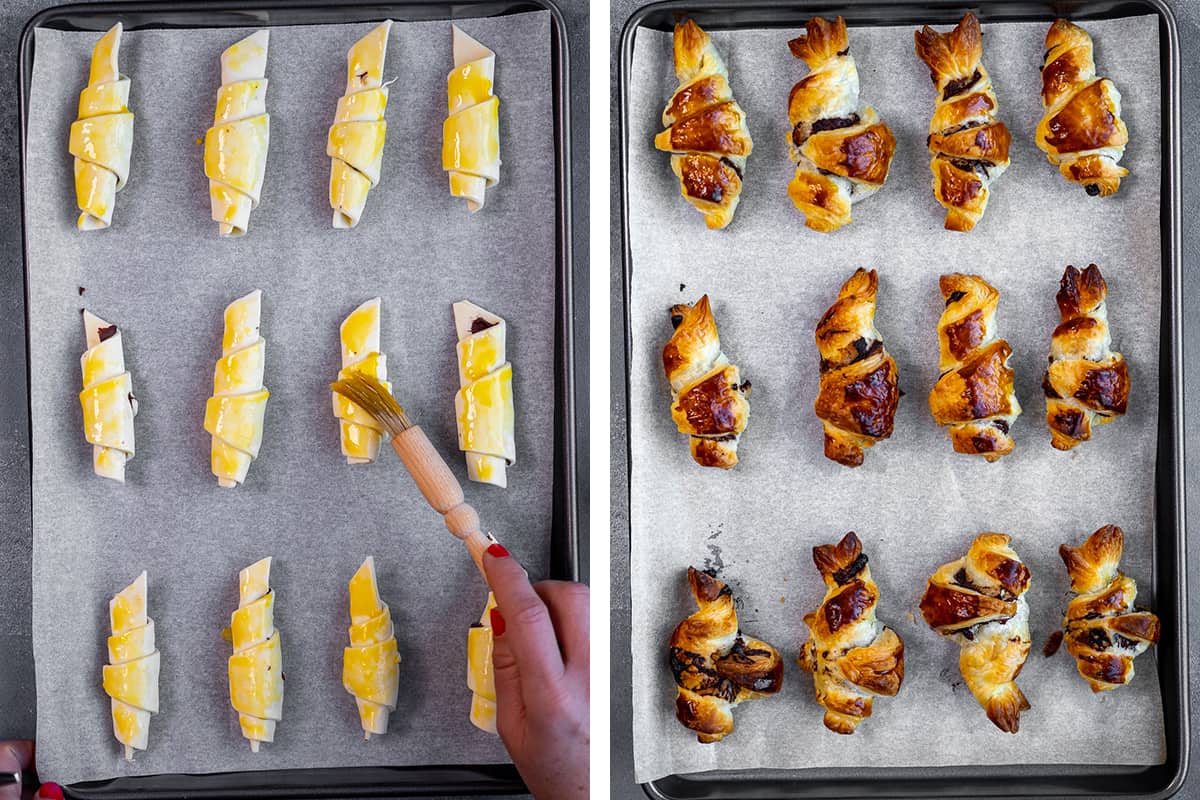 Roll and brush with egg wash. Once you've added the chocolate, you can brush a little bit of egg wash on the uncovered edges. Then, start from the thick end of the sheet and roll it up into a croissant shape.
Use your fingers to gently seal the edges. Place the prepared chocolate-filled pastry rolls on a prepared baking sheet (lined with parchment paper).
Bake your puff pastry chocolate croissant. Brush all sides of the pastry with more egg wash with a pastry brush. You can also sprinkle them with some sanding sugar (coarse sugar). Then, bake the chocolate-filled puff pastry treats for roughly 12-15 minutes or until they are golden brown.
You can dust them with powdered sugar if you want.
Tip: We use one pastry sheet in this recipe. Alternatively, you can make it with two sheets of puff pastry dough. For this, place one of the sheets on the floured surface, spread chocolate on it. Then carefully place the second sheet of puff pastry on it so that they overlap. Then follow the remaining steps as they are described above.
Shape Variations
Make Pain Au Chocolat
If you would like to make puff pastry pain au chocolat instead of croissants, use the following shaping technique.
Cut the sheet into 8 rectangles as you did above. Do not cut them into triangles!
Add some chopped dark chocolate or chocolate chips over the rectangular sheet of puff pastry. Then, start at the short end and roll up the rectangles. This will trap the chopped chocolate inside, creating layers of pastry and chocolate.
When you place them on the baking sheet, make sure that the seam side is facing downwards. Bake the chocolate and puff pastry dough for 12-15 minutes or until they are cooked and golden.
Make Mini Chocolate Puff Pastry Rolls
To shape this puff pastry dessert in rolls, put a puff pastry sheet on a lightly floured surface. Cut it vertically into 5 strips. Spread the chocolate filling or put chocolate chips on each evenly, leaving the ends of each strip without chocolate or chocolate chips.
Make Chocolate Puff Pastry Twists
You can make twists with two sheets of puff pastry dough. For this, place one of the sheets on the floured surface, spread chocolate on it. Then carefully place the second sheet of puff pastry on it. Seal the edges by pressing on them gently. Cut it into strips. Twist the strips in opposite direction, place on the baking sheet, brush with egg wash and bake. You can find the step pictures in this chocolate puff pastry twists recipe.
Make Them Savory
Are you looking for an easy savory puff pastry recipe? No worries. You can turn this recipe to a savory one by changing the filling. Instead of a chocolate filling, use cream cheese and herbs and follow the steps as described in the recipe.
Why Is My Puff Pastry Not Cooking From The Inside?
There are a few reasons these puff pastries filled with chocolate aren't baking on the inside.
The first is because your oven's temperature is too low. Puff pastry needs to be baked at a high temperature so it can puff up before cooking on the inside. If the temperature is too low, it will just stay dense and take incredibly long to bake.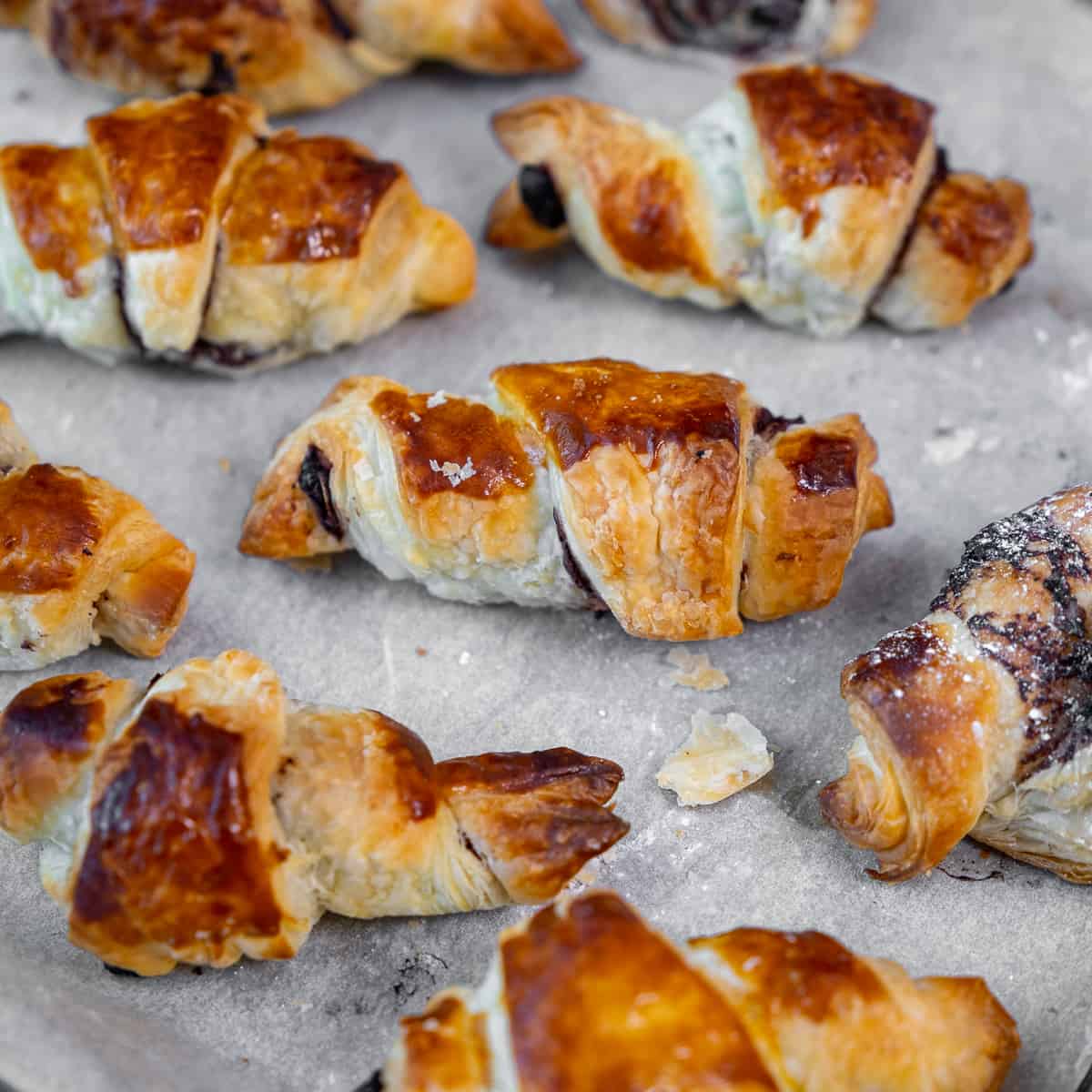 The second reason is that you didn't bake them for long enough. This chocolate puff pastry treat only needs to be baked for 12-15 minutes. But if they aren't golden brown yet, leave them in for a little longer. And remember, the larger the pieces, the longer they will take to bake.
Another reason might be that you didn't roll it out well. Frozen puff pastries should be thawed and rolled. If you don't roll them thin, the inside of the pastries won't cook well. That's why we mostly prefer buying ready rolled puff pastry, which doesn't require rolling.
Tips
If you are using frozen puff pastry, you have to properly thaw it before using it in recipes. You don't need to thaw it if you use chilled puff pastry. Always have a look at the manufacturer's instructions on the package!
That being said, also don't leave it out for too long. If it heats up too much, it becomes difficult to work with. Place it in the freezer for a few minutes if it is too warm to work with.
Don't forget to preheat the oven before baking your chocolate puff pastries. Hot oven is crucial for them to rise and have perfectly baked layers.
Use egg wash to seal the very end of the dough.
Storage
As with almost any puff pastry and chocolate recipe, they are best served on the day you made them. They will have the optimum crispiness and the best chocolaty and buttery flavor.
If you have to store them, keep them inside an airtight container just like you store cookies. They can be stored at room temperature for two days. Just keep them away from heat and direct sunlight.
FAQs
What's the difference between puff pastry and rough puff pastry? 
Butter is broken into pieces and then combined with flour when making rough puff pastry while a block of butter is used when making classic puff pastry. Also, rough puff pastry is less fluffy and light because it contains less fat and fewer layers.
What are the chocolate filled pastries called? 
They are originally from France and known as pain au chocolat (petit pain au chocolat) or chocolatine. They are also commonly sold in several other countries including Belgium, United Kingdom, Netherlands, Denmark, etc. And they are sometimes called chocolate croissant as well. The shape is different but everything else is the same.
As always: If you make this recipe, let us know what you think by rating it and leaving a comment below. And post a pic on Instagram too—tag @give_recipe so we can see!
Sign up for the FREE GiveRecipe Newsletter to get the new recipes into your inbox! And stay in touch with us on Facebook, Pinterest, YouTube and Instagram for all the latest updates.
Print
📖 Recipe
Chocolate Puff Pastries Recipe
Cut the puff pastry sheet into triangles, spread chocolate on each and roll them up. Then bake until golden. The easiest treat ever!
Author: Zerrin & Yusuf
Prep Time:

15 minutes

Cook Time:

20 minutes

Total Time:

35 minutes

Yield:

1

6

1

x
Category:

Snack

Method:

Baking

Cuisine:

American
1

chilled puff pastry sheet (ready rolled), at room temperature (If yours is frozen, thaw it first)

150 g

dark chocolate, melted in a bowl placed over simmering water in a pot

1

egg yolk, beaten

1 teaspoon

powdered sugar, optional
Instructions
Preheat the oven at 400F (200C).

Place the puff pastry sheet on the counter.

Cut down the middle vertically, and then make 3 cuts horizontally to make 8 rectangles. Cut each rectangle in 2 to make 16 total triangles.

Spread chocolate over each and roll them up.

 Brush the edges you're going to seal with the egg wash. Then use your fingers to press the edges sealed. 

Place on a parchment paper lined baking sheet. It is better if you place them sealed side down.

Brush the top of each with beaten yolk (and optionally sprinkle coarse sugar, aka sanding sugar) and bake for 12-15 minutes or until golden.

Let them cool for about 10 minutes and then dust with powdered sugar if you like.
Notes
You can sprinkle coarse sugar over them before baking for a little more sweetness and texture. 

Make sure to thaw puff pastry according to the manufacturer's instructions. Don't let it get too warm.

We recommend eating these on the same day for the best crispiness. Keep them in an airtight container at room temperature for 2 days.
Nutrition
Serving Size:
Calories:

1145

Sugar:

28.5 g

Sodium:

321.5 mg

Fat:

78.2 g

Carbohydrates:

95.6 g

Protein:

15 g

Cholesterol:

96.7 mg
Keywords: chocolate puff pastries