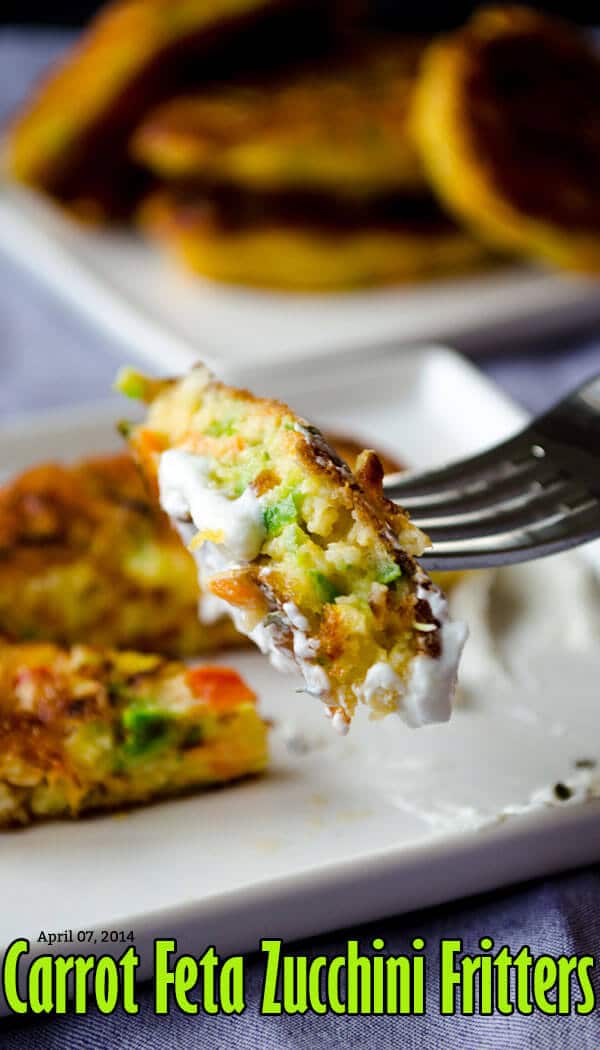 Let me introduce one of my favorite side dishes: Carrot Feta Zucchini Fritters. These are one of the most loved mezzes in our cuisine. You know mezzes are cold served foods which are accompanied with raki, the Turkish alcoholic drink like Greek ouzo. These are not just served as mezze, interestingly they are one of our favorite breakfast foods as well.
It's not summer yet, when it's intolerable to eat complete meals, but we've already started to have breakfast for dinners. Do you have breakfast for lunch or dinner? When we leave winter and comforting foods behind, we often prepare breakfast foods for dinner like these Cheese Stuffed Peppers or Menemen, which is a very tasty egg dish with tomatoes and green peppers and have these in addition to sliced tomatoes and cucumbers, olives, various cheeses, jam or honey, which areTurkish typical breakfast foods.And a newly brewed Turkish black tea is almost a must to complement all these.
Typical zucchini fritters in Turkish cuisine mostly contain feta for a little tangy flavor and herbs. No other additions, but I do love innovations in cooking, so I added grated carrot and red bell pepper to give my fritters some color and additional flavors.
My Carrot Feta Zucchini Fritters have already taken the place of our classic zucchini fritters since they look more elegant with the colors inside.
We love to pair these super tasty and moist fritters with a mint yogurt sauce to give them a bit more freshness! I strongly advice you to do the same. It will become your favorite summer food, or spring as in our case.
Carrot Feta Zucchini Friiters make perfect picnic or party foods too since they are amazingly tasty when cold. You can even prepare fritters sandwiches or vegetarian burgers to impress your kids or guests!
If you don't have a vegetarian diet, then you must give Natasha's super tasty Chicken Zucchini Fritters too!
Carrot Feta Zucchini Fritters
Super tasty zucchini fritters with carrot, red bell pepper and feta. You can prepare vegetarians burgers with these!
Prep Time:

15 minutes

Cook Time:

15 minutes

Total Time:

30 minutes
Scale
Ingredients
2 cup

s coarsely grated zucchini

1 cup

grated carrot

1

red bell pepper, diced

3

eggs

5 tablespoon

s cornmeal or all purpose flour

½ teaspoon

baking powder

½ teaspoon

salt or less if your feta is too salty

5 tablespoon

s feta, crumbled

½ cup

olive oil to fry
Instructions
Salt the zucchini and carrot with about 1 teaspoon salt and wait for 5 minutes.
Take a handful of them and remove the excess juice from them by squeezing them in your hands.
Whisk eggs in a large bowl.
Add cornmeal or flour, grated zucchini and carrot, diced red bell pepper, salt and feta in this order and mix with a fork well.
Finally add baking powder and stir.
Heat olive oil in a large skillet over medium heat.
Drop 1 tablespoon of the batter into the skillet. Drop as many mounds as your skillet can take.
Flatten slightly and fry 3 minutes on each side or until golden.
Transfer them onto a paper towel and repeat with remaining batter.
Serve warm or cold with yogurt.
Nutrition
Serving Size:

15 fritters
IF YOU LIKED THIS RECIPE, THEN YOU WILL LOVE THESE: