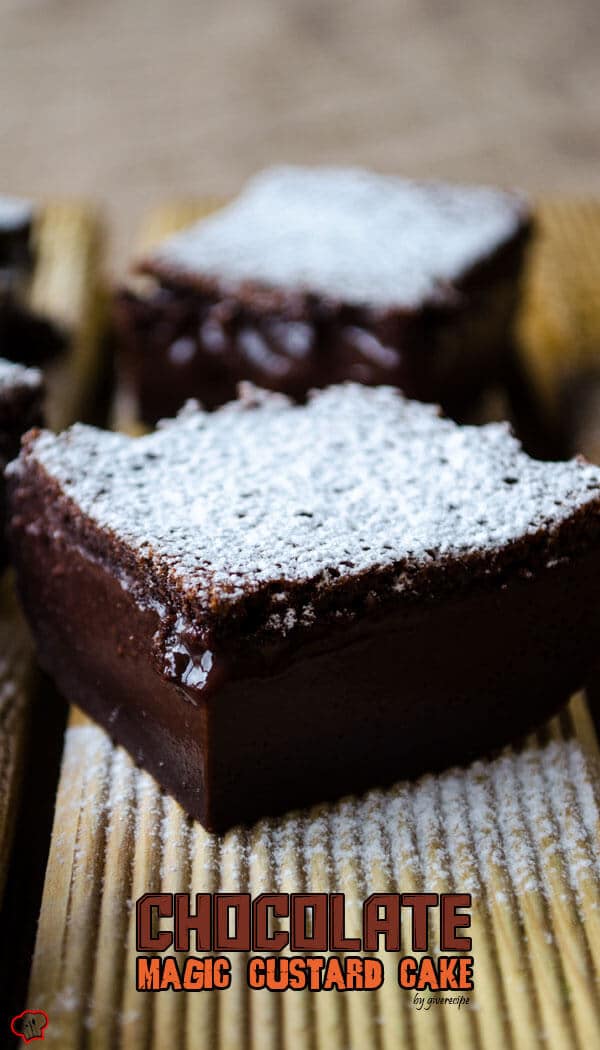 Here is another bad-ass chocolate cake! Once you have the first slice, you must know that you are ready for the second or even third! Are you obsessed with chocolate but don't want one of those dense desserts since you don't want to gain the pounds you've just got rid of? This fool-proof Chocolate Magic Custard Cake is what you need!
After making Zesty Magic Custard Cake, I was dreaming of its chocolate version. I thought it would be a super twist to add some cocoa powder into the batter to get an amazing chocolate cake as a result. Well, I saw that Todd and Diane had already tried it and theirs looks just how I wanted. So it was a must for me to try it! It becomes just as yummy as the zesty version and now I've started to think of other versions with fruit such as cherry, strawberry or other berries. I need to experiment first and then I can share the result with you.
I must warn you that the center of this chocolate custard cake is very soft, so it might crack when slicing or removing from the baking pan, but this makes it even more tempting. Just saying'
The best part of this chocolate custard cake is that it comes together very easily just like the original version. You might have doubts when you just mix up the ingredients. It looks too runny that you probably won't believe that it will really bake up as it looks in the pictures here. The consistency of the batter is really liquidy, but don't worry, it will bake just perfectly.
If you've already tried my firts version, you know it will. If you haven't given it a try yet, choose either this chocolate custard cake or the zesty one and see what's the magic. I'm sure both will become your ultimate sweet treat on special occasions as it is easy to make these and they look like they are bought from a good pastry shop.
zerrin
Yields 6
Chocolate Magic Custard Cake
Magic custard cake with cocoa powder makes this yummy cake. It will be your ultimate sweet treat for special occasions.
15 minPrep Time
1 hrCook Time
1 hr, 15 Total Time
Ingredients
4 eggs, at room temperature
1 teaspoon vanilla powder or extract
1 and 1/4 cup sugar
110g butter (1/2 cup), melted
1/2 cup all purpose flour
1/3 cup unsweetened cocoa powder
2 cups milk, lukewarm
1 tablespoon powdered sugar for dusting
Instructions
Preheat oven to 320F (160C).
Grease a 30cmx17cm or 9x9 inchbaking pan and line it with parchment paper.
Separate egg whites and yolks.
Beat egg whites in a bowl until stiff and put aside.
Whisk egg yolks, vanilla powder and sugar until creamy.
Add melted butter and mix for half a minute.
Add the flour and unsweetened cocoa powder. Mix with a spatula until incorporated well.
Pour the milk gradually and continue beating.
Add in the egg whites, one third at a time and gently stir with a spatula. Don't overmix, just stir a few times.
Pour this liquidy batter into the baking pan and bake for 60 minutes.
Let it cool and when it comes to room temperature chill for an hour.
Slice it in the size you like and dust with powdered sugar right before serving.
Keep it in refrigerator until you finish it all.
http://www.giverecipe.com/chocolate-magic-custard-cake/