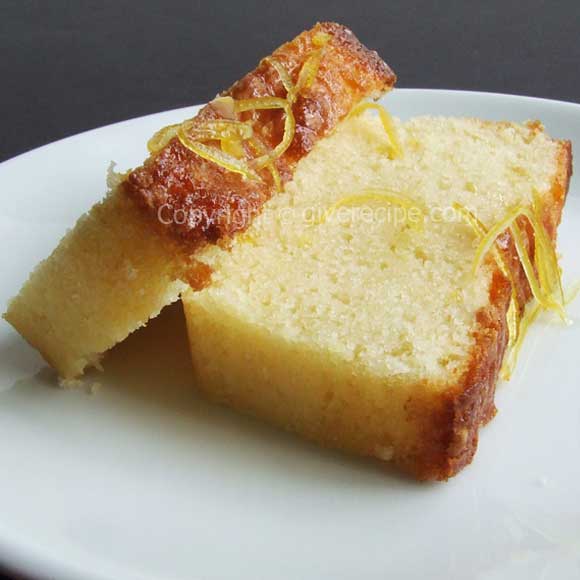 It has been a long time since I wrote my last post. I have been working till late hours, so I can not even write back to your so much valuable comments. Hope you understand me. I couldn't even realize that Give Recipe left a year behind until my hubby reminded me 4 days ago. He asked, "Aren't you thinking of making something special to celebrate our child's birthday?" You see, Give Recipe is like our child as he says I spend a big part of my time either dealing with it or thinking about it. I know I've neglected it since the school started (working as a teacher) but it's always on my mind. However, I'm grateful to hubby for reminding me of my first blogoversary.
It was on a weekday and unfortunately, I couldn't make anything special, so I had to postpone it to this weekend. I was decisive on making something sweet as I think it's not a real celebration if there is nothing sweet. I thought a lamon cake would be great to celebrate a blogoversary. And ofcourse it wouldn't be a real celebration without some guests, so we called a few friends and enjoyed this cake together with Turkish black tea.
Finally, thanks a million to everyone for visiting Give Recipe and for helping me improve it with your comments, suggestions and questions.
Limonlu Kek
Ingredients
–    100g butter (at room temperature)
–    125g sugar
–    4 eggs
–    50ml (1/4 cup) milk
–    Rind of 1 lemon, grated
–    300g flour
–    1tsp baking powder
For the jam on the top:
–    1 lemon
–    2 tbsp sugar
–    5 tbsp water
Preheat the oven at 180C (350F).
Mix butter and sugar, add eggs and beat well until smooth. Pour milk in it and mix. Put grated lemon rind and flour, whisk with a spatula. Take a tbsp baking powder and squeeze a few drops of lemon on it. This will help the cake rise well.
Oil the cake mould (I used a rectangular one) and pour the batter into it and bake for 45 minutes. You know how to check if it's done at the end of this duration. Just use a toothpick; if it comes out clean, it means you can take it from oven.
As a big fan of lemon, I don't want to waste any part of it. Believe or not, I eat lemons with their rinds, they are not different from any other fruits. Most of my friends find it weird, but I do love the bitterish taste of their rind. When preparing the cake butter, I thought it would be great to garnish it with some slices of lemon rind. But not to have a bitter taste (no problem for me), I must find a way to make them sweet (for my friends). I just followed the steps similar to my usual jams, just in small amounts. You can play with the amounts of sugar and water here according to your taste.
So when you put the cake aside, you can prepare the lemon jam to make your cake have a 'lemon' cake look. Slice the lemon rind thinly, put them in a small pan, add sugar and water in it. Heat it ove medium heat stirring occasionaly until the sugar melts. When it starts to boil, add a few drops of lemon in it. You will see it becomes thicker after adding lemon juice. Then you can take it from heat and garnish your cake.