Pistachio Kadaif (Turkish Kadayif)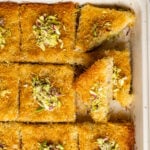 A delightful Turkish dessert made with shredded kadayif dough noodles, syrup and pistachios.
Author:
Prep Time:

10 minutes

Cook Time:

50 minutes

Total Time:

1 hour

Yield:

12

Category:

Dessert

Method:

Baking

Cuisine:

Turkish
Syrup:
2 and 1/2 cups sugar

2 cups water

1 slice of lemon
Kadayif:
200 gr butter

500 gr raw kadayıf noodles

1 and ½ cup crumbled pistachio
Syrup:
Put the syrup ingredients in a pot, stir well and bring it to a boil. Reduce the heat to medium low once it boils and let it simmer until it has a slightly thicker consistency. This takes 15-20 minutes. Remove from the heat and let it cool.
Kadayif:
Preheat the oven at 200C/400F.

Melt butter in a saucepan. 

Use 1 tablespoon of melted butter to grease the bottom of the baking pan. 

Put raw kadayif noodles on some baking paper. Shred them in strings, cut them roughly. Pour melted butter on it and mix it with your hands well. Make sure all pieces of kadayif are coated with butter.

Spread half of the buttered kadayif on the bottom of the baking pan. Use a measuring cup and press tight on the kadayif. 

Sprinkle crumbled pistachio over this first half of the kadayif. Spread the remaining kadayif on it and again press on it using the bottom of a measuring cup.

Bake until golden, for about 30 minutes.
Assemble:
When you remove kadayif from the oven, slice it into squares and pour the cooled syrup all over it when it is still hot.

Let it rest at least 3 hours so that it absorbs this syrup. 

Sprinkle ground pistachio over it and serve either as it is or with clotted cream kaymak on the top. 
Notes
It is extremely important to make sure that all of the kadayif pastry noodles are properly buttered. By doing so the mixture will bake evenly and become perfectly crisp.

Using your hands to pull apart the noodles and incorporating the butter is also a key part of this recipe. The noodles should be untangled and very loose. This helps the final texture of the baked dessert.

The next very important step to follow is pressing down the kadaif noodles. They should form a firm and flat surface. By skipping this step, the whole structure of the kadaif will change and the syrup won't be able to absorb, merely fall through.

When it comes to syrup-soaked desserts, it is always crucial to pour cooled syrup over a warm dessert. This helps the dessert absorb the maximum amount of syrup to create a nice moist base.

Slicing the kadaif before pouring the syrup over it creates a bigger surface area. This means that there is a larger surface area for the syrup to be absorbed evenly and well.
Keywords: kadayif, kadaif, kataifi