Wouldn't it be a great idea to have a slice of this Zebra Cake and watch your favorite TV show in such a typical Fall day? After making this Chocolate and Zucchini Cake, I knew I would want to make another type of cake very soon. There are still friends visiting us to celebrate Göktürk's birth and I want to welcome them with different treats. I know any chocolate cake is always a hit, but I wanted to surprise my guests with this Zebra Cake this time. They loved both the shape and the taste of it, so I'm sure I will be making it again!
This cake has been in my mind since I saw Feride's lovely Zebra Cake on her amazing blog, which consists of scrumptious recipes from Azerbaijan. I didn't use exactly the same recipe, but I learnt the method from her. You can see the pictures of how to pour the batter in the right way in her post. My cake pan is a bit different from hers, so I didn't put the batter starting from the middle, I poured it gradually from one side of the pan instead and I got a quite similar texture in the end.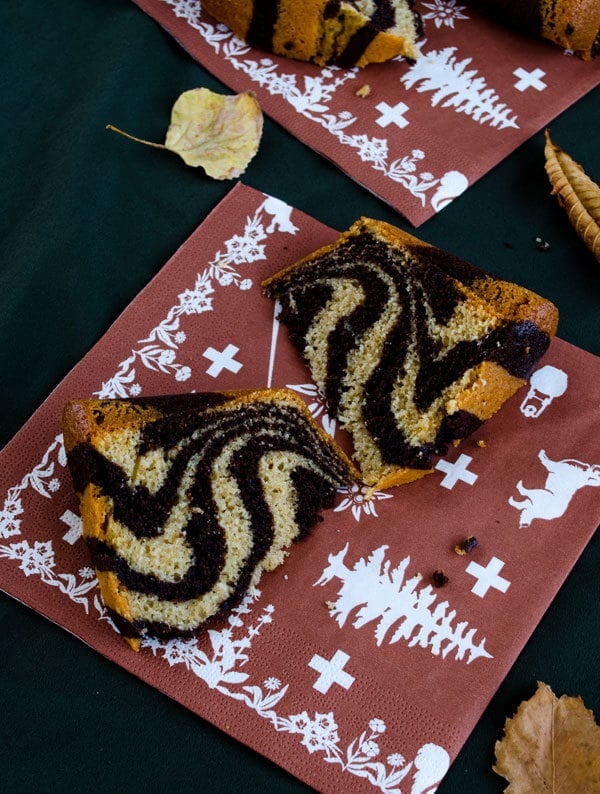 It was so fun to make this cake. I divided the batter into two, add cocoa powder into one and leave the other plain. Using a small ladle, pour first plain batter from one side of your pan and then pour cocoa batter from the same side and you will repeat it until you finish two batters. You will be amazed with the shape even at this point before cooking.
The best thing about this Zebra Cake is not only its texture, it is a very light cake too! I used just ½ cup of olive oil and whole wheat flour in it. Also, you can't see mil kor yogurt among wet ingredients. I used natural mineral water instead and it makes the cake super fluffy and gives a very light flavor. It is the second time I'm impressed by the power of mineral water. Remember my Fluffy Pogaca? I make it with natural mineral water too and it always becomes cotton soft.
This cake is no way heavy, so you can eat at least two or even three slices at one time!
Zebra Cake with Mineral Water
Use mineral water to have such a fluffy Zebra Cake!
Prep Time:

30 minutes

Cook Time:

50 minutes

Total Time:

1 hour 20 minutes

Yield:

8

1

x
Scale
Ingredients
3

eggs, at room temperature

1 cup

sugar

½ cup

natural mineral water

½ cup

olive oil

1 tbsp

cocoa powder

1 ½ cup

whole wheat flour

1 tsp

baking powder

1 tsp

vanilla powder
Instructions
Preheat oven to 170C.
Whisk eggs and sugar until fluffy.
Add in mineral water and olive oil and mix.
Sift flour, baking powder and vanilla together into the bowl and mix using a spatula.
Divide the batter into two.
Add 1 tbsp cocoa powder into one of them and mix.
Add 1 tbsp flour to the other one to get them equally thick.
Grease a cake pan.
Use two separate ladles and pour first a ladle from plain batter on one side of the pan. Then pour a ladle from cocoa batter on the same side.
Never shake the pan at this point, just repeat the same step until you finish both of them.
Bake for 50 min and test it with a toothpick, it should come out clean.
IF YOU LIKED THIS RECIPE, YOU WILL LOVE THESE TOO: