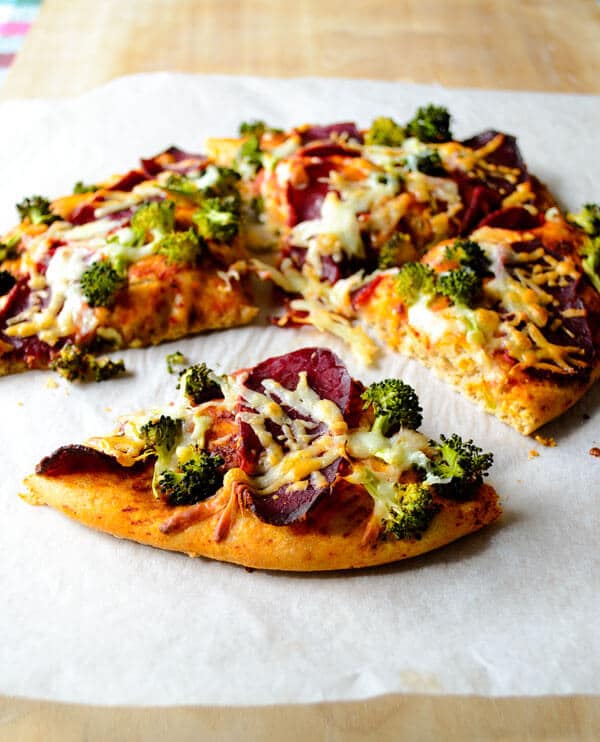 Everyone says that Whole Wheat Pizza is much healthier than white pizza! Do you think it's less tasty just because of its darker color and thicker texture? If you think so, I'd like to share a recipe to change your mind! You can easily make Whole Wheat Pizza dough as soft as white dough! The crust of this Whole Wheat Pizza is a little crunchy outside and you feel the fluffy dough inside when you bite. If the crust is baked the way you like, I guess you can handle its topping! Just top it with your favorite ingredients or use your creativity and make your own pizza!
This Whole Wheat Pizza with Broccoli and pastirma came out on Sunday when I was planning to make something with broccoli. When my husband Yusuf, who is a fan of any kind of meat but not veggies, saw me washing broccoli in the kitchen, he suddenly decided to go out and told me to wait until he was back.
He came back with a package of pastirma, which is beef dried in the sun after being treated with spices. And asked if it was possible to combine broccoli and pastirma. He always thinks that broccoli needs some other ingredients to become more edible! You see how he is underrating this lovely vegetable. I didn't know a recipe with these two ingredients, but then I thought I could make a Whole Wheat Pizza and top it with broccoli and pastirma. The word pizza was enough to persuade him to eat broccoli. He liked the idea!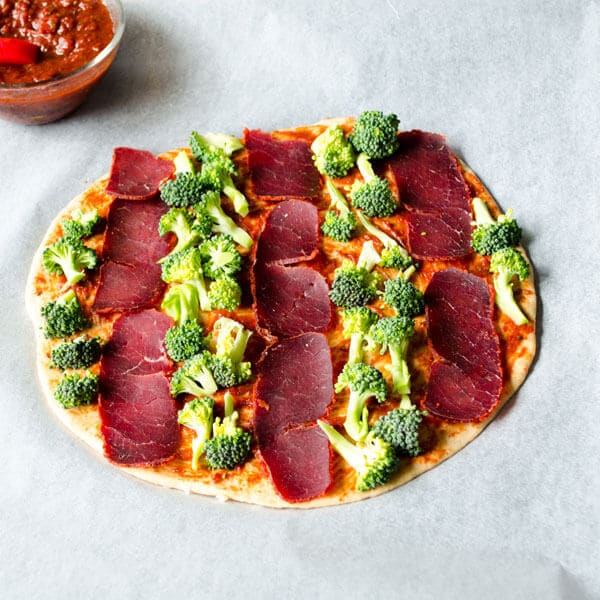 I used the same pizza dough mom made in this Homemade Pizza with Cherry Tomatoes. I first coated the top of dough with a tomato-garlic-thyme sauce, lined broccoli florets and pastirma slices and sprinkled a little kasar cheese on it. The ingredients on top of this Whole Wheat Pizza made a perfect flavor combination!
When I asked how he found it, "The spicy and smoky flavor of pastirma perfectly enriches the not so remarkable flavor of broccoli!", Yusuf replied. I must agree! And cheese definitely completed this tasty flavor combination!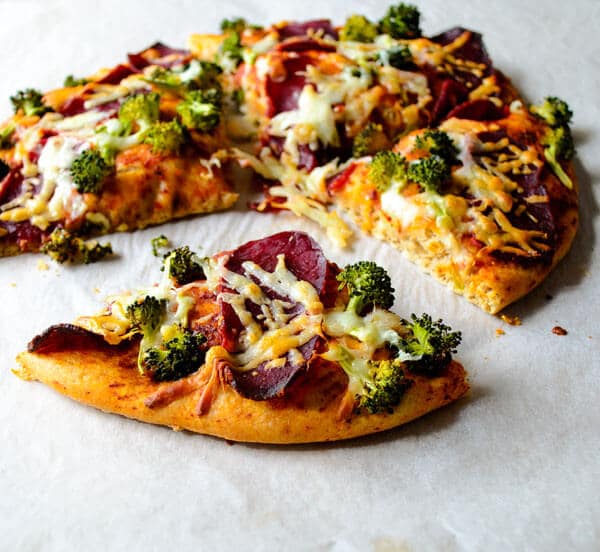 Most probably you can't find pastirma in your area since it's a Turkish food, so you can absolutely substitute bacon for it. I know they are different although they look alike. Bacon is made from pork unlike pastirma, but I'm sure it will work fine in this recipe.
Whole Wheat Pizza with Broccoli
Very soft whole wheat pizza topped with broccoli, pastirma or bacon and cheese.
Prep Time:

1 hour 20 minutes

Cook Time:

30 minutes

Total Time:

1 hour 50 minutes
Scale
Ingredients
Dough:

3 cups

whole wheat flour

1 tbsp

instant yeast

1 tsp

salt

1 tsp

sugar

¼

cup milk, at room temperature

¾ cup

lukewarm water

3 tbsp

olive oil
Sauce:

1 tbsp

tomato paste

2 tbsp

olive oil

2

cloves garlic, mashed

1 tsp

dried thyme

2 tbsp

water
Topping for

one

pizza:

1 cup

broccoli florets

7

pastirma or bacon slices
A handful of grated kasar cheese or parmesan
Instructions
Sift flour in a large bowl. Add sugar, salt and yeast on the top.
Pour milk, olive oil and water on it.
Mix it with your hand until combined. You can add a little extra water if it's still hard to combine or a little flour if it is not thick enough to shape.
Make a ball from it. Cover with a piece of cloth and wait for an hour.
Divide it into equal size balls.
Mix all ingredients for sauce.
Preheat oven at 180C.
Flatten the dough balls with rolling pin.
Brush with tomato sauce.
Line broccoli florets and pastirma or bacon slices in the way you like.
Sprinkle cheese on the top.
Bake at 180C for 30 minutes.
IF YOU LIKED THIS RECIPE, YOU WILL LOVE THESE TOO: