Turkish Menemen Recipe is an amazingly tasty breakfast, lunch and dinner recipe. Summer tomatoes and green peppers combine with eggs in a pan to make this simple, quick and oh so yummy meal.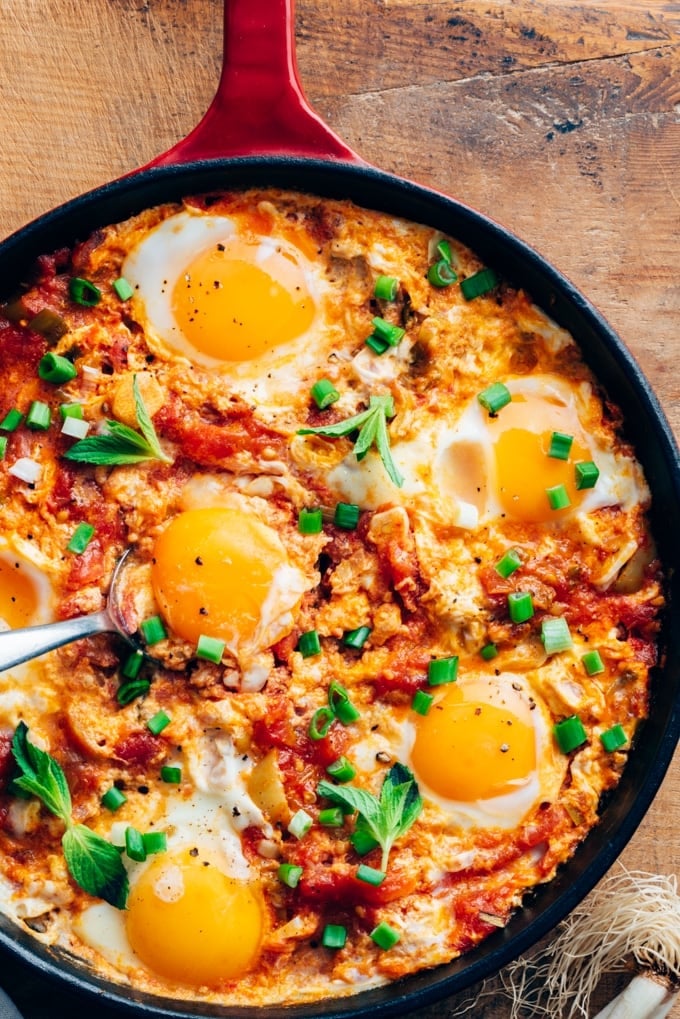 What is Turkish Menemen Recipe
Although it is the star of a well prepared traditional Turkish breakfast, this Turkish omelette aka menemen is such a fantastic egg dish that you want to have it for all meals.
This simple yet healthy and so tasty egg dish gets its name from a Turkish town located in Izmir. It is said that this egg dish was made first by the Cretan Turks moved to the town Menemen.
It is a simple one-pan dish with eggs, tomatoes and green peppers. It is optional to add onion too. What makes this breakfast dish so special is the simplicity behind it. You always have the ingredients above, don't you? Especially during summer. You can easily make a classic menemen recipe with these. I have a few additions to this classic recipe though. As I learnt from mom, I always add garlic along with the tomatoes and garnish it with some herbs right before serving. I love the freshness they give to the dish. Nobody can resist against dipping crunchy Turkish Simit into a pan of menemen.
As A Part Of Turkish Breakfast
Although Turkish Menemen is traditionally considered as a breakfast food, people in Turkey make it whenever they need a quick lunch or dinner too. You might have heard about the world-famous Turkish breakfast, which consists of several appetizer-like foods. Yes we do eat cucumbers, tomatoes, olives, spicy acika spread, jams, butter, honey, pancakes, boreks, all at the same time in the morning. Breakfast is a way of socializing in Turkish culture. We love to organize breakfast occasions at the weekend. So a healthy green smoothie or cereals can never be a breakfast food on its own for a Turkish family. Besides lots of tasty savory and sweet appetizers, we always have a version of egg. Maybe I can share a classic Turkish omelette recipe next time.
Ingredients For Turkish Omelette Menemen
There are three main foods to make this recipe: Eggs, tomatoes and peppers. Ingredients are simple, but quality is a must for a tasty menemen. Especially the tomatoes you use are very important, they need to be fragrant and flavorful enough, otherwise you will probably end up with a tasteless dish. Also, menemen is considered as spring or summer dish as tomatoes taste better then. If you are lucky to have preserved summer tomatoes though, you can make it whenever you crave for.
Although it is not something traditional, you can add sujuk or feta on the top if you want to double the joy and make your taste buds even more satisfied.
How To Make Menemen Recipe
First, cook chopped onion and green peppers in olive oil until tender.
Second, add in diced tomatoes, garlic and green onions. Cook for 10-15 minutes stirring frequently until it thickens. Sprinkle salt over it.
Third, make rooms for each egg and break them into these rooms. Help the egg whites set using a spatula. Let it simmer uncovered until the eggs are slightly cooked for 8-10 minutes.
As a final touch, you can sprinkle black pepper and chopped green onions or other herbs on it.
Alternatively, you can beat the eggs well before adding them into the pan. So if you want to go with this method, whisk the eggs well and pour it into the pan after the second step above. This Turkish scrambled eggs recipe is even better for dipping bread. I think it turns into a perfect egg dip with this method.
For a classic Turkish menemen, you can either break the eggs right into the pan or beat the eggs first and then pour over the simmering tomato sauce. I love both versions, but I prefer leaving the eggs whole in the pan when we are crowded. It's easier to serve it this way; one or two eggs for each person.
Serving Turkish Scrambled Eggs
If you prefer the second method and make Turkish style scrambled eggs with tomatoes and peppers, just serve it in the pan. No need for plates! We LOVE to dip bread right into the same pan. Get ready to eat more bread for sure! Alternatively, we sometimes serve it with Turkish Orzo Rice Pilaf especially when we are having it for lunch or dinner.
Obviously, the best companion for this meal is either a glass of cold ayran yogurt drink or a bowl of refreshing cacik dip when it's served as lunch or dinner. I can't think of a better light and tasty meal for hot summer days.
MORE TURKISH BREAKFAST RECIPES
MORE TURKISH RECIPES
If you have a chance to make this Turkish Egg Dish Menemen Recipe, I'd love to hear your feedback. Please rate the recipe and leave a comment below!
Print
Turkish Egg Dish Menemen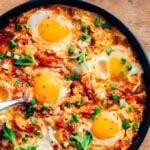 Classic one-pan Turkish egg dish with tomatoes and green peppers.
Author:
Prep Time:

5 minutes

Cook Time:

20 minutes

Total Time:

25 minutes

Yield:

3

1

x
Category:

Vegetarian

Method:

cooking

Cuisine:

Turkish
3 tablespoons

olive oil

1

onion, finely chopped (optional)

3

green peppers, chopped

4 cups

chopped tomatoes or canned tomatoes

4

cloves garlic, sliced (optional)

3

green onions, 2 for cooking and 1 for the garnish

½ teaspoon

salt

6

free-range eggs

¼ teaspoon

black pepper
Mint leaves for garnish
Instructions
Heat olive oil in a pan, preferably an iron cast. Add in chopped onion and green peppers, saute until tender.
Add in tomatoes, garlic and green onions, let it simmer for 10-15 minutes stirring frequently until it thickens. Sprinkle salt over it.
Using a spoon make rooms for each egg and break eggs into those hollows. Let it simmer uncovered until the eggs are slightly cooked for 8-10 minutes. Help egg whites cook well with a spoon. If you like the yolks hard, cook longer.
Sprinkle ground black pepper over it.
Garnish with chopped green onion and mint leaves. Serve in the pan.
Keywords: eggs, Turkish menemen, Turkish omelette, Turkish eggs, menemen recipe
This post was originally published in 2016 and has been updated with additional information.
We have a different version of this amazing meal for winter days: Fried Eggs with Spinach. If you are a person who can combine any vegetable with eggs like me, give this recipe a try with the first spinach of the season. This always makes a super easy and healthy weeknight dinner.