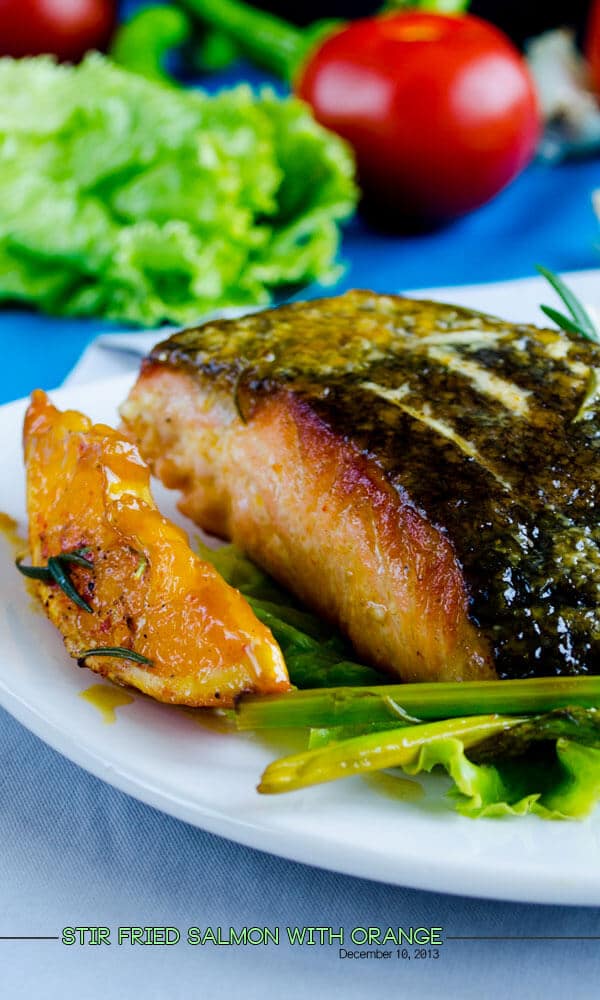 This Stir Fry Salmon with Orange is so transcendent that I can have it every single day! Salmon is one of my favorite fish and I can have it in any form. We have tried it in several ways till now. We mostly roast it in oven, which is the easiest way. You don't need to add anything for it, just a little salt will be enough. If you want to go a bit further and make a more flavorful oven roasted salmon, then I recommend you to try Salmon with herbs. We sometimes chop it and fry in a pan with a little garlic and broccoli and we love it this way too, but I must honestly say that Stir Fry Salmon with Orange is the best salmon recipe I've ever tasted! I must thank Yusuf for this recipe!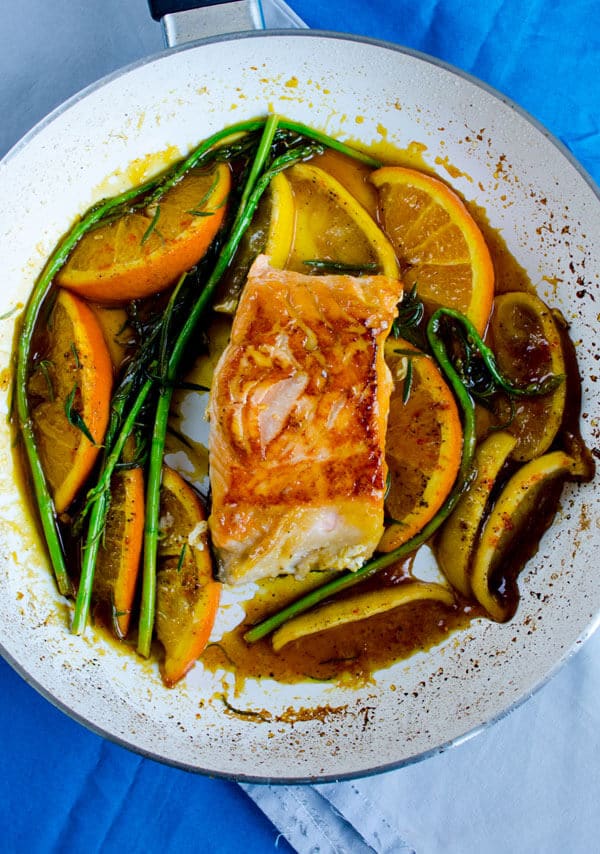 I always love to squeeze lemon on my fish when eating and it's a common way of eating fish in Turkey, but using orange juice and lemon juice along with some slices when cooking fish is definitely new to me. It was one of the recipes Yusuf tried when I was pregnant last year. I didn't feel like eating any kind of fish although we know how important it was for our baby. I didn't have appetite for food at all and the only way to eat somehthing for me was to squeeze a little lemon on it or to have orange juice with it.
Knowing my appetite problem, Yusuf found the best solution with this Stir Fry Salmon with Orange. He used a little olive oil since the oil of salmon itself was enough. He fried it in that a little olive oil occasionally adding orange and lemon juice into the pan. The juice was caramelized and super tasty! I loved to dip my bread into that juice when eating the fish. My favorite thing in this recipe is delectable orange slices. The flavors were very well intermingled and resulted in such a scrumptious salmon recipe!
Stir Fry Salmon with Orange
Citrus flavored salmon fillet. Easy, healthy and tasty!
Prep Time:

5 minutes

Cook Time:

15 minutes

Total Time:

20 minutes

Yield:

1

1

x
Scale
Ingredients
1

salmon fillet

2 tbsp

olive oil

½

orange, squeezed

½

lemon, squeezed

½

orange, sliced with its zest

½

lemon, with its zest

¼ tsp

salt

¼ tsp

ground black pepper
A few rosemary leaves
A few skinny asparagus
Instructions
Heat the pan.
Drizzle olive oil on the salmon fillet, on the side without skin.
Place it in the pan, the skin side on the bottom.
Fry it over medium low heat for about 5 minutes. It will release a little water.
Sprinkle salt and black pepper on it.
Mix orange juice and lemon juice and pour half of it into the pan when it absorbs the water it releases.
Bring the heat to medium high and turn over the salmon fillet.
Pour the other half of the juice when the juice inside the pan is almost gone.
Add orange and lemon slices and fry until it gets caramelized.
Finally add skinny asparagus and rosemary and take from heat.
Serve hot.
IF YOU LIKED THIS RECIPE, YOU WILL LOVE THESE TOO: