Winter Soup
Don't you think it's time to make a heartwarming soup? It's great to feel the smell of a yummy soup after coming home in a very cold weather. Leaving the freezing cold outside and welcoming a warming and appetizing soup! Who doesn't want to have this feeling?
If you are following this blog for a long time, you know how we -as Turkish people are crazy about bulgur. If you ever happen to read or hear about Turkish cuisine, you know bulgur has a great role in it. We love to have it in any form. I shared several recipes with bulgur here, and this one will be in the form of a winter soup. We call it topalak corbasi in Turkish. It contains bulgur balls as small as glass marbles, which kids love to play with. These bulgur balls are made from the dough we use in Stuffed Bulgur Kofte(icli kofte) and Balls With Garlic (sarmsakli kofte).
MY LATEST VIDEOS
You see we can make at least three different dishes based on the same bulgur dough. This soup is mostly known in the South of Turkey and it has varieties. Some local people add mince into dough and knead them together. Some add meat stock in it to have more flavor. Some make meatballs as small as these bulgur balls and boil them together.
Here is how we make soup of bulgur balls.
Soup Of Bulgur Balls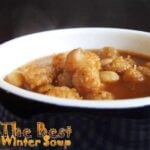 Prep Time:

30 minutes

Cook Time:

20 minutes

Total Time:

50 minutes

Yield:

6
Ingredients
For dough:
1 cup fine bulgur
½ cup semolina
½ cup flour
1 egg
1 tsp salt
1 tsp black pepper
1 tsp cumin
½ tsp paprika powder
½ tbsp pepper paste
1 ¾ cups water
Cooking the soup:
2 tbsp olive oil
1 tbsp pepper paste
1 tsp dried mint
4 cups water
1 cup meat broth
½ lemon, squeezed
½ tsp salt
2 cups bulgur balls
½ cup boiled chickpeas
Instructions
Dough:
Soak bulgur and semolina with a little water and wait about 15 minutes.
Mix them with a spoon. Break an egg in it.
Add pepper paste, salt and spices and mix.
Add flour and the rest of water little by little.
Now combine them with your hands and knead it a little until it's not sticky. You can play with the amount of water and flour to have this consistency.
Make balls as small as hazelnut and put them in a tray.
Don't pile them up in a bowl and sprinkle little water with your hand over them so that they don't stick one another. Put them aside.
Cooking the soup:
Heat olive oil in a pot.
Add pepper paste and dried mint, stir.
Pour 3 cups water and 1 cup meat broth.
Add lemon juice and boil it.
Add bulgur balls and boiled chickpeas when it boils and cook about 20 minutes.
Serve hot.
IF YOU LIKED THIS RECIPE, THEN YOU WILL LOVE THESE: