It is the first time I've made Chocolate Cupcakes! Well, these are my first cupcakes indeed. I've made muffins several times and my all time favorites are these Apple Muffins. I don't know why but I'd never tried cupcakes until today. Neither muffins nor cupcakes exist in traditional Turkish cuisine, maybe that's why. Although these are not Turkish desserts, they have become popular in Turkey for some years, so I thought I must learn how to make these.
The first thing I need to learn was the difference between muffins and cupcakes. It wasn't so easy to find it when I googled it. They looked so much alike! After reading some articles and recipes, I figured it out! Cupcakes are actually muffins filled or topped with a kind of frosting. Then I saw a quote on facebook saying: "Once you lick the frosting off a cupcake, it becomes a muffin. And muffins are healthy." A great quote explaining the difference! There is still a question in my mind though. Is it a must to fill muffins with frosting or is it enough to spread it just on their top to make them cupcakes?
My first trial had to be on chocolate cupcakes! Chocolate cheers people up, right? Chocolate muffins which turn into chocolate cupcakes with a frosting must definitely have a more powerful effect on people! And I wasn't wrong! These chocolate cupcakes disappeared in a few minutes accompanied by "nom nom nom…" sounds! Our friends loved them, and they encouraged me to try different versions of cupcakes.
Since it was my first experience making chocolate cupcakes, I preferred to use an easy way of frosting. I made it with plain whipped cream. And I just put it on top of cupcakes. I didn't want the cream on the top to look plain, so I used some sprinkles on it.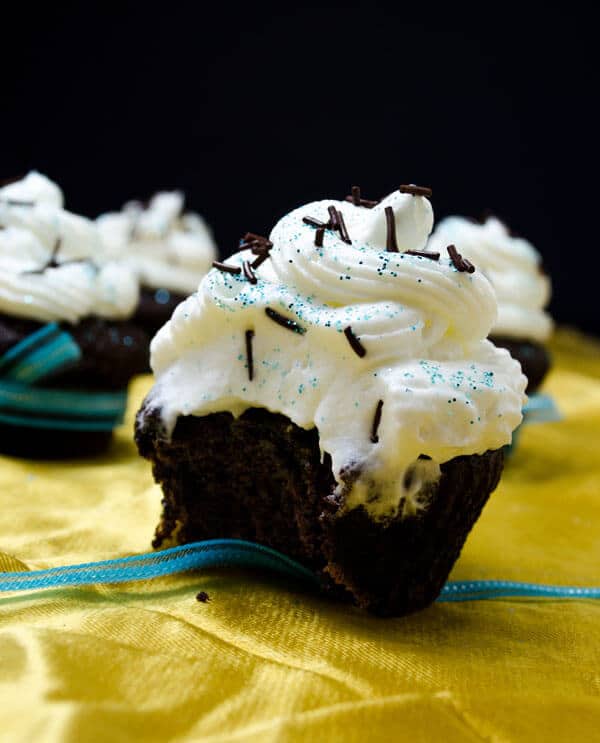 These chocolate cupcakes were so fluffy and they have a strong flavor of cocoa. You first feel the fluffy cream on the top when you bite and then you reach the fluffy chocolatey muffin underneath. If you are a complete chocolate lover, these chocolate cupcakes are perfect for you!
See our other chocolate recipe videos here:

Print
Simple Chocolate Cupcakes
Simple fluffy chocolate cupcakes topped with whipped cream.
Prep Time:

15 minutes

Cook Time:

20 minutes

Total Time:

35 minutes
Scale
Ingredients
Cupcakes:

1 cup

sugar

½ cup

olive oil

1

egg

¾ cup

milk

1

and ½ cup flour, I used whole wheat flour

¼ cup

cocoa powder

1 tsp

vanilla

½ tsp

baking soda
Topping:

1 cup

frozen whipped cream, thawed
Sprinkles
Instructions
Preheat oven at 180C.
Mix sugar and olive oil until smooth.
Add in egg and milk, mix.
Sift flour, cocoa powder, vanilla and baking soda into the mixture, mix until the batter is smooth.
Place cupcake liners in cupcake pans.
Share the batter into cupcake liners. Just fill the half of them, don't overfill.
Bake them for 20 minutes. Test with a toothpick.
Let them cool.
Place the whipped cream in a piping bag and pipe the cream on each cupcake.
Finally add sprinkles on the cream.
Nutrition
Serving Size:

16 cupcakes
IF YOU LIKED THIS RECIPE, YOU WILL LOVE THESE TOO: