Sauteed chicken with mushrooms, red bell pepper, garlic and onion. To enrich the flavor, I use milk instead of cream. So it is lighter this way. This recipe makes a perfect weeknight dinner that everyone loves.
I made this sauteed chicken with mushroom for lunch. Have you ever picked mushrooms from nature? As a child, I joined my grandma a few times to pick mushrooms in the forest in her village. She looked like a symbol of wisdom to me those times. I remember asking many questions about nature when discovering new things there and she would patiently answer all of them. She would also tell exciting stories from her childhood when we were going further in the forest. When we picked enough mushrooms, she would light a fire to roast a few of them and eat right there. We would sit and wait for mushrooms near the fire. I can forget neither the smell nor the flavor of mushrooms I ate there. I can't tell how I miss those times with my lovely and wise grandma! I wish I had some of those mushroom to add in my sauteed chicken.
The mushrooms we picked were very different from what we buy at markets today. They were brownish and they didn't have that hat like mushroom top. We call this kind of mushroom kuzugobegi in Turkish. This can be translated as lamb belly, but I really don't know what is the relation and why it is called so. When I searched on the Internet, I've found that it is called morchella esculenta in science.
As we don't have these brownish mushrooms at markets now, we buy cultivated mushrooms, which I find so cute in shape. I love to use them in different ways, sometimes in the form of side dish, sometimes in the form of main dish. This time I combined it with sauteed chicken and it made a great lunch for us.
Other Easy Chicken Dinner Recipes You Might Like
Other Mushroom Recipes You Might Like
Print
Sauteed Chicken With Mushrooms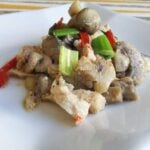 Chicken sauteed with mushroom, garlic, onion and red bell pepper.
Author:
Prep Time:

15 minutes

Cook Time:

30 minutes

Total Time:

45 minutes

Yield:

2

1

x
Category:

Dinner

Method:

Cooking

Cuisine:

American
1

chicken breast, cut thin and lengthwise

300g

mushroom, cleaned and roughly sliced

1

red bell pepper, cut lengthwise

4

cloves garlic, chopped

2

green onions, chopped

3 tbsp

olive oil

¼ cup

milk, room temperature
salt
black pepper
thyme
Instructions
Heat olive oil in a wok.
Throw chopped chicken breast into it.
Saute stirring occaionally over high heat.
When it releases and absorbs its water, add mushrooms, garlic and red bell pepper. Stir.
Wait until they absorb the the water they release.
Pour milk and stir. You can increase the amount of milk if you like.
Finally toss in chopped green onions along with salt and spices.
Stir it roughly for the last time and take it from stove.
Serve hot.
Keywords: chicken with mushrooms, chicken and mushrooms