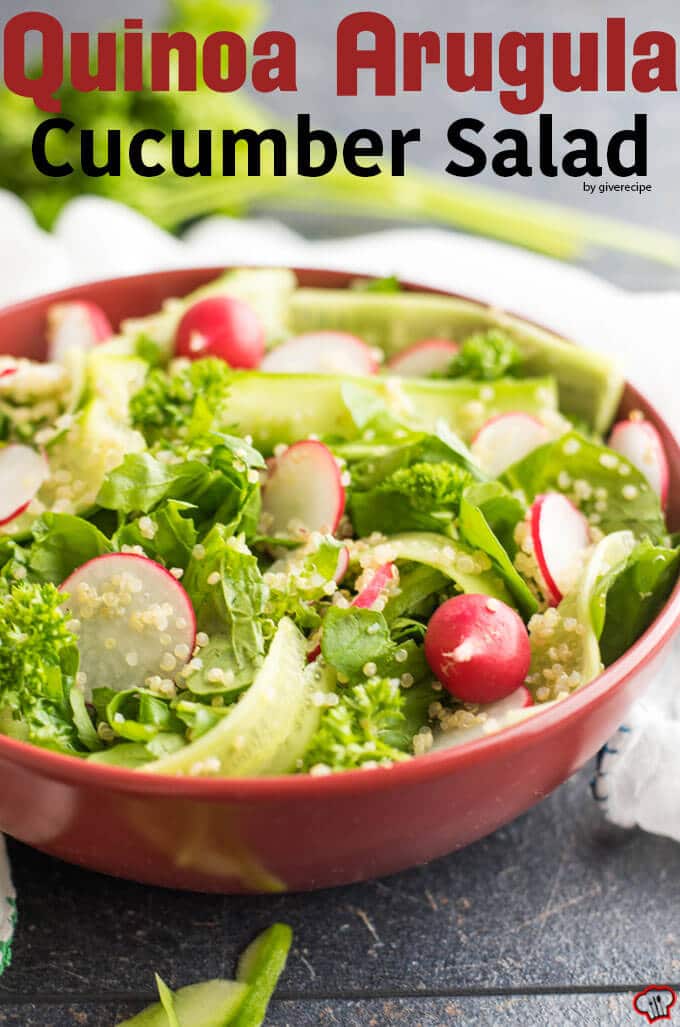 Quinoa Arugula Cucumber Salad is one of the best salads I've ever made. Salad is a must for me at each meal. I can't think of a dinner table without a salad, preferably with fresh ingredients. I can't believe how I haven't shared tons of salad recipes here till now although I try a new one almost everyday. Maybe I thought salads are just simple foods and everyone can make it easily. But we sometimes need ideas about what foods can be combined in a salad bowl. I promise to share my salad ideas more often and I hope I can inspire you to include salads in your daily diet.
Arugula is one of my favorite herbs in salads. I love its bittersweet taste and sometimes I maket he world's easiest salad by just putting arugula leaves as they are in a bowl, sprinkle salt and squeeze a generous amount of lemon on it. You really don't need more than this. But when I have time, I love to create new salads by trying new combinations. And I try to use leftover veggies in salads while doing this. This is how my salad recipes mostly come out. This Quinoa Arugula Cucumber Salad was created when we had some leftover quinoa after I made Feta Quinoa Zucchini Fritters. I kept the leftover cooked quinoa in the fridge for 2 days and then I just tossed it into this salad. A wonderful way to make your salad even healthier and more nutritious.
Arugula and cucumber always pair wonderfully; both are crispy and gives you an amazing refreshment. I've used these two in many salads before. I realized the mini radishes that were about to go bad in the fridge and tossed them into the bowl at the last minute. I think they gave a very nice pink color addition to my green Quinoa Arugula Cucumber Salad.
What makes a salad tasty is the dressing you use. I used a mixture of lemon, pomegranate molasses, extra virgin olive oil, salt and chili for this Quinoa Arugula Cucumber Salad and it becomes a wonderfully tangy salad that causes my mouth water even when describing.
This one has become one of my favorite salad combinations, but I'm truely intrigued by Quinoa Apricot and Arugula Salad on Love and Lemons. Will be trying it next time.
Before giving the recipe, let me introduce you a new share button I placed above each post. You are already familiar with pinterest, facebook, Google plus, twitter, tumblr and stumbleupon buttons, which help you share a content you love with your friends or followers. Now there is one more button that makes saving and sharing recipes even easier and more fun. Right, I'm talking about the Yum button. Maybe some of you are already using this fabulous button. You can make your own recipe collections using the YUM button. It takes you to Yummly, where you can save the recipes you want to try in your recipe box.
You can search for new recipes at Yummly, so it's like the Google search of foodies. It's very easy to use Yummly. Just use that button when you love a recipe on a food blog. You can even find all the recipes of your favorite blog at one place on Yummly. It's great to see how many times a recipe is YUM'd, ingredients, nutrition facts and calorie estimates all at one place. For example, you can find our recipes on Give Recipe's Yummly page and yum your favorite recipes to your recipe box right from there.
So go sign up and start using Yummly! You will love discovering and YUMming recipes!
Print
Quinoa Arugula Cucumber Salad
Healthy, crispy, tangy and tasty salad with arugula, cucumber, radishes, parsley and quinoa.
Author:
Prep Time:

10 minutes

Total Time:

10 minutes

Yield:

4

1

x
Category:

Lunch

Method:

Cooking

Cuisine:

American

Diet:

Gluten Free
¾ cup

cooked quinoa

5 cups

roughly chopped arugula

2

cucumbers, thinly sliced with a potato peeler

5

mini radishes, thinly sliced
A handful of parsley, chopped roughly
Dressing:
2

lemons, squeezed

1 tablespoon

pomegranate molasses

½ teaspoon

salt

½ teaspoon

chili

1 tablespoon

extra virgin olive oil
Instructions
Whisk the dressing ingredients together.
Toss together the cooked quinoa, arugula, cucumbers, radishes and parsley.
Pour the dressing over it. Mix with your hands. Serve immediately.
Keywords: arugula quinoa salad, cucumber quinoa salad