Peach Chia Pudding is probably the healthiest sweet treat in summer that tastes really yummy. Peach is one of my favorite fruit and I love it as a snack when I crave for something sweet. So I love to use it in puddings too. It gives an amazing refreshment and sweetness to the pudding if it is ripe enough. You can use less sugar or other sweeteners then. Peach, Homemade Almond Milk, chia seeds and a little agave make this wonderful pudding that we can call super food. Or maybe super pudding would even be a better name for it.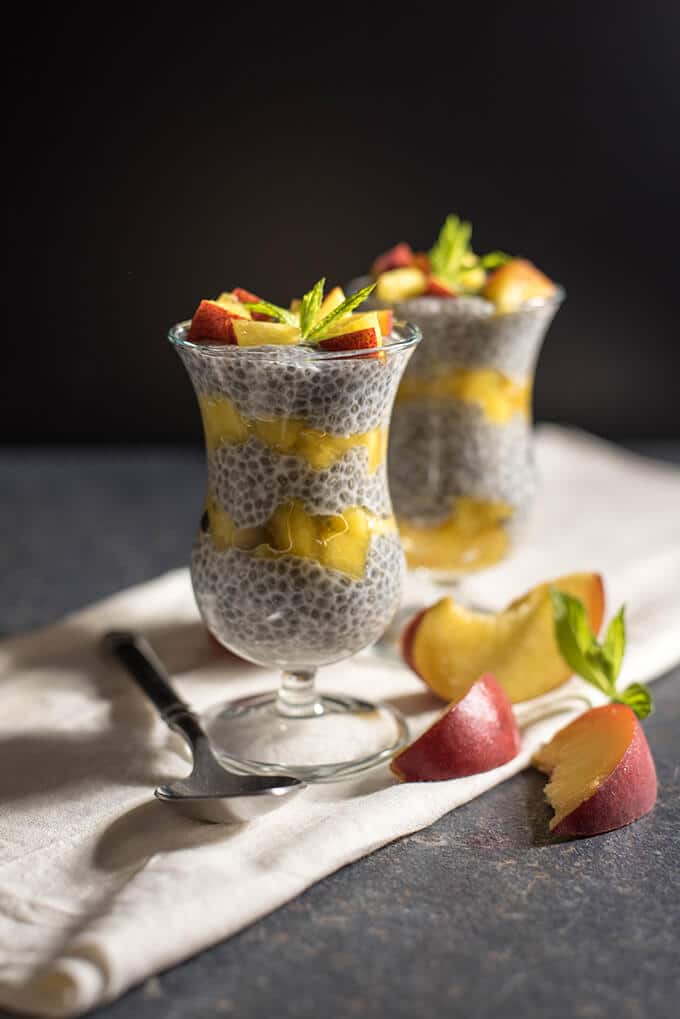 Peach Chia Pudding is my second try with chia seeds and I think my feelings have been changing about these magical seeds. I found them a bit 'weird' in my first experience, coconut chia pudding, especially when I saw how they double or even triple their size and absorbed all the liquid (coconut milk) I soaked them in.
Göktürk still hates pudding of all kind, so he just ignored these lovely peach chia pudding cups. I wasn't demoralized this time as he developed his own recipe for chia seeds and he is already happy with it. The easiest and simplest recipe ever! Chop a banana, drizzle a little honey over them (optional) and sprinkle chia seeds on it. Whenever I ask him now if he wants to eat banana, he replies me with another question: "Topped with chia?" And that's the happiest moment of a mom!
So these two servings of peach chia pudding are not for our son, but for us. I want to have these interesting seeds in our diet in some way as I've learnt that they are very rich in calcium, even more than milk, and omega-3, they are wonderful antioxidants and anti-inflammatory.
I added the peaches in chunks for this pudding, but you can use them pureed as well. If you are a health watcher for your all family members and open to new, try this peach chia pudding this summer. If your kids already love puddings or smoothies, I'm sure they will love this chia pudding too.
Other Peach Desserts You Might Like
Peach Cheesecake Recipe No Bake
Peach Ice Cream Recipe No Machine
Print
Peach Chia Pudding
A guilt-free pudding with almond milk, chia seeds and peach.
Author:
Prep Time:

5 minutes

Total Time:

5 minutes

Yield:

2

1

x
1 cup

almond milk

1 tablespoon

agave

2 tablespoons

chia seeds

1 cup

chopped peaches
Instructions
Combine almond milk, agave and chia seeds in a jar. Mix with a spoon and close. Chill it at least 5 hours or overnight.
Share it into cups making layers of peach chunks and chia mixture. Top the pudding cups with extra peach slices and fresh mint leaves.
Serve cold.