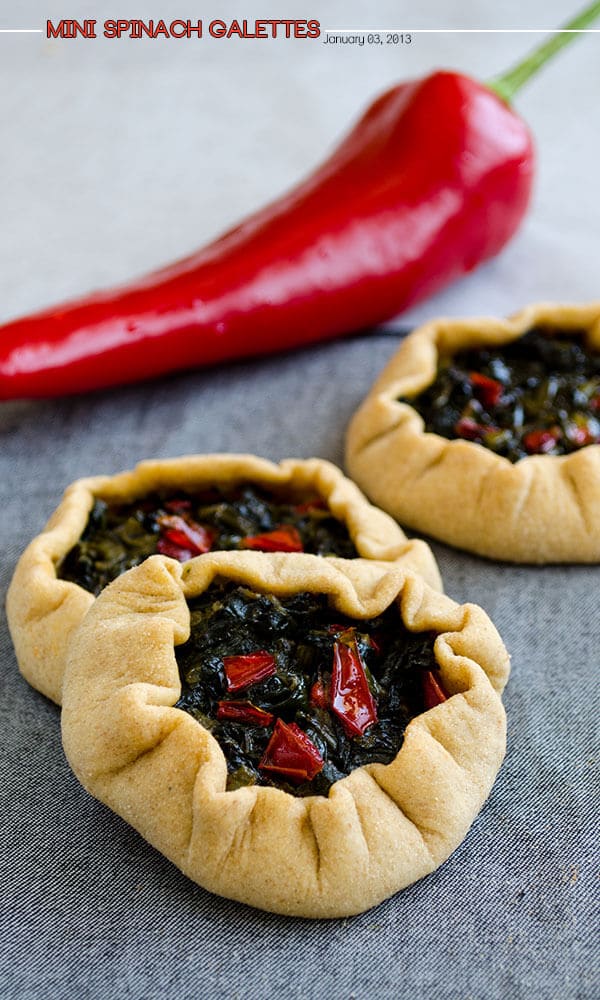 "Mini spinach galettes are one of the best recipes with spinach" says Yusuf. Well, I love spinach in any form, but if you are not a fan of it and looking for ways to make you or someone in your family love this iron rich green, you should try these spinach galettes!
Have you seen our Pide with Ground Beef, which is a Turkish style pizza? These spinach galettes are the vegetarian version of it. Pide is not made in this shape though, it has an oval shape instead. I wanted to give them a round shape to make them look a bit different from our regular pide and I learnt that this kind of treats are called galette. No matter what the name is, these are definitely scrumptious!
I combined onion, red bell pepper and spinach together for the filling and they were amazingly tasty together! I used black pepper and cumin as a spice, I LOVE cumin and it enriches the flavor of spinach.
I used the same dough as our regular whole wheat pide, it is a soft crust when cooked, not crispy. In fact you can use this dough in many pastries like this. Just create your filling and imagine the shape if you want to have a completely different one!
I could have made these in bigger size, but I wanted to have them smaller since it's easy to take them to work, potlucks or to picnics in this size. You can even have these for breakfast. I sometimes grab one just when leaving home and eat it on the way. These mini spinach galettes are amazing even cold!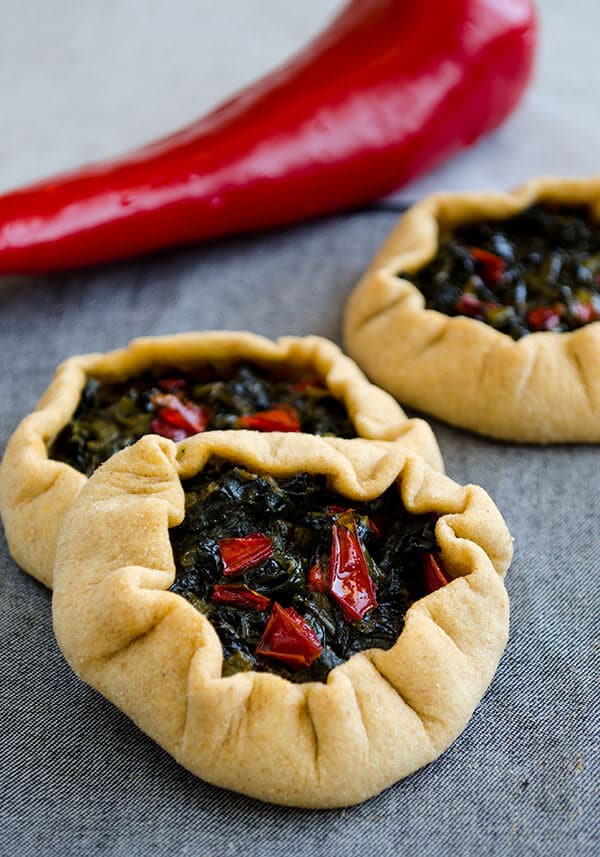 Mini Spinach Galettes
Savory galettes with spinach make perfect snacks!
Prep Time:

1 hour 20 minutes

Cook Time:

40 minutes

Total Time:

2 hours
Scale
Ingredients
Dough:

3 cups

whole wheat flour

1 tbsp

instant yeast

2 tsp

salt

1 tsp

sugar

1 cup

lukewarm water

¼ cup

olive oil

2 tbsp

extra olive oil to brush pides
Filling:

2 tbsp

olive oil

2

onions, chopped finely

2

red bell peppers, chopped

1 tsp

pepper paste

500g

spinach, wash well and chop roughly
Salt to taste

½ tsp

black pepper

½ tsp

cumin
Instructions
Combine flour, instant yeast, sugar and salt.
Pour olive oil and add water little by little.
Use your hand to combine them well until you have a soft and non sticky dough.
Cover it and wait to rise for an hour.
Meanwhile prepare the filling.
Heat olive oil in a large skillet.
Saute onion and pepper in it.
Toss in spinach and cover the skillet to let the spinach cook faster. Cook for 5 minutes over medium low heat.
Season it with salt, black pepper and salt and cook until it absorbs the juice inside.
Let it cool.
Preheat oven at 180C.
Dust a little flour on the counter.
Make a log from dough and cut it into 16-18 eaqual balls.
Dust the counter again and roll one of the balls out giving it a round shape. Transfer to a baking sheet.
Place some filling on it leaving a 1 1/2-inch border.
Fold the border over spinach filling, pleating the edge to make it fit. Leave the center open.
Bake until golden brown for about 40 minutes.
Serve hot, warm or cold.
Nutrition
Serving Size:

16-18 galettes
IF YOU LIKED THIS RECIPE, YOU WILL LOVE THESE TOO: