Mini Pizzas can change your regular breakfast a lot! We as Turkish people enjoy having a kind of borek or pogaca at breakfast, so savory pastries are not just snack for us; we love to start our day with them! If you love developing new recipes for breakfast to surprise your family or to spoil yourself, try these mini pizzas!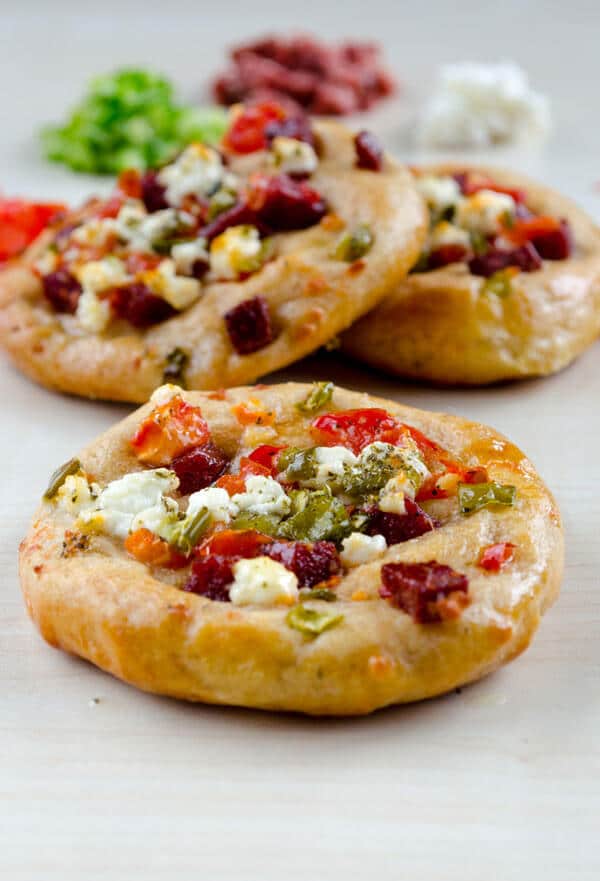 The size of these pizzas make them cute and more appealing. You can absolutely make it bigger or at regular pizza size using the same ingredients, but I prefer this bite size version. I must warn you about something though, these mini pizzas are as fluffy as this pogaca and you can't feel satisfied with a few of these! You will want to eat more right after you get your first bite!
You know the crust is the significant part of a pizza. If it's how you like, topping options are limitless. I topped my mini pizzas with cheese, green pepper, tomatoes, and sujuk, a kind of Turkish sausage. I used just dried oregano as a spice and it makes a scrumptious combination with other ingredients. You can definitely add chili or black pepper as well. These are the main toppings most Turkish women prefer and you can find similar mini pizzas with this topping at some Turkish pastry shops too!
If you can't find sujuk in your area, you can replace it with sausage, bacon or salami. Just skip these if you want to make a vegetarian version.
I love them when they are still warm since I think the flavors stand out more, but they are still so tasty when cold. As it's already picnic season here, I'm planning to put some of these mini pizzas into basket next time we arrange a picnic.
This recipe goes to one of my favorite bloggers Roxana's bakedwithlove event! Go visit her blog to see more scrumptious foods baked this month!
See our other chocolate recipe videos here:

Print
Mini Pizzas for Breakfast
Mini pizzas topped with tomatoes, green peppers, cheese and sujuk.
Prep Time:

1 hour

Cook Time:

30 minutes

Total Time:

1 hour 30 minutes
Scale
Ingredients
Dough:

3

and ½ cup whole wheat flour

1 tbsp

dry instant yeast

½ tsp

salt

½ tsp

sugar

1

egg

½ cup

olive oil

½ cup

milk, lukewarm

1 cup

yogurt, at room temperature
Topping:

½ cup

sujuk, diced

½ cup

tomatoes, diced

¼ cup

green peppers, diced

¼ cup

cheese, crumbled

1 tsp

dried oregano
Instructions
Mix flour, instant yeast, salt and sugar in a large bowl.
Add in egg white, olive oil, milk and yogurt one by one and mix with your hand.
Knead it until soft and non sticky.
You can add a little flour or water if needed.
Cover it and wait for 40 minutes.
Preheat oven at 180C.
Line a baking sheet with parchment paper.
Take small balls from dough and flatten them on the counter.
Transfer them onto parchment paper and cover with a piece of clean cloth.
Wait for 15 minutes.
Mix topping ingredients and top your pizzas with them.
Bake for 30 minutes.
Serve warm or cold.
Nutrition
Serving Size:

40 mini pizzas
IF YOU LIKED THIS RECIPE, THEN YOU WILL LOVE THESE: