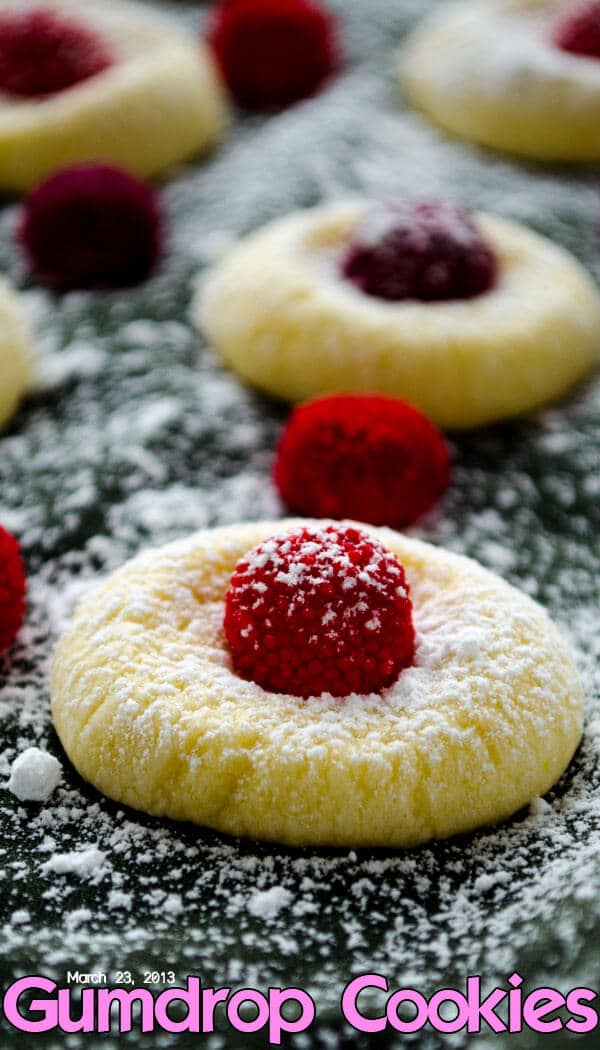 Gumdrops are always fun snacks; not just for kids, for everyone. I have a lot of friends who still buy colorful gumdrops during the break of a very serious meeting. I think somehow they help people feel optimistic or more tolerant. All workplaces should have a gumdrop machine so that they provide good relationship among the stuff. If you are looking for a way to become more optimistic and tolerant and to make your baking even more enjoyable, these Gumdrop Cookies definitely fit the bill!
You know when I decided to make these gumdrop cookies? Just as I was making these Marshmallow Chocolate Cookies or even earlier than that. When I was at the supermarket looking for marshmallows. I saw those colorful gumdrops and just get intrigued and bought a few packages. I didn't know exactly what to make with these cuties until I went home. Then when I was placing marshmallows on my chocolate cookies, the idea of gumdrop cookies glittered in my mind!
You like thumbprint cookies, don't you? These gumdrop cookies are no different, they are as cute and tasty as they are. First I topped my cookies with gumdrops before baking, but I didn't like the result. They lost all their lovely colors and look so sticky. That wasn't something I wanted! You would feel like something went wrong when they were baking. Then I decided not to bake the gumdrops. I decided to place them on the cookies right after they are taken out of oven when they are still hot. I didn't change their form this way and they look cute on the cookies.
It's important to place them pressing gently when cookies are still hot so that they sit well. If you put them after the cookies completely cooled, they won't stick and might easily fall down. If you have kids, you should get them involved too. Just ask them to place the gumdrops on cookies. I'm sure they will love this! I must wanr you about the hardest part of this recipe though. Stop snacking on the gum drops while you're making the cookies!
The batter of these gumdrop cookies is stiff one, so don't try to add more butter or anything else to the batter to make it softer. The cookies are quite soft when baked, don't worry!
I saw that it's easy to make your gumdrops at home at Bakerella, so I know what I will be making next time! I've already made my own Turkish delight stuffed with pistachio and I can't wait to try my homemade gumdrops!
See our other chocolate recipe videos here:

Print
Gumdrop Cookies
Zesty cookies topped with gumdrops.
Prep Time:

25 minutes

Cook Time:

12 minutes

Total Time:

37 minutes
Scale
Ingredients
145g

butter, at room temperature

1 cup

powdered sugar

2

yolks, beaten

1 tsp

vanilla powder

1

and ½ cup all purpose flour

½ tsp

baking powder

¼ tsp

salt

2 tsp

lemon zest, grated

60

gumdrops

1 tbsp

powdered sugar for garnish
Instructions
Preheat oven to 180C.
Line two baking pans with parchment.
Mix butter and sugar with an electic mixer until it's like wet sand.
Stir in beaten yolks and vanilla powder. Mix well.
Add in flour, baking powder and salt. Combine them with your hand.
Fold in lemon zest.
Let it rest in refrigerator for 15 minutes.
Make mini balls from the batter, place them on baking pans and press gently on each with your thumb.
Bake for 12 minutes. Take them out even if tey look they are not done.
Place gumdrops on each when they are still hot pressing gently.
Let them rest in baking pans for 5 minutes and then transfer them on a wire rack to cool completely.
Dust them with powdered sugar.
IF YOU LIKED THIS RECIPE, YOU WILL LOVE THESE TOO: