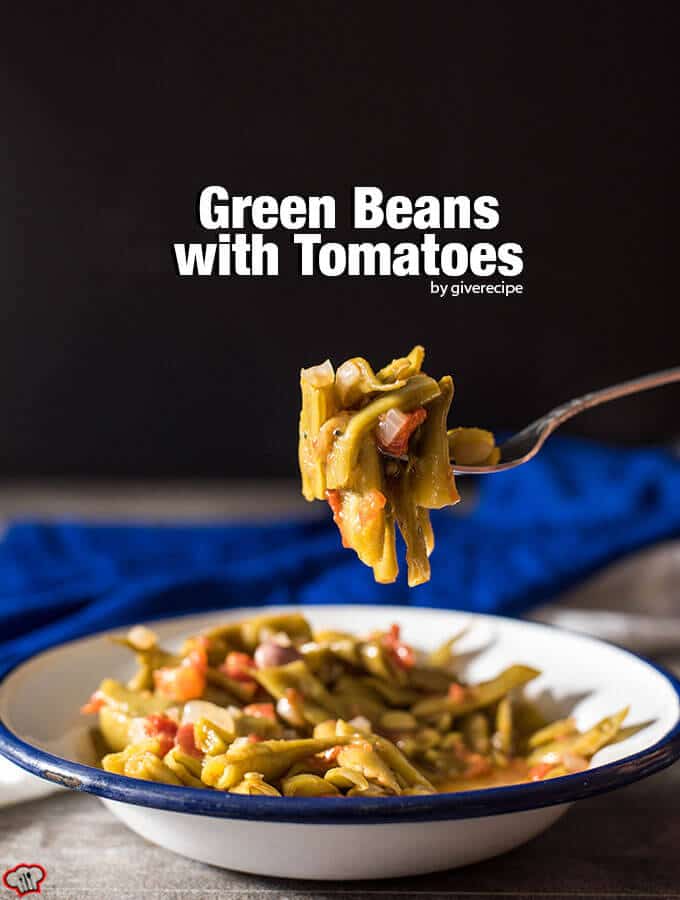 Green Beans with Tomatoes recipe is from Turkish cuisine. It is one of those simple dishes everyone knows in the country. There might be variations in its cooking, but the taste is almost the same in the end. I know it looks and sounds simple –it really does but I must tell you that you will be amazed when you taste it. This simple dish is always one of the favorite dishes of our American friends when they visit Turkey. And they say it would be a perfect side dish on Thanksgiving table although we mostly have green beans with tomatoes as the main course.
I think good olive oil and good summer tomatoes do the work in this recipe, so choose your favorite products when you decide to make green beans with tomatoes. I used to think that everyone around the world eats green beans this way until several non-Turkish friends asked for the recipe. I guess Greeks have a similar recipe as well. And when I searched it at pinterest, I came accross with blanched or roasted green beans mostly that are served as side dishes. So Turkish/Greek style green beans might sound unusual to most of our readers. I wouldn't make my mind before tasting if I were you. I promise you will LOVE it! I don't know anyone who doesn't like it.
Besides the scrumptious taste, the best thing about green beans with tomatoes is that it requires very little work. Just chop everything, toss in a pot. Drizzle olive oil over it, sprinkle salt and black pepper, pour ½ cup water and cook covered over meidum low heat for 30 minutes or until tender. Easy peasy, isn't it?
So if you haven't tried green beans with tomatoes yet, it's the time now! I know everyone in the family will ask for more.
zerrin
Yields 4
Green Beans with Tomatoes
An outstanding taste with simple ingredients like green beans, onion and tomatoes. An amazing side or vegetarian main course.
10 minPrep Time
30 minCook Time
40 minTotal Time
Ingredients
1lb fresh green beans, trimmed and cut into three or four pieces
1 medium onion, diced
2 cloves garlic, diced
1 cup tomatoes, diced
3 tablespoons olive oil
1 teaspoon salt
1/2 teaspoon sugar, optional
1/2 teaspoon ground black pepper
1/2 cup water
Instructions
Put half of the green beans in a pan. Toss in diced onion and then the rest of green beans. Add diced tomatoes over them.
Drizzle olive oil and add salt, sugar, black pepper and water. Cook covered over medium low heat for 30 minutes or until tender.
Serve hot or cold.
7.6.2
205
https://www.giverecipe.com/green-beans-with-tomatoes/
IF YOU LIKED THIS RECIPE, THEN YOU WILL LOVE THESE: