This is most probably the only Turkish food blog with several avocado recipes since it's not a typical Turkish food. It is still not that popular in the country, which makes it quite pricy. We love its oily flavor and have it a few times a week in different versions. We would have it more often if it had a more reasonable price. We mostly have it raw as in this Spinach and Avocado Sandwich or in this Egg and Avocado Toast. When we crave for a healthy snack that can substitute for French Fries, we make these Gluten-free Avocado Fries and a chili strained your dip to pair with it.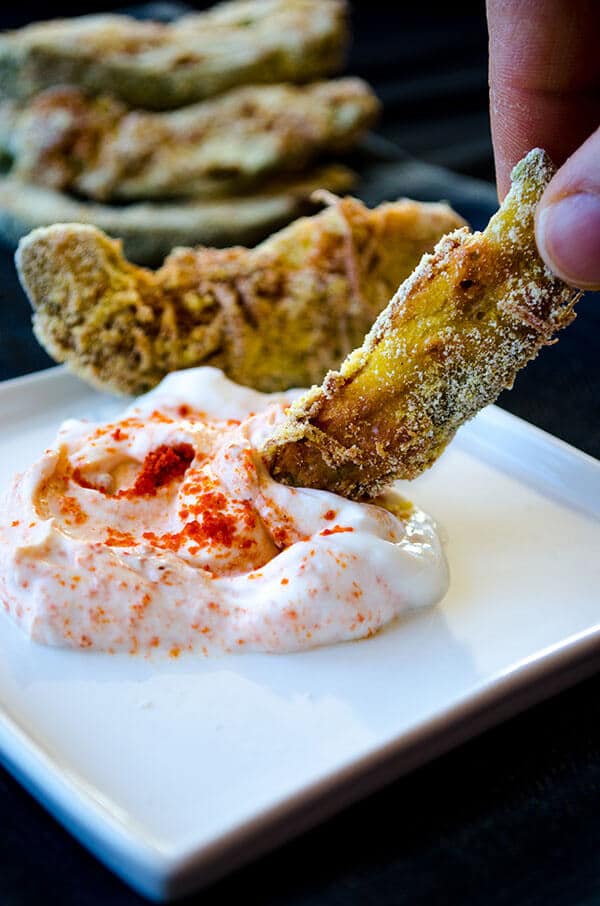 When I searched for a good recipe for avocado fries, I noticed that they all call for breadcrumbs to coat the avocado slices. Inspired by fried fresh anchovies, I use cornmeal instead. So you can make these avocado fries if you have to follow a gluten-free diet. You can definitely use breadcrumbs if it's ok for you.
I wanted to enhance the avocado taste a bit, so I used grated cheese and a litle melted butter in the coating as suggested in Baked Avocado Fries. I used Turkish kasar cheese, but you can use parmesan or mascarpone cheese as well.
We have these avocado fries as a side dish and we love to dip them into a dip made with strained yogurt, salt and chili powder. The yogurt sauce wonderfully complements the oily avocado flavor.
These avocado fries make a perfect snack for game nights too.
Gluten-free Avocado Fries
Cornmeal and cheese coated avocado fries.
Prep Time:

10 minutes

Cook Time:

20 minutes

Total Time:

30 minutes

Yield:

4

1

x
Scale
Ingredients
2

ripe avocados

1cup

cornmeal

1 tsp

salt

4 tbsp

grated cheese

1 tbsp

melted butter

1

large egg, beaten
Instructions
Preheat oven to 190C.
Line a baking pan with parchment.
Cut avocados in hallf, peel and slice them into 1/2 inch wedges.
Combine cornmeal, salt, grated cheese and butter.
Coat avocado slices withegg and then cornmeal mixture. Place them on the parchment and bak efor 20 minutes.
Serve it with a mixture of strained yogurt and chili powder.
IF YOU LIKED THIS RECIPE, YOU WILL LOVE THESE TOO: