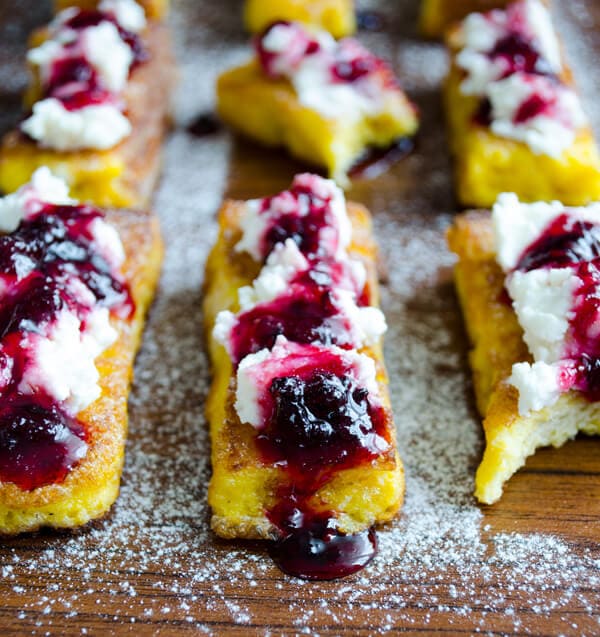 This French Toast with Curd and Blackberry Jam will be a perfect surprise at a weekend breakfast! If you are a breakfast person and always in search for a new recipe for big Sunday breakfasts, it will be a fantastic alternative to your ordinary breakfast. I made a nice twist on our regular French toast.
I always start to think of the breakfast menu of the next day at nights. As we have a big breakfast on Sundays, I make the plan of what to make at night on Saturdays. Your table must be quite crowded for a typical Turkish style breakfast. Just a piece of cake or smoothie is never enough for us! We have several types of cheese, olives, tomatoes, cucumbers, jams, honey, butter, nuts, pastries for breakfast and the rest is up to your creativity. We have all these on the table in the morning even if we don't taste them all. I guess the logic behind this is that we want to eat with our eyes first for a good start! Then rest of the day will be better and with smaller meals.
Everyone loves French toast, right? It makes your morning more fun and when you have french toasts at breakfast, you feel that it's worth waking up!
Kids love it more! Most kids are not so willing to eat in the morning, and you should find the best way to have them join your breakfast joy. Nutella could be a good choice, it makes breakfast tolerable for kids, but is it the best food for breakfast? For me, the best food is the food you yourself prepare. This French Toast with Curd and Blackberry Jam can help you make breakfast more attractive to your kids!
I always love to combine curd with jams –generally in reddish colors. I love the combination of white and red, purple or pink! Besides this, you get a tasty result; sweetness of jam completes the mild flavor of curd in an excellent way. So why not top French toasts with this so appetizing combination?
French Toast with Curd and Blackberry Jam is a divine breakfast food with a little crunchiness outsides the toasts, softer inside. And feeling the combination of mild and sweet flavors on the top when you bite makes you think that your day will be a beautiful one!
I used blackberry jam for this recipe, but you can also make it with Strawberry Jam, Black Mulberry Jam or cherry jam.
Well, I have great news and I must share it with you before it's too late! I thought this sweet and festive breakfast would be a great post to tell you that I'm 30-week pregnant! We are so excited and have already started to buy things for our small boy! Hope our son will love what we cook in the future!
It's said that pregnancy makes you more melancholic and you are more likely to cry during your pregnancy, but it is the opposite for me! Our son makes me a more cheerful and an optimistic person! Hope I feel the same until birth!
Lor peynirli, bogurtlen recelli yumurtali ekmek as it is called in Turkish:
See our other chocolate recipe videos here:

Print
French Toast with Curd and Blackberry Jam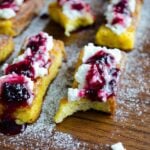 French Toast with Curd and Blackberry Jam is a perfect alternative to your regular breakfast!
Prep Time:

10 minutes

Cook Time:

15 minutes

Total Time:

25 minutes

Yield:

4

1

x
Scale
Ingredients
4 tbsp

butter

4

slices of toast bread

2

eggs

¼ cup

curd

4 tbsp

blackberry jam
Granulated sugar for topping
Instructions
Cut bread slices into 3 thick strips.
Whisk eggs in a bowl.
Melt 1 tbsp butter in a large skillet.
Dip 3 bread slices into whisked egg and fry them in butter until golden.
Repeat the same steps for all bread slices adding 1 tbsp butter for each 3 strips.
Top them with a generous amount of curd and drizzle blackberry jam on each.
Serve immediately with grabulated sugar.
IF YOU LIKED THIS RECIPE, YOU WILL LOVE THESE TOO: