Does heat in summer kill your appetite? Are you looking for something both refreshing and filling and healthy? Try this cold yogurt soup!
This is a traditional soup made in South area of Turkey as it is the hottest region of the country. It even reaches above 40 C (100F) with a quite high humidity level in summer, that's why people don't feel like eating anything unless it's cold and light. They almost always have some cold yogurt soup in refrigerator to snack on or to serve our guests. As it doesn't have any oil or cream, it is so light and healthy. You can top this soup with dried or fresh mint or thyme, and the combination of yogurt and these herbs make the soup even more refreshing.
This is either called cold yogurt soup or ayran soup. Ayran is a drink made from a mixture of yogurt and cold water, so this name seems better to me.
Print
Cold Yogurt Soup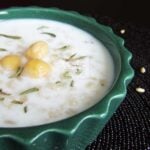 Prep Time:

30 minutes

Cook Time:

30 minutes

Total Time:

1 hour

Yield:

4
Ingredients
½ cup wheat
2 cup water, to boil wheat
A handful boiled chickpeas
1 cup yogurt
1 cup cold water
1 tbsp dried or fresh thyme or mint
salt to taste
Instructions
Boil wheat in 2 cup water until tender and it absorbs water. Let it cool.
Mix yogurt and cold water to make ayran. Toss in boiled and cooled wheat and chickpeas with it. Add salt, thyme or mint.
Wait it in refrigerator for at least half an hour and serve cold. The colder, the better.
IF YOU LIKED THIS RECIPE, THEN YOU WILL LOVE THESE: