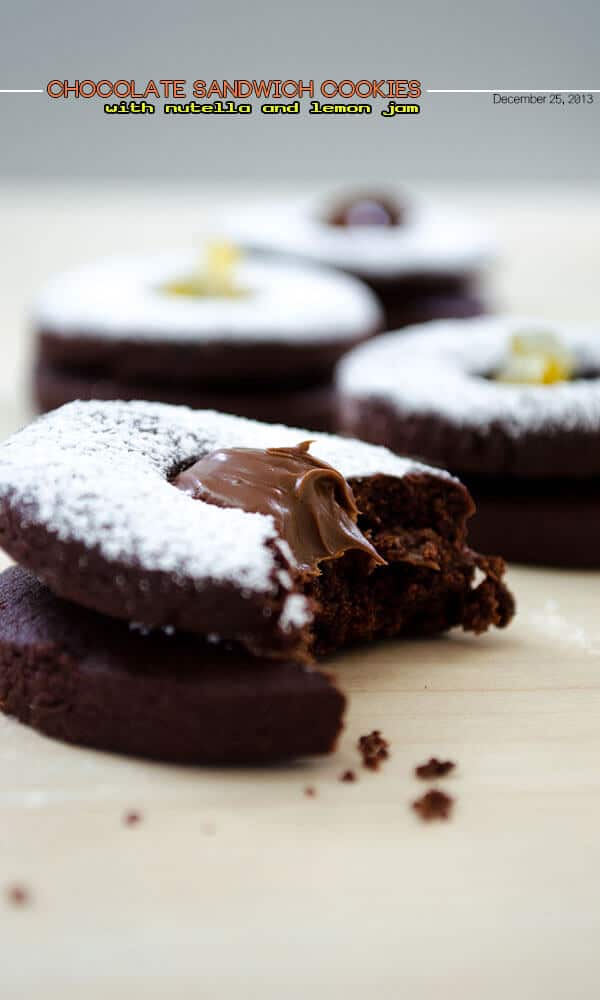 These are the best sandwich cookies I've ever eaten! They are just like the ones you buy from your favorite patisserie shop and I can proudly say that these are homemade! Your guests will definitely ask where you buy it when they have their first bite since they will think that these are too good to be made at home! They will start to compliment you on your baking talent when they learn that you make it. If you are looking for a recipe for an edible gift to celebrate the new year, make these and thank me later!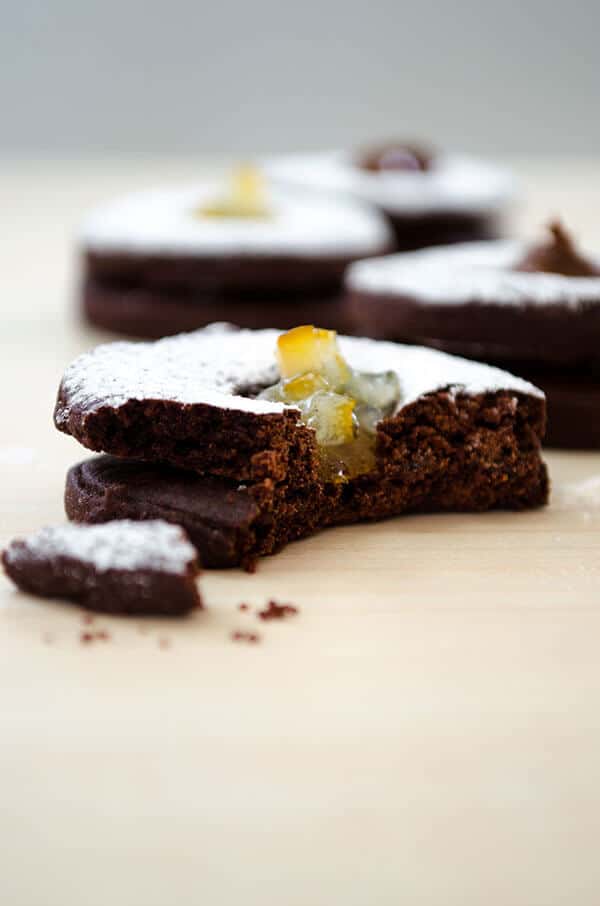 These sandwich cookies are as crunchy as chocolate biscuits. Although they are so tasty even without the fillings, I wanted to take it to perfectness with two wonderful fillings: Nutella and Homemade Lemon Jam.
How many times did I tell you that I LOVE playing with dough when baking something. If there is cocoa in the dough, I love it even more! I find the scent of cocoa so tempting and it doesn't go away from my hands for some hours, I just can't help smelling my hands every now and then. I did enjoy working with chocoloate dough and I sifted a little cocoa powder on the counter when rolling it out to prevent it from sticking. If you use just regular flour, it causes that beautiful dark brown color to fade and you don't want it.
After rolling out the dough, it gets even more fun because it's time to use cookie cutters! I used a circle cookie cutter and our wedding ring to make small holes in the center.
You can just tie some of these with a ribbon and they make a perfect gift too! I must admit that I ate a few of these with some milk before they became sandwich cookies. YUM! I felt like I was the cookie monster!
Do you think these chocolate sandwich cookies are overloaded with chocolate when filled with nutella? You should try it first and I'm sure you will change your mind! You will love to find a little treasure like nutella inside! Nutella is never too much!
If you want to feel some freshness, you can fill your chocolate sandwich cookies with lemon jam. If you are as crazy as me and want to make everything yourself, you should make your own lemon jam. On the other hand, if you don't have time or energy for this, just use store bought lemon jam too. However, be careful with the consistency of the jam. If it's not thick enough, you may not fill your sandwich cookies with it. Then you should prefer a thicker marmalade.
See our other chocolate recipe videos here:

Print
Chocolate Sandwich Cookies
Chocolate sandwich cookies filled with nutella and lemon jam.
Prep Time:

1 hour 40 minutes

Cook Time:

15 minutes

Total Time:

1 hour 55 minutes
Scale
Ingredients
225g

butter, at room temperature

1 cup

powdered sugar

2

egg yolks, at room temperature

2/3 cup

cocoa powder

2 cups

whole wheat flour
filling:

2 tbsp

nutella

2 tbsp

lemon jam
topping:

2 tbsp

extra powdered sugar
Instructions
Mix butter and sugar well with an electric mixer.
Add in yolks and mix until smooth.
Sift in cocoa powder and whole wheat flour gradually, mix with a spatula until you have a non-sticky dough.
Divide the dough into 4, cover each of them separately with plastic wrap and wait in the refrigerator for one hour.
Sift a little cocoa powder on the counter to prevent the dough from sticking and roll the dough balls out one by one.
Cut all of it with a circle cookie cutter.
Make small holes on the center of half of these with a smaller cookie cutter or with your wedding ring just like I did. You will have 25 whole cookies and 25 cookies with holes in the end.
Preheat oven to 170C.
Line two baking pans with parchment paper and place cookies on it.
Bake them for 15 minutes.
Let them cool and fill with nutella and lemon jam.
Dust powdered sugar as a final touch and serve.
Nutrition
Serving Size:

25 sandwich cookies
IF YOU LIKED THIS RECIPE, YOU WILL LOVE THESE TOO: