Chocolate Chip Pumpkin Bread with an insanely moist inside will be your ultimate pumpkin recipe in fall! Loaded with chocolate chips and homemade pumpkin puree. It always disappears on the same day I make it.
This is a bread I make often during fall and I've tried it with different amount of ingredients and finally ended up with the amounts below to bake one loaf. So I'm updating this recipe for one 9 x 5 – inch pan. You can easily double the ingredients to make two loaves. I updated the pictures as well. The two pictures on the top are new.
Also, I've slightly changed the recipe. For one thing, I used kefir instead of water and found it much better for moistness. Second, I added 1 teaspoon turmeric to have even a stronger colour. Another recipe to 'hide' this super spice. Okay I'm really obsessed with it these days!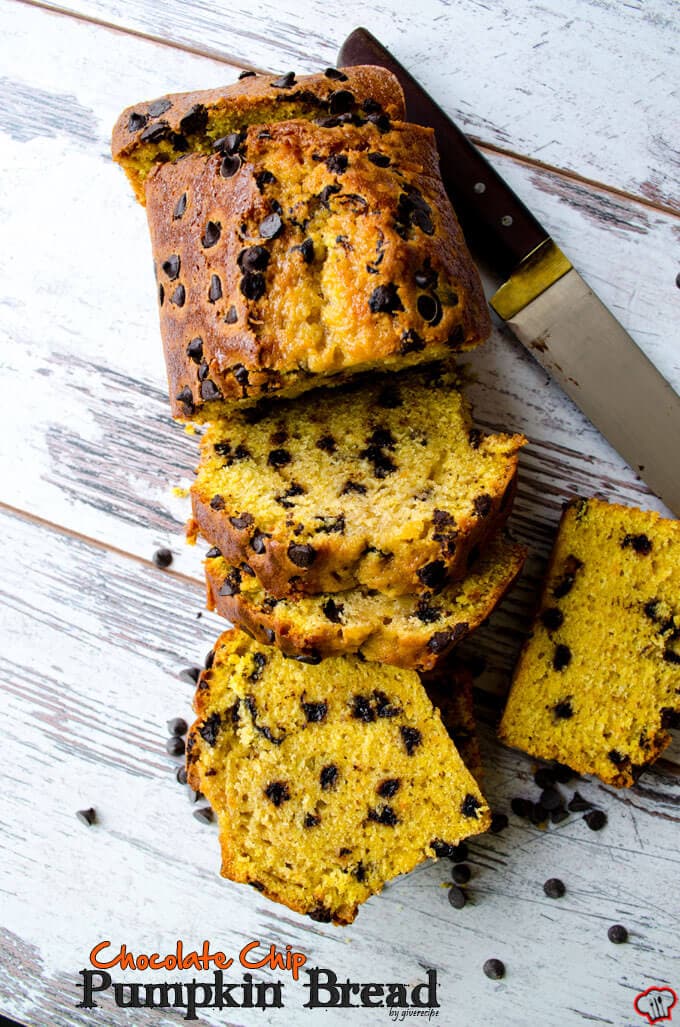 Chocolate Chip Pumpkin Bread is the first pumpkin bread of the season in our home. It is wonderfully moist inside and it got even better the day after it was baked. The only problem was it disappeared so quickly! I know I will be making it very often this year. It has already become our ultimate pumpkin bread recipe!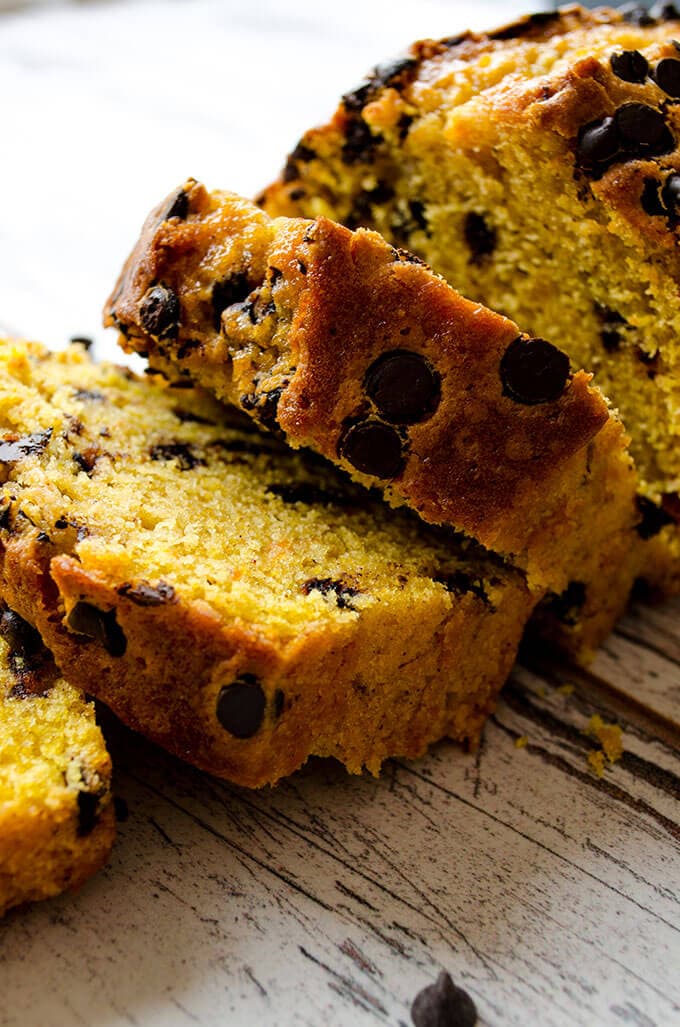 The first thing that impressed me about this bread was the color. I fell in love with that color between yellow and orange. Then the tempting aroma that filled the whole house made everyone feel drunk. It was really hard for us to wait until it was done and we had to distract ourselves with something else for an hour. It was one of the longest hour in my life! I've made our traditional Pumpkin Dessert, which is a glutenfree pumpkin treat several times before, but had never used it in cakes or breads. How I regret those years of baking without pumpkin now!  This has become our favourite chocolate chip bread since I made it for the first time, about 3 years ago.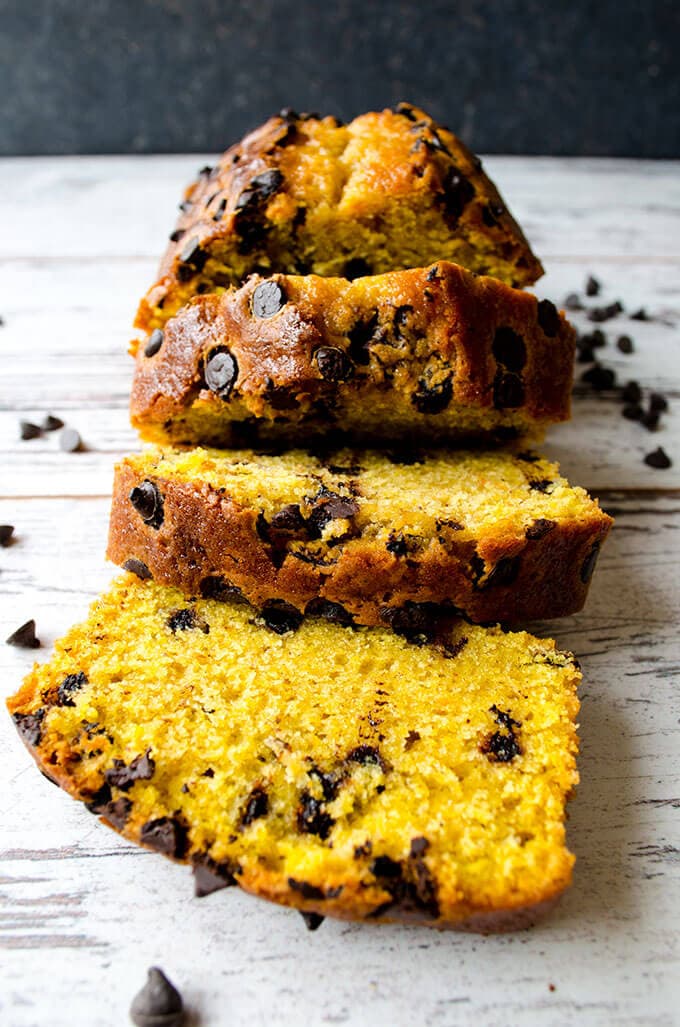 When it was baking nicely in the oven, I realized how much I missed baking such an aromatic bread. Even with the first bite, I understood why baking with pumpkin is my obsession. It makes everything super yummy!
To be honest, it's not pumpkin season here yet. So I was really surprised when I saw it at the biggest market here. It is the only place selling pumpkin now, so I bought the biggest one I found there with several pumpkin recipes in my mind.
I didn't use canned pumpkin puree for this chocolate chip pumpkin bread. I pureed it myself. It is really easy. Just slice the pumpkin in large chunks and roast them with about a cup of water in an oven pan until tender. Puree it in a food processor. Depending on the pumpkin type you use, you can add a little water when blending it. (Watch the video below to see How to Make Pumpkin Puree)
The pumpkin I used was sweet enough, so I didn't add any sugar on them. If the kind of pumpkin you use is not that sweet, you might sprinkle some sugar on the chunks. I ended up lots of pumpkin puree, more than I needed for this pumpkin bread, so I just put the leftovers in zip bags and I'm keeping it in the fridge for another baking.
I was planning to make a pumpkin bread loaded with chocolate just like our wonderful Chocolate and Yogurt Zucchini Bread, but Yusuf stopped me at last minute saying that keeping its lovely color would be better. Glad he did so! I just added chocolate chips to give it a little chocolate flavor.
Print
Chocolate Chip Pumpkin Bread
Insanely moist pumpkin bread loaded with chocolate chips.
Author:
Prep Time:

15 minutes

Cook Time:

55 minutes

Total Time:

1 hour 10 minutes

Yield:

1 loaf

Category:

Bread
Ingredients
3 eggs
1 cup sugar
1/4 cup olive oil
1 teaspoon vanilla extract
1 cup pumpkin puree (See the video above)
1/2 cup kefir
1 and 1/2 cup all-purpose flour
1 teaspoon cinnamon
1 teaspoon ground ginger
1 teaspoon turmeric
1 and 1/2 teaspoons baking powder
1 teaspoon salt
3/4 cup chocolate chips
Instructions
Preheat oven to 350F (180C).
Butter a 9X5 inches loaf pan and line it with parchment paper. Set aside.
Whisk eggs and sugar in a large bowl. Add in olive oil, vanilla extract, pumpkin puree and kefir. Mix well.
In another bowl, combine flour, cinnamon, ginger, turmeric, baking powder and salt.
Gradually sift the dry mixture into the wet mixture.
Put 1/4 cup of chocolate chips aside for topping. Dust the remaining chips with a little flour and fold in the mixture.
Pour the batter into the pan. Bake for 50-55 minutes or until a toothpick comes out clean.
Place chocolate chips on its top right after you remove it from oven.
Let it cool completely before slicing.
Notes
You can definitely use canned pumpkin puree if you don't feel like making it yourself. Making the puree is not included to the time of baking.
IF YOU LIKED THIS RECIPE, THEN YOU WILL LOVE THESE: