Who can deny that street foods are always tasty? I love to discover and try street foods when I visit a new city. I want to share my favorite street food as a child in this post. I must admit that I completely forgot it as it's been a long time since I left my hometown, so how did I remember it? I made hummus the other day and a small bowl of chickpeas left. This small bowl reminded me of something vague I couldn't figure out easily. I had to watch these chickpeas in the bowl for some more seconds until I deeply dug into my memories and bingo! "I used to buy it from peddlers s as a kid!" I screamed.
There are peddlers selling boiled chickpeas on the streets of Adana, a city in the South of Turkey and in other small cities near it. Peddlers generally carry boiled chickpeas in a bucket and measure it with a tea glass. They have paper cones packed around their waists and when a kid wants to buy, they put a tea glass of boiled chickpeas into a paper cone, sprinkle a little salt, cumin and chili powder(optional) in the twinking of an eye and give it to him. You don't need a spoon if you buy it from a peddler, use your hands. You know most street foods don't require cutlery at all! And it is free to lick your fingers while enjoying these chickpeas. These peddlers also enter drinking houses or pubs called meyhane and sell chickpeas to customers visiting each table and ask if they would like to have some chickpeas with their drinks, which is generally raki.
If you are looking for healthy snacks for your kids, make this easy peasy street food minus chili. You can even prepare your paper cones from colorful papers to make it more attractive for kids. Also, you can serve them in small colorful cones at parties to your guests. I'm sure it will be a winner!
Chickpeas As Street Food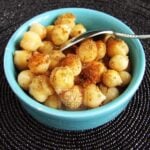 Scale
Ingredients
1 cup

boiled chickpeas

1/2 tsp

salt

1 tsp

cumin

1 tsp

chili
Instructions
Sprinkle spices on boiled chickpeas.
Either mix or leave as is and serve.
IF YOU LIKED THIS RECIPE, YOU WILL LOVE THESE TOO: