Summer means light and frozen sweet desserts or beverages, so let's celebrate the final coming of summer with this lighter version of Blueberry Cheesecake. I used Greek yogurt along with cream cheese in this cheesecake to lower the calories a bit. I don't remember how many times I've made this cheesecake with various fruit topping and it always pleases my guests.
The first thing came to my mind was to try this creamy yet light blueberry cheesecake, which I'd been planning to try for a long time. I thought that semi-tangy flavor of bueberries would go perfect with the flavor of cream cheese and greek yogurt. I could have just gone easier making a parfait like cheesecake, you know the ones in glasses or jars with no need of baking, but I wanted to make something more attractive. Besides, I love baking. Did I tell you this before?
I've used blueberries for the first time in this cheesecake because these berries are not common in Turkey. I saw them at bazaar for the first time last summer and used some of them to make White Chocolate Tart. I stored the rest in the freezer and I'd completely forgot them there until yesterday. I saw a small bag on the bottom shelf of the freezer when I was taking some Fresh Mint Ice Cream out. I was surprised when I found these berries in it.
I used a Turkish biscuit called Yulaflı, which can be replaced by graham crackers. This is my favorite part of making a cheesecake. You don't need to make the crust from scratch. Store bought biscuits always work fine!
Just make sure you've made this light blueberry cheesecake beforehand to have enough time to chill it completely. Making it overnight is the best. Otherwise it's not easy to wait when you know that there is this beauty in your fridge. If you have that patience, you can absolutely make it during day and wait till the other day.
See our other chocolate recipe videos here:

Print
Blueberry Cheesecake Lighter Version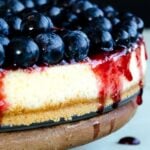 Blueberry cheesecake with Greek yogurt and cream cheese.
Prep Time:

20 minutes

Cook Time:

1 hour 30 minutes

Total Time:

1 hour 50 minutes

Yield:

8

1

x
Scale
Ingredients
1

and ¾ cups oatmeal biscuits or graham crackers, crumbled

2 tablespoons

melted butter

1 cup

sugar

250g

low-fat cream cheese, at room temperature

1 cup

Greek yogurt

1 teaspoon

vanilla

3

eggs, at room temperature
Topping:
3 cups

blueberries

¼ cup

water

3 tablespoons

sugar

1 tablespoon

lemon juice

1 cup

extra blueberries, for garnish
Instructions
Preheat oven to 350F, 175C and grease a 9-inch pan.
Mix crumbled biscuits, butter and ¼ cup of sugar together until combined well.
Put it in the pan pressing firmly.
Bake for 10 minutes and let it cool. Reduce the heat to 325F, 160C.
When the crust reaches room temperature, wrap the outside of the pan with aluminum foil in two layers. Make sure there is no gap. Place the pan in another pan larger than it. Boil a pot of water and set aside.
Mix cream cheese until smooth with an electric mixer.
Add the remaining sugar and beat for a minute on medium speed.
Add Greek yogurt and vanilla and mix well. Scrape down the bowl with a spatula when needed.
Add eggs, one at a time and mix on low speed after each until blended well. Pour onto the crust.
Place the double pans in the oven and pour the boiling water in the larger pan to make a water bath around the pan with the cheesecake. It should be about 1 inch around it.
Bake about 1 hour and 30 min until the center is almost set.
Leave the oven door ajar and let the cheesecake sit there for an hour.
Take it from the oven and loosen the pan. Let it cool to room temperature.
Meanwhile prepare the topping. Put 3 cups blueberries, sugar and ¼ cup water in a pot and bring to boil. Boil it until thickens. Add lemon juice and let it simmer for 1-2 minutes. Let it cool.
Remove the pan rim and top the cheesecake with the blueberry jam you've prepared.
Garnish with extra blueberries and chill the cheesecake at least for 4 hours before serving.
IF YOU LIKED THIS RECIPE, YOU WILL LOVE THESE TOO: