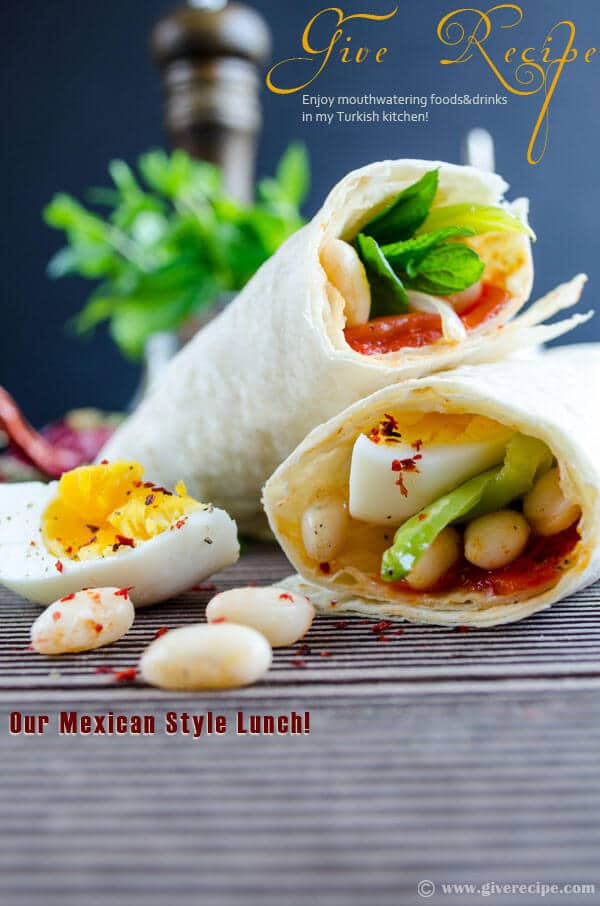 Burrito is not a Turkish food, right? We have a similar food though, called dürüm. That's why I can say that this Mexican food is so familiar to us. Grab a tortilla and stuff it with what you like, roll it up and your lunch is ready! I love such easy and scrumptious foods! Who doesn't? It's also fun to eat burritos or dürüms, nobody cares for the mess when eating it! Although burrito is not unknown in Turkey and we have a substitute for it, the fillings are quite different. We mostly have lamb or chicken doner as a filling, but as far as I know Mexican burritos have a lot more varieties. These Bean Burritos came out after we made piyaz, the Turkish bean salad.
I always boil beans myself and we always have some leftovers. We keep them in the freezer for a later use. Today was the day to use them for a quick lunch! I decided to make bean burritos! Although it was the first time I made burritos, they turned out perfect! You must definitely try these bean burritos with a Turkish touch!
I'm not sure how long we have had tortillas at Turkish markets, but there has been lavash for centuries. Lavash is so much like tortilla, maybe a little thinner and it is the bread used for our dürüms. It's not hard to make it at home, but we sometimes don't have enough time and have to buy from market. We used lavash bread for these burritos and they become more Turkish this way!
So it was the lunch time, but wedidn't feel like eating a full meal. Something quick, easy and tasty would be perfect in such a hot weather! We had these leftover boiled beans, some salad ingredients and lavash bread in the fridge and we were searching for ideas.
"Why don't we make a Mexican style lunch?" Yusuf asked. While he was showing me pictures of some really mouthwatering burritos on the Internet, I was making up the recipe in my mind.
I knew that our burritos must have a LOT of chili powder besides other spices like ground black pepper, dried thyme and a good amount of cumin. We love cumin on dried beans! To make our burritos look and taste more festive, I added hard boiled eggs and they made a perfect match! We combine eggs and beans in our bean salad too, but never had them together wrapped in lavash before. We loved these burritos so much that we will be making it often for sure!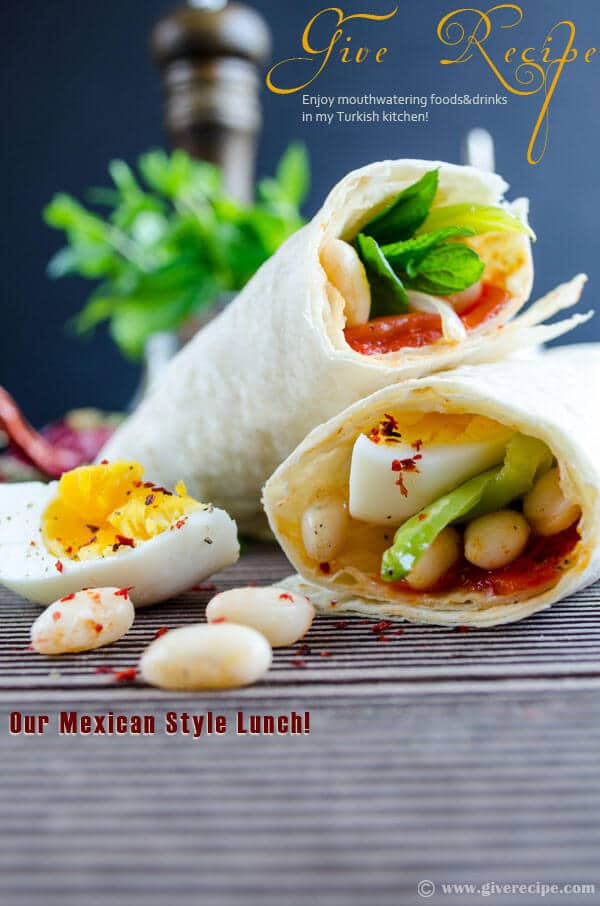 Bean Burritos for Lunch
Burritos with beans, eggs, and fried veggies.
Prep Time:

5 minutes

Cook Time:

7 minutes

Total Time:

12 minutes

Yield:

2

1

x
Scale
Ingredients
2

tortillas

½ cup

boiled beans

2

tomatoes, sliced

2

green peppers, sliced lengthwise

1

onion, sliced

3 tbsp

olive oil

2

eggs, hard boiled
A few sprigs of fresh mint
Salt to taste

½ tsp

chili powder

½ tsp

cumin
A pinch of ground black Pepper
A pinch of dried thyme
Instructions
Heat olive oil in a large skillet.
Fry green peppers and onion for a 3 minutes, transfer on plate.
Throw in sliced tomatoes in the same pan and fry for 3 minutes.
Chuck in the beans, fry for a minute and season it.
Slice hard boiled eggs into 4 and set aside.
Grab a tortilla, put the bean mixture down the center.
Top with egg slices, fried peppers and onions.
Garnish with fresh mint leaves and roll it up.
Cut burritos in halves when serving.
IF YOU LIKED THIS RECIPE, YOU WILL LOVE THESE TOO: